The Greek Islands are a dream holiday destination. For many travelers, a vacation in the Greek Islands counts as an essential life experience. And it's an experience that is much more than superb beaches, private coves, and fresh fish at romantic port-side tavernas. The Greek Islands offer adventures in culture, cuisine, wines, architecture, and history. They also offer a compelling mix of traditional, unspoiled island culture, and huge doses of absolutely shameless glamour.
Of the thousands of Greek islands, over 220 are inhabited. Each of the Greek islands is unique. There is a great variety of different terrains – from the elemental drama of the Cycladic islands, to the lush greenery of the Ionian islands. But in addition to this, each has its own individual character. Some islands are serene, others run on high-octane glamour. Some of the Greek islands are ideal for adventure, others for contemporary culture. The best Greek Islands have strong individual personalities. Of the many islands to choose from, a few consistently stand out. A travel designer experienced with planning vacations in the Greek Islands can help you select the best fit for your own travel style and interests.
Especially for a first time visitor to Greece, these islands would be among the top choices.
The Cycladic Islands: Premium Destiantions for a Vacation in the Greek Islands
If the word "Cycladic" sounds to you like it has to with a circle, you're correct. This group of islands centers around the sacred island of Delos, which you can visit easily form Mykonos. Easy to navigate, these islands individually offer incredible experiences. In combination, the Cyclades are some of the best Greek Islands to visit, whatever your interests may be.
Santorini
For many travelers, Santorini is an absolutely essential destination for a vacation in the Greek Islands – particularly for first-time visitors to Greece. One of the most thrilling landscapes in the Aegean – and in the world – Santorini is a geological wonder. A volcanic eruption around 1600 BC shaped Santorini into a crescent with a bold cliff over 2350 meters high. The crescent hugs a bay – the legendary "Caldera." In the center of te Caldera is the volcano. There is a smaller island – Thirassia – across from the main island.
The volcano shaped not just the island, but also the whole of the Santorini experience. The beaches are otherworldly. Of the many fabulous beaches on the island, Red Beach is especially popular. The red cliffs surrounding the beach are a dramatic counterpoint to the deep blue of the Aegean. The coarse sand of Vlychada beach is nearly black – the better to contrast with its white volcanic cliffs.
Perhaps even more dramatic than its beaches are the views from the cliffs of Santorini. The elegant examples Cycladic architecture clings to their edges. There are hotels in caves, and swimming pools like watery balconies hanging directly over the sea, hundreds of meters below. Sunsets here are legendary.
Oenophiles too will richly enjoy Santorini. It's home to some famous indigenous grape varieties – Assyrtiko, Aidani, and Athiri among them. It's not just the grapes that are unique, but the volcanic soil that nourishes them. The white wines of Santorini are famous for their complexity, crispness, and mineral notes.
The cuisine of Santorini is also famous. That same volcanic soil grows some extraordinary tomatoes, with flavor as bold as the landscape. Other specialties include capers – these often with the bright yellow split peas of the island. Fresh fish is also in plentiful supply. Like the island, the food of Santorini is characterized by a bold, elemental purity.
Related Post: Santorini – Best Beaches, Sights, Experiences
Mykonos – The Best Greek Island to Visit for a Glamorous Greek Island Vacation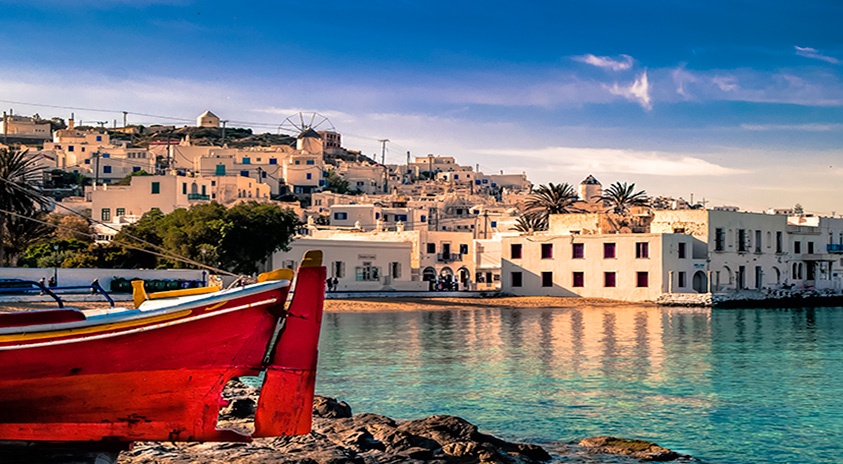 This world-famous playground of the glitterati offers much more than you might initially expect. Look beyond the paparazzi and celebrities and you'll see that Mykonos is blessed with stunning natural beauty, traditional Cycladic architecture, and a strong indigenous culture.
Mykonos is an island of strong contrasts, which makes it a fascinating stop on a Greek Island vacation. You can spend all day on a remote, wind-swept beach. Afterwards, you can relax in Mykonos town over an ouzo at the kaffeneio the fishermen. Or you can wander in Little Venice, stopping off for a glass of white wine at Kastro – maybe the most famous bar and restaurant on the island. Watch the waves crash outside as you gaze at those famous windmills.
All the best international designers and purveyors of luxury goods have outposts here. But with a difference – many are tucked into the whitewashed alleys of Mykonos town. And most are open until midnight, and even later. So, finding something to wear to go clubbing won't be a problem. Mykonos' best clubs are often at the beaches, but you'll also find plenty going on in town until dawn.
After such a cosmopolitan evening, the sacred island of Delos makes another striking contrast. This was a holy sanctuary and the mythological birthplace of the goddess Artemis and the god Apollo. It's one of the most extensive and fascinating archaeological sites of the Mediterranean, and a magical place to visit.
Related Post: The Best Things to Do in Mykonos
Paros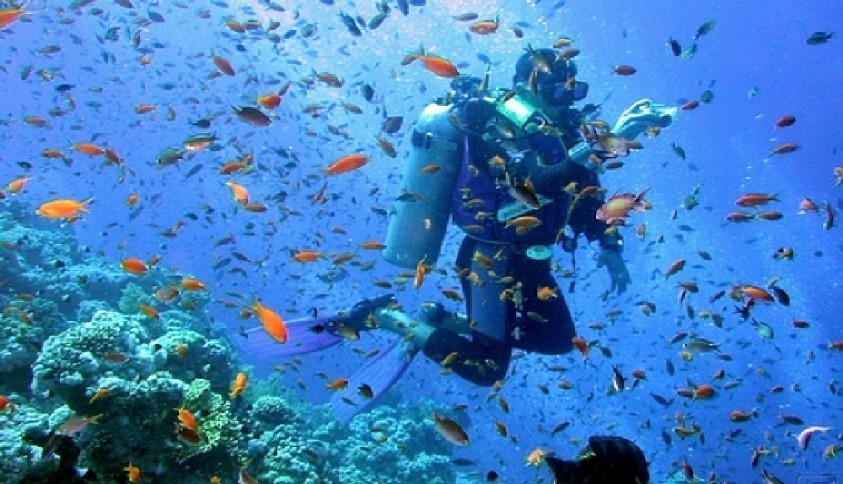 While Santorini and Mykonos have been famous destinations for decades, Paros' fame seems perhaps to be still on the rise. For many planning a vacation in the Greek Islands, Paros is an attractive alternative to Mykonos. This Cycladic beauty has the same mix of traditional island architecture and chic modernity hat Mykonos does. But it's all at a slightly softer decibel. There is plenty of nightlife in Naoussa and Parikia – the main towns. But if you're looking for a more serene Cycladic experience, you can try the more traditional villages of Marpissa and Lefkes.
The sandy beaches of Paros are glorious, and this is also a perfect place for water sports – windsurfing and kite surfing in particular. Divers will love the island. There are many diving centers who can take you on excursions to deserted nearby islets for some exotic and unspoiled aquatic vistas.
Syros
Syros has a completely different mood from Santorini, Paros, and Mykonos. It trades the pristine Cycladic purity of its neighbors for neoclassical glamour. As a center of trade and industry in the 19th century, Syros amassed wealth, and built in style. Ermoupolis – capital of all the Cyclades – is awash in pastels like soft salmon and butter yellow. There are many grand mansions and public buildings. The Apollo opera house of Syros is like a small La Scala, in Italianate style. Another example of European elegance is the Town Hall of Syros, by the famous neoclassicist Ernst Ziller.
Syros is the ideal Greek Island to give your vacation in the Greek Islands some unexpected cosmopolitan elegance. This is a cultured and refined Cycladic experience. For example, the Apollo Theater hosts a renowned festival of Classical Music each summer. There is also an International Film Festival, as well as many other cultural festivals and events.
For Easter, Syros may be without peer. That's saying a lot, because Greek Orthodox Easter is a spectacular celebration. However, here you get both Easters – Orthodox and Roman, because Syros has a large Catholic population. To celebrate with the rest of their countrymen, the Catholics of Syros have their Easter according to the Julian calendar, like the Orthodox. The result is a series of glorious processions as Christians come together on the island on Good Friday, and a thrilling fireworks display at midnight on Easter Saturday.
The Saronic Islands
Don't let the fact that these islands in the Saronic Gulf are so close to the port of Piraeus fool you. Just because they are so ridiculously convenient to reach does not mean they feel less dreamily remote. These are perfect Greek Island destinations for a spontaneous vacation.
Hydra – For a Cultured Vacation in the Greek Islands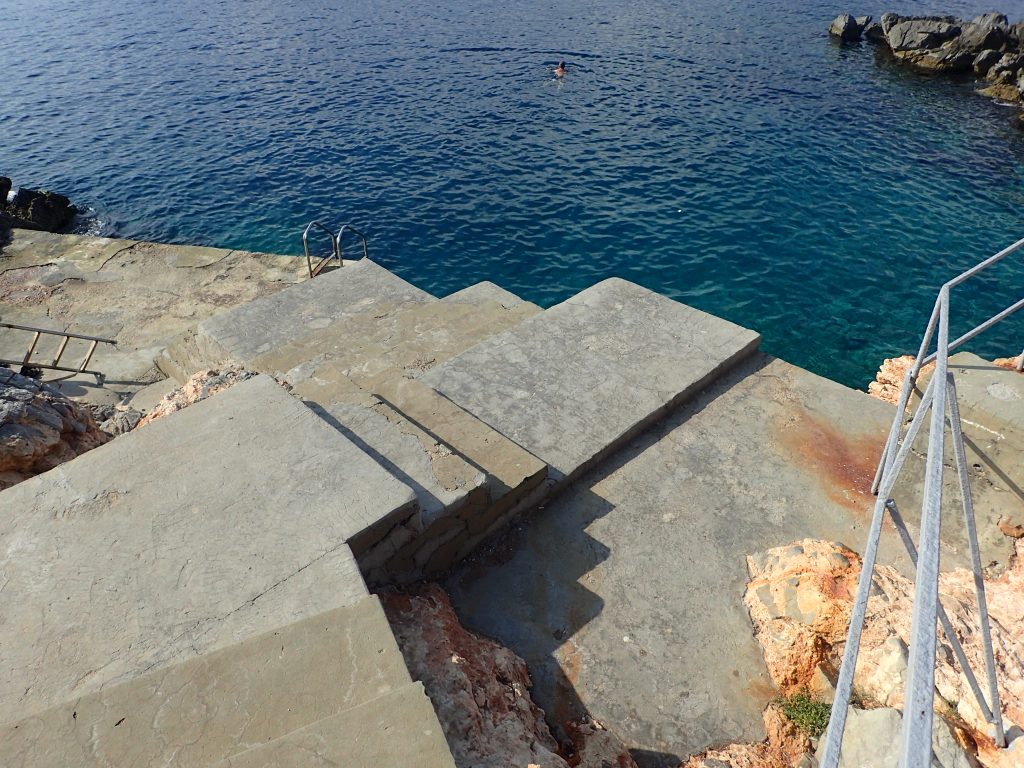 Hydra is definitely an insiders' island. People come here for its quiet elegance and understated style. As well as for its serious artistic pedigree – from painters Marc Chagall and Nikos Hadjikyriakos Ghika, to the activities of the Deste foundation, Hydra is a place that gives the creative mind space. Hopefully you'll see the yacht of art collector Dakis Joannou – "Guilty" – painted by Jeff Koons. Oh, and Leonard Cohen had a house here for decades. This is where he met Marianne (of "So Long, Marianne"), but everyone knows that. Vivienne Westwood stayed here, and so did Pamela Anderson.
That said, this is not really a people watching island. This is an island where people who are often watched come to relax, without paparazzi. Did we mention the serenity? One of the things that makes Hydra an unusual Greek Island vacation experience is that it has no cars or motorbikes. These are replaced by donkeys, water taxis, and buff guys with wheelbarrows. It also has very few traditional beaches. But that doesn't mean there's no swimming. Just past the port is a dreamy beach alternative – concrete platforms descending towards the sea among the boulders. This is some of our favorite swimming in all of Greece, directly off of the dock into the crisp Aegean.
Spetses – an Elegant Vacation in the Greek Islands
Another Saronic Island with no cars, elite Spetses trades them for horse-drawn carriages. That's not the only upgrade. The whole mood here is luxurious and deluxe in an old-school, old-money way. This is one of the best Greek Islands for refined luxury and elegance.
Spetses has an impressive naval past. This island was instrumental in the liberation of Greece from the Ottoman Empire in the war of 1821. Grand naval captains' mansions set an elegant tone. This is also the island of Bouboulina – the great national heroine in the 1821 War of Independence. Her elegant home is now a museum.
Come in September for the "Armata" – a re-enactment of a great naval battle of 1822. This has been a Spetses tradition since 1931. A week of festivity and culture ends with the re-enactment, using real ships, plus a life-size model to be set ablaze, amidst a glorious fireworks' display.
The Ionian Islands
Off of the west coast of Greece, the Ionian Islands reach toward Italy in more ways than one. Both the architecture and the indigenous dishes have a pleasing Italian accent, adding a nice twist to your vacation in the Greek Islands.
Corfu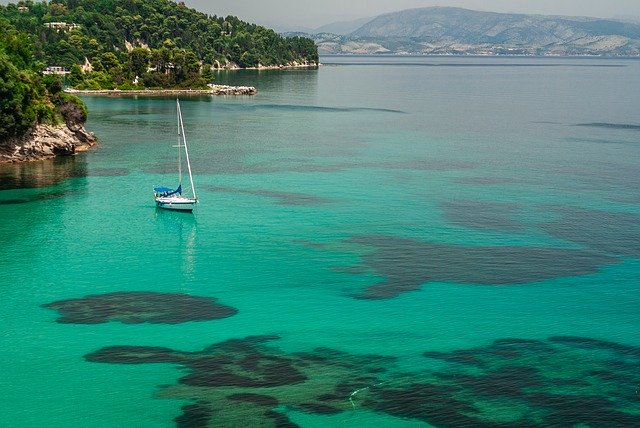 By now, anyone with a television will know Corfu from watching The Durrells. If you were enchanted with the Durrell family, their crumbling mansion, and the wild green surroundings, then you won't be disappointed. Corfu is in fact the ideal combination of luscious green landscape and genteel sophistication.
Corfu town is bathed in bougainvillea and romance it makes a great honeymoon destination. It has a cosmopolitan, European flavor. The elegant Liston – a main thoroughfare lined with cafes and shops – was designed by French engineer Lesseps. It's a little slice of the Rue du Rivoli in the Mediterranean. There is plenty of culture here, in elegant surroundings. Corfu's neoclassical Palace of St. Michael and St. George is now the Museum of Asian Art. The Archaeological Museum of Corfu is housed in Mon Repos – the palatial villa where Prince Phillip of England was born. The Venetian fortress is splendid.
Travelling along the green coastline of this emerald isle, you'll discover spectacular beaches. The northern coast, in particular, seems to be one splendid beach after the other. Are you looking for something more private? Get a boat to bring you to secret coves – there are many.
Paxos and Antipaxos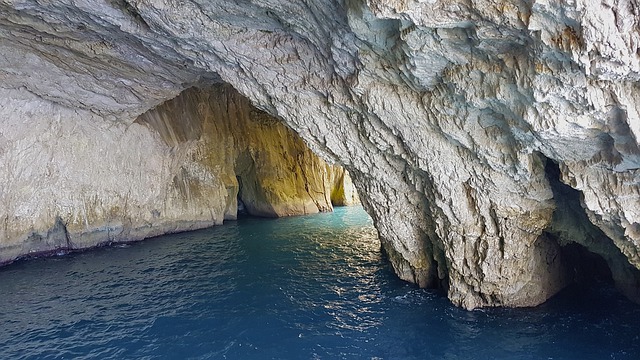 If you really want to get away from it all, then this pair of small islands may be what you're looking for. Paxos is covered with olive trees. This small island – about 12 kilometers in length – is famous for its chalk cliffs. The pounding of the sea has eroded them in part, making fantastic "blue caves" for you to explore. Those chalk cliffs also make for bright white sand, which in turn makes the already bold colors of the Ionian Sea even more intense.
Antipaxos has not olives but vines. The tiny island (not 5 square kilometers) is covered with them. The wine they make is splendid. You'll enjoy is after swimming at your choice of spectacular beaches, or snorkeling in these crystal waters. Antipaxos is a little off-grid. You come with a water taxi, which adds to the beautiful remoteness you may be seeking in a vacation in the Greek Islands
Crete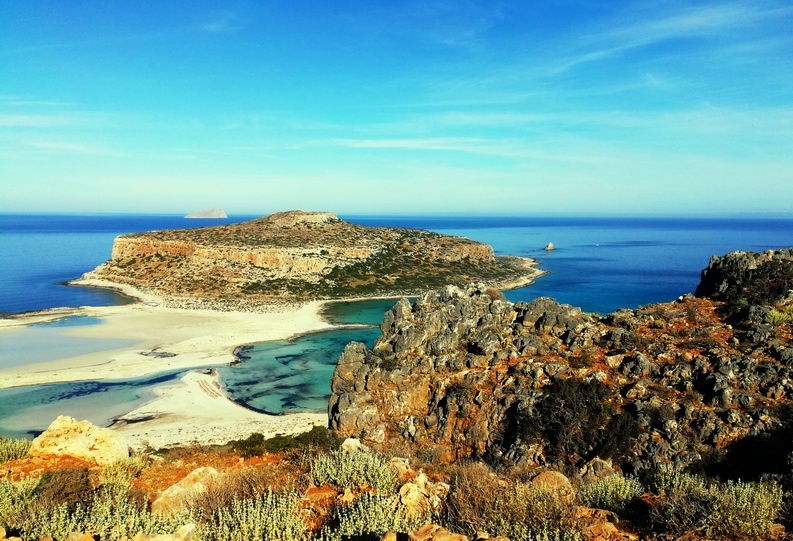 When you think of a vacation in the Greek Islands, Crete is in a category of its own. This is the largest of the Greek islands and has its own distinctive culture. Cretan music and dance are among Greece's most stirring – they are fantastic lyra players. The people of Crete are famously bold, fighting bravely in many uprisings against the Ottomans. Their resistance in WWII was formidable. For descendants of the Allied soldiers who fought alongside the Cretan rebels, a vacation in Crete is part holiday, part pilgrimage.
The Cretan people are an expression of their landscape – bold, uncompromising, beautiful. This island offers everything to the traveler. There are countless lovely beaches. Several of them world famous – such as Elafonissi, Balos, Matala (yes- of the Joni Mitchell song!), Preveli, Seitan. The epic Samarian Gorge is here, in western Crete- a serious day hike of some 16 kilometers that takes you to the shores of the Libyan Sea. This is one of the best destinations for a family vacation in Greece.
That's just one of countless hikes. More are in Lassithi, the exotic Eastern side of the island. Here is alto the Sitia Geopark, over 500 square kilometers of rare biotopes, gorges, waterfalls, and hikes. Here you can visit the famous Spinalonga Island and the happily much, much less famous Chrysi island.
Cretan cuisine is extraordinary. Also bold and elemental like the landscape and its people. The olive oil is rich and fragrant and the meats fragrant with herbs the goats have grazed on. The cheeses are many and delicious. And you must try Staka – cooked thickened cream of goats' milk, and Cochilous boubouristou- snails lively with vinegar and rosemary.
Vacations in the Greek Islands
A vacation in the Greek Islands can – as you see- be anything that you want it to be. The span of experiences is tremendous. There is no reason to settle on just one type of experience. Or on one island for that matter. Island hopping is a popular Greek vacation style, for both the Greeks and their foreign visitors. It's especially easy if you are staying in one group of islands – the Cyclades or the islands of the Saronic gulf for instance.
Enjoy the fullness of experience that a Greek Island vacation can give you.