Greece is a premium family vacation destination, for every family's personal travel style. This is one of the most inspiring destinations in the world. Family vacations in Greece can offer something for every interest. Maybe you have a future archaeologist in your tribe. Or perhaps some young marine scientists? Or active teenagers who enjoy hiking and canyoning? Most families also love spending time at the beach together – there are many to choose from. Many of these have calm, shallow waters and silky sands – perfect for a kid-friendly, safe and fun day at the beach. And all families enjoy good wholesome food – you'll discover the best of Mediterranean cuisine together in Greece. Family holidays in Greece offer you a wonderful array of experiences to enjoy together.
What Makes Greece Ideal for Family Vacations
There are many factors to consider when planning a family holiday – convenience, safety, cultural climate. The lifestyle of Greece is already shaped around family. They will love welcoming yours.
A Family-Friendly Culture
Greece has an incredibly family-friendly culture. For instance, Greek families often socialize together in large groups, and young parents often enjoy evenings out with their children. The sight of a table full of meze, french fries, wine, and orange juices – children sitting on laps – is a familiar one in Greece. Greeks adore children – they'll also adore your children. You and your family, of all ages, will be warmly welcomed wherever you go.
Greece is Safe and Civilized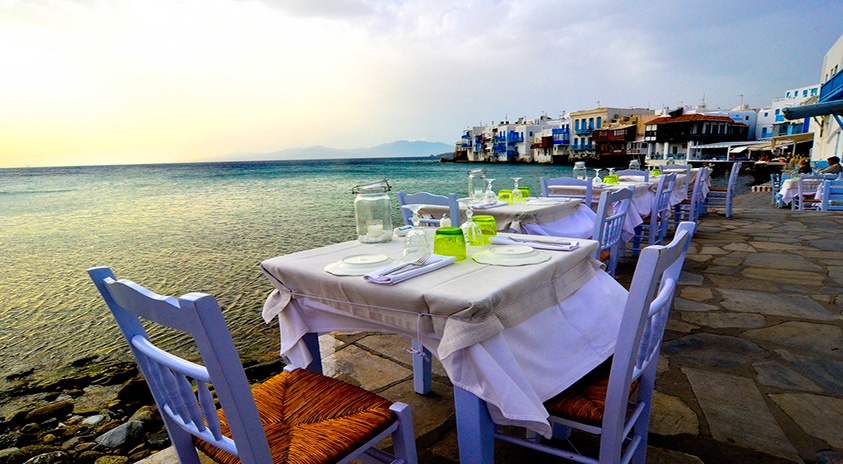 Greeks are passionate people. But they are not angry people. It's true – you'll hear some shouting in Greece. That's probably someone calling out – "Come over for dinner – I just caught a huge fish!" And while passionate, they're also very moderate and responsible in their habits. You know how they say in vino veritas? Just watch Greeks at an ouzerie, and you'll see nothing but laughter and joy. This is not a country for drunken brawls or any other sort of violence. Mainly because people are busy enjoying life, and admiring how adorable your children are.
Greece is Clean
This is the Mediterranean – so we mean, super clean. Greece has a high standard of cleanliness. This is a country where they whitewash the sidewalks in villages in island villages. Greeks are very serious about standards of hygiene and health.
Greece is Hospitable
Greece offers a great experience with another culture. We bring our children on holiday not just to see the famous sights and enjoy the sea and the mountains. We also travel with them so they feel comfortable out in the larger world. This is what happens when they are able to connect with the culture. Greece is a fantastic place to start. This is the birthplace of the concept of hospitality – philoxenia. In Greek, the word translates to "a love of strangers." Greece is not only a place where your family will be welcomed; it's a place you can all truly connect with. Frequent travelers will tell you, the places you connect with leave a lasting impression – they broaden the soul.
Diverse Activities on a Family Holiday in Greece
Your family vacation in Greece can include a great variety of activities. Greece is a country with many, diverse facets. Besides the hundreds of glorious beaches, there is culture and archaeology, hiking and canyoning, gastronomy and agro-tourism. Your family holiday in Greece can combine adventure, learning, and lots of time just enjoying each other's company in the world's most beautiful and inspiring settings. You can combine any or all of these experiences. Here are some of the things you can include in family vacations in Greece.
Island Hopping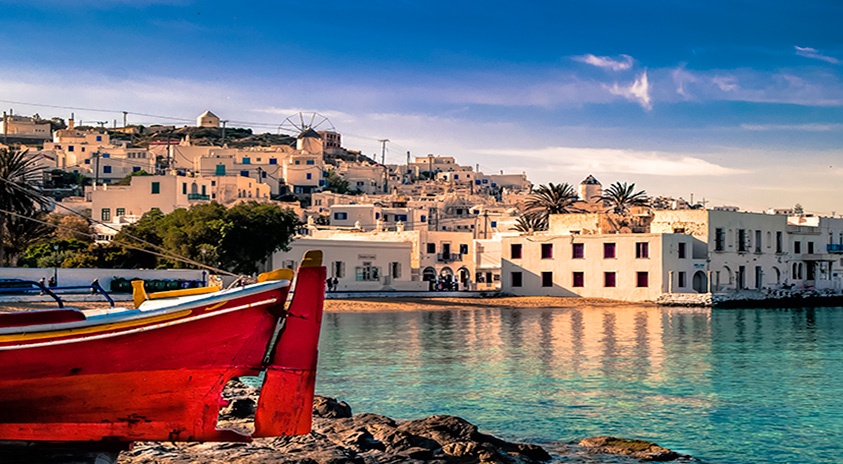 The Greek Islands are glorious. They're on the itinerary of most family vacations in Greece. Each island has its own distinctive character. There's no reason to limit yourself to one – many islands are just a short ferry ride apart. Getting there is part of the adventure. Your children will love seeing their destination come into view. On the way, they can keep an eye out for dolphins – they're not at all uncommon and they like to swim alongside ferries for company sometimes.
In a short time you can find yourselves in a different world. For example, from cosmopolitan and elegant Corfu, you can visit Paxos – a secret favorite of the well-travelled. Here you'll find olive groves and a beautiful tiny port town – a slice of true island village life. You can visit the "Blue Caves" by boat. These are sea caves where the chalk cliffs if the island have worn away. Maybe Paxos (just 12 km long) is too big for you though – in that case, go to Antipaxos – 4 square kilometers of paradise. Places like these will reward you and your family with a sense of discovery.
Related Post: A Vacation in the Greek Islands – Best Greek Islands to Visit
Try Some New Water Sports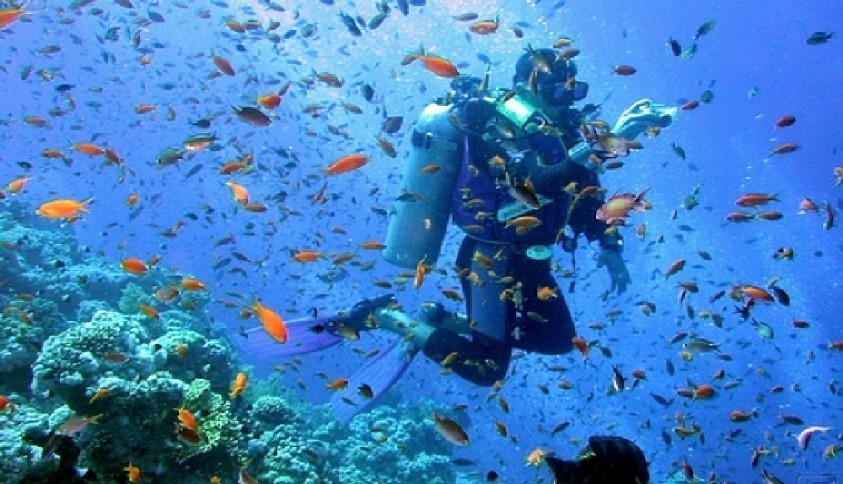 Of course you imagine spending time at the pristine beaches – an essential component of a vacation in Greece. But in addition to the swims in jewel-toned waters, the beaches of Greece offer a host of other activities. Many beaches have lessons for parasailing, windsurfing, jet skiing, and other thrilling, adrenaline-boosting activities. These are also great family bonding experiences.
For the more adventurous, you can also explore the sea from below. Greece is the perfect place to learn ho to scuba dive. There are many licensed professionals with excellent equipment who can guide you through your first diving experiences. Children from 10 and up can start learning how to dive. The underwater world of Greece is as beautiful as the land. It's teeming with colorful fish and all manner of aquatic life.
Get Cooking Together with a Private Lesson
Many families love to cook together. Greece is a land of farm-to-table – and sea-to-table – sustainable cuisine. Having a hand-son private lesson is a great family activity. Your children will get an introduction to new flavors and broaden their palates. And you can all relive part of your family vacation in Greece when you get back home.
Hike through the Gorges and in the Mountains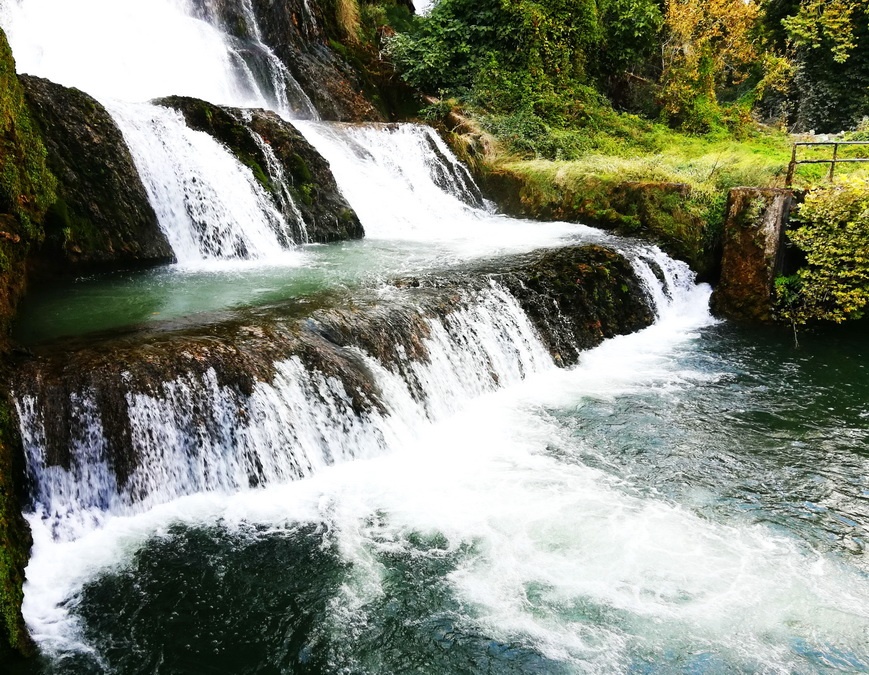 The beaches get all the attention. So many people are surprised to find that Greece is also a superb hiking destination. Some of the most famous hikes in Greece include the Vikos gorge in Epirus, the Samarian gorge in Crete, and of course Mt. Olympus, home of the gods. These are just three of the hundreds of options you can explore on family holidays in Greece.
Explore the Caves of Greece
There are many famous caves all over Greece, from a total of over 8,000 caves. They make exciting family destinations. You can, for example, visit the Diros cave in the Peloponnese. You explore this majestic natural cathedral by boat. You'll find another magnificent cave with lakes in Kalavrita, Peloponnese. Kastria cave features 13 lakes, and fantastic rock formations. Other magical caves are Perama cave in Ioannina, Petralona in Halkidiki (famous for its anthropological findings), and the Aggitis cave in Drama – the only river cave in Greece.
Be Transformed by Drama at an Ancient Greek Theater
One of the most magical experiences of culture and ancient history you can have is seeing an ancient Greek Drama or Comedy, staged at one of the historic ancient theaters, such as Epidaurus. This may not be for the very youngest children, but older children and teens will be fascinated. Even though the performances are in Greek, you can have a full experience. There are subtitles at many performances now for international audiences. But, besides that, the language of drama is universal. Moreover, many of these stories will be familiar to young students of history. Seeing an ancient Greek play in an ancient Greek theater is one of the transforming experiences that you can share on family holidays in Greece.
Discover the Thrill of Archaeology Together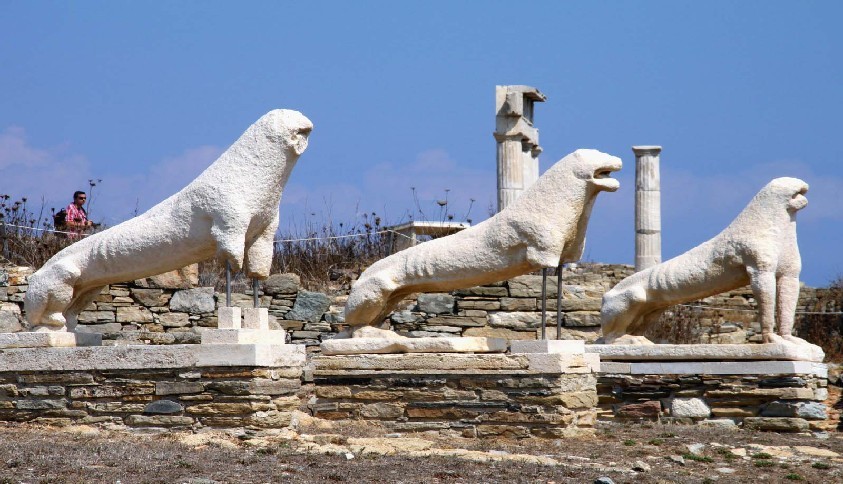 The Ancient monuments of Greece are by no means just for grown-ups. The imaginations of children can quickly be inspired after a trip to the Parthenon or a walk around the ancient Agora. And a sunset trip to the Temple of Poseidon at Sounio is a must. With a little advance preparation, they will imagine ancient ships far below, Poseidon guiding them safely back to port after heroic adventures at sea. And if you visit Mykonos, a visit to the sacred island Delos – one of the most fascinating archaeologoical sites of Greece, is a must.
Family Vacations in Greece – a Great Reunion
Do you have a large, multi-generational family? Greece can also be the dream destination for a family reunion. You can have private activities arranged to suit your group. You can also be together in an elegant villa, in an exotic location. It's the ideal combination of relaxation and adventure, togetherness and solitude.
Family Vacations in Greece
Greece is an excellent destination for your family holiday, however you imagine it. This marvelous country is compact – it's possible to pack many different experiences into your agenda. But it is also complex – there are many types of experiences and diverse locations. Having an experienced travel designer, like Antelope Travel, plan the logistics – like booking ground transportation, getting you between destinations, finding theater tickets and booking scuba diving lessons – can be a great help. That way you can just relax and enjoy what will surely become a legendary family experience.