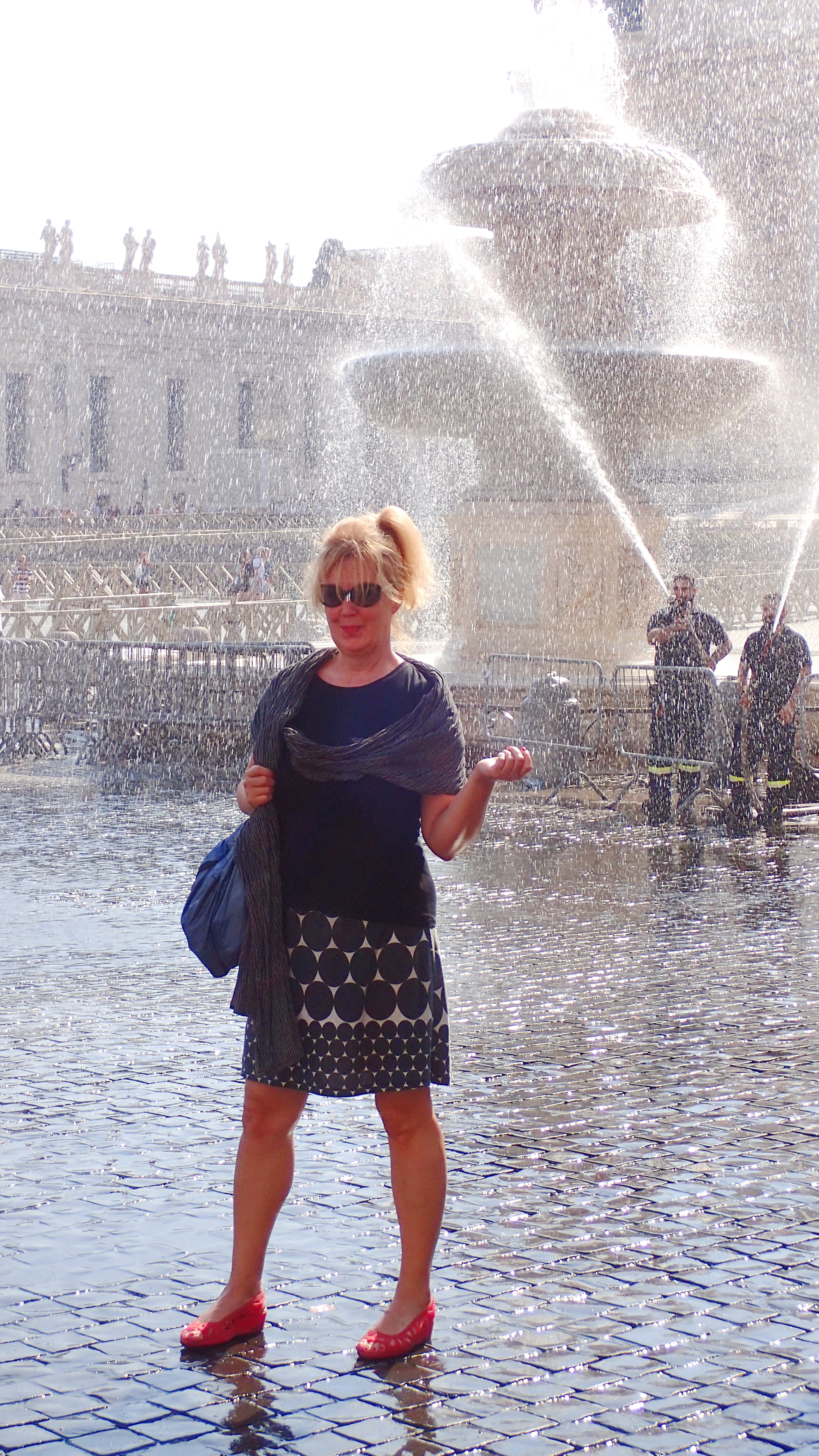 Hello I'm Amber. I grew up on a beautiful island, far from Greece, but in its ways not at all dissimilar. The island, like any other, had its charming, eccentric, and provincial island ways, and so did its inhabitants. It was completely self-contained- nothing you could ever wish for was more than a half-hour's stroll away. Stores were all family business and every delicious thing was made there, right in the back or behind the counter. I did mostly all the shopping growing up. Fresh mozzarella we would buy still warm- never saw the inside of a fridge. The best sauce was made a mix of hot and sweet Italian sausage made fresh from the Salumeria on Mulberry street. They has a bread there with flakes of prosciutto and some provolone in it- you just ate it like that with nothing. Also the raviolis in their white boxes from Raffettos, they didn't get a change to get cold either. The cannoli at Bruno were filled when you ordered them, so the fresh fried crisp shells wouldn't get too soft. Perfect lox and sturgeon we got from Russ and Daughters, Bialys from Kossars, heavenly pastrami from the devillishly rude old men at Katz's. Striped bass and shrimps came from one of several Chinese fish mongers. In between them were the shops where we bought little aluminum take-out cartons of roast duck or bright red barbecued pork, some bao for breakfast or late tea. Pastry tips, charlotte molds, fish poachers, candied violet petals, that kind of thing, that I bought at Dean and Deluca, the one on Prince Street that isn't there anymore, with the skylights at the back. All of my babysitting money went there. Every single thing we bought had a special place to buy it. I think the only thing we got from the supermarket was laundry soap- everything else, it had a story, a provenance, a person. "Convenience" was simply not a meaningful concept. There were no chain stores of any kind. Nothing we ate was anonymous, and that made every dinner special, luxurious.
This story-book island was Manhattan, and it really was like that- they don't call it the village for nothing. Tribeca, my home growing up, was pioneer territory then- just two inhabited buildings on our block- the rest were sweatshops, warehouses. Everyone knew each other, just like in a small town. That Manhattan, that warm, provincial way of life, just like Max's Kansas City (I was taken there lots as a little girl), CBGB's (I took my own little girls, to see our bands play), Joe's dairy, Vesuvio bakery, and a lot of places that live sweetly in my memory, is gone. So after living in Hamburg a little and then going to graduate school in Architectural history and making hardcore and punk records on West Broadway in SoHo for ten years- at least still getting ravioli at Raffetto's- I realized I had to go looking for it. That sense of community, and the everyday pleasures of the table are really important to me. Having two daughters gave urgency to the search.
Very conveniently, I had married someone from Greece, a country that could offer me everything I pined for. This is not a back to the land story. The sound of roosters is mournful to my ears. I like traffic, and museums, and concerts (the family business stayed pretty much the same- we have a club for live shows here), and slightly grubby ouzeries, after-hours bars and the bakeries that are open on your way home from them. Mediterraneans do their urban chaos loud and messy and sweet, just like home. I also like the farmers' market we have twice a week in my neighborhood, and the central covered market where it might as well be the Byzantium era for all the carcasses swinging from hooks in the heat. I like shopping for food the way I did growing up, where everything has a name. I know the beekeeper who gathered my honey, the guy who distilled my tsicoudia (grappa), the farmer who grew my tomatoes and eggplants, the lady who baked my bread, and another lady who sells me fresh herbs from a milk crate covered with a piece of cardboard- she moves around a lot and you have to go looking for her. I have dined unscathed several times with the with the notoriously lascivious (late 70's) producer of the ouzo we drink. I do not personally know who makes my feta, but the guy with the bodega where I buy it does, just as he knows the egg guy. The butcher knows I like my goat chops pounded thin and my mince ground once not twice. The fishmonger hawks his marked-down wares loudly to strangers, but he whispers to me to keep walking when they are past their peak. The olive oil is ours, from family trees in Crete, kept in bright blue plastic 50 k barrels in the storeroom. Every couple of weeks I pump some out into smaller bottles, a green-gold mayhem, thick oil and the rich scent of olive spilling everywhere.
That sense of urban community I grew up with is here, and there is also something we didn't really have in Manhattan- more intimacy with nature. Here you feel and eat the seasons, know what fish are running when, and are (shockingly) aware of the source of chops and roasts. Knowing who and where your food is coming from brings reverence to the table, and an appreciation that deepens every pleasure. What is luxury if not depth of pleasure? Greece is not a wealthy nation, but it is very rich in things that matter.
Good living is inevitable in a climate of such simplicity and abundance. Happily, the Mediterranean approach to the pleasures of the table translates very easily. I hope here to share ways of savoring the everyday wealth around you- wherever you may be- with recipes (some classic, and all inspired by a Mediterranean lushness and simplicity), entertaining and home-keeping experiments, and experiences that that have made my life more beautiful, with the fond hope that they enrich yours as well.