Tiropita (ti-ró-pi-ta) is "cheese pie" in Greek (tirí – cheese, pita – pie). It's extremely popular, and there are many Greek tiropita recipes – regional specialties, family favorites. Some of them are complex. But not this easy tiropita.
We love recipes with very few ingredients. This one has just five – phyllo (filo), butter, feta cheese, yogurt, and mint. Six if you count the honey you want to pour over the top.
A Very Easy Tiropita Recipe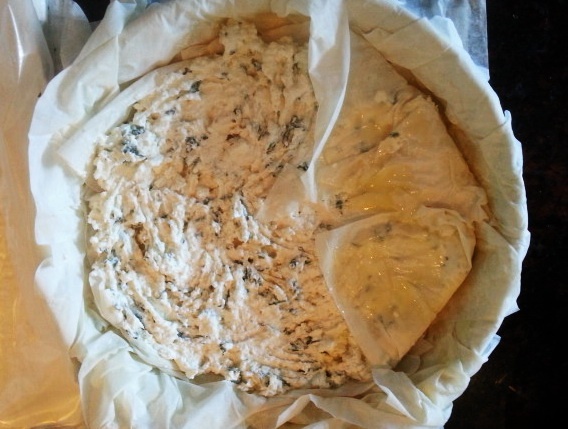 This is one of the easiest Greek tiropita recipes we know. Besides having few ingredients, it uses ready-made packaged phyllo, an ingredient for instant success. This is the quickest of many recipes using phyllo pastry sheets. Phyllo (filo) is usually frozen. Let it thaw according to the package directions, then unwrap and keep covered with a kitchen towel. They dry out quickly. However, if they break, it doesn't matter. And if a couple of them stick together, it also doesn't matter.
Tiropitakia – Elegant Meze
Tiropitakia means "little cheese pies". You can make tiropita as individual phyllo triangles as a nice meze or cocktail party snack. But we like the rustic large pie best. It's also the easiest and quickest to put together.
Greek Cheese Pie with Honey
Cheese and honey is a classic sweet-savory Greek combination. Fried feta with sesame and honey, for instance, is a popular meze. Cheese pies with honey – like kalitsounia and sfakianopites "pies from Sfakia") are particularly popular in Crete, which has it own distinctive and delicious cuisine – here's more on the food specialties of Crete.
The most indulgent plate I've ever set eyes on in all Greece was at a taverna in Therisos, Crete. ,That's a gorge five minutes west of Chania, known for great meat – glistening mahogany, succulent, tinged with smoky char. An absolutely ancient man, elegant in traditional Cretan dress of tall boots, black shirt, and a black crocheted mandili, was sitting on a rustic wooden chair outside the kitchen. He had a large plate heavy with long pointed wedges of Graviera- a local aged semi-hard cheese – under a thick blanket of thyme honey. No bread, no fork. He looked a little bit naughty, what with all that honey. Drunk with grilled goat chops and a little tipsy on wine, I gazed at it. He gave me the barest wry smile of satisfaction before raising a dripping wedge to his mouth.
This is probably the best way to enjoy cheese and honey. But our crisp and hot pie is also not too bad – certainly worth the 15 minutes to throw together.
Our easy Greek cheese pie makes a nice savory tiropita recipe on its own. But pouring honey over the top of the hot pie makes a completely different sweet-savory dish.
This cheese pie with honey is equally suited to meze or dessert, or just a stand-alone treat to shine golden on its own.
Yield: 8 generous servings
Tiropita - Greek Cheese Pie with Honey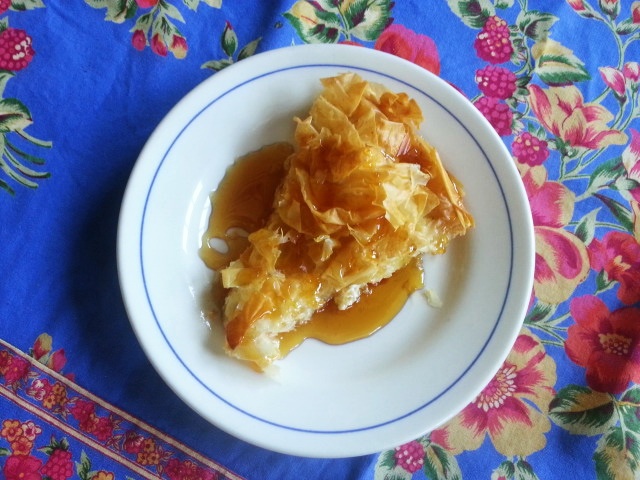 This crisp, melting, sweet, savory, tangy, minty, gooey Greek cheese pie is the perfect meze, dessert, or star of your next wine evening. It's elegant and beautiful, simple with just 6 ingredients, and a snap to make.
Ingredients
I 450 gram / 1 lb package phyllo dough
200 grams / about 7 oz. butter
250 grams / about 8 oz. feta cheese
200 g / scant 1 cup thick strained Greek yogurt
About 20 fresh mint leaves, or 1 tsp. of dried mint (plus more to taste)
Honey - Thyme honey is particularly good
Instructions
Preheat your oven to 180° C / 375°F.
Melt the butter.
Crumble the feta into a bowl and mix with the strained yogurt and the chopped mint leaves.
Butter a shallow round baking dish - we used a fluted quiche dish.
Lay a sheet of phyllo into the dish, crimping it a little. You should have gathers in the bottom of the dish, and a little overhang around the sides.
Butter the phyllo generously, and repeat with another sheet.
Repeat 6 or 7 times.
Spread your feta mixture evenly over the buttered layers of phyllo.
Drape the overhanging leaves back over the cheese mixture, buttering some of them in between.
Continue to build up layers of phyllo, this time pinching them and crimping them to stay within the rim of the dish. If you aim for a crinkled, rustic effect it will look great. Another 7 or 8 layers should do it.
Bake in the middle of the oven until it's a deep rich golden color (definitely not light brown).
Serve hot, with honey on each individual piece.
Notes
The tiropita is puffy and beautiful when it comes out of the oven - try to serve it right away.
Your cheese pie can sit around for an hour or so before baking, so it's easy to get the timing just right.
If the air in your kitchen is really dry, your phyllo may get very brittle. Just moisten your hands and proceed. This pie looks great messy and rustic.
The mint is really sensational with the cheese and the honey. But if you don't care for mint, it's also delicious without it.