Mendiants Chocolat are compositions of nuts and dried fruits arranged on chocolate disks. Simple as they sound, they're lovely to look at, and even lovelier to eat. These are the prettiest chocolates you can make at home, and among the simplest.
This mendiants recipe is ideal for anyone making chocolates at home for the first time, as there is no filling to make, and no shaping to speak of. The focus is solely on the chocolate and on the quality and beauty of the toppings. They're on showy display, so we want them to be of first quality. Gather your plumpest whole walnut halves, longest curls of coconut, glossiest golden raisins, and so on. Y0u can think of mendiants as chocolate canapés.
What are Mendiants Chocolat?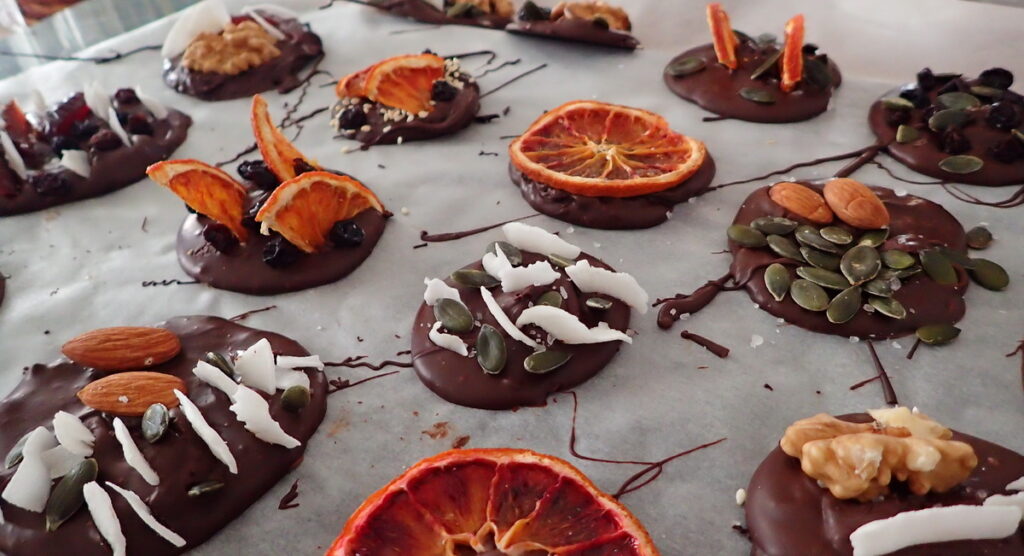 Chocolate mendiants have a nice backstory. Mendiants meaning in English is mendicant – someone who has taken a vow of poverty for religious reasons, and therefore relies on alms to survive. This is in order for all of the energies of the mendicant to be devoted to prayer and service. The mendicants – mendiants in French – represented in these chocolate disks are the four mendicant orders of Catholic monks: the Augustinians, the Carmelites, the Dominicans, and the Franciscans. Traditionally, just four ingredients would top mendiants au chocolat – raisins for the Augustinians, hazelnuts for the Carmelites, almonds for the Dominicans, and figs for the Frnaciscans. Their colors correspond to the robes of the respective mendicant orders.
Today's chocolate mendiants often include many other toppings – various nuts, seeds coconut, orange peel, ginger, fleur de sel, and so on.
Mendiants au Chocolate for Christmas in Provence
Because of mendiants' religious association, they're often a traditional dessert for French Christmas, especially in Provence. Mendiants au Chocolat are part of the Provençal Les 13 Desserts de Noël (Les Treize Desserts). The Thirteen Desserts represent Christ and the 12 Apostles, and are part of the Gros Souper – the Great Supper that precedes midnight mass.
Chocolate Mendiants for Orthodox Lent and Easter
In addition to their devout association, mendiants are free of animal products. Dried fruits, nuts, and dark chocolate are all lenten and appropriate for the fasting periods of the Orthodox Christian church. Mendiants au chocolat are a modest dessert for lent.
Ingredients for Chocolate Mendiants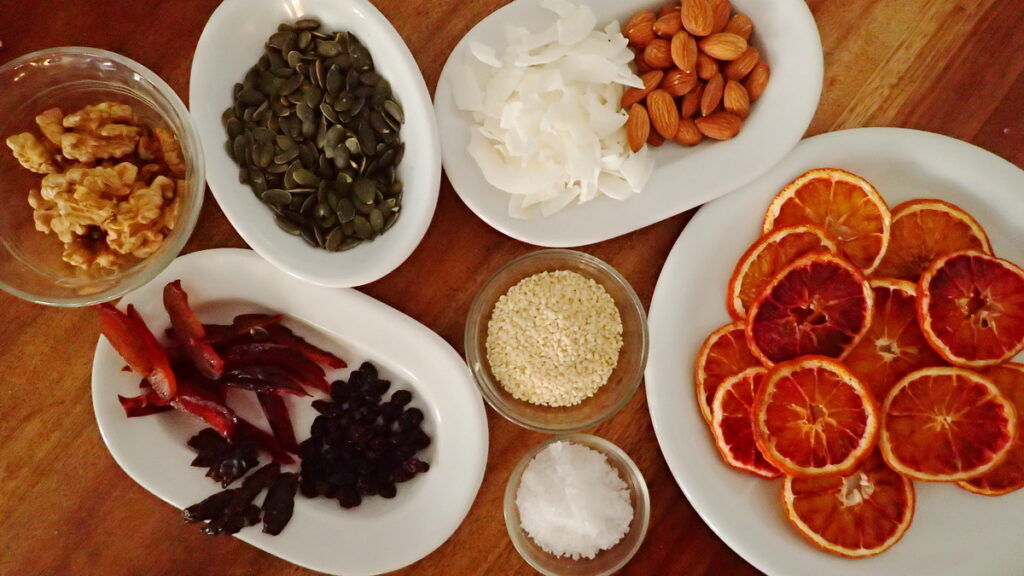 We only need chocolate and a small assortment of dried fruits and nuts to make traditional mendiants. But we added many more ingredients for variety in appearance, texture, and taste. Here, we have dried coconut in wide strips, green pumpkin seeds, dried plums, dried blood orange slices, black raisins from Corinth, toasted almonds, sesame seeds, and coarse natural sea salt
Any chocolate is suitable for making mendiants – white, milk, bittersweet, or dark. However, for the mendiants to be suitable for lent, we used dark chocolate here. We tried both 54% cocoa, and 65% cocoa. Dark chocolate is also the traditional choice. White mendiants au chocolat would also be dazzling, showing off the colors of the fruits and nuts.
Related post: Other vegan, lenten desserts include surprisingly homemade Tahini Halvah and this fluffy Lenten Chocolate Cake that you mix directly in the pan.
Making Mendiants
Chocolate mendiants, like many things that look simple, reward your best efforts. With so few ingredients, they require careful handling.
Assembling the Ingredients
Once the chocolate is at the right temperature, we need to work quickly. Therefore, we set out all the toppings in small bowls and on plates for easy access. Also, line a couple of surfaces – such as cutting boards or marble boards – with non-stick baking parchment.
Tempering Chocolate for Mendiants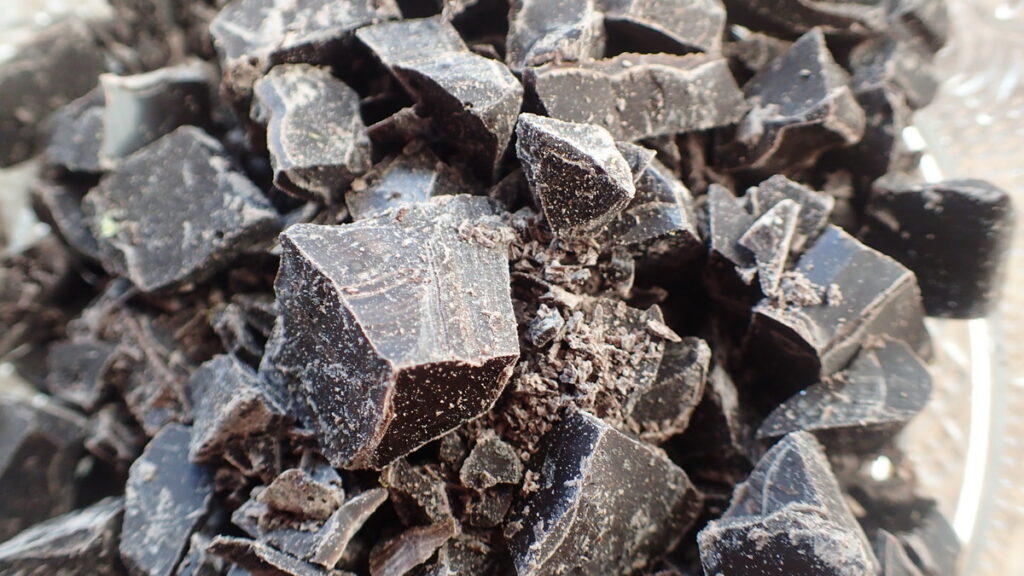 Tempering the chocolate properly is fundamental for making mendiants au chocolat. Chocolate that has been tempered is shiny and has a satisfying snap when you break it off or bite into it, melting quickly as it yields to the heat of your mouth. Chocolate that has not been tempered has a dull appearance and won't set properly at room temperature. Some recipes will tell you that you can melt chocolate without tempering it afterwards, and that you can simply store the mendiants in the refrigerator until serving. But such chocolates melt as soon as they meet the heat of your fingertips, and the texture can be grainy and disappointing.
Making mendiants au chocolate is the perfect way to develop a more confident relationship with chocolate. This is a temperamental and passionate ingredient that nonetheless responds beautifully to careful handling. The connection between chocolate and romance is deeper than popular culture – it's molecular. Each rewards focus and finesse.
How to Temper Chocolate
An instant read thermometer makes tempering chocolate very easy. You set aside about one third of your chocolate and chop the rest. You melt the chopped chocolate until it's warm, but not hot: 115 F or 46 C. Then you add half the reserved pieces of unmelted chocolate- this is called the seed. Stir it in and keep stirring until it melts, and the chocolate comes to about body temperature – 98 F or 37 C. Then add the rest of the chocolate and continue to stir until the mixture reaches about 80 F / 27 C – it will have started to thicken a bit. Then bring the temperature up just slightly to make it more liquid, being careful not to exceed 90 F / 32 C.
Tempering Chocolate for Mendiants without a Thermometer
Many people don't keep an instant-read thermometer in their kitchen. Although ours broke some time ago, we've been tempering chocolate successfully without it ever since. First we prepare the chocolate as above. We melt 2/3 of it in a bain marie over simmering water, taking care that not even a drop of water gets into the chocolate (it seizes up and gets lumpy and there's no saving it except to make a sauce or another recipe using it as an ingredient). Since the temperature range we're working with is close to body temperature, it's easy to approximate. First, we let it get warm to the touch, but not hot – warmer than body temperature. We stir gently as it melts. Then take a clean spoon and dab some on your lower lip.
Now we proceed as above, adding half of the remaining chocolate, then the rest, until the temperature is notably cool to the lower lip. Then we re-warm gently. But we stop when it is still cool – not neutral in temperature, but still a bit cool.
Assembling the Mendiants Chocolat
Tempered chocolate sets quickly. It often begins to set within 60 seconds. We portion out a few disks at a time, and top each as desired. Imagine them as small compositions, miniature landscapes. Aim for visual and textural contrast.
Making mendiants is a good project for two. It's wise to keep stirring the unused chocolate in between portioning the disks, so that it doesn't begin to set.
Serving Mendiants
We enjoy ours with black coffee by day. These are also very nice with a glass red wine in the evening for a not too rich dessert. With such wholesome ingredients, these vegan and lenten confections are also real food.
Yield: 30 Mendiants
Mendiants Chocolat - Chocolate Disks with Nuts and Fruits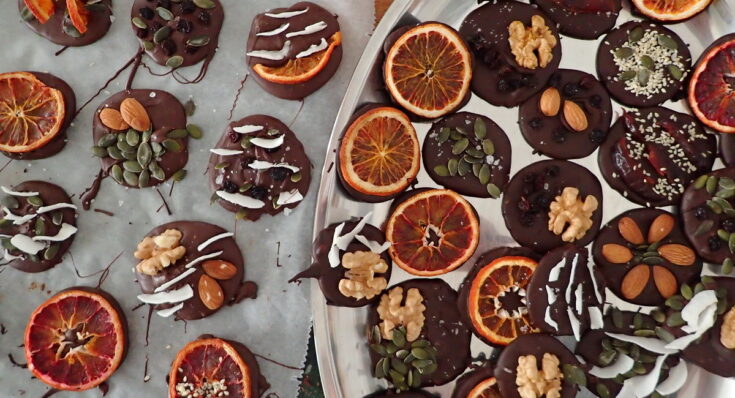 Mendiants Chocolat are little compositions of dried fruits, nuts, and seeds on glossy disks of chocolate.
Additional Time
30 minutes
Total Time
1 hour
20 minutes
Ingredients
600 grams / 1 lb, 6 oz. couverture, 50% - 80% cocoa, as you like
10 - 15 whole walnut halves
20-40 toasted whole almonds
60 gr / ½ C green pumpkin seeds - "pepitas" 
50 gr / 1 C large strips of dried coconut
40 g / ¼ C raisins - golden or black
10 dried plums or dried apricots, cut into strips
coarse sea salt flakes
Anything else you wish - sesame seeds, pine nuts, dried orange slices, whole hazelnuts, dates, etc.
Instructions
1. Arrange all the topping ingredients in small dishes for easy access.
2. Line some cutting boards or other flat surfaces with non-stick parchment for shaping the mendiants.
3. Temper the chocolate, as above.
4. Working quickly, form a few disks of any size you wish.
5. As you top the disks with fruits and nuts, keep stirring the chocolate.
6. Let set completely before serving.
Notes
1. Mendiants need a quick hand, as the tempered chocolate sets up fast.
2. Use two or three items per disk, and create a variety of compositions for a beautiful assortment.
3. Some items come lose easily - pepitas, for instance. Press items gently into the surface so they grab on well.
4. Mendiants - just like chocolate bars - keep well at cool room temperature. If it is very hot, you can store them in the refrigerator.