Tourte aux blettes (tourte de blettes) is a sophisticated, easy swiss chard tart from sunny Nice on the Côte d'Azur. It brings together delicate fresh greens with a surprising combination of ingredients for delicious results.
Tourte aux Blettes – Savory or Sweet?
Our recipe here is for a tourte aux blettes sucrée – the sweet Swiss chard tart which is also the most common version. There's also a tourte de blettes salée – a savory version.
But actually, the tourte aux blettes sucrée is a sweet and savory both. Recipes with leafy greens are nearly always savory. But Swiss chard is an unusually delicate green, with a natural sweetness. This traditional Provençal recipe from Nice takes advantage of that delicate flavor and brings it into a mildly sweet direction with the addition of raisins, a layer of apple slices, and a little lemon zest. A Swiss chard dessert may sound unusual at first, but the combination is completely natural – chard, pine nuts, and raisins taste like they belong together.
Then, for salty, rich contrast, a tourte aux blettes also has grated Parmigiano – Reggiano. It's unexpected, but brilliant, harmonious.
Fans of sweet – savory combinations are in for a treat. Like a Greek cheese pie with honey, it successfully brings the sweet and the savory together. Tourte aux blettes strikes a delicious balance.
Tourte aux Blettes and the Cuisine of Provence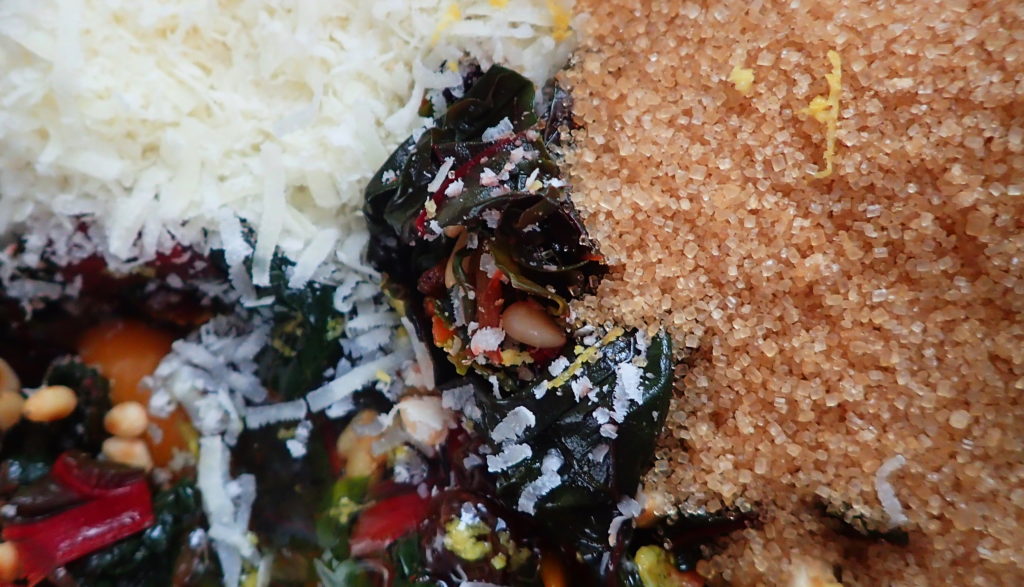 What part of France has the best food? Many would say Provence. Provençal cuisine – and cuisine Niçoise specifically- is like French cuisine on vacation. It's sophisticated and elegant, but full of sunny surprises.
The unexpected combination of ingredients in a swiss chard tart is actually completely natural, given the location of Nice on the south coast of France. Here on the shores of the Mediterranean, culinary influences converge. The raisins, citrus zest, and cinnamon in a partly savory dish speaks of the influence of North Africa and the Arab world. The Parmigiano – Reggiano and the pine nuts are from Italy. An Italian influence is also completely natural in the cuisine Niçoise. Nice is just 30 kilometers from the Italian border. But the ties of Nice to Italy are deeper than that: Nice was part of Kingdom of Sardinia, until being ceded to France under Napoleon III in a treaty of 1860. Many dishes in Nice reflect Italian tastes.
Swiss Chard Tart – Ingredients in a Tourte aux Blette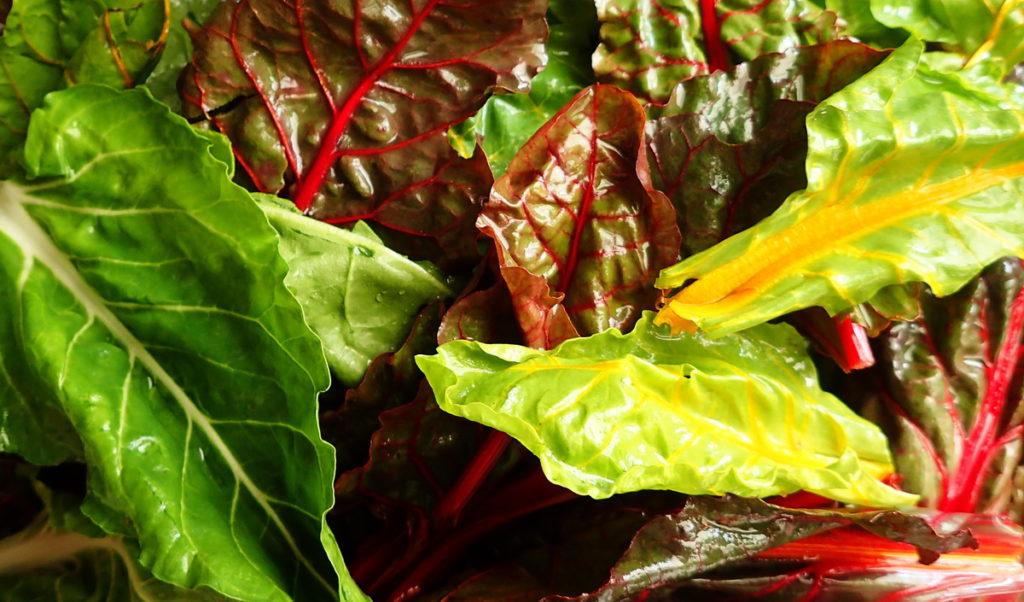 Swiss chard grows well in the south of France, and it's a central ingredient in Provençal cuisine. There are many blette recipes – it stars in gratins, tians, gnocchi, and tourtes. A tourte de blettes is the perhaps the most famous of these, and is a staple of Nice.
Chard loves the saline-rich soils of the coast, and has been popular in Provence since the Roman era. Although it looks like spinach, the two are not interchangeable. Chard is much sweeter and more delicate than spinach. Also, the chard stems – even the fat one – are sweet, tender and delicious. We won't need them for this tarte aux blettes, but by all means set them aside for a gratin or to add to a soup. They're every bit as valuable as the leaves. Swiss chard comes with stems of white, red, and yellow. All have deep green leaves. Any color of chard will work well in a tourte de blette.
Pine nuts add their unique texture and flavor to the tart. Also called pignoli (pinoli), pine nuts are prized for their rich taste. and appear in both savory dishes and desserts. These tiny and oblong nuts of the pine cone are laborious to harvest, which explains their relatively high price. However, we don't need many for a tourte aux blettes. They're worth the splurge, and the other ingredients are inexpensive.
Raisins are divine with the greens. Plumping them in liquor makes them even more aromatic. Use any unsweetened alcohol that suits you – eau de vie, marc, cognac. We used some dark rum. Some people also top the filling with thin slices of apple or pear, as we did here.
Lemon zest brightens the flavor and adds a sunny aroma. Sugar brings out the sweetness of the chard and the raisins. And finally the Parmigiano – Reggiano adds a savory depth for a perfect balance.
A Slightly Sweet Olive Oil Crust for a Tourte aux Blettes
The pastry crust for a tourte de blette is delicious. The south of France is not dairy country, like Brittany or Normandy are. In Provence, rather than butter the fat of choice is extra virgin olive oil. It adds even more sunny flavor to the tart. Moreover, the dough is very easy to work with – oil and sugar add tenderness, lemon zest some aroma, and eggs bring it together. The pastry crust for a tourte aux blettes is as easy to work with as a dough for sugar cookies, and is simple to roll out.
How to Make a Swiss Chard Tart – Tourte de Blettes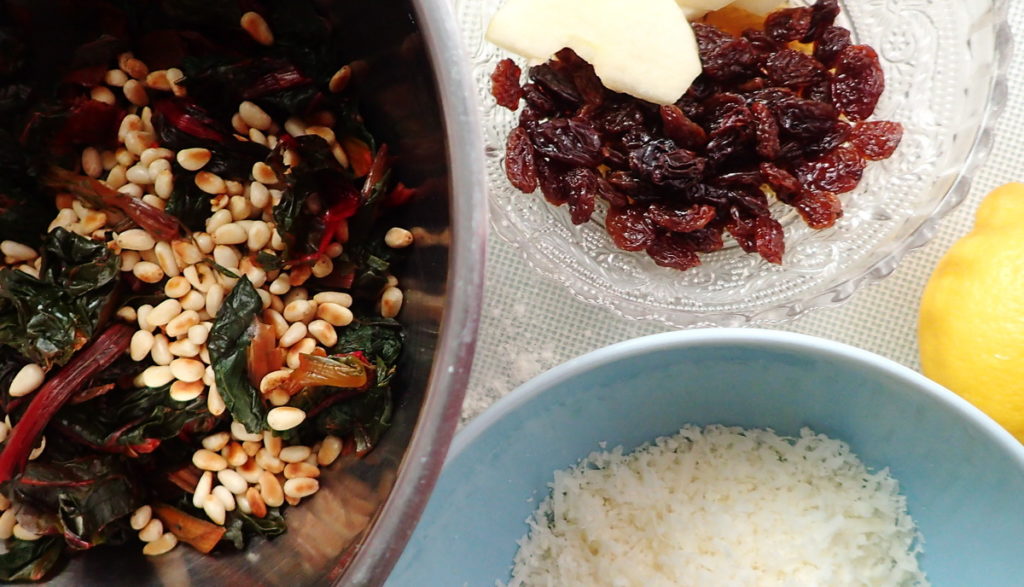 The tourte de blettes is easy to put together. Start by making the dough for the crust. While the pastry dough rests in the refrigerator, wash the Swiss chard leaves, steam them in the water that clings to the leaves, and leave them to cool..
Then we plump the raisins, toast the pine nuts, and grate the Parmigiano-Reggiano. After chard leaves cool, we squeeze the excess water from them and chop them roughly. Then, we combine all the filling ingredients except for the apples in thin slices.
Now, we simply roll out the dough and spread out the filling, top that with the apple or pear slices, and then cover with the top crust.
The Swiss chard tart needs about a half an hour in the oven. We can enjoy it warm from the oven or at room temperature.
When to Serve Tourte aux Blettes
This French chard tart recipe, with is delicate balance of sweet and salty, works well any time. It makes a delicious breakfast. And it's just barely sweet enough to be a nourishing dessert – especially with a dusting of powdered sugar and some cinnamon. Or enjoy it without the sugar along with a glass of wine for a treat of a lunch. The balance between sweet and savory goes well any time of day. Wholesome ingredients make a tourte aux blettes richly satisfying, while the sophisticated combination of flavors makes it special.
Yield: 8 slices
Tourte aux Blettes - A Swiss Chard Tart from Provence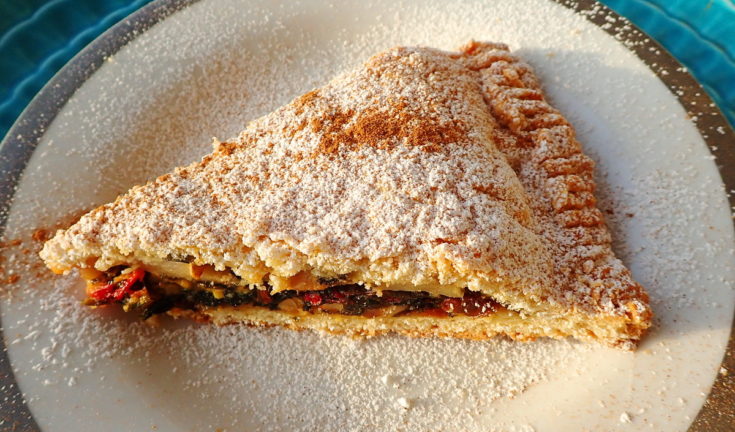 This sweet and savory Swiss chard tart from sunny Nice on the Côte d'Azur is both wholesome and sophisticated.
Total Time
1 hour
10 minutes
Ingredients
360 g / 3 C all purpose flour
120 ml / ½ C extra virgin olive oil
100 g / ½ C sugar
½ tsp. salt
½ tsp. baking powder
2 eggs, lightly beaten
zest of half a lemon
For the filling
1 -2 bunches / ca 1 kilo Swiss chard ("blettes") - any color
50 g / ⅓ C raisins - any kind
1 shot of rum, cognac, or eau de vie
50 g / ⅓ C pine nuts
100 g / ½ C sugar
30 g / ⅓ C grated Parmesan cheese
zest of ½ lemon
1 egg
1 apple or pear, thinly sliced
For serving
Instructions
Make the pastry crust - blend flour, sugar, salt, baking powder, and lemon zest. Add oil and work it in by hand, then add the eggs to combine to form a smooth, workable dough. If it's too dry to hold together, add a little water - but just a little. Cover and refrigerate as we prepare the filling.
Trim the Swiss chard leaves from the stems, setting aside the stems for another use. wash the leaves.
Transfer the wet leaves to a large pot and steam until they have wilted - about 10 minutes. Drain, squeeze out excess moisture, and chop coarsely.
Cover the raisins with the alcohol and heat gently or microwave for a few seconds.
Toast the pine nuts over medium-low heat until fragrant in a dry skillet.
Combine the chard with the sugar, the raisins with the alcohol plumped in, the pine nuts, the lemon zest, and the egg - everything but the apple.
Divide the pastry dough in half and roll out on a floured surface into a large round, perhaps 30 cm / 12 inches across. If the tough tears, simply press it back together - it's an easy crust to work with.
Place the disk into a shallow fluted tart pan or - as we have done here - simply transfer to a parchment-lined baking sheet.
Place the filling on the bottom crust and cover with the apple or pear slices, if using.
Cover with the top crust and seal the edges.
Bake at 190° C / 375° F until golden - about 30-40 minutes
Serve warm or at room temperature, dusted with cinnamon and powdered sugar.