Bougiourdi – μπουγιουρντί – is like a spicy, lusty Eastern Mediterranean fondue. This easy baked Feta dish is – by far – the favorite new recipe of everyone I have ever made it for when I visit the US from Greece. Everyone who has tasted it has made this Greek baked feta recipe part of their regular repertoire, enjoying it many times since.
This is one of the best things you can do with a slice of Greek feta cheese (incidentally, "feta" means "slice" in Greek). Bougiourdi – with its melting feta, hot peppers, fragrant oregano, and juicy bite of hot tomato – gives you maximum impact for a minimum of effort. It takes about 5 minutes to get it into the oven – it's the easiest of all recipes with feta cheese.
What's Bougiourdi?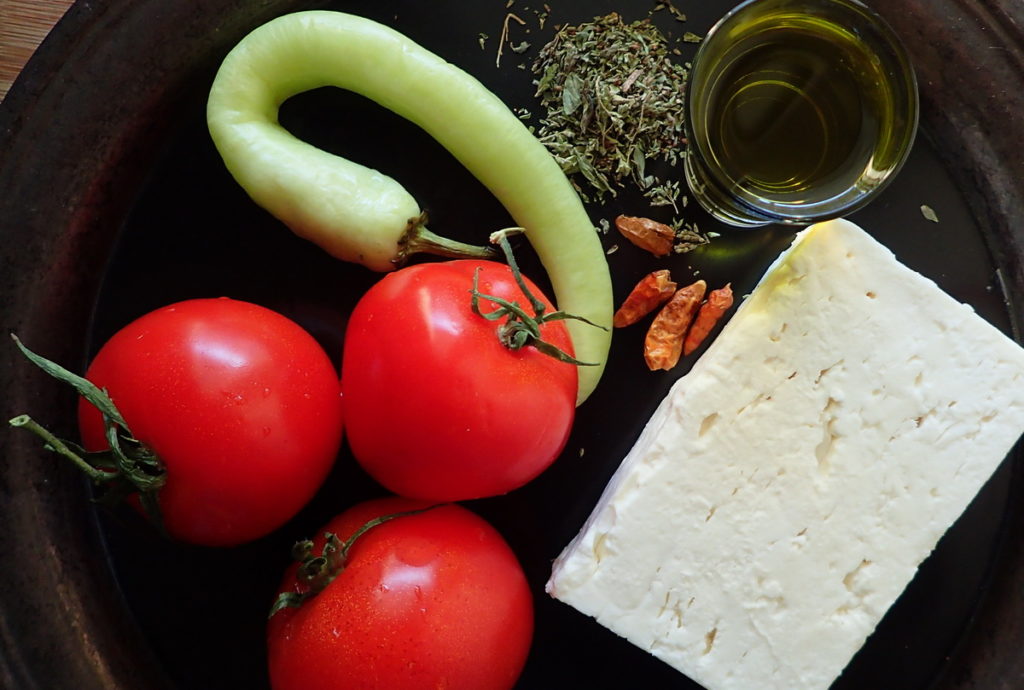 Bougiourdi (also bouyourdi) is a slice of feta cheese broiled with slices of long green hot pepper, dried chilies ("boukovo" in Greek) if you like extra heat, slices of tomato, and extra virgin olive oil. It's finished with crumbled oregano. You eat it hot, with crusty bread. This is the most elemental of Greek food recipes – zest, heat, spice –
Feta in the oven keeps its shape. The inside gets soft like a custard, and the edges get a little crusty
This most popular of Greek side dishes is at its best in Thessaloniki. The Greeks of Asia Minor who came in the 1920's gave the city's cuisine some heat and zest, making it one of the best regions for dining in Greece.
When to Serve Bouyiourdi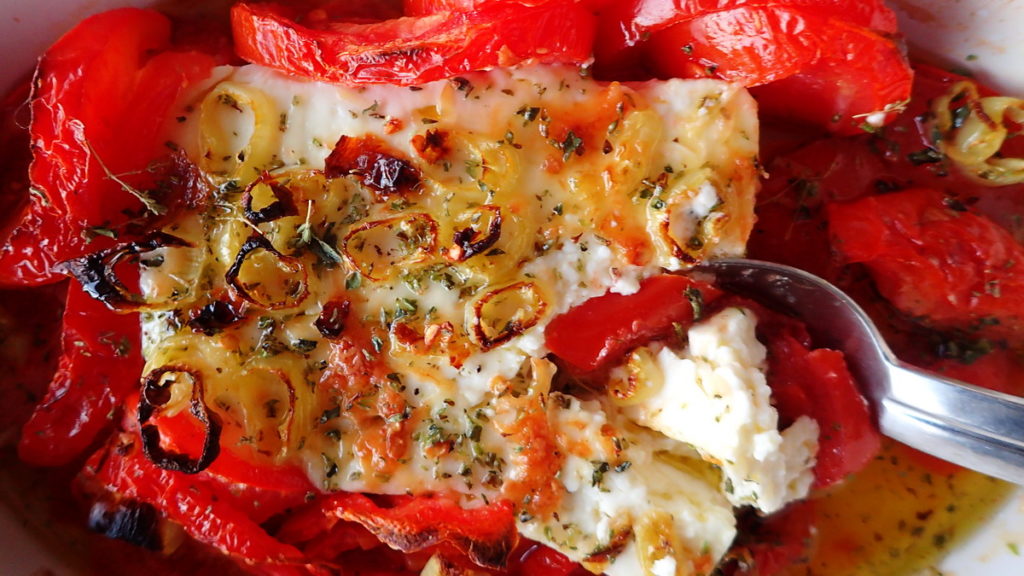 That's the great thing about bougiourdi – this dish is perfect for any occasion and any hour. It's a popular meze – these are the Greek side dishes that are actually the stars of the table – small dishes to enjoy with ouzo, tsipouro, or wine. But it also makes a satisfying last-minute casual lunch or dinner when you're starving and short on time. Just add a salad and bread and some charcuterie. For brunch, make room in the dish for a couple of whole eggs in order to transform it into a cheese-forward shakshuka.
Where a hot dish of bougiourdi really shines is with a glass of wine with guests. It's more festive and filling than a cheese plate and quicker to put together. Your friends will be delighted.
Secret Ingredient for Bougiourdi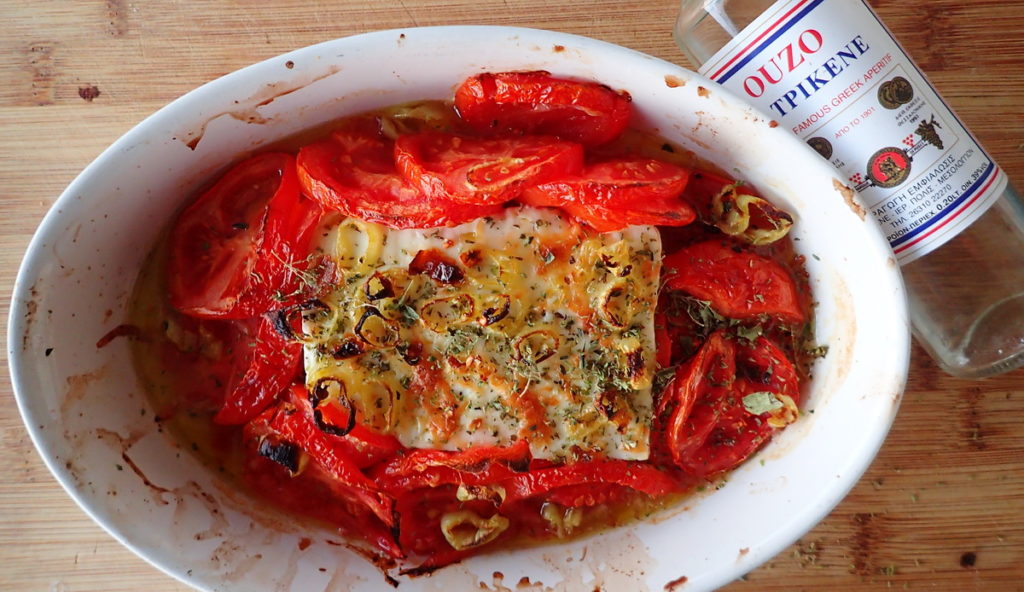 Even if you serve your bougiourdi with sparkling water or a glass of wine, you may find that ouzo really picks up the flavor. The sweet anise aroma of ouzo is a wonderful contrast to the heat of the peppers. Try adding a splash of ouzo – maybe a capful – as soon as you pull the bouyiourdi from the oven.
A Bougiourdi Recipe
This Greek baked cheese dish is very easy to customize to your tastes. The following bouyiourdi recipe is just an example. If you don't like much heat, feel free to substitute some bell pepper for the long hot peppers. Oregano is traditional, but some wild thyme is also delicious with the tangy cheese. We sometimes add a little graviera or smoked Metsovo cheese along with the feta, for a more elastic and gooey bougiourdi. If your tomatoes are not so great, you can plump some sun-dried tomatoes for a more intense flavor.
Yield: 4 servings
Bougiourdi - Spicy Baked Feta with Peppers and Tomatoes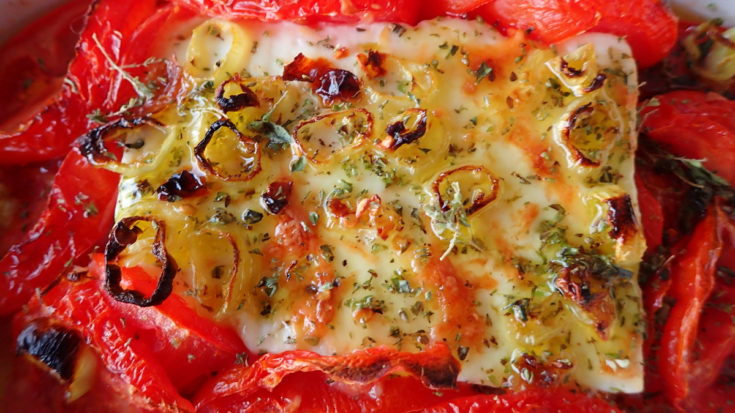 Zesty and satisfying bougiourdi - feta broiled with hot peppers, tomato, and oil - makes a fast but impressive meze, snack, or light meal.
Ingredients
250 g / 8 oz slice of feta cheese
2 or 3 small tomatoes, or a handful of cherry tomatoes
1 long green hot pepper
3 or 4 small dried red chiles
a shot glass full of extra-virgin olive oil
dried wild oregano
A small drizzle of ouzo
Instructions
Preheat your broiler to 220° C / 425° F
Slice the long pepper into rounds
Slice the tomatoes
Put the feta in an oven-proof dish, surround with the tomatoes, and top with the sliced pepper
Crumble the dried chilies over the top
Pour the olive oil over the feta
Broil on the top rack of the oven for about 10 minutes, until the peppers start to color along the edges.
Remove from the oven and crumble the oregano over the top. Add a small splash of ouzo if you like.
Notes
The long, thin green hot peppers in Greece vary greatly in heat - taste a little before you add the whole pepper. Then add the dried chilies according to your taste for additional heat. Use any hot peppers you have available locally, adjusting for the amount of heat you want.
Adding the oregano after the bougiourdi comes out of the oven keeps the fragrance sweet and bright.
Serve with some crusty bread to dip into the oil.
If there are any leftovers, they heat up surprisingly well.