Greece's fine winter citrus brightens this rich orange chocolate cake. Wholesome and delicious with juicy bites of orange, this cake is even better with a white chocolate and cream cheese frosting. Dried slices of blood orange add tang and crunch.
Chocolate with orange is a natural flavor combination. The fragrant citrus balances the deep taste of chocolate beautifully. Moreover, chocolate cake with orange has the advantage of a great moist texture from the fresh orange.
The Right Oranges for Orange Chocolate Cake
Any oranges you have on hand will work just fine for this recipe. There are several types of oranges in Greece in the winter. There are juice oranges, blood oranges, and dessert oranges – the kind you eat out of hand. Of those, the Merlin variety are the most flavorful. Some Merlin oranges are very large – we'll need one large or two smaller oranges.
We use the fragrant natural orange zest in this orange & chocolate cake recipe – rather than orange extract – to get that bright orange flavor. Because of this, selecting oranges with a little texture on the surface will give us better results. If the peel is too smooth, it's hard to grate the zest.
Instead of using squeezed orange juice, our cake gets its moisture from chopped orange slices. This gives the cake more texture than just using orange juice would, with bursts of orange flavor throughout the chocolate cake.
Ingredients for Chocolate Orange Cake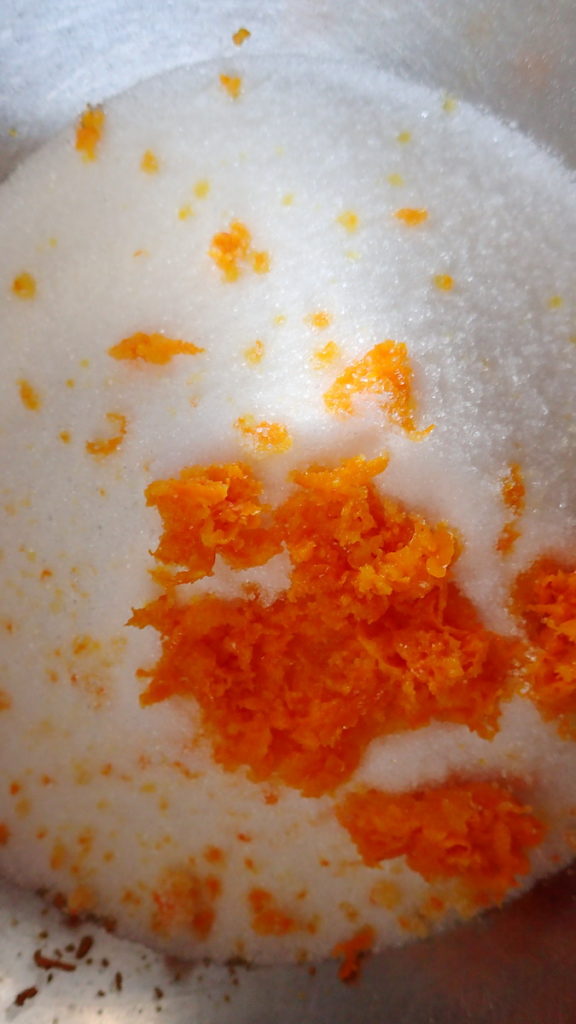 Besides the oranges and the cocoa powder, this recipe uses only basic and inexpensive pantry ingredients: flour, leavening, eggs. While some orange chocolate cakes use butter, our cake recipe uses vegetable oil – even extra-virgin olive oil if you like – instead of butter. You don't need to factor in time for bringing butter to room temperature. Also, there's no creaming of butter and sugar, so the batter comes together in just minutes.
Orange and chocolate cake is easy and economical, much like its twin – chocolate zucchini cake. Both of these cake recipes rely on wholesome, natural ingredients.
The half cup unsweetened cocoa powder is enough to give it a deep chocolate flavor. Adding too much more may make the cake taste heavier, rather than richer. For added chocolate taste, you could add some chopped dark chocolate to the batter before baking.
For the icing, we use white chocolate, cream cheese, and heavy cream. The frosting is both light and rich, and not too sweet. Like the chocolate orange cake, the frosting has a wholesome taste. This cake recipe makes a satisfying dessert that tastes like real food.
The creamy white frosting shows off the dark chocolate cake layers beautifully. We used crisp dried orange slices – rather than candied orange slices – to make a tangy garnish without added sugar.
… and Equipment
It's easiest to use two bowls for this cake – one for the wet ingredients, and one for the dry ingredients that we stir in afterward. Any kind of a zester, micro-plane, or grater – even the small holes on a simple box grater – will work just fine for zesting the oranges. In a pinch, I've even used a finely serrated knife to make orange zest.
The wet ingredients come together with a wire whisk. To fold in the dry ingredients, we'll need a wooden spoon or a spatula. There's no need for an electric mixer or a stand mixer for this cake recipe.
A mini chopper is useful for blending the orange segments with their pith, but chopping orange segments with a serrated knife – reserving the juice as you do – also works just fine. A simple mesh strainer is useful for making sure there are no lumps of unsweetened cocoa powder or baking soda and baking powder, and that the flour, the leavening, and the cocoa powder are combined well.
Even though we're using two bowls, a whisk, a spatula, a chopper, a strainer, and a grater, the clean up takes no time at all. The orange zest and orange juice are easy to wash off, and the bowl with the dry ingredient cleans up with a rinse.
Parchment paper makes removing the cakes from their pans very easy, and is particularly handy if you are making two cake layers.
How Much Cake Does the Recipe Make?
The photos you see are here are for a double recipe of orange chocolate cake. After a simple calculation, I used an assortment of round cake pans of varying sizes. A single recipe makes a generous single layer 30 cm / 12 inch round cake, or about 18 cupcakes. You could also make two cake layers, to better show off the cream cheese and white chocolate frosting. Or, you can use a bundt pan.
This makes a really nice bundt cake, either with frosting or unfrosted. Unfrosted, it's excellent with vanilla ice cream. It makes an impressive and speedy dessert if you're short on time. Just some whipped cream – maybe with a splash of Grand Marnier or another liqueur with orange flavor – and some fresh orange slices would also make a fine garnish.
This recipe also makes a large chocolate orange loaf cake, perfect for lunch boxes and afternoon snacks.
Yield: 12 servings
Orange Chocolate Cake
The brightness of orange and the dark richness of chocolate come together in this juicy and satisfying cake. It has a surprisingly delicate texture, comes together easily, and uses just a few inexpensive pantry ingredients. It's also delicious without the white chocolate and cream cheese frosting, but the frosting makes it fabulous.
Cook Time
40 minutes
30 seconds
Total Time
1 hour
30 seconds
Ingredients
The zest from 1 large or 2 medium oranges
200 g / scant 1 C chopped orange, from 1 very large or two medium oranges.
180 ml / ¾ C vegetable oil or olive oil
250 g / 1¼ C sugar
50 g / generous ½ C cocoa powder
150 g / 1¼ C all-purpose flour
1 tsp each - baking soda, baking powder, salt
New Group
200 g / 8 oz cream cheese
125 g / 5 oz white chocolate
200 ml / 8 oz heavy cream
Instructions
Prepare your pan with a thin coat of oil and a dusting of cocoa powder, lining the bottom with parchment. A 28 cm / 11 round pan works well, and so do 2 20 cm / 8 inch pans. Or 18+ cupcakes.
Preheat your oven to 180° c / 375° F
If you're making the frosting, take the cream cheese out of the refrigerator for it to come to room temperature.
Wash the oranges very well and zest them. The fine holes of a box grater work just fine.
Peel the oranges and separate the segments. Remove the pits, if any. By hand or using a food processor, coarsely chop the orange segments, together with their white membrane. Weigh or measure and set aside.
Put the sugar in a large mixing bowl and rub in the orange zest with your fingertips. It will turn orange and smell fabulous,
Add the eggs, oil, and chopped orange, and whisk to blend thoroughly.
Sift the dry ingredients into a separate bowl through a fine mesh strainer, combining them in the strainer as you do so.
Add the dry ingredients to the wet ingredients and blend thoroughly.
Pour into the prepared pans.
Bake for 20 - 40 minutes (20 - 25 for cupcakes, 30 - 40 minutes for the large round cake), until a toothpick inserted into the center comes out clean and the cake springs back when you press it gently.
Cool completely before icing.
For the cream cheese frosting, beat the cream cheese until fluffy
Meanwhile, chop the white chocolate and melt over simmering water or in the microwave on medium power. Stop before it is all melted, and stir to finish melting the remaining pieces. We want it liquid and smooth, but at room temperature - not warm.
Add slowly to the cream cheese as you beat.
Add the heavy cream slowly as you beat, and keep beating until fluffy, but not until the cream starts to separately.
Store the frosted cakes in the refrigerator for the frosting to set.
Notes
Did you notice that the frosting ingredients are not exactly the same amounts in grams and ounces? We just use whichever is the most convenient packaging in the country where we're making the cake. It's a very flexible frosting and the amounts here are really more of a guideline.