This Chocolate Zucchini Cake has been a summer standby in our family for years. In a Greek summer, it's sometimes so hot it's hard to eat much at all, so you need things that are tempting, and nutritious. And at least in our house it's also really nice if some of those things are also sweet.
I'm dedicating this recipe to my friend Celeste of Family Experiences in Greece and her two wonderful girls- it packs in some quality sustenance for them to keep enjoying their busy Greek summer, which so far is a very hot one. Our chocolate zucchini cake is filled with eggs, extra-virgin olive oil, whole grains, unsweetened cocoa powder, and – not least – lots of zucchini. It offers a lot, but still tastes like a treat.
A Chocolate Zucchini Cake for Summer
Whatever we do, we always seem to have leftover zucchini in the house. And much as we try to not use the oven very much in the summer, this cake doesn't need much time – it's out in 30 minutes. We make it early in the morning before the heat sets in. It's also large enough to last two or three days.
Here's another simple recipe we can't do without in summer: Cretan Boureki – a dish of zucchini, potatoes, fresh goat cheese, and mint. We often throw one in the oven as soon as the cake comes out.
A Very Kid-Friendly Recipe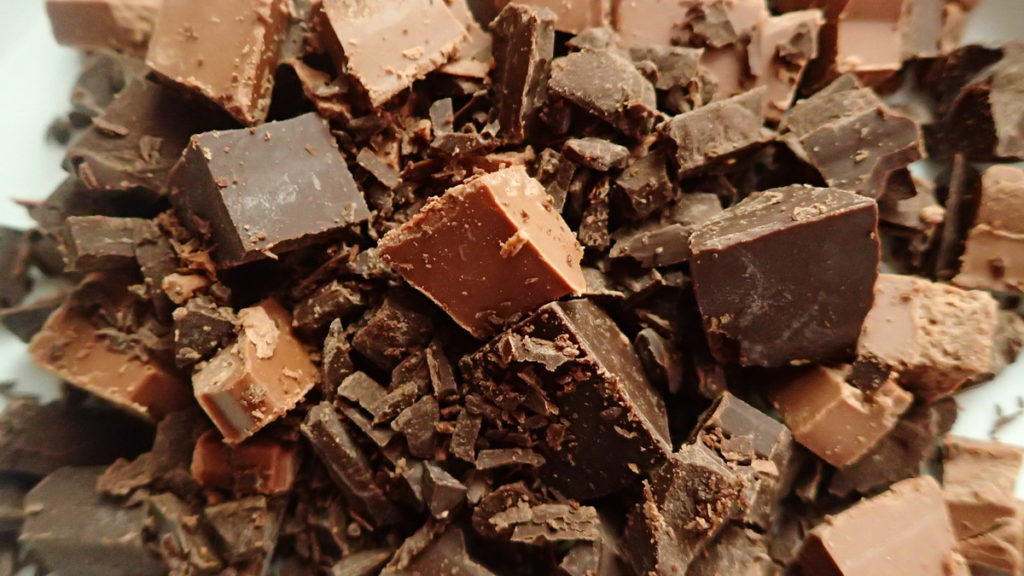 All the steps involved in making this chocolate zucchini cake are really easy. There's nothing to melt. You don't separate the eggs. If you don't measure extra carefully, nothing will happen. If you under-bake it or over-bake it a little, nothing will happen.
Younger kids may need just a little supervision. You grate the zucchini on a box grater – but they're soft and very easy to grate. If you use chocolate piece, you'll need to cut them up. On a hot summer day, this is also very simple.
Chocolate Zucchini Cake Needs No Special Equipment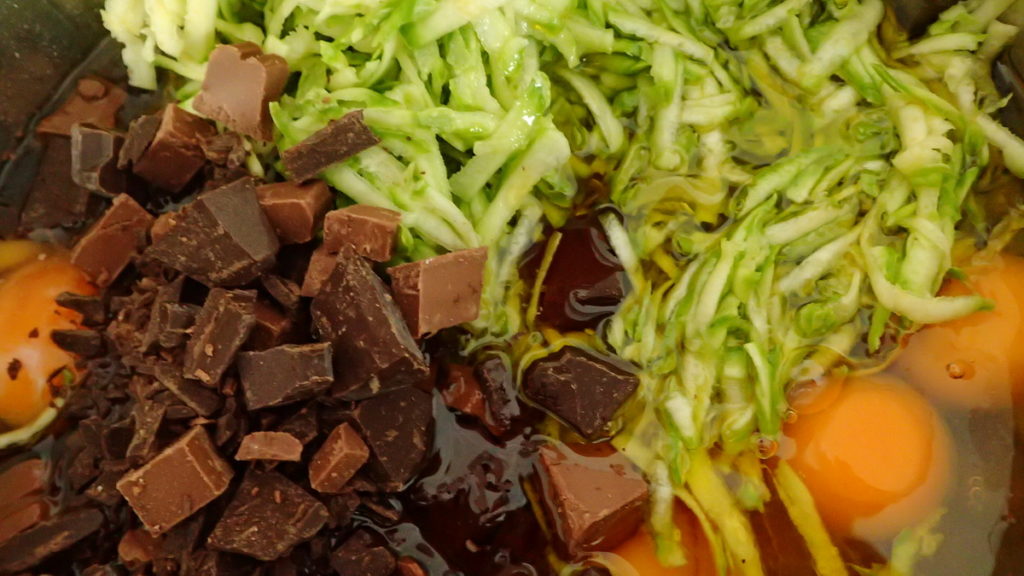 In the recipe below, we use two bowls. But we've also made this in a poorly-stocked beach apartment in a single plastic bin, and no mixing spoons. The only thing you really need is a cheap cheese grater – even a flat one. No measuring spoons or measuring cups? We guessed, and it worked out fine – just always use the same cup for everything.
Yield: 24 large pieces
Chocolate Zucchini Cake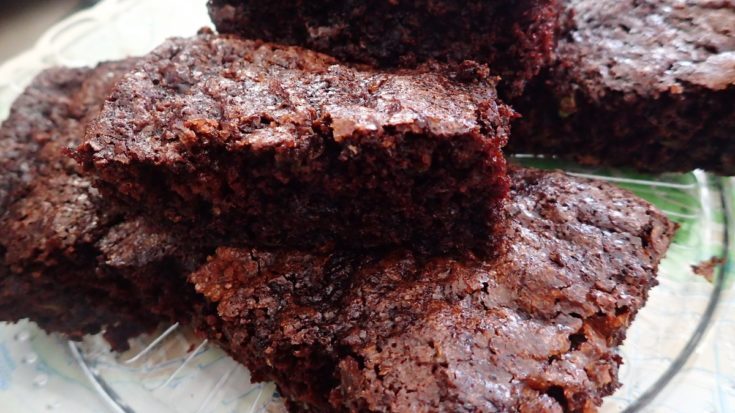 Dark, rich and tender - chocolate zucchini cake tastes like indulgence. But this quick and simple cake is packed with real food - eggs, extra virgin olive oil, cocoa powder, whole grain flour, and of course lots of fresh zucchini. We have one in the house all through our summer holidays.
Ingredients
3 C/ 400 grams grated zucchini
6 eggs
1 1/2 C / 360 ml extra virgin olive oil 
2 1/2 C/500 grams sugar - we use raw sugar, but white is fine.
1 C/ 85 grams unsweetened cocoa powder
1 1/2 C / 180 grams white flour 
1 C/ 120 grams soft whole wheat flour (whole wheat cake flour)
1 3/4 tsp baking powder
1 3/4 tsp baking soda
1 3/4 tsp table salt
Lemon zest to taste
Optional - 200 g coarsely chopped chocolate - dark, milk, or mixed
Optional - 1 C / 125 grams coarsely chopped walnuts
Instructions
Preheat your oven to 170° C/ 350° F, and line a large pan - 35 cm x 40 cm - with baking paper. The pan that fits directly in a European oven is perfect.
Wash and grate the zucchini on the large holes of a box grater and set aside.
Blend the flours, cocoa powder, baking powder, baking soda, and salt in a bowl.
Set aside 3-4 T of the sugar.
In a separate large bowl, rub the lemon zest into the remaining sugar.
Add the oil, eggs, and zucchini and blend thoroughly.
Fold in the dry ingredients and keep folding until thoroughly combined.
Add the optional chocolate or walnuts or both.
Pour the batter into the prepared pan, urging it into the corners with a spoon.
Sprinkle the top with the reserved sugar - it will make a nice crust.
Bake in the middle rack for about 30 minutes.
Test - a toothpick should come out moist but clean, with no crumbs sticking to it (make sure you test an area without a piece of melted chocolate).
Notes
The optional chocolate pieces push this easy cake firmly into the treat category. However, you can also effortlessly up the nutrition content by substituting some wheat germ or oat bran - or both - for some of the white flour. To keep the same texture, try doing this by weight (wheat germ in particular is very light weight)
The lemon zest makes the cake shine - delicious and bright with chocolate