Salt baked fish is one of the simplest of all fish preparations. It's also definitely one of the most festive and dramatic. This salt baked fish recipe is delicious and foolproof, and needs very few ingredients.
Which Fish to Buy for Baked Fish in Salt Crust?
Most any fish takes well to baking in a salt crust, as long as it's large, and has scales. For this salt baked fish recipe, you'll want to choose a large fish. Tσιπουρα – Sea Bream, λαβρακι -Sea Bass, and φαγκρι – Red Porgy are all good examples. Trout, which has no scales, may pick up a little more of the salt flavor. Salt baked sea bass is an excellent choice.
How Large a Whole Fish for Baking in Salt?
When we have large fish at home, I usually count on preparing about 500 g/1 lb. per person. This is the weight of the uncleaned fish, with its head on. For a dramatic presentation, go for one large fish. But individual fish of about 500 g/ 1 lb. each are also very festive. This would make an ideal social-distancing dinner party main course, as each person opens and cleans an individual fish.
Making Salt Baked Fish
Baked fish in salt crust is a really fun recipe to make – part cuisine, part craft project. All we do is stuff the cleaned fish with herbs and lemons, and then seal it completely in a thick layer of dampened salt. We need a lot of salt, egg whites to moisten, and rubber gloves to protect our hands because the salt eats into the skin. If we like, we can decorate the salt crust. Complete instructions are in the recipe below.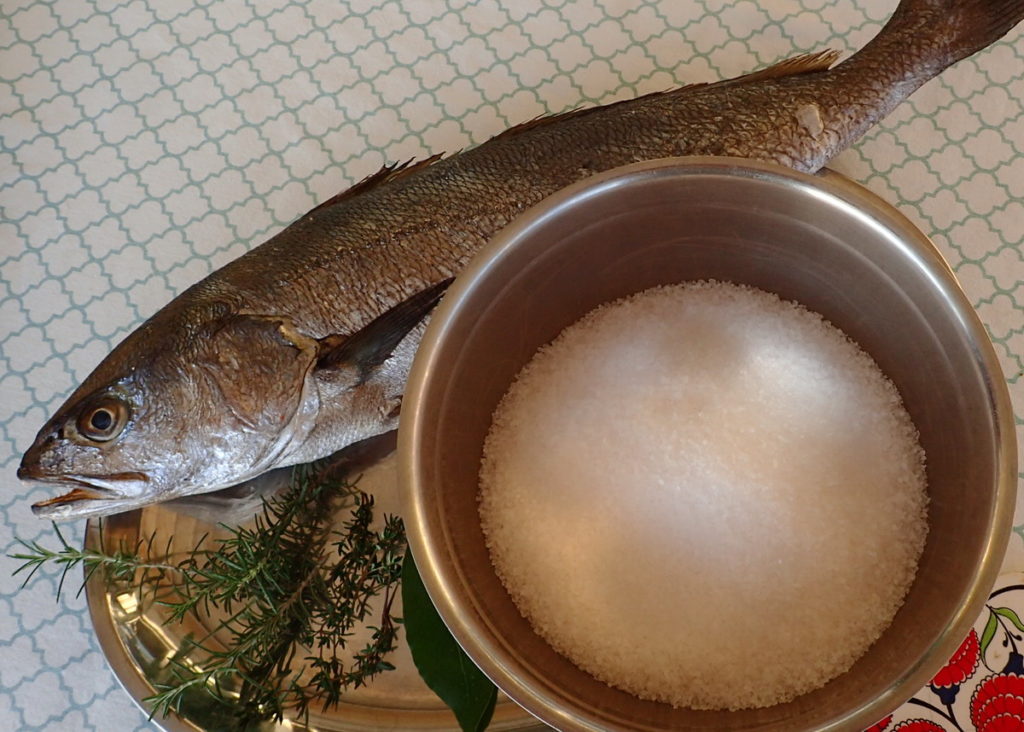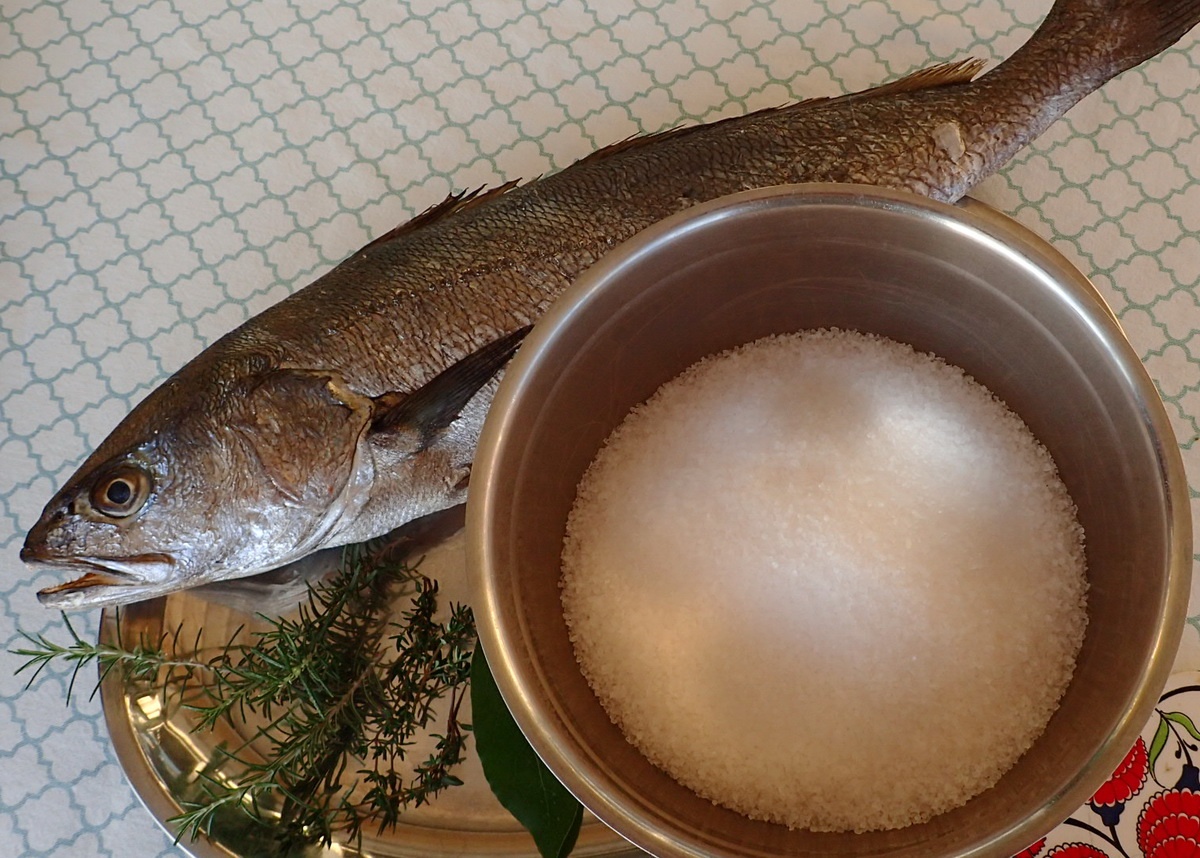 Baking and Serving your Fish in Salt Crust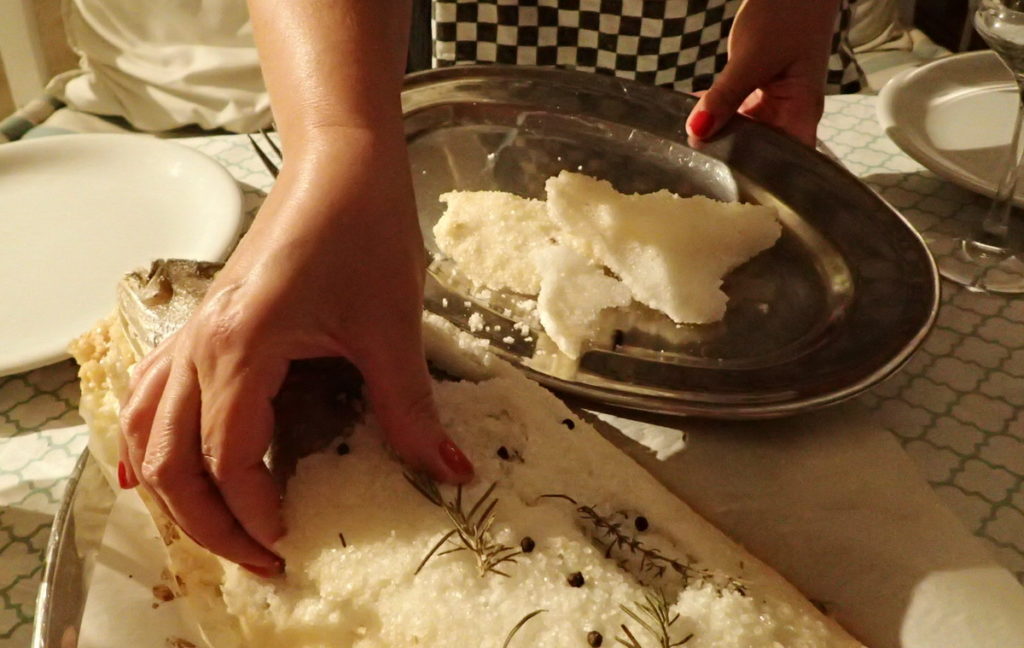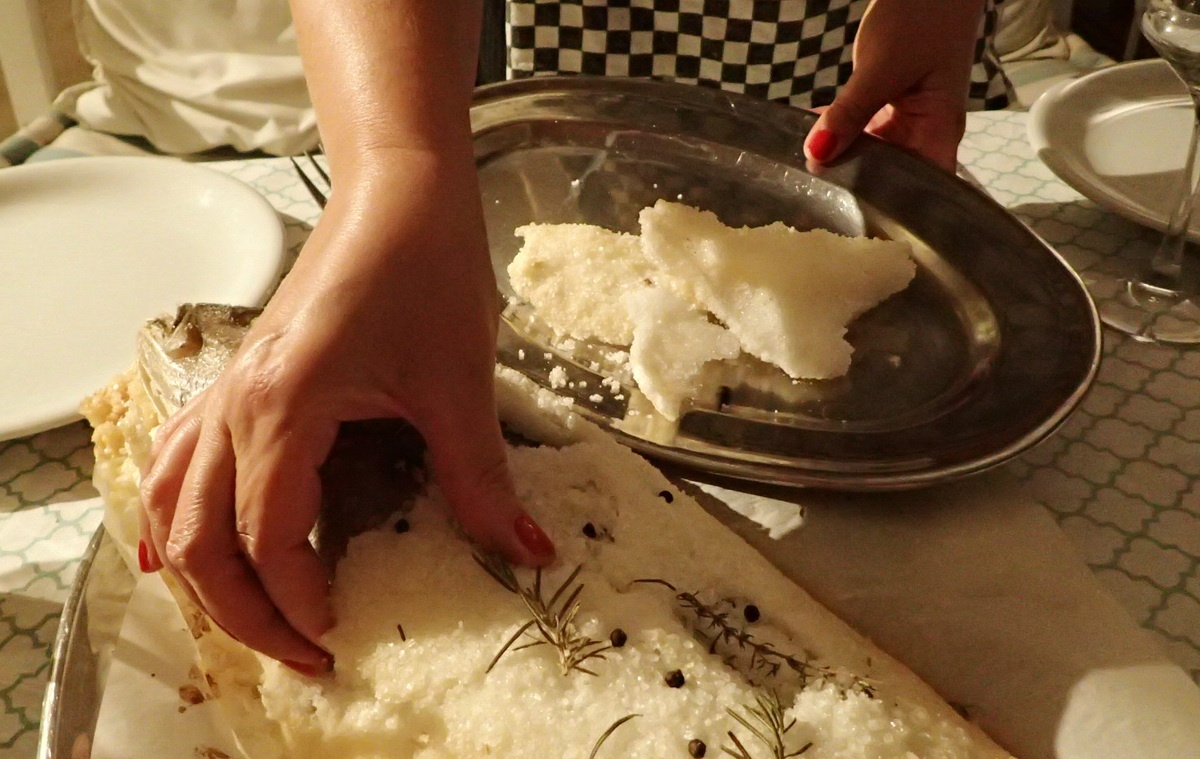 A whole fish baked in salt needs bout 30 – 60 minutes to bake, depending on its size (guide in the recipe below). We brought our large fish to the table in its salt crust to enjoy digging into it together. The crust is hard, and needs a sharp tap to crack. Because the aromas have all been sealed in, the stem that escapes smells wonderful.
The salt baked fish is tender and moist, and good fish needs little adornment. Greek fish connoisseurs insist that lemon hides the flavor. They eat their higher quality fresh fish plain, or with just a drizzle of extra-virgin olive oil. As the fish in salt crust is essentially steamed, it's also delicious with mayonnaise. We had lemons, salt, a pepper grinder, olive oil, and mayonnaise all on the table.
What to Serve with Salt Baked Fish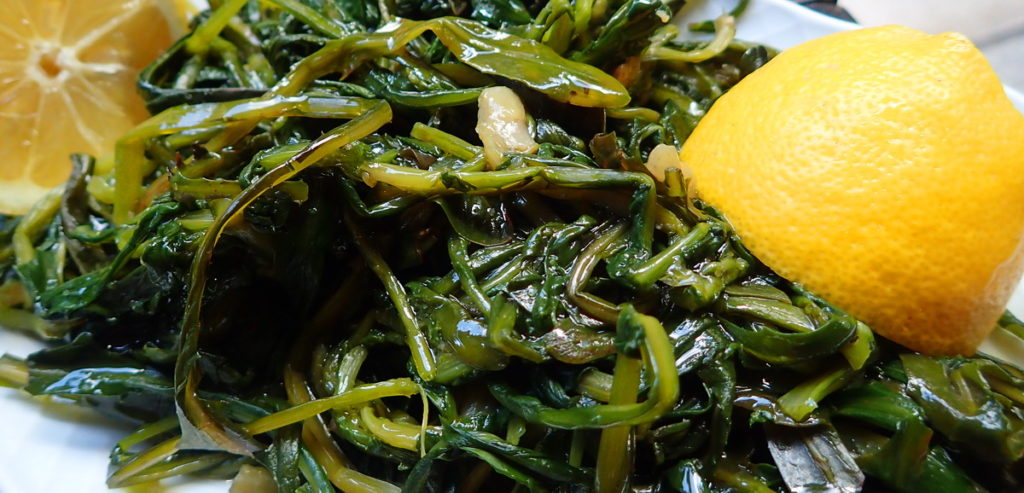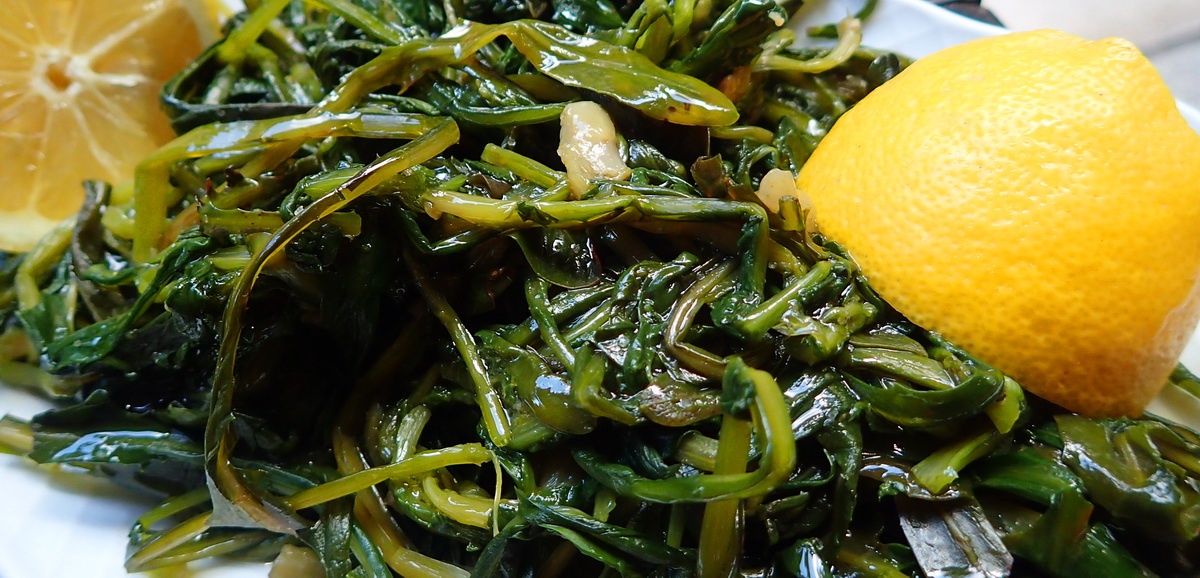 Alongside the fish, a simple salad of seasonal vegetables is ideal. The fish takes up a lot of space, so you want a contained, tidy salad. An underrated Greek salad that would be ideal is "michta vrasta" – mixed boiled seasonal vegetables, dressed with extra virgin olive oil and lemon juice. Alternatively, or in addition, you can also serve "hotra" – boiled seasonal greens, served with olive oil, lemon, and salt.
What Does Salt Baked Fish Taste Like?
Surprisingly, baked fish in a salt crust is not very salty. The crust seals in the moisture and aroma, but doesn't contribute much to the flavor of the fish. This is partly because you bake salt crusted fish with the scales on. That's one of the things that makes the recipe even easier than other fish preparations.
Your fish in salt crust will taste very much like itself, a delicate and sweet taste of the sea.
Salt Baked Fish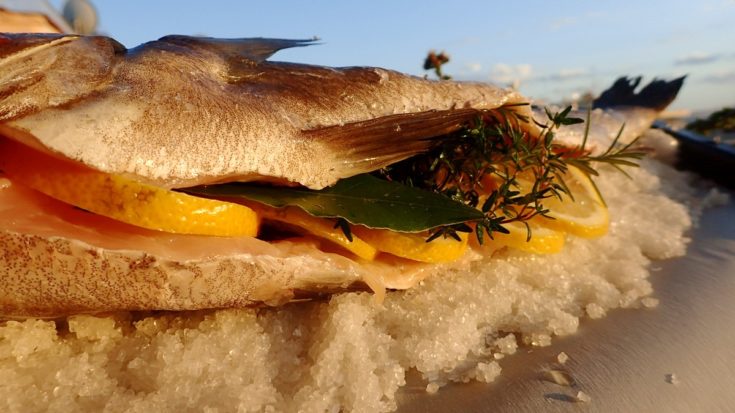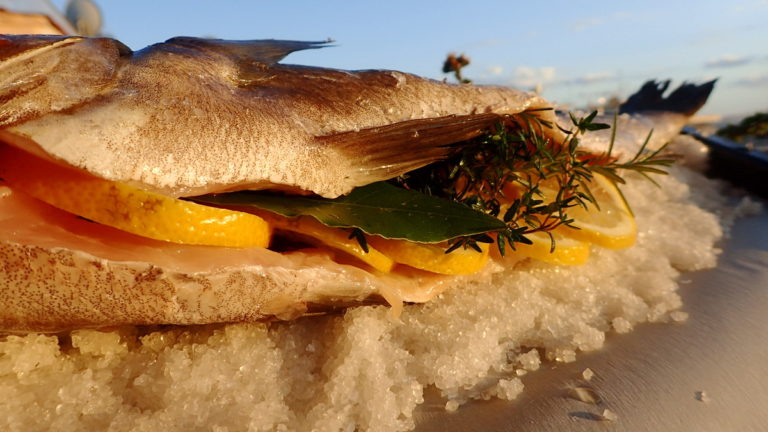 Baked fish in a salt crust is a simple but dramatic way to serve fish. The salt crust seals in all the moisture and flavor, making for a succulent, naturally low-fat and carb-free main course. It also looks great when you bring it to the table.
Cook Time
1 hour
30 seconds
Total Time
1 hour
45 minutes
30 seconds
Ingredients
1 large fish - .5 kilo / 1 pound per person (a 2 kilo fish for 4)
1.5 – 2 kilos / 3 – 4 lbs. coarse salt or kosher salt (6-8 cups)
4 – 6 egg whites
herbs of your choice – fresh fennel fronds, thyme, rosemary, bay leaves
lemon slices
whole peppercorns
Instructions
Clean your fish, removing guts and gills. Leave the scales on, or ask your fishmonger to do so.
Fill the cavity of the fish with fresh herbs of your choice, lemon slices, perhaps some peppercorns. We used fresh rosemary, lemon, peppercorns, and bay leaves. Fresh fennel fronds and fresh thyme are also excellent.
Prepare the salt crust mixture. Wearing thin rubber gloves to protect your skin from the salt, blend the coarse salt with egg whites. You want it to be the texture of wet sand. For our 2 kilo (4.4 lb.) salt baked sea bass, I used about 1.5 kilos (3.3 lb.) of coarse salt, and 5 egg whites. Have both extra salt and extra egg white on hand so you can adjust the consistency. You're trying for something that can be neatly and firmly packed around your fish. Too loose and it slips off; too dry and it won't pack well. If you are making individual fish for each person, you'll need even more of the salt mixture.
Preheat your oven to 200° C / 400° F, and line a large sheet pan with baking paper.
Still wearing your rubber gloves, arrange a bed of salt for fish on the baking paper. We made a diagonal salt bed so our large fish would fit, and we still had the tail sticking out, which was just fine.
Place your prepared and seasoned fish on the salt bed, and pack the remaining salt mixture all around the fish, including the head. The fish should be completely sealed in a layer of salt that's nearly 1 cm / .33 inches thick.
Decorate as you like, using lemon slices for fish scales, for instance.
Calculate the baking time, allowing 15 minutes for each .5 kilo / 1 pound. For individual .5 kilo fish, give them 20 minutes.
Bring to to the table to crack open the crust. You'll need a heavy spoon.
Remove the salt crust in chunks. some of the skin may come away with the crust, and whatever is left will peel easily away.
Remove the bones from the edges of the top half and serve, then remove the spine and remaining bones and serve the bottom half.
Notes
The gloves are essential for protecting your skin.
The crust is very hard - you'll need to give it a good whack.
The scales prevent the fish from absorbing too much salt.
The fish stays warm in its salt crust for some time.
Nutrition Information:
Yield:
4 servings
Serving Size:
500 grams / 1 pound
Amount Per Serving:
Calories:

485
Total Fat:

10g
Carbohydrates:

0g