A Cretan Boureki Recipe for Any Season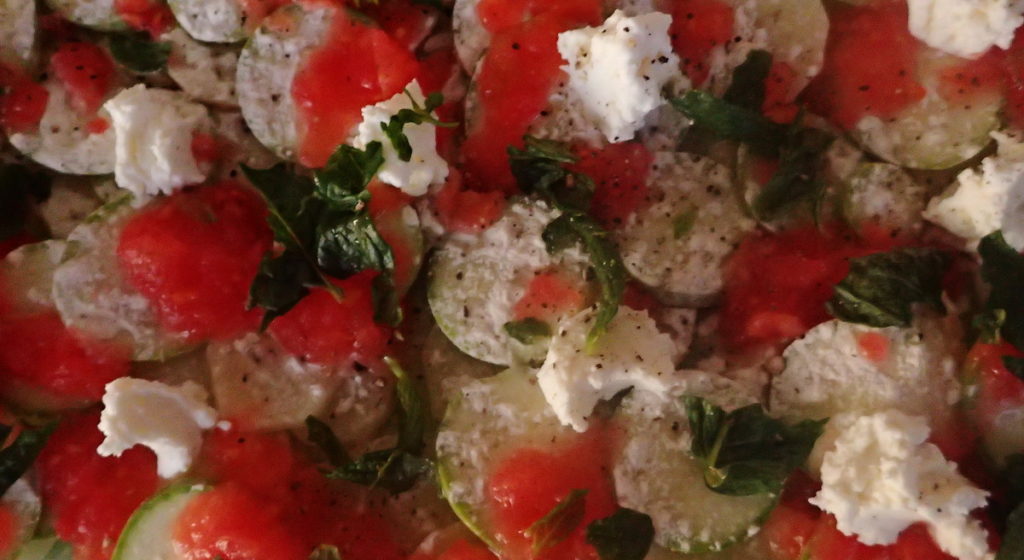 Boureki is one of the best things imaginable to happen to a zucchini and a potato. It brings together the fantastic Greek flavor combination of mint and tomato that feels fresh and novel, but also like you have always known they go together. Even if you've never tasted the rich, bright, and zesty combination of butter, goat cheese, potatoes, extra virgin olive oil, tomatoes, and fresh mint, it feels right from the first silky mouthful.
This is an excellent vegetarian dish for people who want to explore Mediterranean cuisine more deeply. Food in Crete has its own distinct identity, with unique flavors and traditions.
I've made this dish many times, both here in Greece and in San Francisco and the Oregon Coast. Family and friends who know little of Greek cuisine love this. All of them have made it again themselves, always with great success.
Cretan Boureki- A Vegetarian Recipe from Crete
Boureki is one of the most popular Cretan cuisine recipes – a homestyle favorite. There are many versions of a Cretan boureki – notably some wrapped in pastry to make a potato and zucchini pie. In our easy boureki recipe, layers of thin slices of zucchini and potatoes alternate with a layer of finely chopped fresh herbs. Some call this a chaniotiko boureki – boureki from Chania. Creamy minty goat cheese sauce and little rivers of bright orange tomato-tinted oil pool on the plate around it. The potato slices are silky in the mouth, the zucchini tender.
Boureki Ingredients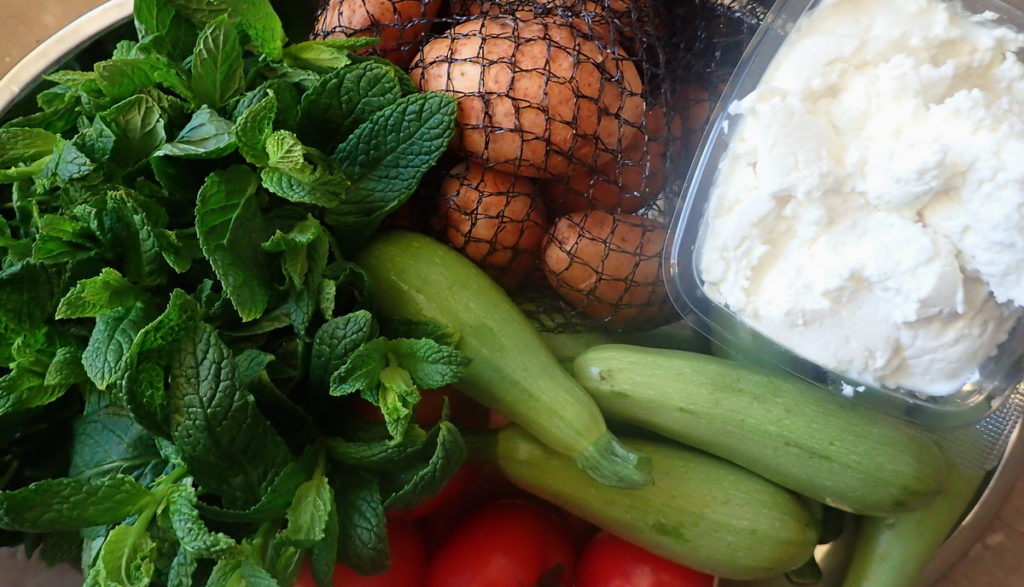 This favorite of Crete recipes centers around a Cretan product – a soft goat cheese called myzithra. In Crete, myzithra eclipses feta cheese in popularity. This rich and tangy cheese goes by the name "pichtogalo" in Chania , where it has a PDO (protected designation of origin). It's not always easy to get elsewhere, even in Athens. Look for it at shops that specialize in products from Crete. It has a season – in the spring, the milk runs generously and the Cretans are willing to part with more of it.
Happily, our boureki recipe is very flexible. When we're not in Crete, we'll make the dish with a substitution. Look for a creamy cheese with a goat cheese tang. A soft and creamy chèvre – the kind that comes in a log and has no rind – works very well. But in a pinch, I have blended cottage cheese or ricotta with feta cheese until smooth. This yields good results. Most of my friends abroad have made their boureki the same way, with success.
Cretan potatoes, which grow in the mountains of the island, have yellow flesh and a full flavor. When not in Crete, any quality potato all-purpose potato will do. Choose one that's not too starchy and not too waxy.
Summer zucchini are extra sweet and delicate, but even winter zucchini will be fine in this boureki recipe. The tomatoes will also sweeten up in the oven, even if they're not at their seasonal peak.
The mint is essential. But even if fresh mint is not available, dry mint leaves give great results.
The surprise boureki ingredient is butter. Extra virgin olive oil is the fat of choice in most Cretan dishes. But butter gives this Chaniotiko boureki recipe silky richness. It also highlights the flavor of the goat cheese.
As a vegetarian Greek dinner party centerpiece, a Cretan Boureki has few equals. Carnivores also love it.
How to Make Boureki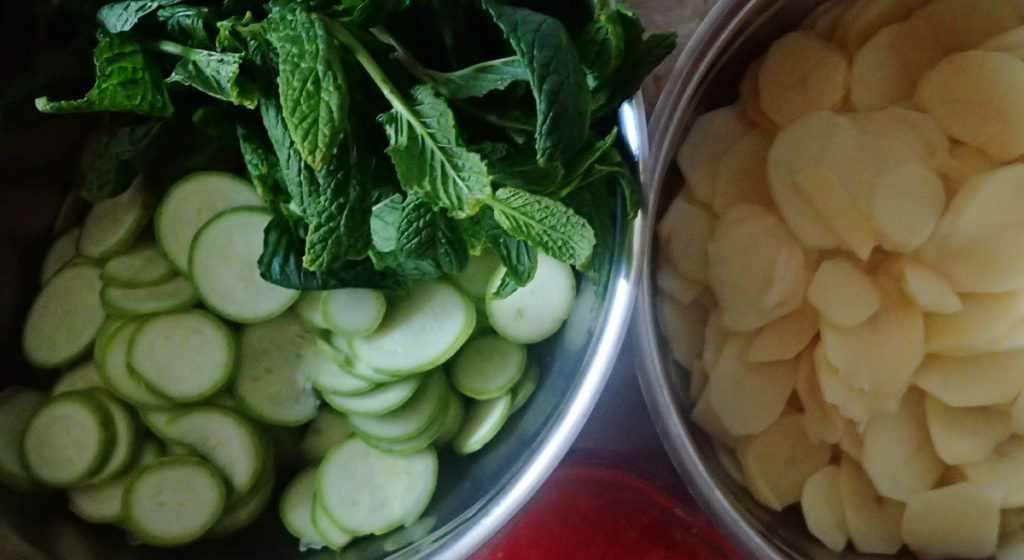 This easy boureki recipe doesn't need much time to put together. It's all in the preparation. Once we get the thin slices of potatoes and zucchini ready, we can grate the fresh tomato. Then we just layer all the ingredients, topping each layer of zucchini and potato with crushed tomato. Then, a sprinkle of salt, fresh ground pepper, finely chopped fresh mint or crumbled dry mint, and a light dusting of flour before the next layer.
The flour is essential – it binds the juices that the vegetables release to create a velvety sauce. There will be no traces of flour in the finished boureki.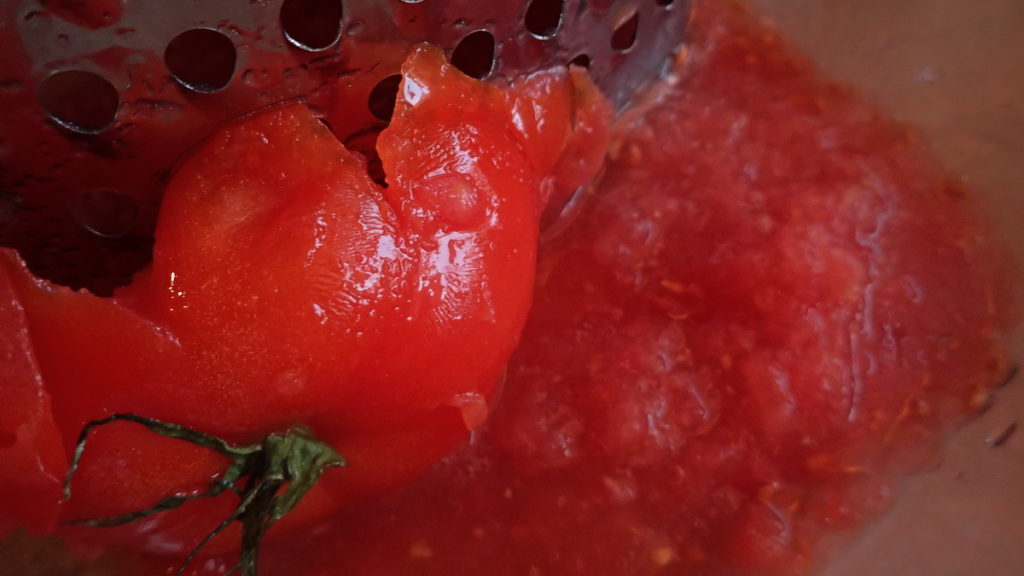 Our easy boureki recipe has a top crust made of extra tomato and cheese, bound with a little flour and enriched with more butter.
The final ingredient for a successful dish is patience – it takes a long time to bake until tender, about an hour and 15 minutes, even an hour and a half.
Yield: 8 Servings
Boureki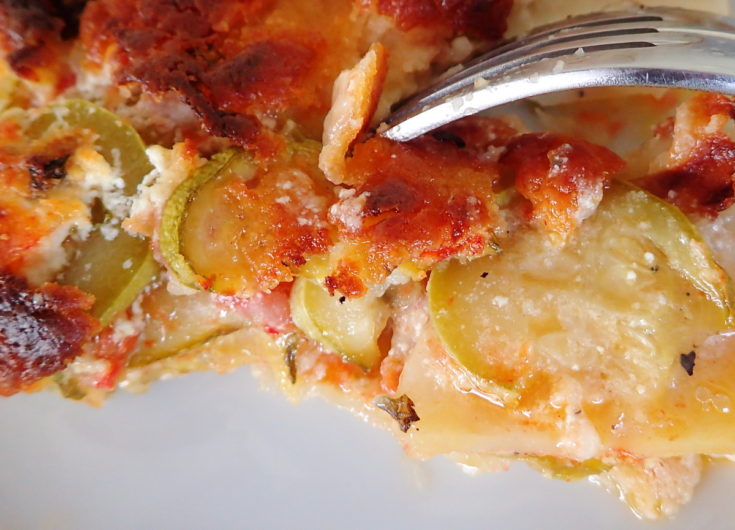 This rich and tangy vegetarian dish from Crete features fresh mint, tomato, and goat cheese to brighten layers of tender potato and zucchini.
Cook Time
1 hour
15 minutes
Total Time
1 hour
45 minutes
Ingredients
500 grams/ a generous 1 lb soft goat cheese
4-5 medium potatoes
4-5 medium zucchini
1 bunch fresh mint
3-4 large tomatoes
125 grams / 1 stick butter
About 60 grams / 1/2 C flour
salt and pepper
a pinch of baking powder (optional)
Instructions
Wash the zucchini well and peel the potatoes.
Using a mandolin or slicer, or a sharp knife, cut both the potatoes and the zucchini into thin and even slices. Set aside.
Grate the tomatoes on the large holes of a box grater.
Wash and chop the fresh mint.
Set aside 1/4 of the cheese and about 1/3 each of the butter and the tomato.
Preheat your over 170° C/ 350° F
Butter a casserole dish, and cover with an even layer of potatoes.
Sprinkle with salt, and pepper - use a very light hand with the pepper.
Sprinkle lightly with flour.
Cover with a layer of zucchini,
Dot with grated tomato, dabs of goat cheese, a handful of mint, and a little butter in small pieces.
Sprinkle lightly with flour, salt and pepper
Repeat, making sure to let each layer rest very lightly on top of the other (don't press down).
When the potato and zucchini are finished, blend the reserved cheese and tomato, adding salt to taste, a pinch of baking powder, and enough leftover flour - or even some extra - to make a batter thick enough to spread over the boureki.
Melt the reserved butter and pour over the top.
Bake about 1 hour, testing with a sharp knife that the potatoes are tender.
Serve hot or at room temperature- it's delicious either way.
Notes
Just like a lasagna, our Boureki is delicious but difficult to serve in perfect neat pieces right out of the oven.
The rich dairy flavor of the butter really makes the dish.
This is such a complete dish that we don't serve much alongside. Some olives, slices of Cretan graviera, a plate of cucumber slices dressed with vinegar and coarse salt, and of course some good bread will fill out the table nicely.
The leftovers are delicious at room temperature or briefly warmed in the oven.
How to Serve It
When everyone's famished from a morning at the beach, it's easy to remove your Boureki in haste. But a too-firm potato doesn't make for a nice dish. This takes a surprisingly long time to bake. Make sure the potatoes can be easily pierced through to the bottom of the pan with a sharp knife before you take the dish from the oven.
Boureki is of course delicious piping hot, but just as delicious very warm. If you can let it sit for ten minutes, you'll be able to serve it in nice squares for a better presentation.

Even though it's rich with butter and cheese, Cretan Boureki is a refreshingly light-tasting dish, perfect for summer. There's plenty of zucchini, and the zing of mint and the tang of the tomato brighten it tremendously. This recipe makes a large dish, but I wouldn't think of making just the one if we are more than four at the table. Although so satisfying, it has a delicacy that makes everyone want seconds of it.