Tahini Halva is a rich and wholesome sweet made of sesame. Sesame halva is very popular all over the Eastern Mediterranean and in the Middle East. It's usually sold in slices from a large round from specialty shops. But it's also surprisingly easy to make yourself. This tahini halva recipe can be customized to your taste, and shaped and decorated for an impressive presentation.
What Is Halva?
Halva is dense and firm, with a flaky, crumbling texture that melts in the mouth. It is a little like a Middle Eastern version of fudge, except for the fact that instead of being almost all sugar, it's less than half sugar. The bulk of tahini halvah is tahini, a nutrient rich, fragrant, and delicious paste of ground sesame seeds.
Types of Halva
For many people in the west, halva is synonymous with tahini halva – the one we feature in this halva recipe. But around the eastern Mediterranean, in addition to tahini halva, there are many other kinds of halva. One popular Greek halva recipe is for a semolina halva. This is a firm homestyle dessert with the scent of cinnamon and a great texture from the coarse semolina. A Turkish halva recipe is often based on flour for a much denser confection. Pistachio nuts are a common addition. A Persian halva recipe will also be flavored with saffron and rose water.
Tahini Halva – for Greek "Kathara Deftera" and Religious Fasts
This is a really popular traditional sweet in Greece, especially during periods of religious fasting. Tahini halva is an essential on Kathara Deftera – "Clean Monday," the day that the fasting period before Orthodox Easter begins. Along with seafoods and taramosalata and olives, sesame halva and lagana are on every table in Greece.
Since tahini halva is made without any animal products, it's suitable for lent and other Orthodox Christian religious fasts. It's also vegan.
Tahini halva is one of our favorite vegan Greek recipes, along with briam – savory roast vegetables, sesame orange ladokouloura, and vegan chocolate cake.
Halva keeps indefinitely at room temperature. It's best to protect it from moisture and store it in an airtight container.
Main Ingredients for Halva
The ingredients of halva are simply tahini and sugar. A little salt in the sugar syrup balances the flavor. Tahini is a paste of ground sesame seeds. It has a thick and pourable consistency, and a rich fragrance. It's an important ingredient in savory dishes like babaghanoush, and in sauces like tahinia. But in sesame halva, it's the defining ingredient. Imagine tahini as a firm slice of flaky, sweet tahini.
For another tahini-based dessert, you might try these simple Giant Tahini Meringues – perfect if you have some leftover egg whites.
Other Halvah Ingredients
Plain sesame halvah, flavored only with some vanilla extract, is delicious. But there are many popular additions. One is cocoa powder, to make a chocolate halva or a marble halvah. Pistachios, toasted whole almonds, and hazelnuts are also common additions. There's also tahini halva with candied fruits or dried fruits. Some dark chocolate can be used for coating and decorating, while keeping it dairy-free and vegan.
Halva Calories
Tahini halva essentially has two ingredients – tahini and sugar. They're both high in calories. Sugar has nearly 400 calories in 100 grams, and tahini has nearly 600 calories in 100 grams. This breaks down into about 430 calories per 100 grams of tahini halva.
Halva Nutrition
However, these are not empty calories. Tahini has many health benefits, and there's more tahini than sugar in our halva recipe. There's a reason that tahini plays such a strong role in the eastern Mediterranean diet. Sesame seeds – the sole ingredient of tahini – are rich in protein, thiamine, vitamin B6, copper, phosphorus, selenium, and manganese. Tahini also hash antioxidants and has anti-inflammatory properties. Of course, sesame halva has a serious amount of sugar. It's easy to enjoy in moderation. Because it's so rich in healthy fats and nutrients, tahini halva is a satisfying dessert but also real food. The other optional halva ingredients, such as whole nuts, also provide more nutrition.
How to Make Halva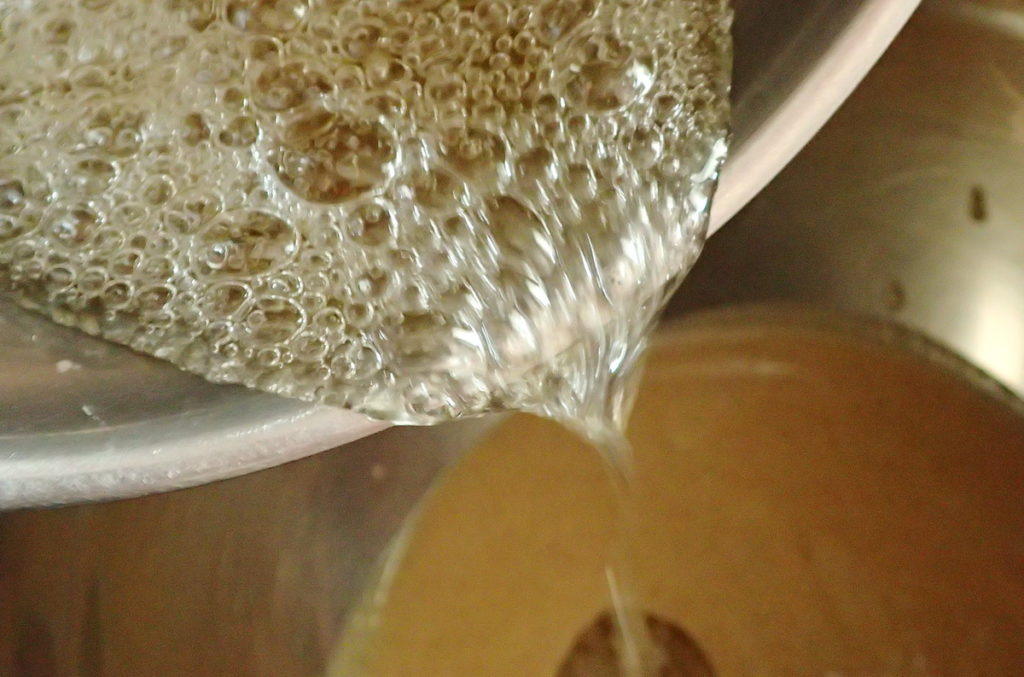 For such an impressive sweet, tahini halva is surprisingly simple to make at home. You should have success on your first attempt. Sesame halvah is simply tahini blended with a hot sugar syrup that has boiled to a high temperature for candy making. It seems almost too easy. But, there are a couple of tips for success, and also a couple of things to watch out for.
A Flexible Tahini Halva Recipe
First of all, the recipe for halva below is more of a proportional guideline. You can make less or more easily, because almost all halvah recipes are exactly the same. They simply use tahini and sugar in equal volume – meaning for 2 cups of tahini, we use 2 cups of sugar.
Tahini weighs more than sugar by volume: 2 cups of tahini weigh 500 g, while 2 cups of sugar weigh 400 grams. However, you can use slightly less sugar by volume. This make a halva with a richer and more balanced flavor.
The sugar cooks with a small amount of water to make a syrup. This ratio also varies according to the recipe. Some use as much as one part water three parts sugar, some as little as one part water to five parts sugar. We use a lower proportion of water for a stiffer halvah, since we're also using a little more tahini.
Tips for Making Halvah at Home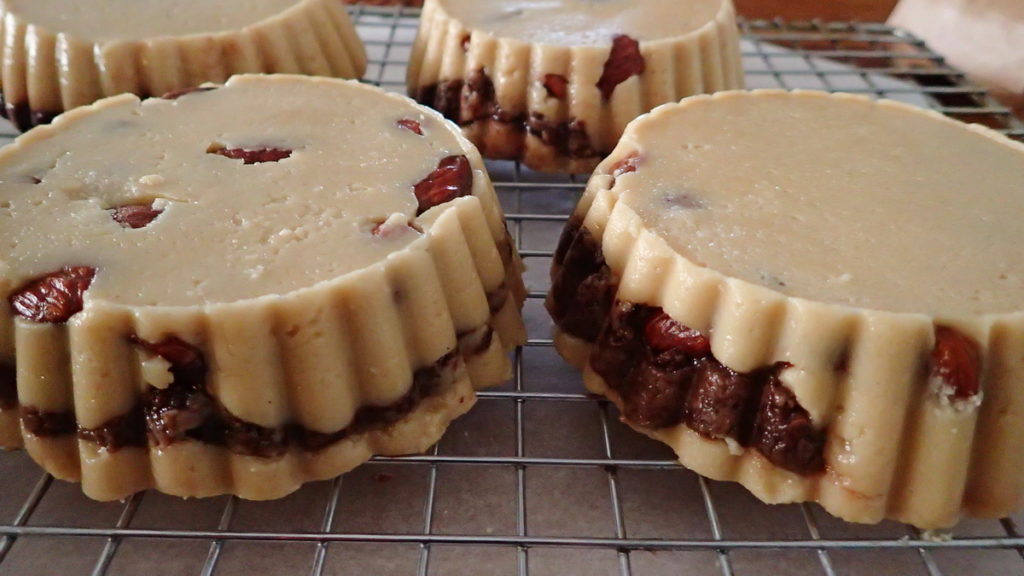 Halva comes together in no time at all. We need a candy thermometer for cooking the sugar syrup. The syrup only takes a few minutes to reach the temperature we need, and once it does, we need to use it right away. When we stir the hot syrup into the halva, it's liquid at first but the tahini mixture quickly thickens. Therefore, we need to have everything prepared so we can work fast. Have additions such as cocoa powder or nuts ready, and also the prepared pan or molds we're using. It's easy to mold tahini halva into almost any shape you like.
What to Do with Halva
If any extra halvah doesn't fit into the molds, set it aside on a lightly oiled dish to firm up. You can crumble it into large pieces and add it to ice cream or to your favorite brownie recipe.
Serving Tahini Halva
As it's so sweet, a slice of tahini halva goes well with a Greek-style coffee without sugar, or with black coffee. Alternatively, sesame halva with a squeeze of lemon and a dash of cinnamon is wonderful with cold retsina after dinner.
Yield: 1250 grams - 25 portions
Tahini Halva
Tahini halvah is a rich and nutritious confection popular throughout the eastern Mediterranean. It's delicious plain, or flavored with cocoa, chocolate, and nuts. You'll need a candy thermometer for best results.
Total Time
1 day
20 minutes
Ingredients
625 g / 2½ C tahini
400 g / 2 C granulated sugar
100 ml / scant ½ C water
1/2 tsp salt
½ tsp. vanilla extract, or ½ tsp. toasted sesame oil - optional.
Optional Additions
2 - 3 T unsweetened cocoa powder
1 C toasted whole almonds, hazelnuts, or walnuts
1 c shelled pistachio nuts
Chopped dark chocolate
For decorating - optional
Tempered dark chocolate
coconut pieces
whole nuts or seeds
dried fruits
Instructions
1. Assemble a pot with a heavy bottom, a bowl, a metal tray, a wooden spoon, and a candy thermometer. Gather additions such as nuts or chocolate and have them ready.
2. Prepare a loaf pan or several smaller molds. Line a loaf pan pan with baking parchment and lightly oil, or simply lightly oil several smaller molds. Tahini halvah is easy to unmold.
3. Measure the tahini into a large bowl.
4. Lightly oil the large metal tray.
5. Put the sugar, water, and salt in the pan. Clip the thermometer onto the side of the pan, and bring to a brisk boil.
6. When the syrup reaches 121° C / 250° F, add it to the tahini in three additions, stirring all the while.
7. If you are using cocoa powder, separate a portion of the halva - maybe about ⅓ and add cocoa to taste.
8. As soon as the syrup is incorporated and the halvah mixture starts to thicken a little, transfer it to the oiled tray to spread it and fold it. It cools quickly, so we need to work fast. It will soon be cool enough that you'll be able to use your hands - the idea is to help the halvah develop the long strands that make its characteristic flaky texture but stretching and folding. Add the halvah with the cocoa, if using, during the process to end up with a marbled effect. Or you can add a layer of the cocoa halva when you put it into the pans.
9. Toward the end, add the nuts or other additions.
10. Press firmly into the forms, making sure it reaches the corners.
11. Halva will set within an hour or two. But it takes a day to a day and a half for it to begin to crystallize, which is what gives it that characteristic crumbling and melting texture.