These easy, dramatic giant meringues have a fat ribbon of tahini that breaks the sweetness with its sophisticated, slightly bitter edge. It also adds a rich texture, making these giant meringues ethereal and satisfying.
Tahini Meringues – What is Tahini
Tahini – a popular ingredient all over the Eastern Mediterranean – is a paste of ground sesame seeds. It has a thinner texture than peanut butter, and a complex, rich taste. Its delicate edge of bitterness plays very well in both savory dishes and sweet ones, like these giant meringues.
Tips for Success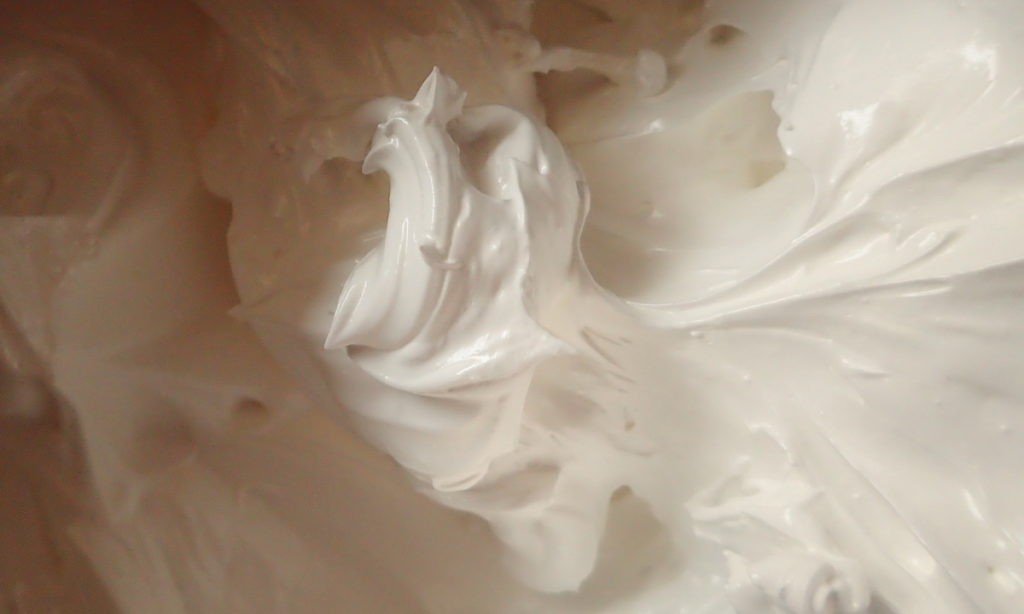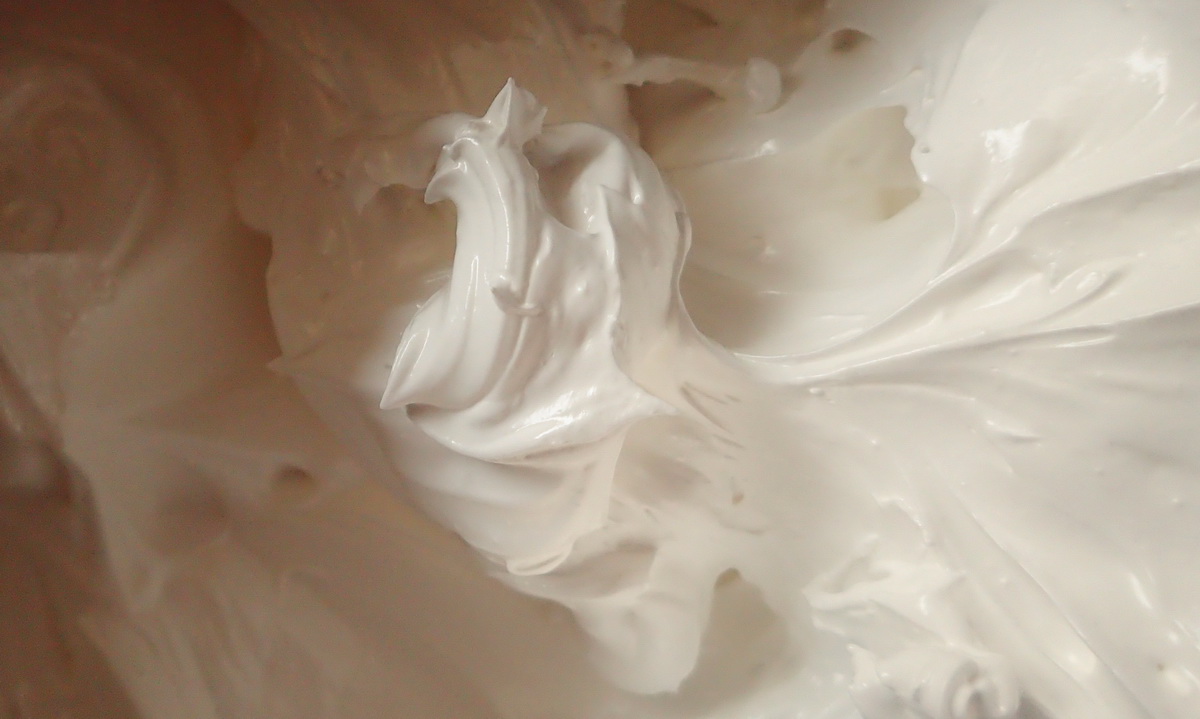 Meringues need patience, but there's no great trick to them otherwise. You should be able to make really impressive eringues your first time.
Putting your granulated sugar in the blender for a moment to make it a little finer helps it to dissolve in the meringue.
Successful meringues depend on a specific egg white to sugar ratio. It sounds like a lot of sugar, but don't be tempted to cut back. The resulting meringues turn out too moist and need too much time in the oven, resulting in dark, tough meringues with an eggy taste. Meringues are very sweet by their nature – that's why the tahini is such a brilliant addition, balancing the sweetness.
To get the meringue to whip up stiff and glossy, there can be no fat at all – no trace of yolk, for instance. A tiny bit of acid also helps make a thick and lofty meringue. Wiping out your bowl with a paper towel soaked with a little vinegar makes it squeaky clean and gives the mixture just the right amount of acid.
Since meringues and fat don't go well together, we'll use a light hand to make these giant meringues with tahini. We don't stir the tahini and meringue together, but rather we gently fold in a fat ribbon of tahini in just a few strokes. The tahini is suspended in the meringue, rather than mixed. You'll clearly see the swirls of tahini against the snowy white meringue.
Ingredients for Giant Tahini Meringues
These impressive giant meringues need just egg whites, sugar, and a dash of salt, plus the tahini. A dusting of cocoa powder plays off the sweetness and emphasizes their shape.
Tahini varies greatly in quality. Since it has just one ingredient, freshness is paramount. Try to get your tahini from a store that specializes in Greek ingredients or ingredients from other lands of the eastern Mediterranean for superior quality and freshness.
What to Do with the Leftover Tahini
We only need about a half cup of tahini for our giant meringues. The rest won't go to waste. Rich and crumbling tahini shortbread, Greek tahinia, hummus, and tahini pasta are some ways to use it up.
In Greece, tahini is a household staple and a breakfast favorite, spread on fresh bread and drizzled with honey.
Serving Giant Meringues with Tahini
Because of their size and their free-form shape, these giant meringues are festive on their own. They're particularly good with coffee with the rich bitterness that tahini and coffee share.
Oranges are a natural pairing with tahini also, and they further cut the sweetness.
Serving them with whipped cram makes a nice eastern Mediterranean Pavlova. Or try them with ice cream – coffee or vanilla – and whopped cream for a Greek-style meringue glacée chantilly.
Yield: 12 Large Meringues
Giant Meringues with Tahini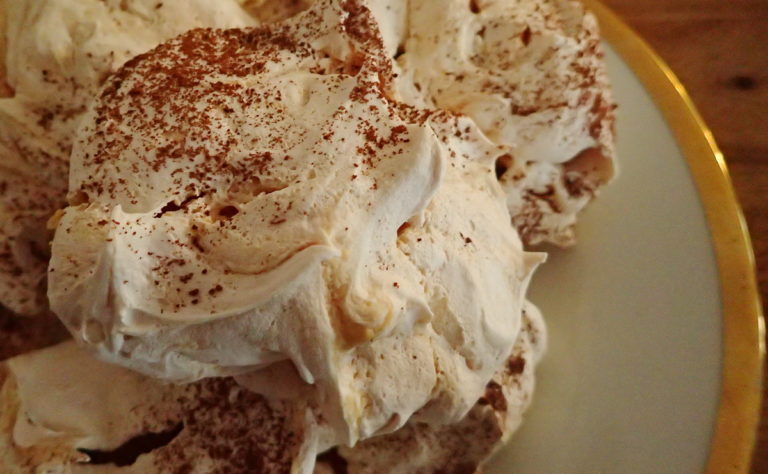 These impressive giants temper the sweetness of meringue with a rich swirl of tahini. They are crisp on the outside, and meltingly tender on the inside.
Total Time
2 hours
15 minutes
Ingredients
4 extra large egg whites - 120 g / ½ C
200 g /1 C granlulated sugar
dash salt
120 g/ ½ C tahini
cocoa powder for dusting (optional)
Instructions
Pre-heat your oven to 100° C / 210° F.
Clean your mixing bowl with a little vinegar.
Separate the egg whites from the yolks and place the whites in a large bowl, or the bowl of your stand mixer.
Put your sugar in the blender and pulse it a couple of times to make it a finer grind.
Start beating the white, gradually increasing the speed to high. As soon as they get foamy, add a small dash of salt.
When they increase in volume and start to thicken, start adding sugar, one spoonful at a time.
Continue beating until meringue is dense and glossy and holds stiff peaks.
If you are using a stand mixer, remove the bowl from the mixer.
Stir the tahini and drizzle a thick ribbon over the meringue, folding it gently in with a spatula. Blend as little as possible - there should be plenty of pure white meringue with streaks of tahini suspended in it.
On a parchment-lined baking sheet, make great dollops of meringue, shaping as you like with the back of a spoon and lifting it to make peaks.
Sift a little cocoa powder over half of each meringue.
Put the meringues in the oven and leave in for 1½ - 2 hours, until completely dry and crisp on the outside and the bottoms.