Ladokouloura are Greek cookies made with olive oil ("ladi"). If you're new to Greek cookies, this is a perfect recipe to start with. Greek koulourakia (cookies) in general, and ladokouloura in particular, are generally dry in texture rather than chewy or soft. They're also not usually super sweet or rich. This makes them ideal with a cup of coffee or a glass of milk, which is how you're likely to have them, and especially at breakfast.
Vegan, Nistisima Koulourakia
These naturally vegan ladokouloura have no dairy and no eggs. That means these vegan ladokouloura are also "nistisima" – suitable for Greek Orthodox religious fasts. These nistisima koulourakia, with their crisp and crumbling texture, are popular in every season.
Orange, Sesame, and Cinnamon to Remind you of Greece
Orange and cinnamon with sesame seeds is a classic flavor combination in Greek ladokouloura and other desserts (like the traditional holiday cookie melomacarona). This easy vegan koulourakia recipe with orange juice makes Greek sesame biscuits that will instantly remind you of being on holiday.
These ladokouloura come together easily by hand, and are a perfect baking project to do with children. This recipe makes a lot of ladokouloura. But don't be tempted to cut the recipe in half, for three reasons: 1. You can bake them all in one single batch on two crowded baking sheets, even in a smaller European oven. 2. They keep very well. 3. They're equally delicious as part of a simple Mediterranean-style breakfast, or alongside a glass of wine at dessert.
You mix the dough by hand, making these a perfect baking project to do with children. These ladokouloura are equally delicious with a glass of milk, with coffee, or even with wine.
The Flavors of Crete
These ladokouloura capture the essence of Crete. It's Greece's largest island, and has its own distinctive culinary traditions. This Greek sesame biscuit recipe features some classic Cretan ingredients. Extra virgin olive oil flows like water in Crete. The ladokouloura make use of both orange juice and zest for a sunny flavor, and cinnamon for sweet spice. An optional splash of "raki" – Cretan grappa – makes then extra crisp.
Related Post: Cretan Food Specialties – Staka, Raki, Snails and More
Yield: 120 cookies
Ladokouloura - Vegan, Nistisima Orange and Sesame Cookies with Olive Oil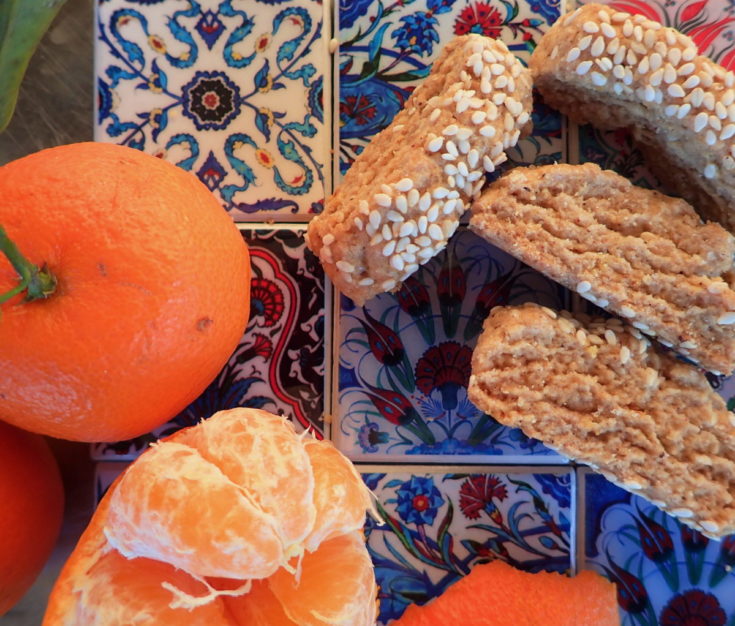 These crisp vegan and nistisima "ladokouloura" (cookies made with olive oil) from Crete are fragrant with extra virgin olive oil, fresh orange juice and zest, cinnamon, and clove. Easy to mix and shape, this recipe makes a large batch of ladokouloura. .
Additional Time
10 minutes
Ingredients
700 g / 6 cups all purpose flour
1 ½ tsp. baking powder
1 ½ tsp baking soda
½ tsp salt
200 g / 1 C sugar
zest of 2 oranges
3 ½ tsp. ground cinnamon
¼ ground cloves
240 ml / 1 C extra virgin olive oil
200 ml / ¾ C freshly squeezed orange juice
1 - 2 shots of Cretan raki (optional)
150 g / 1 C sesame seeds
Instructions
Preheat your oven to 180° C/ 375° F and get out your two largest non-stick baking sheets.

Blend orange zest and sugar in a large bowl, mixing with your fingers to release the fragrant oils in the zest.

Add the flour and the rest of the dry ingredients and toss to blend.

Add the olive oil and mix it in with your fingertips.

Add the orange juice and raki, if using, and mix into the rest of the ingredients with your hands until it forms a tender dough.

Put the sesame seeds into a wide shallow bowl or a plate, and fill another small bowl with water.

Divide the dough into 12 portions. Shape each into a flat log, dampen with the water, and roll in the sesame seeds to coat completely.

Place six on each baking sheet, and cut each log into approximately ten equal slices with a blench scraper or a knife, like you would do with biscotti.

Separate the ladokouloura and spread them out casually over the baking sheet. Give them a little space, because they puff.

Bake for 25 - 30 minutes, switching the racks half-way through the baking time, until the cookies are puffed and look completely dry on the surface. They will not take on much color, and may still feel a little soft. They will crisp as they cool.
Notes
1. Blending the oil with the flour mixture before adding the liquid inhibits the gluten in the flour from developing, which keeps the cookies tender and crisp.
2. The cookies do not stick easily to the baking sheet, even with no baking parchment. You may need to loosen one or two with a spatula.
3. The optional raki evaporates in the oven, leaving the cookies crisp.
4. Unlike many cookies, these are not tasty straight out of the oven. They need to cool and let the taste of the leavening fade.
5. These keep exceptionally well in a closed container - it's worth making the full batch.