Psarosoupa means "Fish Soup" in Greek (psari = fish, soupa = soup). Sometimes also called kakavia, this Greek fish stew is like a velvety lemon bouillabaisse. First, the freshest catch of the day simmers with a handful of vegetables and herbs. Then, before serving, the fish soup is thickened with avgolemono – an egg-lemon emulsion that adds a silky texture and rich fragrance. It's a flexible fish soup recipe, using whatever is at hand. Greek fish soup is easy to master, and worth it: Greek psarosoupa is equally suited to a casual family lunch or a dinner party, depending on the quality and variety of the fish. It's a festive one-dish meal for any occasion, and one of the best ways to make the very most of a fish.
Choosing Fish for Greek Fish Soup (Psarosoupa)
A successful psarosoupa starts with good fish, and, if possible, a variety. Any fresh firm fish with white flesh is suited to fish soup. Good choices include φαγκρί (fagri – seabream or red porgy), λαβράκι (lavraki – sea bass), συναγρίδα (sinagrida – common dentex), τσιπούρα (tsipoura – seabream, gilt-head bream), and μπακαλιάρος (bakaliaros – a member of the cod family which is also called European hake). Even better choices are some of the rougher-looking fish, such as πεσκανδρίτσα (peskandritsa – monkfish) – which is often sold already skinned, and σκορπίνα (skorpina – red scorpion fish) – a red and spiky fish.
There are also some fish called simply βραστά – assorted smaller fish suited to boiling, often sold mixed. These are often very cheap, and they make a delicious Greek fish soup, even if they do involve a little more work to get some good pieces of meat from the bones. Kakavia – as psarosoupa is called in Crete (Crete has its own culinary identity) and other islands – is a fancy meal. But it need not be an expensive one.
The more varieties of fish, the more complex the flavor. But, on the other hand, one very large fish makes for the most impressive presentation. Let yourself be inspired by what you see at the market. As always, your relationship with a reliable fishmonger will go a long way.
Greek Soup Fish
These rough looking fish we used today that look like a Dutch still life are particularly delicious boiled. They're the size of a large man's hand, and have one sharp point on their back fin with some poison in it. It's not enough to kill you, but it will sting and make your hand itch. Pavlos, our Friday fish guy, says he'll clean them for me to be safe. But he says it under his breath, because they are only 3 euros a kilo. He just told the woman ahead of me he of course would not clean them. Usually they only clean the 5 euros and up fish – the striped bass, the red snappers, and so on. I appreciate the trouble – a sink full of spiky fish, and something is could to go wrong.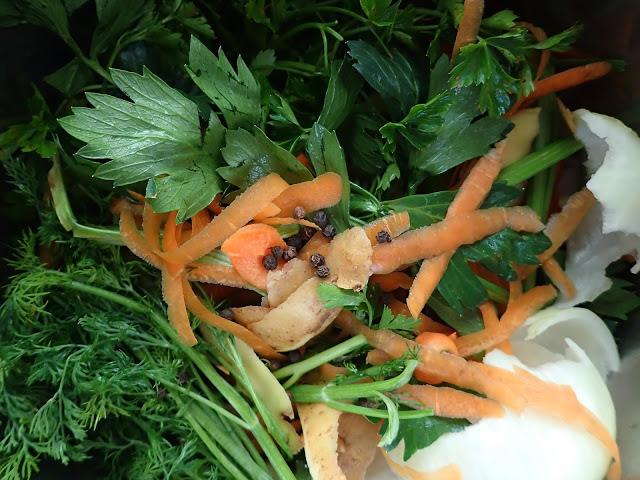 What Goes into a Psarosoupa
Although it has plenty of finesse, Greek fish soup is also hearty and filling. It's thickened not only by the avgolemono, but also by both potatoes and rice. Onions, celery, and carrots make up the balance of the ingredients, and some parsley adds fragrance. Like all the best fish soups, this is traditionally a simple meal. We get a lot out of our humble ingredients. Nothing is wasted. Kakavia (psarosoupa) is delicious and satisfying.
Yield: 4 - servings
Psarosoupa - Greek Fish Soup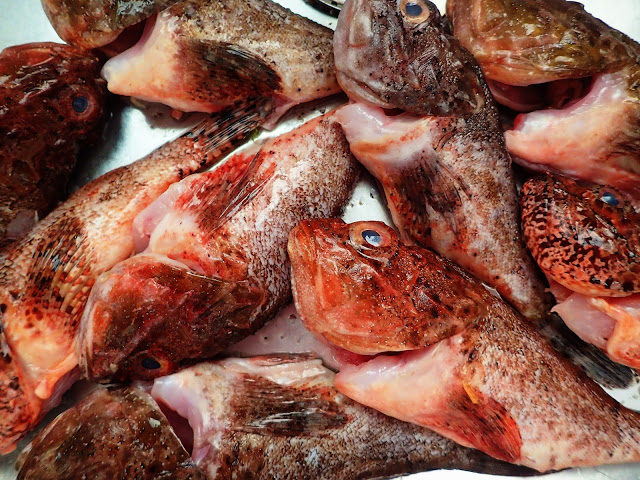 Psarosoupa - also called kakavia - is a traditional Greek fish soup. A velvety avgolemono sauce adds richness and finesse.
Total Time
1 hour
20 minutes
Ingredients
1-2 kilos / 2 - 4 pounds whole fish - one kind or a variety
3 potatoes
2 onions
5 or 6 carrots
2 small zucchini
1/2 bunch parsley
a few fronds of dill, plus stems
a couple of stalks of celery
1/2 C (a handful) of short-grained rice, such as arborio or carolina
a few whole peppercorns
2 lemons
2 eggs
120 ml / ½ C extra virgin olive oil
salt
Instructions
Clean and gut your fish. If the fish monger has already done it, give them a good rinse and look them over. Salt the fish with about 1 tablespoons of salt, and bury lemon slices throughout the fish. Refrigerate.
Peel the onions, setting aside the outer layers of onion, and mincing the rest.
Clean the herbs from their stalks. Set aside the stalks.
Slice the celery.
Scrub and peel the carrots and cut into small rounds or half rounds if large. Set aside the peels.
Scrub and peel the potatoes. Dice the potatoes into cubes a little larger than a centimeter - about ½ inch. Set the peels aside.
Wash the zucchini, slice into thick half rounds, and set aside the ends.
Take all the scraps you've set aside - the herb stalks and peels and so on - and simmer them for 15 minutes in 2 liters / 8 C water, together with some peppercorns and a tablespoon of salt. Strain, pressing on the solids to extract as much flavor as possible, and set aside.
Wrap the fish in cheesecloth to keep it from falling apart, and to keep the bones in, as we'll boil it together with the vegetables.
Rinse out the same large pot and place it back on the stove. Add the olive oil and the onions and sauté until the onions are translucent.
Add the rice and the vegetables and place the fish in cheesecloth over them. Cover with the broth and simmer for around 20 minutes, until the fish is cooked through and the vegetables are tender. Remove the soup pot from the heat.
Unwrap the fish. If it's one large fish, we can serve it on a platter with some mayonnaise. Try to keep it as whole as possible as you remove the bones. If they are smaller fish, clean the meat carefully from the bones and set aside.
Make a slurry of 2 tablespoons of flour and a little cold water and add to the soup - this step helps us to keep the avgolemono emulsion from breaking when we add it in the next step.
Beat the eggs thoroughly with the juice of one lemon (about 60 ml / ¼ C). Slowly ladle some of the hot broth slowly into the egg-lemon mixture, whisking all the while, to bring it slowly up to temperature. Then add more, and even more, until the mixture is quite warm.
Add the avgolemono to the soup and stir gently. The soup will become opaque and velvety. Stir in some minced parsley and dill, if using.
Adjust seasoning, adding salt and more lemon juice to taste.
Add the carefully cleaned fish back to the soup, or serve it on the side.
The soup is lovely with a drizzle of extra virgin olive oil and some freshly ground black pepper.
Notes
Thickening the soup slightly with flour helps to keep the avgolemono from curdling, and so does slowly bringing the mixture up to temperature before adding it to the soup. Keep the soup off the heat, and rewarm any leftover soup gently, never letting it come to a boil.
Serving a large whole fish on the side with mayonnaise makes for a very festive presentation.