Greek cabbage rolls – λαχανο αυγολεμονο ('lahandolmades avgolemono') – are one of the most elegant versions of the cabbage roll. The Greek version of this warming winter dish is napped with a tangy, velvety sauce – the popular αυγολεμονο (avgo = egg, lemoni = lemon).
As cabbage dishes go, Greek stuffed cabbage rolls are pretty fancy. And as fancy dishes go, they're pretty easy. Also, this lahanodolmades recipe makes a lot, and for rather little money. It keeps well. And I've never met anyone who really doesn't like it.
Ingredients for Greek Cabbage Rolls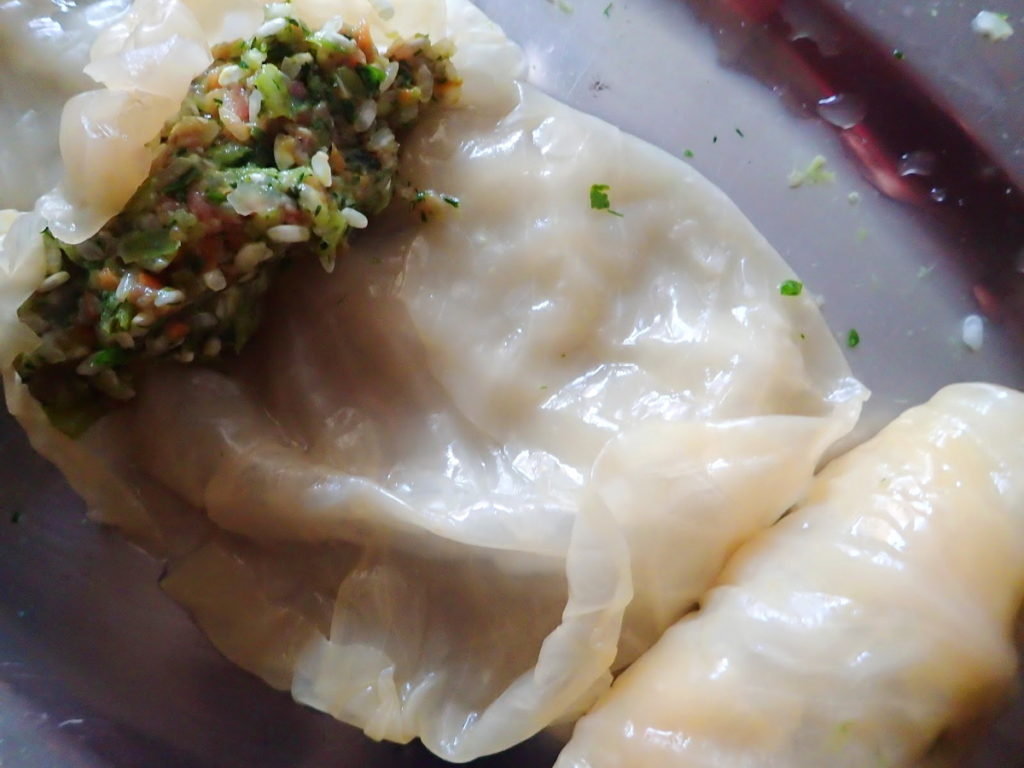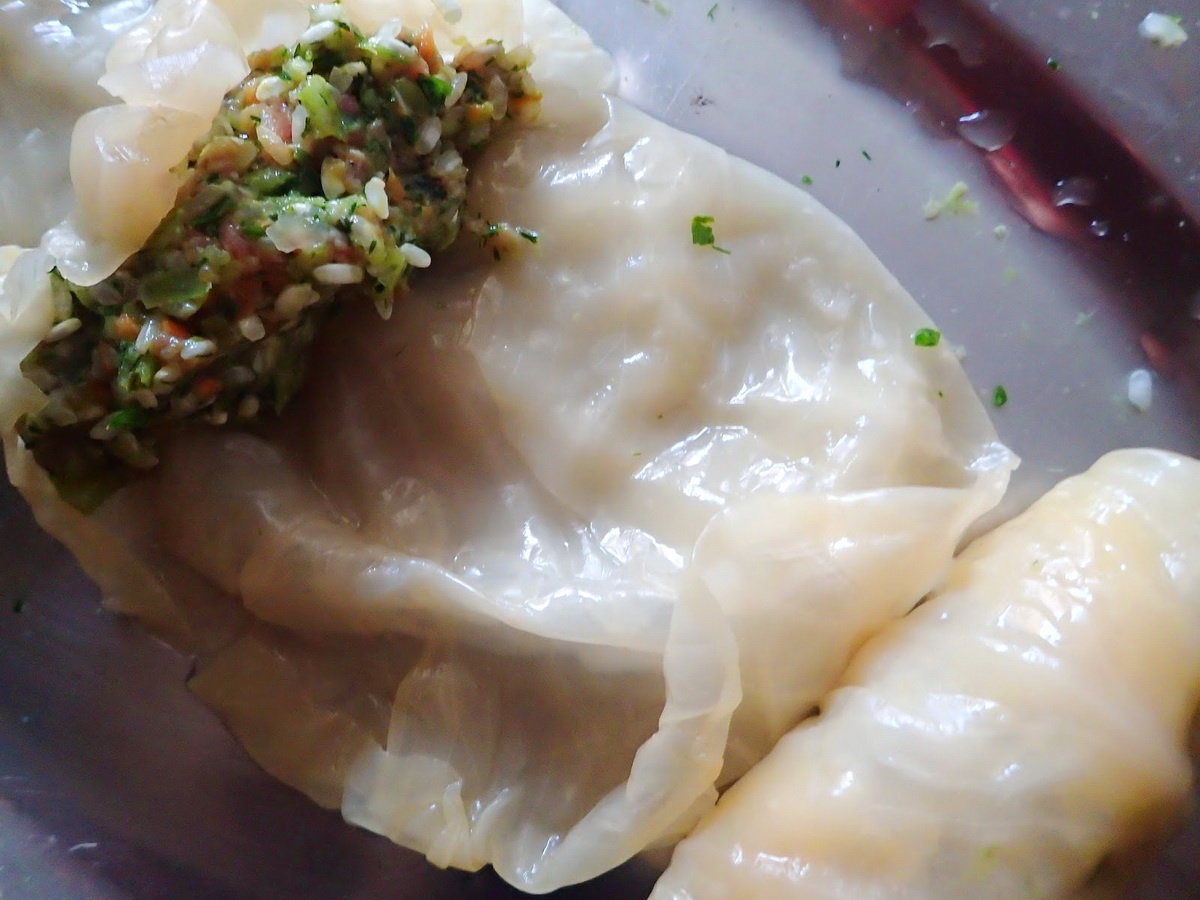 Λάχανο ('lahano') is cabbage in Greek. Ντολμάδες ('dolmades') are stuffed leaves generally – usually grape leaves.
Most stuffed cabbage recipes involve boiling a cabbage to soften the leaves. Greek cabbage rolls do, too. Feel free to start out with a whole cabbage. But this recipe uses a very tasty shortcut. We use pickled cabbage leaves for two reasons: it saves a lot of prep, and their tang balances the richness of the meat and the velvety sauce.
The other ingredients in Greek stuffed cabbage are the things that so brighten a Greek winter – huge bunches of parsley and dill, and golden lemons. Plus rice, onions, ground meat, and some eggs for the sauce.
When to Make Greek Cabbage Rolls
Winter is of course the ideal time to make these, because lachanodolmades avgolemono take full advantage of the narrow winter produce selection. Also, this is a hearty, warming dish.
Perhaps for these reasons, lahanodolmades are an essential holiday dish for many Greek families, appearing on the Christmas and New Years tables along with the main course. (If you are doing a Greek holiday table, then you might also want to make melomakarona – a soft, spicy, honey-soaked cookie that is equally essential).
But these excellent cabbage rolls really deserve to star as the main course on their own – as they do on many tables throughout the winter in Greece.
If you are fond of avgolemono, you may also want to try psarosoupa – Greek fish soup.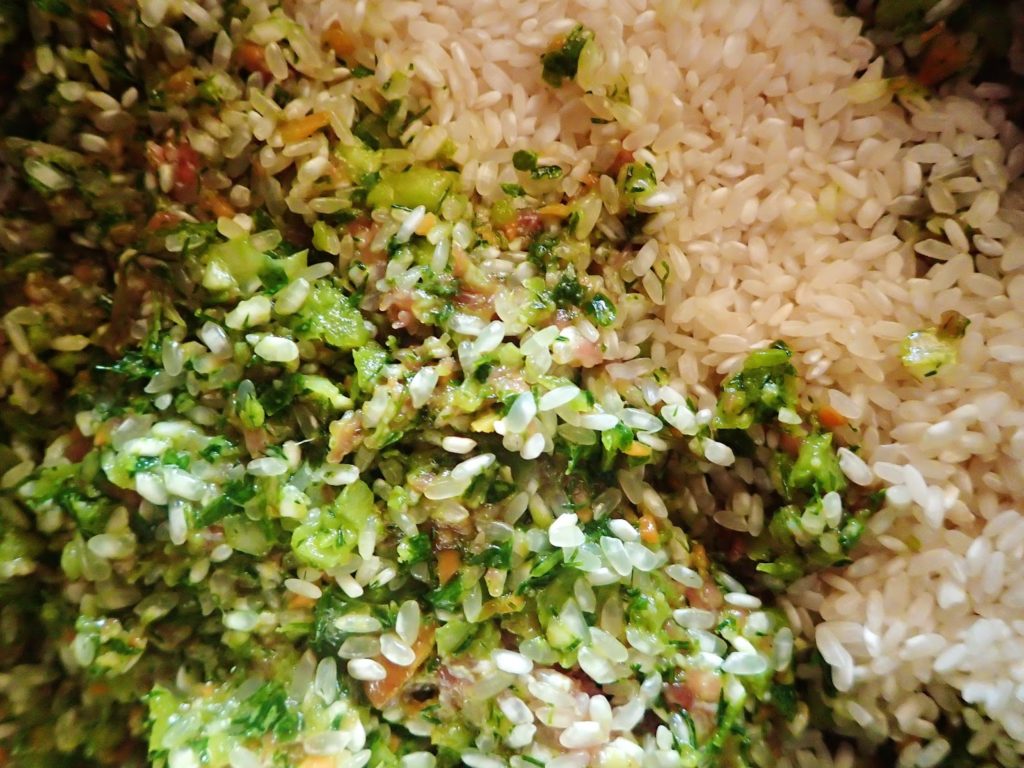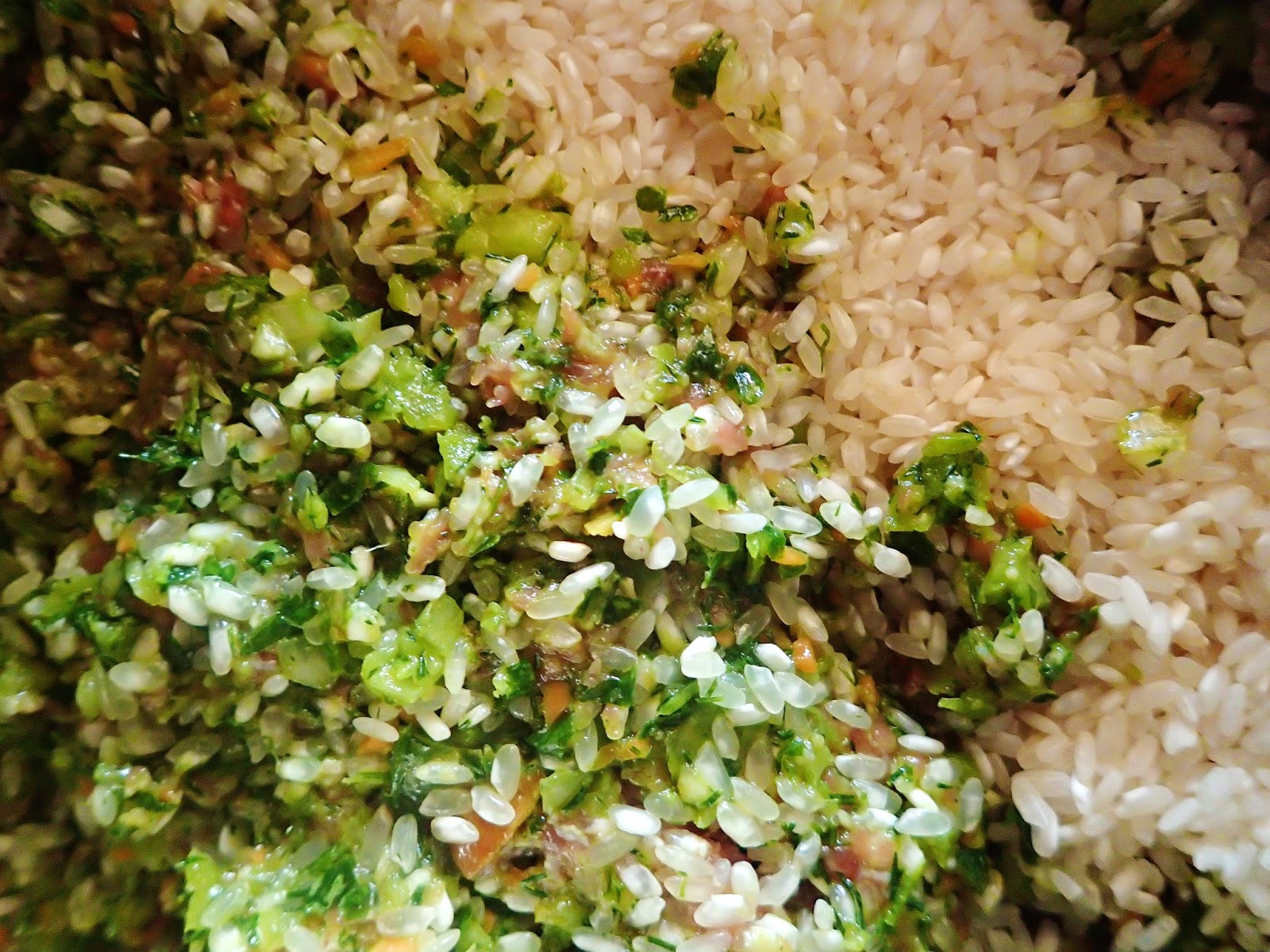 What to Serve with Lahanodolmades Avgolemono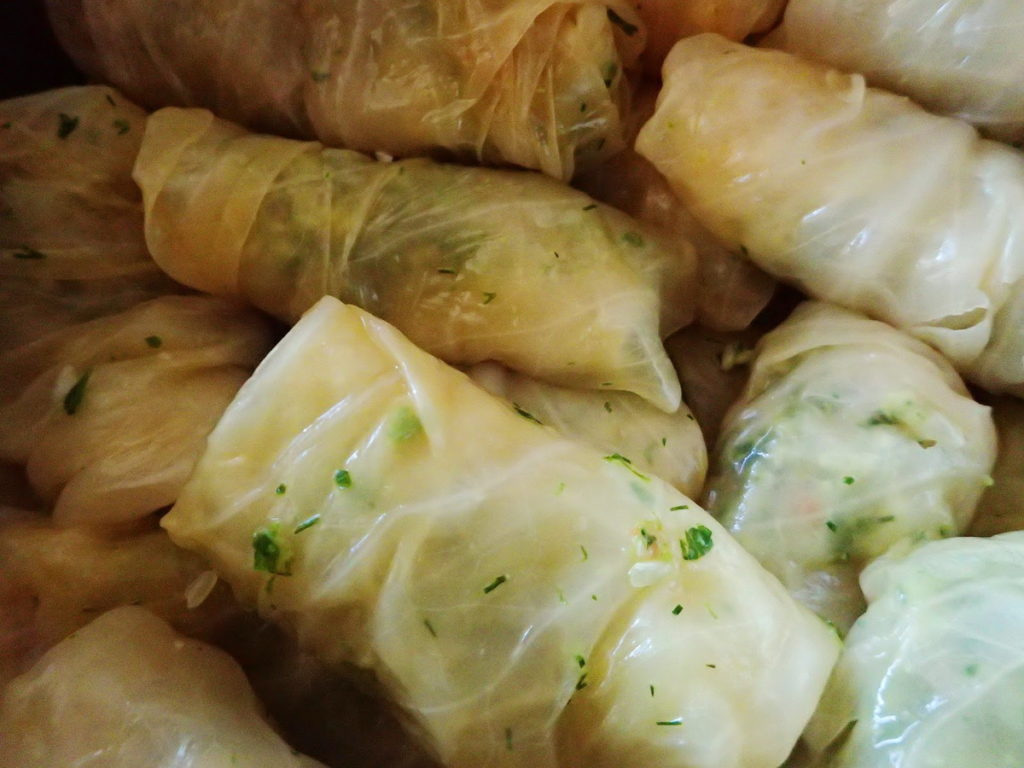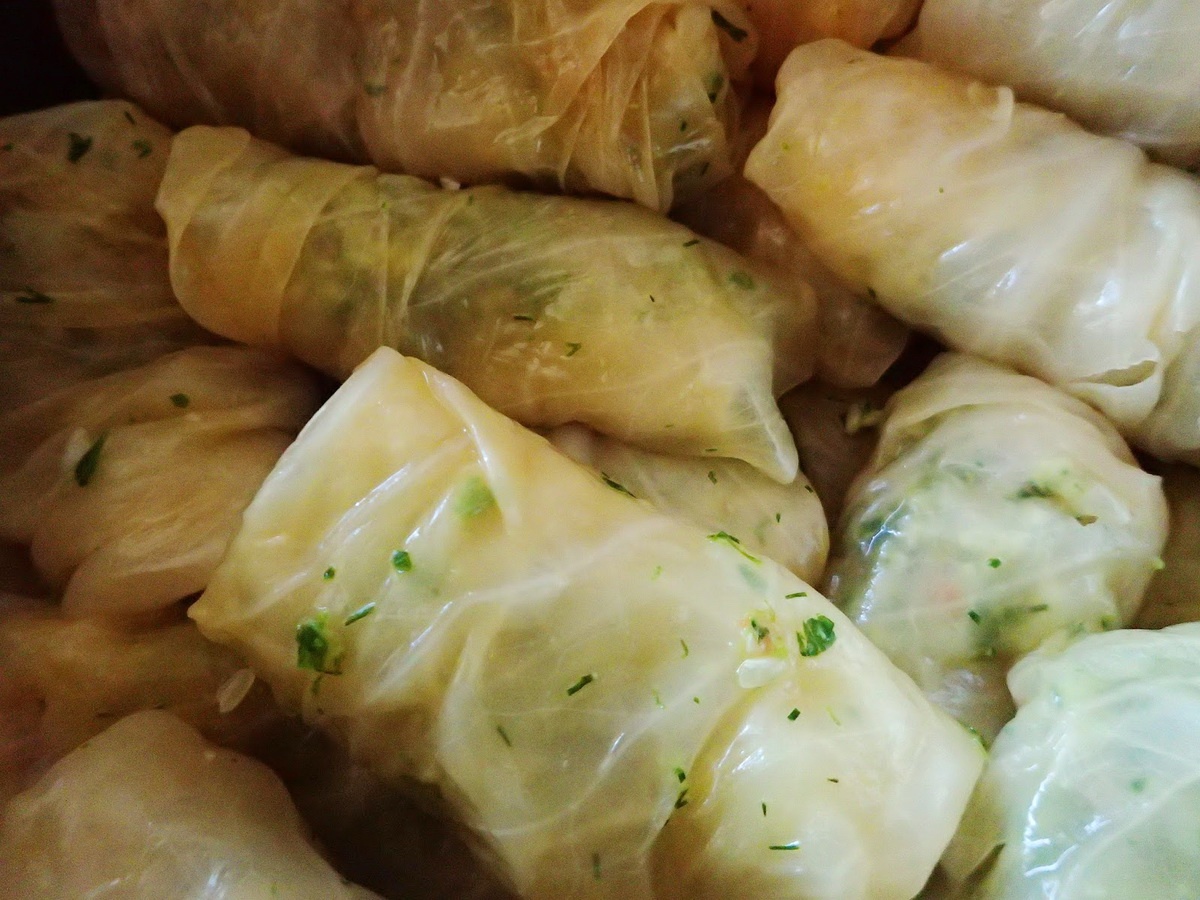 Slabs of briny, tangy feta cheese are a natural pairing for Greek cabbage rolls. Feta cheese is excellent with egg-lemon sauce generally. Also, a long green hot pepper, fried until blistering and splashed with some vinegar, offers a nice bite of heat alongside a comforting meat and rice dish.
With so much cabbage and so many green herbs in the filling of the lahanodolmades, you don't necessarily need a salad. With the feta and the hot pepper, plus perhaps a dish of olives, the table will be full enough. These piquant bites are all this one-dish meal needs.
People are divided on what wine to serve with Greek cabbage rolls. Some feel the meat in the filling calls for a red. But the feta and the avgolemono sauce are delicious with a full-bodied white. This is a flexible dish that can lead in either direction.
Making Greek Cabbage Rolls
Although the recipe below has 17 steps, don't be too put off. All of the steps are simple, intuitive ones. Making lahanodolmades avgolemono is easy, and they're fun to roll up – making this a great kitchen project with friends or family.
It does take up a lot of space. Cleaning up between steps and preparing the herbs and onion for the filling earlier on cuts down on the chaos.
This Greek stuffed cabbage roll recipe makes a large batch, plenty for another meal the next day. They keep very well, and it's worth making a lot.
Greek Cabbage Rolls - Lahanodolmades Avgolemono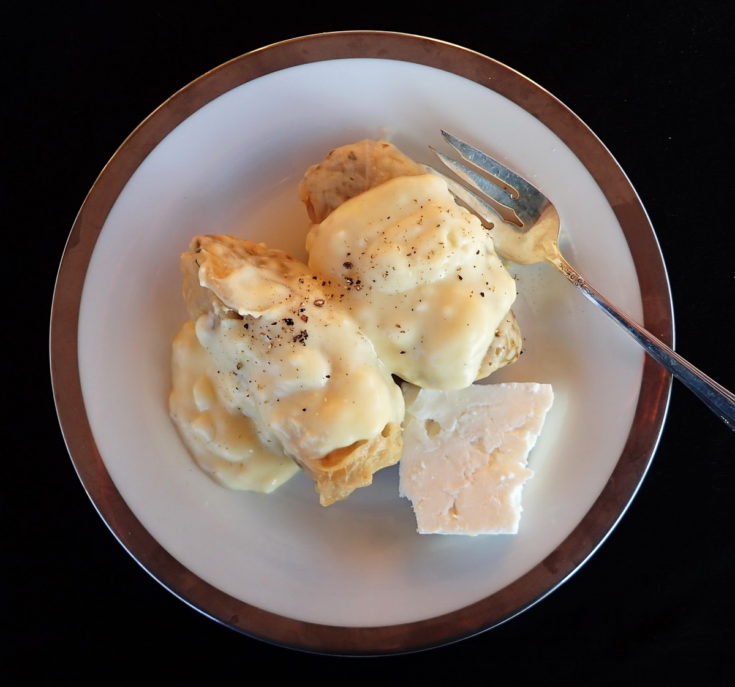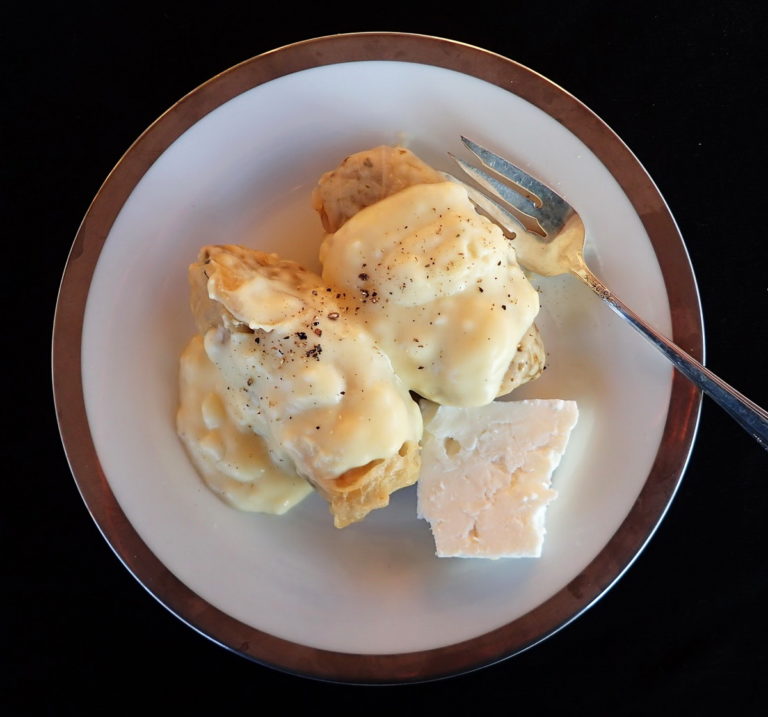 Greek cabbage rolls - stuffed with fresh herbs, rice, and minced meat, and napped with a rich egg-lemon sauce - are an elegant, hearty dish.
Prep Time
1 hour
30 minutes
Cook Time
1 hour
15 minutes
Additional Time
15 minutes
Ingredients
1 large fresh or pickled cabbage, or two jars of pickled cabbage leaves (available in stores that sell Mediterranean, Russian or Eastern European foods)
1 very large bunch of dill
1 very large bunch of parsley
1 bunch scallions, or one large onion, or both
2 carrots
500 g/ 1 pound ground beef
2 C short grain rice, such as arborio or carolina
black pepper
1 or 2 tsp. salt. (If you're using a fresh cabbage, use 3 tsp.)
About 120 ml/1/2 C olive oil
New Group
60 grams / 2 oz butter
60 grams / ½ C flour
2 lemons
2 whole eggs
Instructions
Preparing the cabbage: if you're using a fresh cabbage, boil an enormous pot of water. Core the cabbage, cook it a little, peel off some outer leaves, and boil again to soften the inner leaves. Drain them all, and save the water. If you're using pickled cabbage, either take the leaves from the jar and unroll them, or separate them from the head, in each case reserving the brine. Whether using fresh cabbage or pickled cabbage, remove the thick part of the stems. If a leaf is especially large, you can divide it into two down the stem.
Take the fronds from the dill stems and the leaves from the parsley. Peel the onion or scallions and halve the onion. Peel the carrots and cut them into large pieces. Put everything in the food processor and pulse until finely chopped.
In a large bowl, blend this mixture with the meat and the rice. add the oil and a generous amount of fresh ground pepper, and some salt.
Stack your cabbage leaves on a tray, and get out another tray or plate to use as your rolling surface.
Put some of the rice mixture at one end of a leaf, fold in the edges over it, and make a tidy, snug roll. It's easier than rolling up grape leaves. These will also be larger than grape leaves- perhaps three times as large. You'll soon get the feel of how much filling to use for each leaf.
Line a large pot with one of the leaves. As you finish each roll, place it in the pot. As you continue to fill the pot, try for snug layers, with an even layer on top.
Cover the cabbage rolls completely with water (or the water you boiled the cabbage in, if you used a fresh cabbage). If you used pickled cabbage, add a splash of the brine. pickling brine from the jar. Put a plate or a lid from a smaller pot on the rolls to hold them in place. The liquid should cover the plate or lid as well. Then cover the pot with its own lid, and put on medium-low heat.
After 30 minutes or so, check to see if they need any water. They probably will, as the rice absorbs a lot. When the cabbage rolls are done, we still want there to be some liquid leftover, because we need it for the avgolemono sauce.
After about an hour, test one of the rolls, cutting it through the middle and tasting the rice to make sure it is tender. If the rice is cooked, then the minced meat will be thoroughly coked as well.
Now comes the tricky part - we need to pour out the liquid, leaving the cabbage rolls undisturbed (so they stay hot). Have someone hold the plate to keep the rolls in place while you slowly pour off the liquid.
Set the liquid aside and strain it to remove stray grains of rice - we'll need about .75 liters - 3 cups.
We're essentially making a bechamel sauce with the liquid: melt the butter in a medium-sized sauce pan, add the flour, and stir over low heat until the flour starts to puff and lighten in texture.
Add the liquid, whisking constantly.
Juice one of the lemons, and whisk thoroughly with the two eggs.
Ladle some of the bechamel sauce slowly into the egg-lemon mixture, then more, then more - to temper the mixture.
With the sauce off the heat, add the warmed egg-lemon mixture to the pan, and stir.
Serve the cabbage rolls with the sauce.
Notes
You'll see that the rice has expanded, making for tight, full rolls.
The size of the rolls is your choice - usually they end up about 3x as large as a stuffed vine leaf - dolma. Better long and narrow than fat and round, for a good ratio of cabbage to filling in each bite.
Keep the heat low and check them often. Some cooks say they're ready in 45 minutes, others need over an hour.
To reheat them the next day, place them tightly together in a pot with a little water over medium-low heat and let them steam. Heat the avgolemono sauce separately, on low heat.