Melomakarona Cookies for Christmas and New Year's in Greece
Christmas is not Christmas without Melomacarona in Greece. These spice-scented, syrup-drenched cookies with hints of orange and honey (the "Melo" in the name comes from "Μέλι" = honey) are the Queen of Greek Christmas desserts. Melomakarona cookies are everywhere during the holidays. This recipe makes a cake-like moist cookie that is sweet with cinnamon, filled with minced walnuts, and scented with orange and a little liquor. One of the most popular Greek cookies, melomakarona are a project, but not a difficult one. It makes a mountain of cookies, and the house smells fantastic for days afterwards.
Melomacarona Need a Light Touch
Pour into the dry mixture and blend quickly and very lightly with your hands. If you over-mix or knead it, the oil will seep out of the dough. Be quick, decisive, casual.
Now take a piece the size of a walnut, flatten it into a disc, and put a little nut mixture in the middle. Seal the dough around it into an oval, and mark with a cake cutter or fork or anything to make decorative indentations to hold the syrup.
For Vegans, Allergies, and Religious Fasts
These rich cookies are eggless and butterless. Unlike so many classic holiday treats, these are perfect for Orthodox religious fasts, for vegans when you use agave instead of honey, and for those allergic to dairy or eggs.
Perfect with:
Kourabiedes! Also eggless, but rich with butter. These are light, crumbling, snowy white, and the perfect counterpart to soft, dark, and spicy melomacarona. They also take less time. (Here's how to make Kouabiedes, Greece's favorite Holiday Butter Cookie.)
Yield: 4 - 5 Dozen
Melomacarona - Greek Christmas Cookies with Honey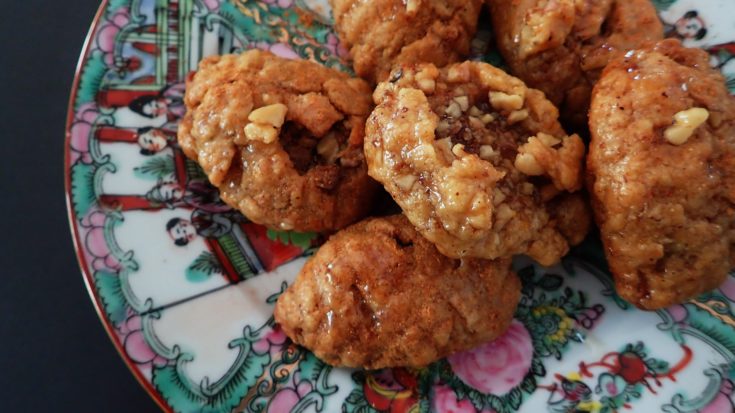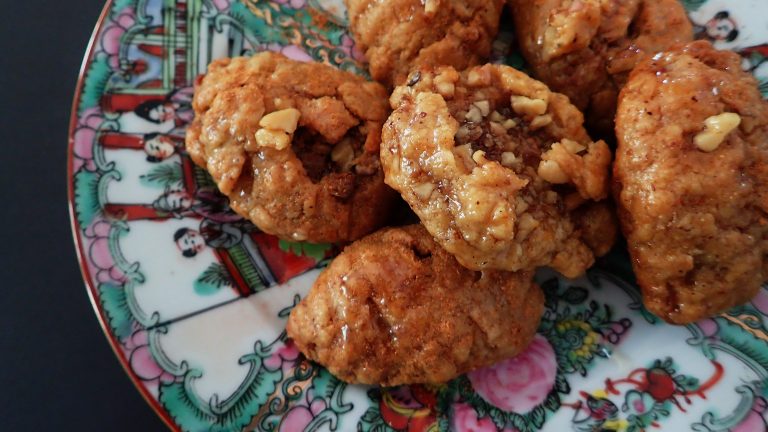 Melomacarona - Greek Honey Cookies - are a holiday essential in Greece. By substituting the honey with agave syrup or another vegan sweetener, they effortlessly become vegan. Already egg and dairy free, they're also perfect for friends with allergies - they're even tasty without the walnuts.
Cook Time
25 minutes
20 seconds
Total Time
4 hours
25 minutes
20 seconds
Ingredients
For the cookies:
⅓ C / 70 g sugar
4 - 5 oranges - zest 2 of them
1 C / 150 g fine semolina
8 C / 950 g all purpose flour
1 1/2 tsp. baking soda
¾ tsp. baking powder
½ tsp. salt
2 T ground cinnamon, plus more to taste
1 good pinch ground cloves
a few gratings of fresh nutmeg
1⅔ C / 400 ml fresh orange juice (from the oranges above)
1 C / 240 ml extra virgin olive oil
1 C / 240 ml vegetable oil
3 - 4 T . 50 - 60 ml Greek brandy (whiskey is also fine)
2 C / 200 gr chopped walnuts, plus 2 T sugar, a dash of cinnamon, and a small splash of brandy
For the syrup:
3 C / 600 gr sugar
3 C / 720 ml water
½ of a whole orange with its peel
5 whole cloves
3 cinnamon sticks
small pinch salt
⅔ C / 225 gr honey
Instructions
Pre-heat your oven to 180° C / 375° F.
Line 2 baking sheets with baking paper.
Blend all of the syrup ingredients except for the honey in a medium sized pot. Boil for about three minutes, until the sugar is dissolved and the syrup is fragrant with orange and spice. Remove from the heat, and gently stir in the honey. Set aside.
Zest 2 of the oranges over the 1/3 C sugar in a large bowl. blend the zest into the sugar to release the essential oils in the zest - it will become like damp sand.
Add all of the dry ingredients - the semolina, flour, baking soda, baking powder, salt, and spices - and blend well.
Blend the orange juice, oils, and brandy, and add to the dry ingredients.
Using your hands, mix together lightly and quickly, until just combined.
Blend the chopped walnuts with the 2 T sugar, dash of cinnamon, and splash of brandy to moisten,
Take a piece of dough the size of an egg. Open it into an oval in your and put a spoonful of the walnut mixture into the center. Close the dough round it, form it into an oval, and place it on the baking sheet. Repeat with the remaining dough and walnut mixture, spacing the ovals 3 cm / 1" apart on the baking sheet.
Mark each cookie with a fork twice to make a diamond pattern.
Bake for 22-25 minutes. The cookies will lighten in color initially, then darken again.
Pour the syrup into a large and shallow baking dish.
Place the cookies, hot from the oven, into the syrup, turning once. Leave them for ten minutes, then remove to racks to drain.
The cookies are ready at once, but they will be both sticky and a little crisp. After a few hours, they will absorb the syrup thoroughly to become like moist cakes.
Notes
1. Mix with a lightly and quickly. Handling the dough too much can cause the oil to start separating out of the batter.
2. These are sturdy cookies and only get better as they sit - perfect for sending to friends.