Beaches in Chania, Crete are among the most famous beaches of Greece. The Chania prefecture covers western Crete, a region with a tremendous variety of stunning beaches. There are Chania beaches to suit every beach-going style: if you like a soft, sandy beach with full-service and a little glamour, you're in luck. Chania is a perfect destination for a fantasy beach holiday, cocktails included. However, if you're seeking something rugged and remote, you may be even luckier – the Chania prefecture is full of gorges leading to secret coves of turquoise seas, a reward for the adventure-loving traveler.
The Chania prefecture has many of the best beaches of Crete. Beaches near Chania, Crete regularly make the list of Greece's finest. Here's a complete guide to the best Chania beaches.
Balos Beach and Balos Lagoon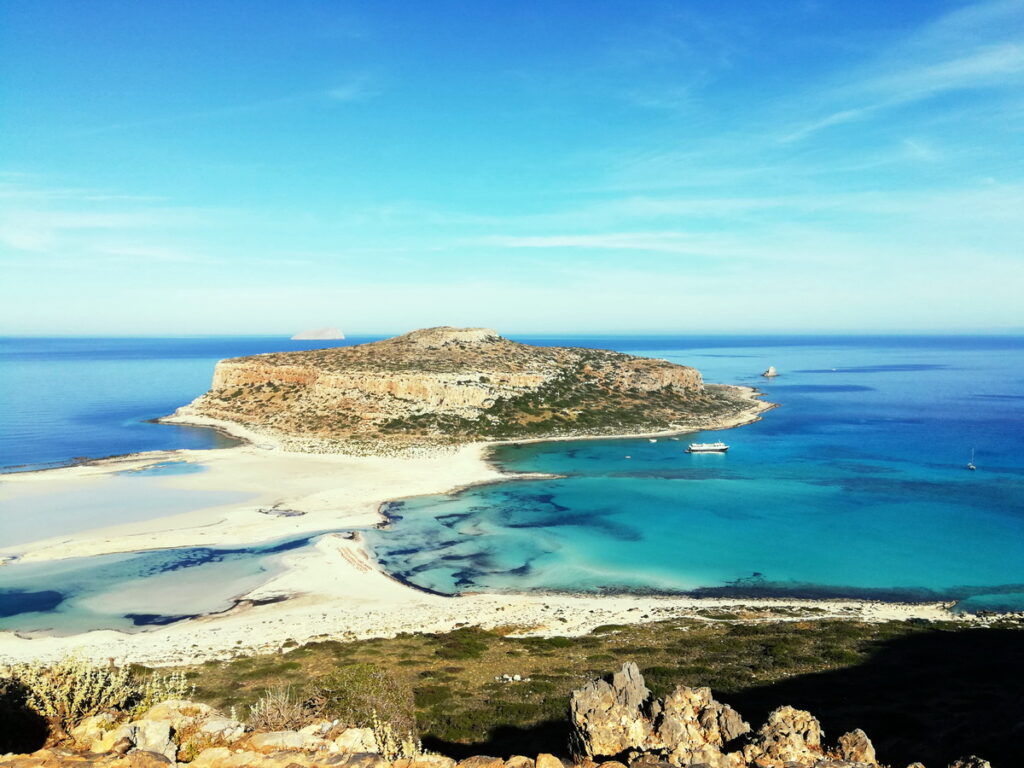 West of Chania is one of the most legendary beaches of Crete. Balos beach is at the tip of the Gramvousa peninsula. Cape Gramvousa is the westernmost of the two peninsulas you see on a map of Crete defining the northwest section of the island. It looks remote on a map. However, it looks even more remote as you approach. A day at Balos Beach is a great adventure.Balos Beach is absolutely one of the best beaches near Chania Crete. Although one can now go from Chania to Balos Beach on a day cruise, it's the most fun to come by car. A dirt road runs along the peninsula's eastern edge, high above the Bay of Kisamos. Because of the rough terrain, you'll need a 4 x 4 or something sturdy that doesn't mind getting knocked around.
After a dusty drive, you reach the tip of the peninsula. When you cross the tip to the western side, you'll see the Balos Lagoon stretching out far below. Beyond it is the "Tigani" – the small island that forms the lagoon. This is one of the loveliest sites in Crete. All you need to do to reach it is to hike down the path. Enjoying the view as you descend. Goats grazing on wild herbs will keep you company – they love it up here. The hike takes about 10 minutes to descend, and 20 minutes to return to the summit.
Balos beach is extraordinary. The water is a extraordinary color, and the sands are silken and white. The waters of the enclosed lagoon are usually sheltered and calm. There are cantinas and even sunbeds and loungers for those seeking a little papering. Balos Beach fills up in after the day cruise boats arrive. As with Seitan Limani, it's worth it to rise early and beat the crowds to experience it in peace.
Seitan Limania Beach
Seitan Limania Beach actually fits into two categories – secret cove, and super-famous hotspot. That's because Seitan Limania was until relatively recently known only to local fisherman. This now famous beach is like nothing you have ever seen – it's a cove shaped like a lightning bolt, carving a dramatic zig-zag path through high stone cliffs.
Seitan Limania (also called Stephanou beach) is one of the best beaches near Chania, Crete. It's at the eastern end of the Akrotiri peninsula, about 20 km from Chania town, a drive of around half an hour. The road is good, but gets a little steep and more treacherous as you approach the beach. From where you park, it's a considerable hike down to the beach, along a steep path. Shoes – not flip flops – make for a safer descent. Your reward, apart from the almost moon-like surreal beauty of the landscape, is fantastic clear water for a wonderful swim. The whole experience is amazing.
Seitan Limania Beach gets very crowded in the high season. But if you go as early as possible, you're in for a magical experience. Given the difficulty of access, this is a wild beach with no services. Because of this, bring your own food and water. And of course leave nothing behind.
Falassarna Beach
By the base of the Gramvousa peninsula and on the western shores of the Chania prefecture is yet another of the most famous beaches of Crete. The west coast of Crete often has high winds, making Flassarna a great choice for water sports. The sands here are pure white, which makes the turquoise and jade tones of the sea particularly vivid. two in the middle are the best known.
Falassarna is actually a series of five long sandy beaches. The middle two are the best known. Pachia Ammos – which means "thick sand" – is the longest. This is a nice big beach – it's 150 m wide, and about a kilometer long. South of Pachia Ammos is the beach Livadi. It's also sandy, but the sea floor here is rocky, making for more interesting snorkeling. North of Pachia Ammos is a more deserted beach.
Rumor has it that the sun beds at Falassarna have gotten very pricey, so you may want to seek out Falassarna's remoter areas.
North of the beaches is an archaeological site. Falassarna was a center of trade in the ancient world, especially with Egypt. It flourished through the Roman era. The site is open Tuesdays through Fridays, from 9:00 to 15:00 (except holidays- please call: +30 28210 44418, or +30 28210 94487 to confirm hours).
Elafonissi Beach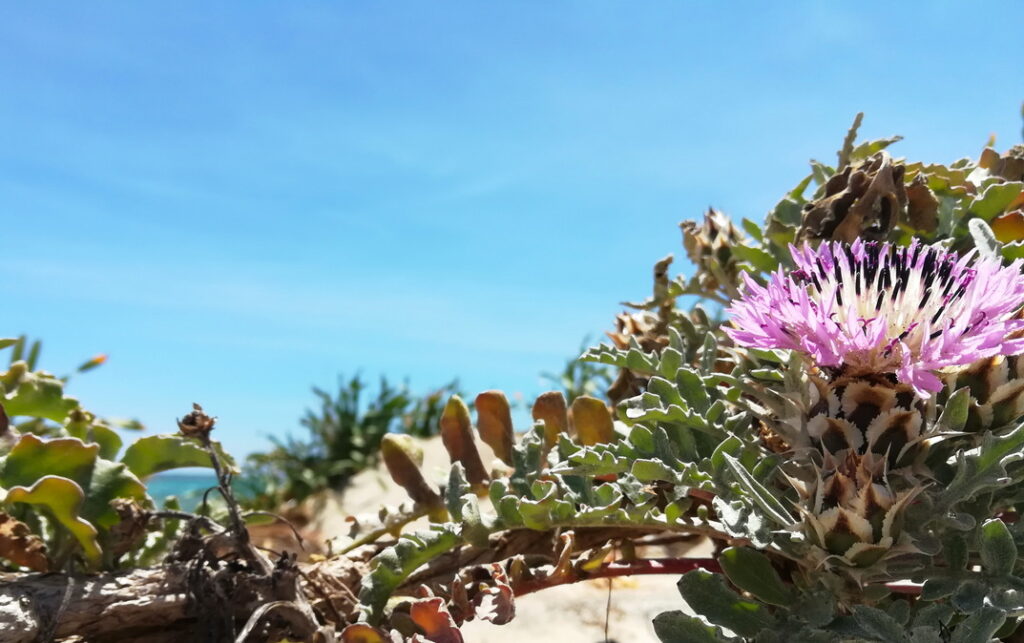 Elafonisi beach is at the southwestern edge of the Chania prefecture. It's very worth the drive from the north coast and Chania town to get to it. First of all, that drive is a gorgeous one, cutting through the lush green interior.
In addition to being an unbelievably beautiful beach, Elafonissi is an extraordinary nature destination. Like Balos, Elafonissi consists of a beach, a tiny island, and a lagoon. The small island of Elafonissi is made of bright white sands. Wild flowers – many of them rare – cover the island. This is a protected habitat for many rare flora and fauna, and part of the Natura 2000 network.
This is a convenient and very family friendly beach. The water of the lagoon is shallow, warm, and as clear as a jewel. It's perfect for children. Elafonissi beach is party organized, with cantinas for refreshments, and sun loungers and umbrellas for those who want them. But don't worry – there's plenty of privacy. Just wade over to the island and walk until you find your own private dune.
To reach Elafonissi island, you simply wade though the shallow water of the lagoon. The shores of the island are also a beach. Facing the open sea, the waters are wilder. The frequent high winds make this a popular destination for windsurfers and other water-sports enthusiasts.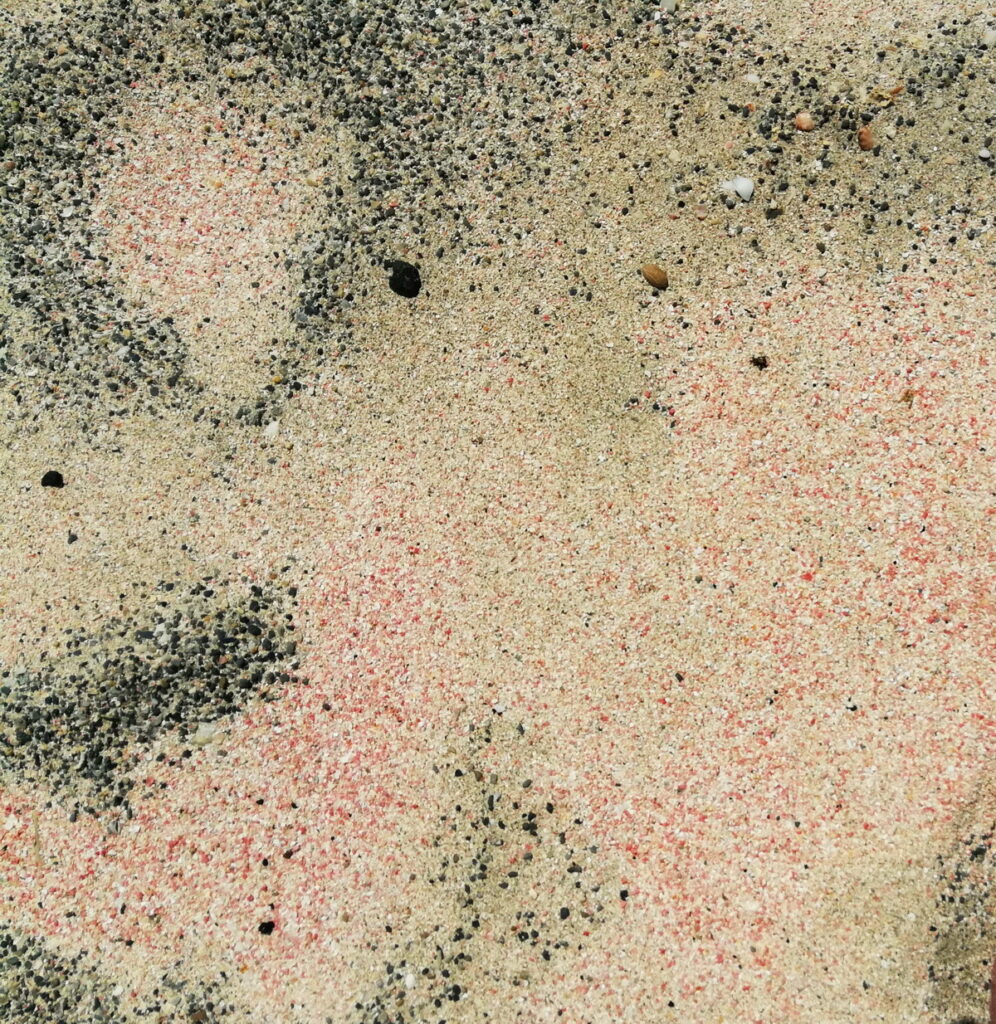 One very special thing about Elafonissi beach is the sand. If you love a sandy beach, Elafonssi is a dream. In addition to the silky and blazing white fine sands, there are large patches of pink sand. The dreamy coral pink sands, the turquoise sea, and the beautiful vegetation make an unforgettable picture. Elafonissi beach is one of the most beautiful beaches of Greece.
Kedrodassos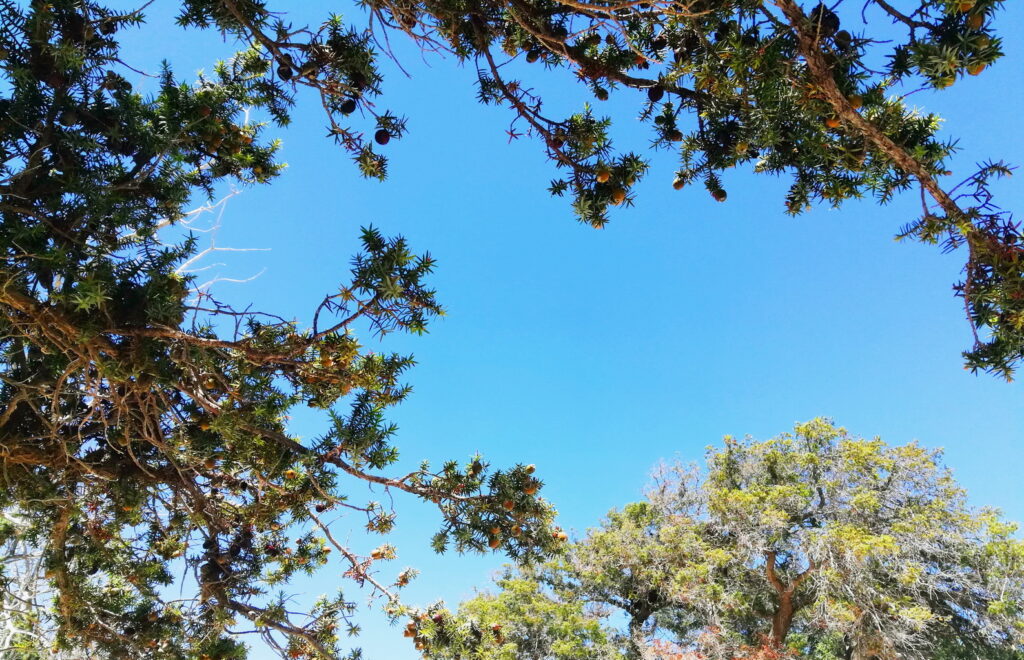 Just past Elafonissi is dreamy Kedrodassos. The name is promising – "dassos" means forest, and "kedros" is juniper tree. And that's exactly what you will find, many fragrant green juniper trees around a white sandy beach. The water here is excellent – crystal clear. Kedrodassos beach is often much less crowded than its more famous neighbor, Elafonissi.
Paleochora Beaches
As we approach the south coast of the island, the Chania Crete beaches get wilder and more pristine. The Paleochora beaches are among the first we reach. Paleochora is one of the larger towns, and has a variety of beaches with both pebbles and sand. The sandy beach right in town is very popular. But for more privacy, investigate the beaches you hit before Paleochora as you approach from the west. This area has several small coves and little beaches, including Psilos Volakas, Plakaki and Karavopetra. These are more secluded and private, and often a good place to strip down – generally, the south coast of Crete can be fairly naturist-friendly.
A note – although Paleochora is a short distance along the coast from Kedrodassos, you'll need to drive back inland to reach it. The terrain here is rugged but extremely beautiful. You're in for a fantastic drive – driving in Crete is a pleasure.
Glyka Nera Beach
You cannot get more remote and pristine than Glyka Nera. Such a prize, of course, is only for the people with enough of a sense of adventure to seek it out. First of all, because of the wild terrain, you'll need to go way back inland to reach this part of the south coast of Crete. In fact, this makes a wonderful separate beach excursion from Chania town.
To get to Glyka Nera, you first need to get to Chora Sfakion, cutting through the white mountains. The drive in itself is worth it – majestic vistas and small villages. There are no roads to Gluka Nera – you can only get there by boat, or on foot. Therefore, at Chora Sfakion, you get a small boat to go to Glyka Nera. Or, if you are a little adventurous, you hike there. It's about 30 minutes. This is part of the E4, so the path is good. But there is no shade – make sure you have a hat.
Glyka Nera means "sweet water", which is what you will find. The beach has a spring of fresh water you can drink from. There is also a tiny cantina. Tamarisk trees shade this secret little paradise.
Loutro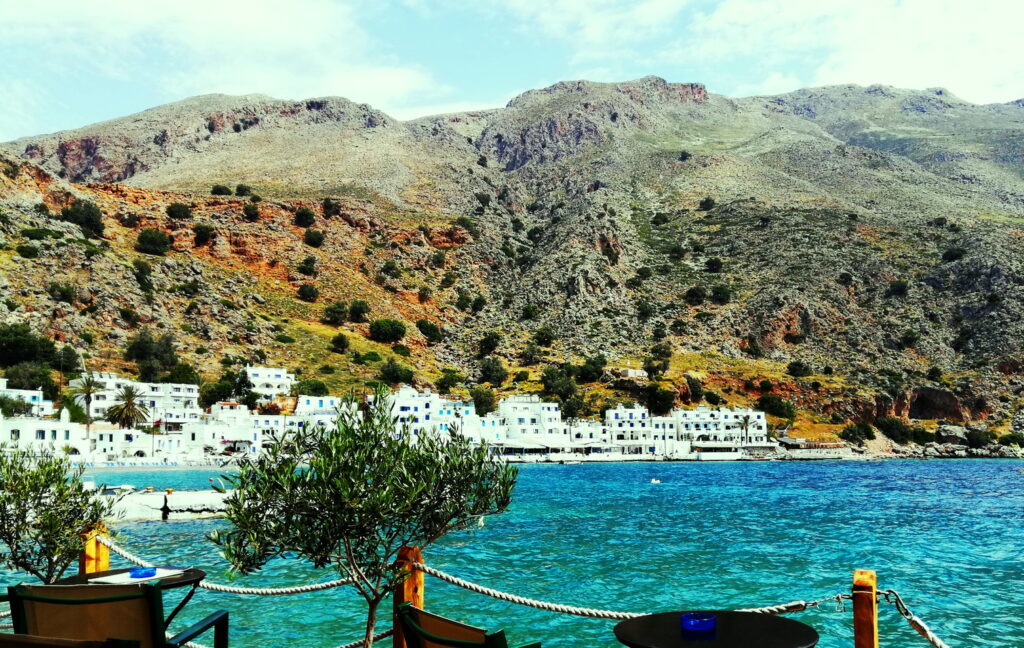 Also accessible only by boat or on foot is Loutro. This is not just a beach, but a village. It's one of the dreamiest little villages you could hope to see, curved around its pristine private cove. Ferries from Chora Sfakion arrive often, bringing people and goods, which make their way along the seafront by wheelbarrow. Otherwise, keep hiking along the A4 to the west – it's about an hour from Glyka Nera. However, many report that the path is close to the edge, adding an dose of adventure to your trek.
There is a small beach at the edge of the little cove. It's a fantasy location, like a dream. This remote and beautiful haven is a great place to stay as you explore this section of southern Crete.
Agia Roumeli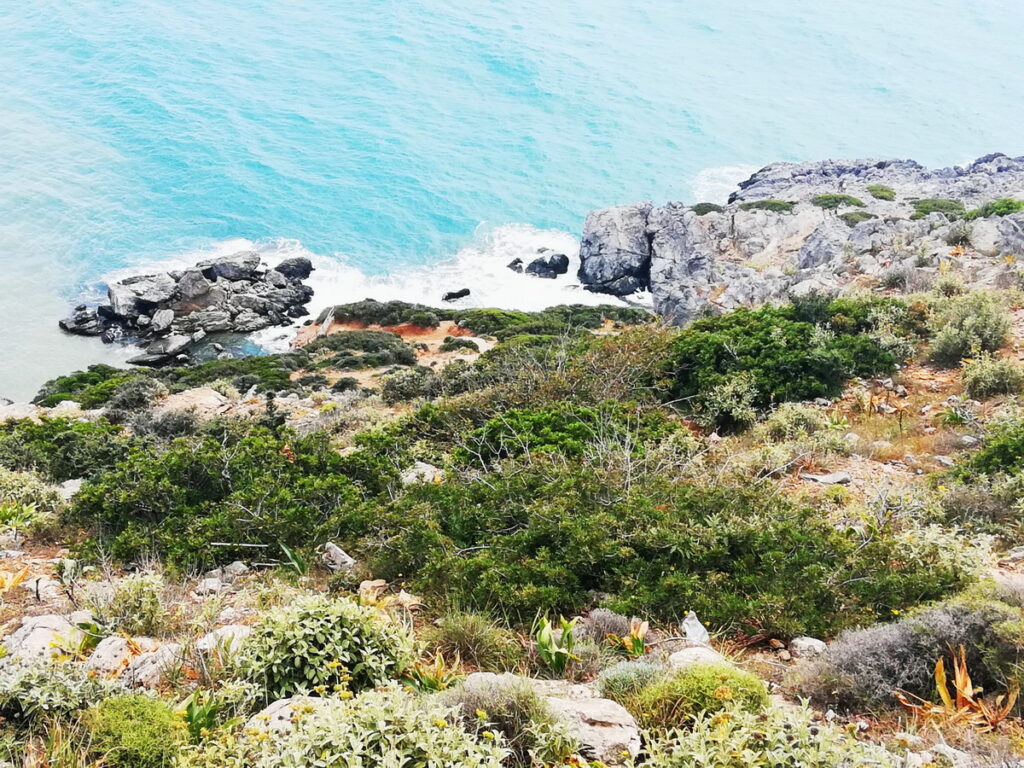 The next stop on the ferry from Chora Sfakion is Agia Roumeli. This is the end of the legendary Samarian Gorge. Although the boat ride is short, the hike from Loutro is about 7 hours – this is some very wild and beautiful terrain.
At Agia Roumeli, you'll find a span of beaches. The one right in the village is the most organized and crowded. To the west, you'll fins two gorgeous little beaches with fine pebbles, next to another small boat dock. To the east, crossing the river of the Samarian Gorge, you'll find Zeromouri. This area has fine pebble beaches and beautiful rock formations. The water of the Libyan Sea is usually crisper and more refreshing than the water of the north coast. It also is much deeper.
Sougia
A haven for the free-spirited hippies in the 1970's, Sougia remains one of the most famous of the Chania beaches. That untamed beauty that drew the hippies is still here. Come for the pristine waters – cool and deep. The coarse sandy beach is long, and tamarisk trees provide natural shade. One end of the beach has a secluded cove, favored by naturists.
Sougia has a small settlement with good tavernas and a few rooms. There's no gas station – make sure you have enough petrol to continue on your way.
Sougia is also reachable by ferry from Chora Sfakion, Paleochora, and Gavdos.
Best Beaches in Crete near Chania Town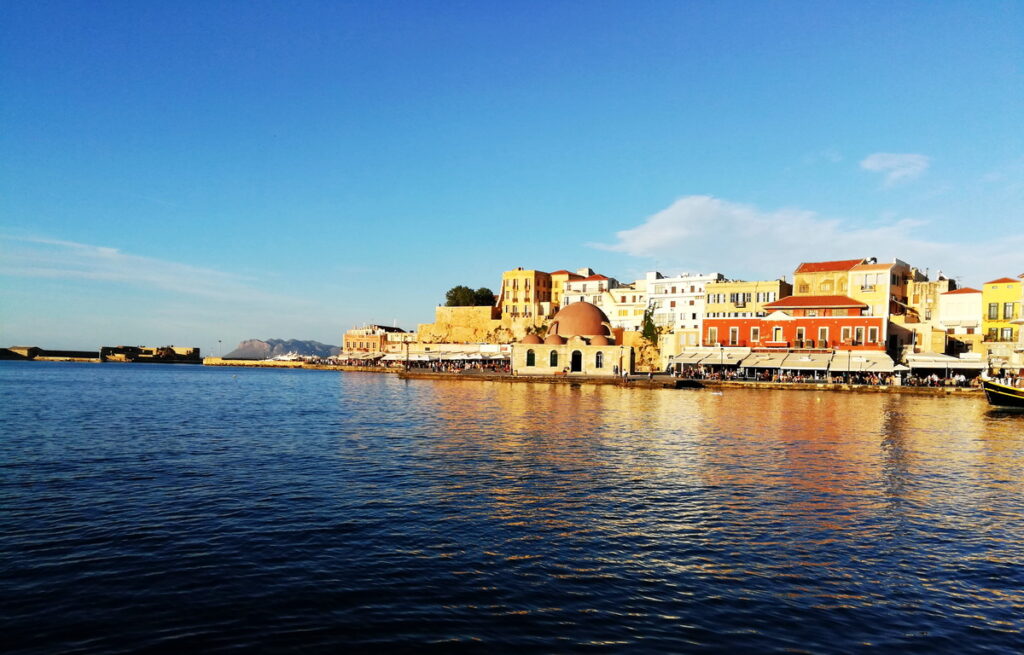 We have seen the beaches that are well worth a special trip from Chania. Here are some excellent beaches much closer to Chania Town, including Stavros, Kalyves, Agia Marina, and Agioi Apostoli.
Stavros Beach
Stavros beach is at the top of Cape Akrotiri, just east of Chania town. It's a little under half an hour drive from Chania center. If this beautiful sand beach looks familiar, that's because it it. Right across from Stavros harbor is the Vardies – the brown cliffs. This was the setting for Anthony Quinn's famous sirtaki. Tune into some Mikis Theodorakis to get in the mood.
This was once a sleepy little tow, but it has grown, as the beautiful beach of Stavros is so popular. Stavros beach offers some excellent swimming, sheltered from the winds in its picturesque bay. The contrast of the pure white sands, the turquoise water, and the wild brown cliffs make a dramatic setting for a memorable beach day.
Kalyves Beach
East of Chania, the beach town of Kalyves makes a very convenient option for a family friendly beach day. Kalyves is in Souda bay, so the beaches are relatively protected from winds and waves. The generally calm and generally shallow waters are also child-friendly. Kalyves was always a village, and so even though this is now a popular tourist destination, Kalyves retains an authentic character.
There are two beaches at Kalyves. The one just east of Kalyves town, though convenient, can be very busy. However, just before you get to Kalyves, you'll find Kalami beach ("reeds"), and then Kiani Akti ("Côte d'Azur") – both with fewer crowds.
Agia Marina
Less than 10 kilometers west of Chania is Agia Marina beach. This is a Blue Flag beach, so you can expect crystal clear waters, excellent facilities and maintenance, and sound environmental awareness. The beauty extends beyond the long sandy beach. The sands themselves are red and gold – a gorgeous combination. But also, by the beach are palm trees and coast lilies. The beach also has a view – across from Agia Marina beach is the little island of Theodorou, a sacred site in Minoan times. Now, it's home to the lovely Kri-Kri – the wild goats of Crete.
Agia Marina has grown into a long strip of a beach town, where you can find anything you need, including lots of beach-related shopping.
Agioi Apostoloi
This family friendly beach is a big favorite with Chania locals. Just at the very edge of Chania town, Agii Apostoli beach is actually two beaches, on either side of a tiny arrow cape. This means that either one or the other will be relatively calm, even on windy days. the soft sands and shallow waters make for some kid-friendly swimming. This is a lively beach, partly organized with a beach bar. You can also walk out to the shady cape, where you'll find two small churches in a beautiful setting.
Chrisi Akti – Hrisi Akti Beach (Golden Beach, Chania)
"Hrisi Akti" means golden coast, and it is. The soft sandy beach Chrisi Akti is just at the edge of Chania town and right before you get to Agioi Apostoloi. Sheltered from the meltemi winds and with waters that have the Blue Flag seal of approval, this is a great place to swim.
Best Beaches in Chania, Crete – Town
There are three beaches in Chania town, perfect for taking a quick dip between sightseeing in Chania town. Chania is arranged around three bays- the central bay is the Venetian harbor of the old town, while the other two have beaches.
Nea Chora Beach
West of the Venetian harbor, this charming residential part of Chania has a long sandy beach that both locals and tourists love. There are a few cafes with sunbeds and umbrellas, and plenty of small, charming tavernas for traditional Cretan food lining the beach. Many consider Nea Chora beach to be the best beach in Chania town.
Koum Kapi Chania
This old neighborhood east of the Venetian city walls also has its own beach, with pretty good waters and a rock to swim out to. The intact Venetian walls lining Koym Kapi (Koum Kapi) beach make for a picturesque swim. There's a shower and a changing cabinet, but no other facilities.
Kouloura, Halepa
The name Kouloura means "ring". Not a beach, but a perfect place to swim and a local favorite, this ring of rocks in the Halepa neighborhood is a partially enclosed swimming hole. Be careful here when the winds are high – it gets wild and choppy.