Lasithi is in the far east of Crete. It has a completely charming capital – Agios Nikolaos, Crete's smallest city. It also has secret, tiny island getaways, gorges (one full of the whispers of the Minoans), literally hundreds of caves, cult beaches, significant archaeological sites, and magnificent biodiversity.
The Western side of Crete gets most of the attention, and most of the visitors. The eastern side of Crete is an intriguing mix. Many of Crete's definitive luxury resorts are in Lasithi. Outside of these complexes – some of them self-contained all-inclusive universes – the landscape is wild and pristine, and the villages are enchantingly lost in time.
With Travel Bloggers Greece and our international blogging friends, we explored the whole of Crete. Lasithi took us all entirely by surprise, and enchanted us completely.
Agios Nikolaos, Capital of Lasithi
Agios Nikolaos has an exciting topography. In addition to the harbor and seaside promenade that you've come to expect in a Cretan city by the sea, Agios Nikolaos has cliffs, hills, and a "lake". Voulismeni lake was once a sweet water lake, but is now connected to the sea via a small channel. The shores of the petite Voulismeni lake are dotted with cafes and restaurants.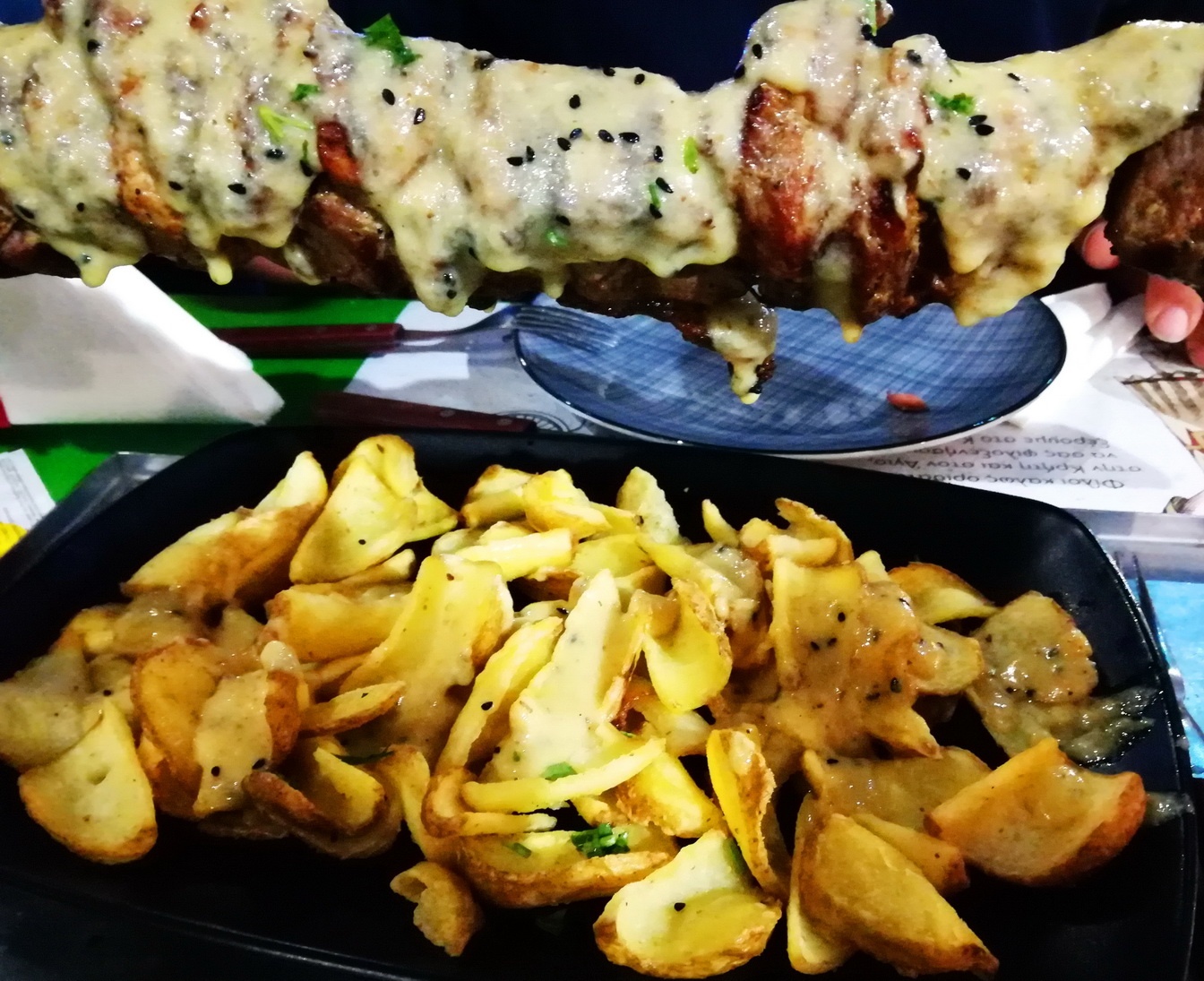 We loved the "mezedopoleio" (place to have"meze" – little plates – and raki) Karnagio, lakeside and utterly lovely. Their playful interpretations of dishes, using traditional ingredients and techniques, were absolutely delicious. It also has a playful atmosphere, and exceptional service.
We stayed at the Miramare Resort and Spa, an all inclusive resort with stunning views of Mirabello Bay and the mountains beyond. Another fine choice, especially for families, is the Candia Park Village, which has charming colorful traditional architecture, lush grounds, and a tree-lined beach. The newly opened Wyndham Grand Crete Mirabello Bay is a glamorous addition, with custom-designed furniture on its gorgeous blue-flag beach.
The Sitia Geopark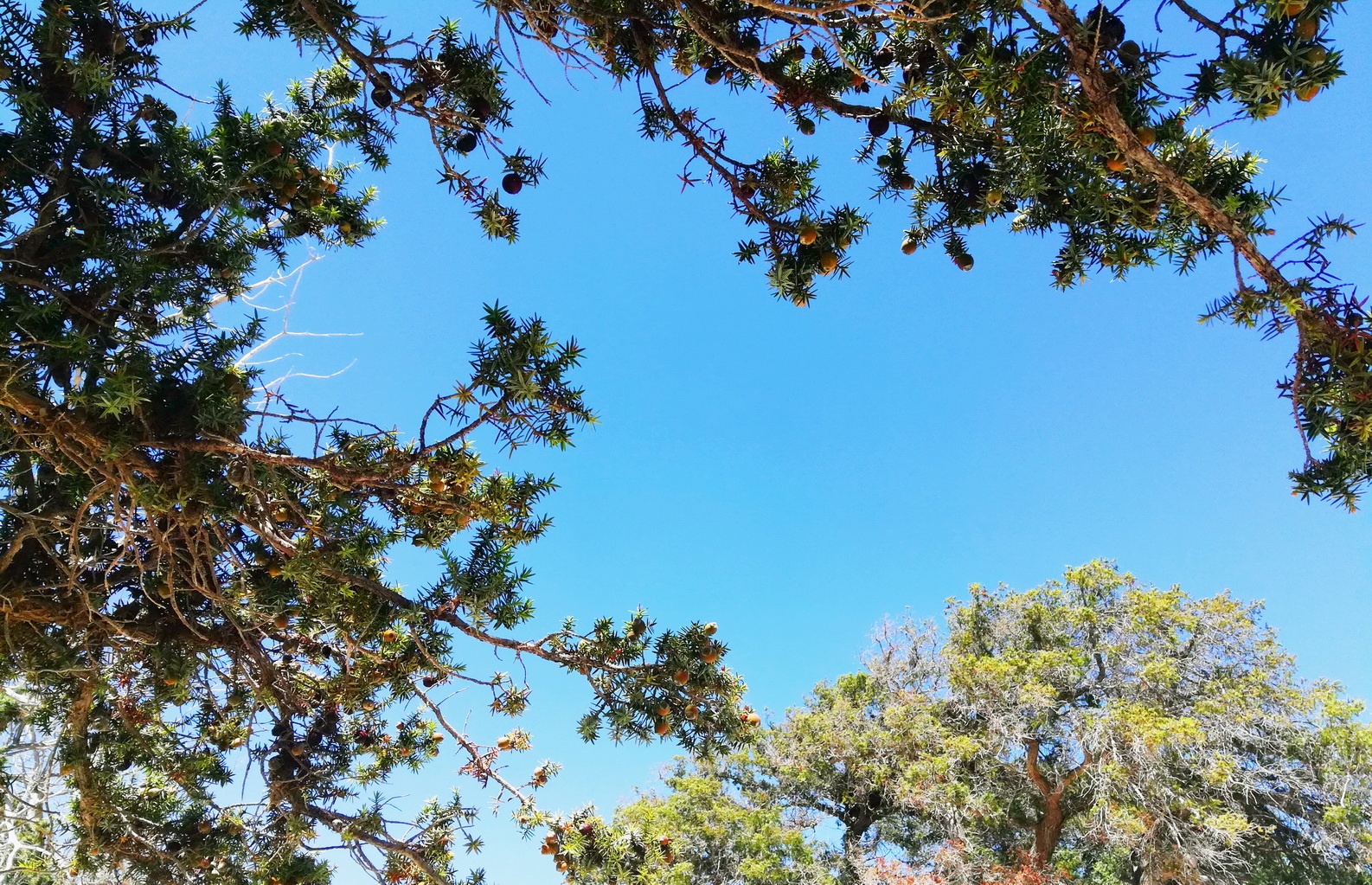 Covering an expanse of over 350 square kilometers, this mainly mountainous area with a dramatic and rugged coastline is a habitat for a collage of unique ecosystems, like the palm forest of Vai and the Phoenician Juniper trees that thrive on the sand dunes by beaches.
This area is full of drama- steep rocky canyons and gorges, olive groves, wetlands, and vineyards contribute to an incredible diversity of landscape.
Botanists will delight in the abundance of flora species, many endemic to Crete and others endemic to the South Aegean.
The lands, the surrounding seas, and the sky above are full of wildlife. Three species of Dolphins and the Mediterranean Monk Seal (Monachus Monachus) share the waters with the Caretta Caretta sea turtle. Many birds, including several species of birds of prey and scavengers. The many small mammals and reptiles – including the Podarcis Cretensis Lizard unique to Crete – hide from them amid the rocks of the complex terrain.
The Gorges and Caves of Lasithi
We love visiting the beach, but in addition to some of the best wild beaches we could imagine, this region is also full of other natural wonders. Hiking and caving are also great ways to beat the heat!
Lasithi is full of caves – over 800, some 300 of which have been explored. Cavers adore this destination.
There's also absolutely excellent hiking. Lasithi has many gorges. The Richtis gorge is one of the most dramatic of all. As we had friends to drive us back up, we got to enjoy a gentle downhill hike along a brook, past picturesque abandoned watermills overgrown with ivy. The highlight of a hike in the Richtis gorge is cooling off in the pool fed by a 20 meter waterfall.
Sitia, Lasithi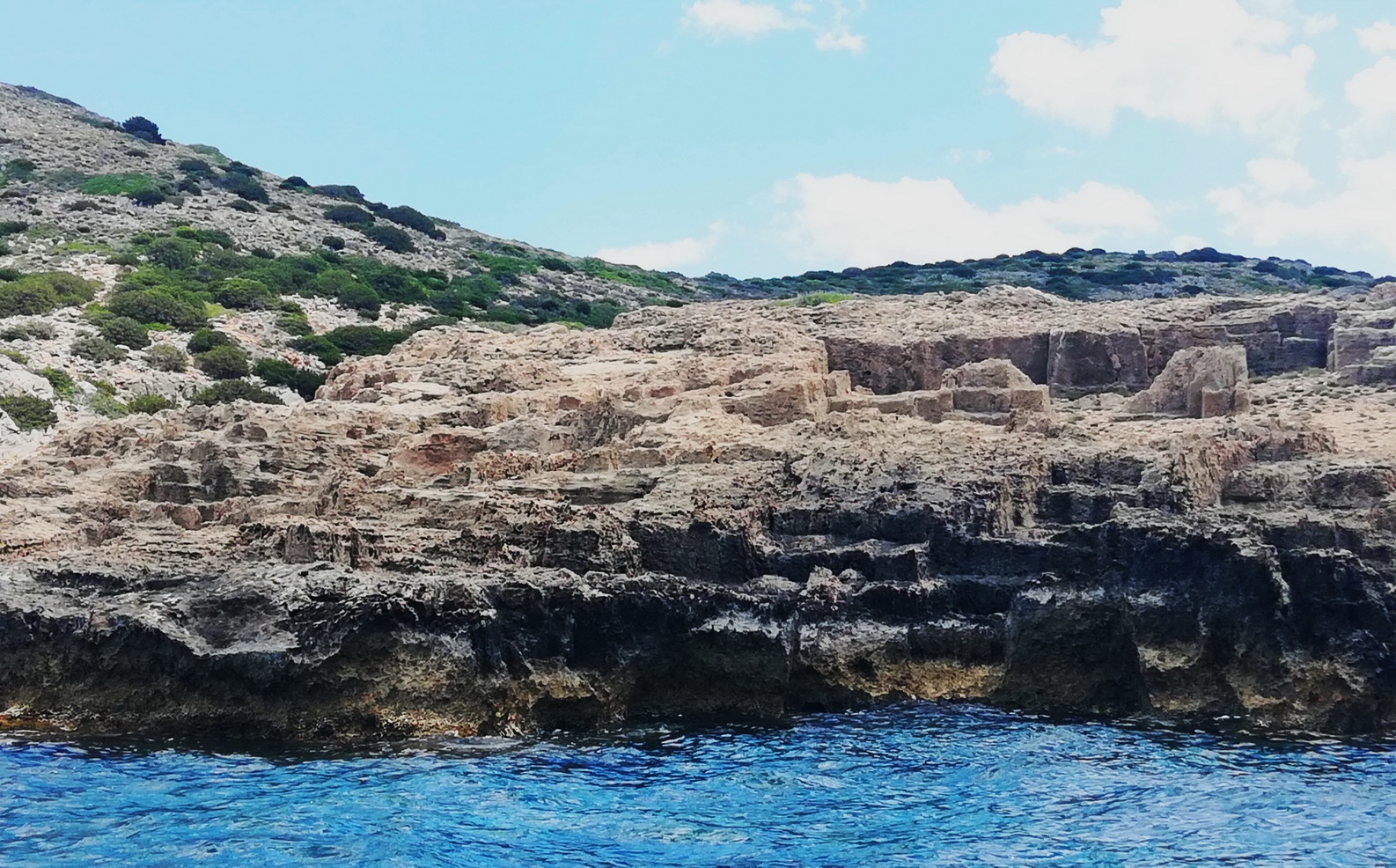 Sitia, a port town at Crete's remote eastern edge, has its own small international airport served by several European cities. The laid-back town has a long and well groomed beach and charming tavernas. This is a great base for exploring Lasithi.
It also has an incredible hotel. Five star luxury with its glamorous late 1970's architectural character restored, the Sitia Beach City Resort and Spa offers a stylish stay. There are five pools. One is an Instagrammer's dream where you swim under a bough of trailing ivy in the hotel's courtyard. The breakfast makes the most of local products, with the classic international offerings and Cretan specialties, and fresh orange juice flows abundantly.
Ano Zakros, Lasithi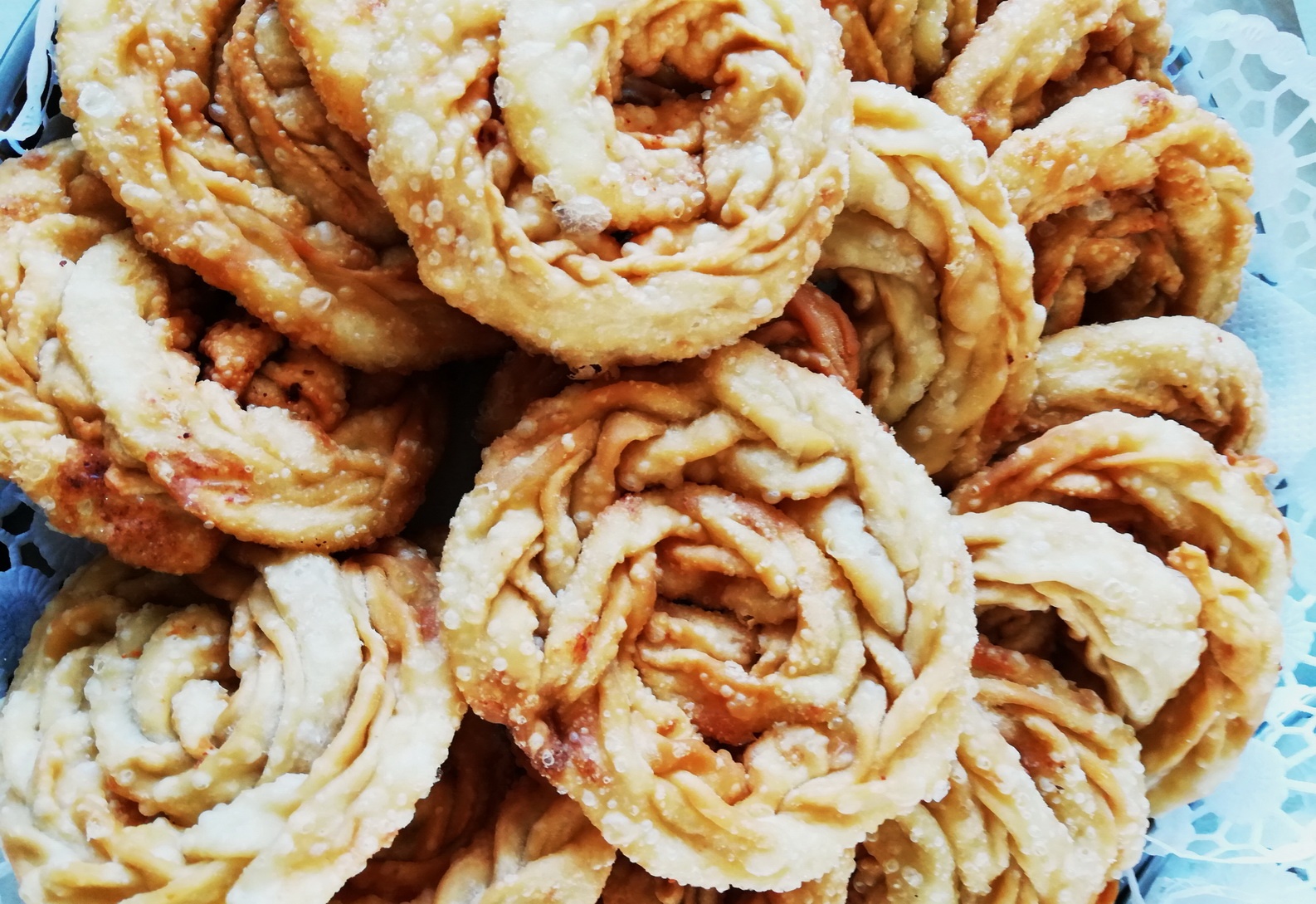 "Ano" means "upper" – there's a the hill-top upper Zakros, and a lower ("Kato") Zakros, by the sea. Ano Zakros is a classic Cretan village, with some old-style "kafeneia" and a terrific institution. All over Greece in rural areas, there are womens' cooperatives. These are private initiatives. Groups of women come together and create a commercial kitchen space where they preserve local culinary culture by making the time-consuming, intricate specialties of the region.
The Ladies' Cooperative- Preserving the Culinary Heritage of Lasithi
When we visited the Womens' cooperative of Ano Zakros, four ladies were involved in making "Tserotigana." These are thin sheets of homemade dough that gets its bubbled surface and extra crunch from raki. It's fried in delicate loose roles, then saturated in a honey syrup – somehow remaining absolutely crisp – then dusted with chopped walnuts and cinnamon.
Tserotigana are a traditional treat at weddings. Neat stacks of tserotigana were all over their spotless kitchen, draped with tulle to keep the dust off of them. These were for a wedding. "A very small wedding," one of the ladies said – "450 people." In Crete, a village wedding of 2000 is nothing unusual.
There were many fabulous treats – crumbling crisp cookies with a filling of raisins, cheese pies that were so intricate they looked like rounds of crocheted lace. We drank raki from white plastic cups.
It was still before 11 in the morning. But whatever the time of day, Cretans welcome guests with Raki. Somehow, it doesn't go to your head in the morning. It must be the spirit of hospitality.
Kato Zakros, Lasithi, and the Gorge of the Dead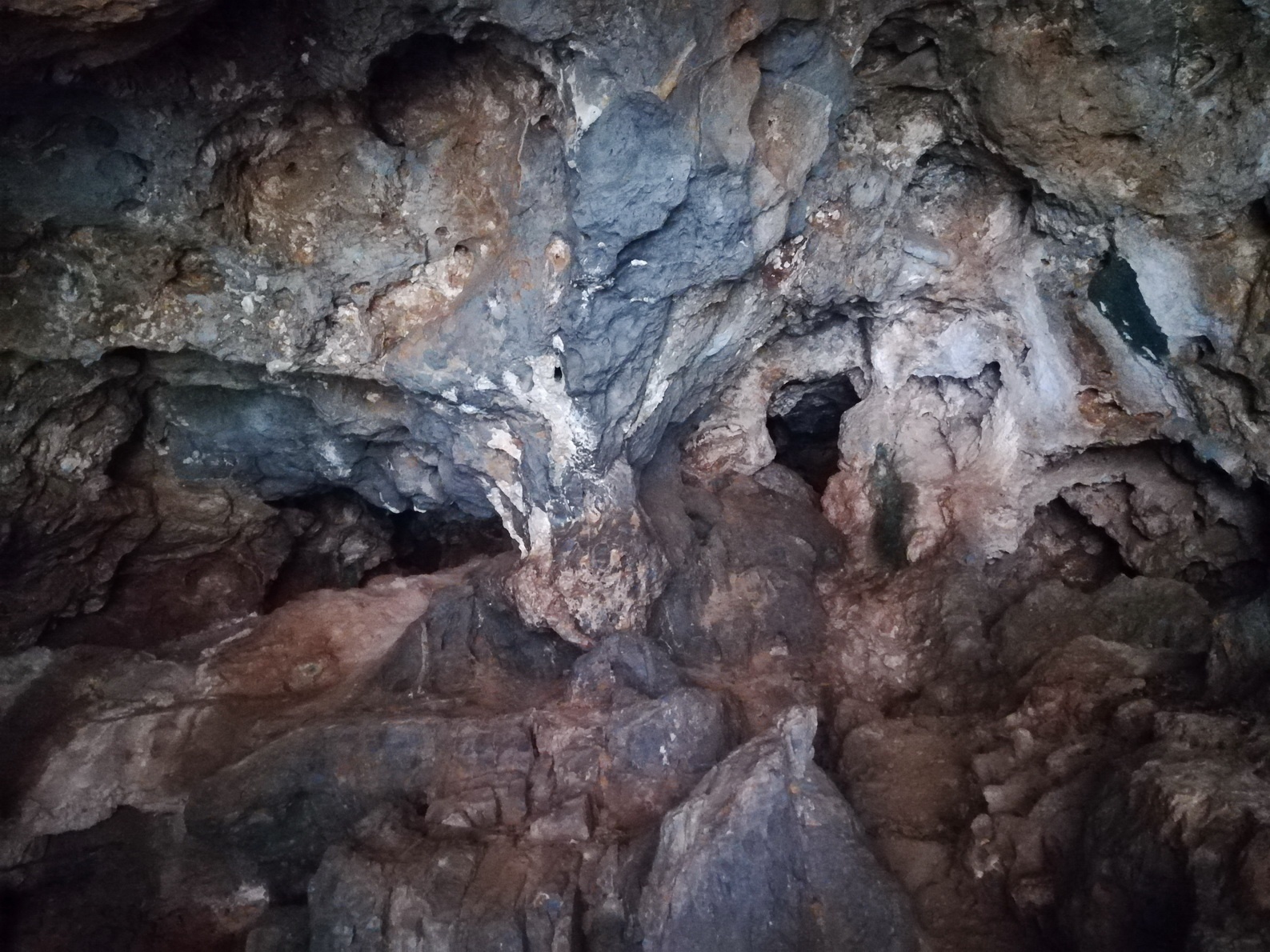 Admittedly, this is a scary sounding name. And Kato Zakros, at the end of a narrow and winding road descending to a small beach, truly feels like one of the remoter corners of the earth.
But the story of the Gorge of the Dead is a lovely one. When the archaeologist Nikolaos Platonas and his team – with many locals – were excavating the Minoan palace here, they found no graves. In time, he discovered that the Minoans has carried their dead to caves in the steep sides of this gorge to give them the most beautiful final resting place.
We had the best possible introduction to Kato Zakros. We stayed at Terra Minoika with a fabulous host. Stella grew up here, and her father worked for years on the excavation, which we had a clear view of from the terrace of these lovely apartments.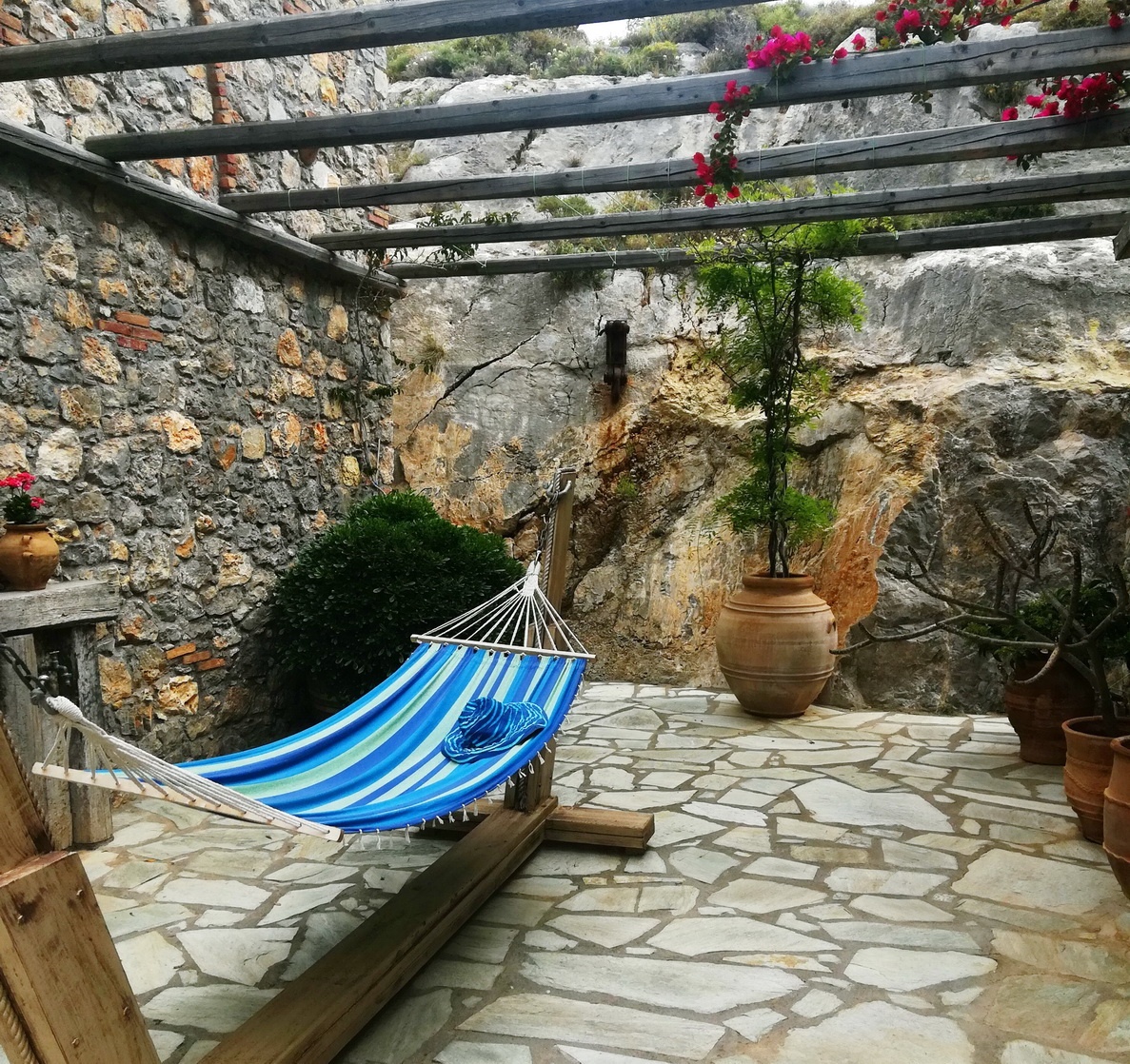 Our apartment, complete with a kitchen and living space and a wonderful outdoor patio, was built of rough stone. It had a rustic elegance. By night, helped by the absence of light pollution in this quiet and small village, the stars were nearly blinding.
Kato Zakros has a unique positive energy. As soon as we arrived, we felt a profound sense of a peacefulness and well-being, combined with great vitality.
Wild Beaches
Would you like a DIY spa day? Then you'll enjoy Argylos Beach. The name means "clay" in Greek. This beach, one of the wild beaches of peaceful and unspoiled Xerokampos, has clay cliff. You break off a small hunk, let it soften in the sea, then slather yourself with the pale green clay and let it dry under the sun. It's easy to rinse off- just take a swim and rub it off with sea water.
Chrissi- Island of Cedar Trees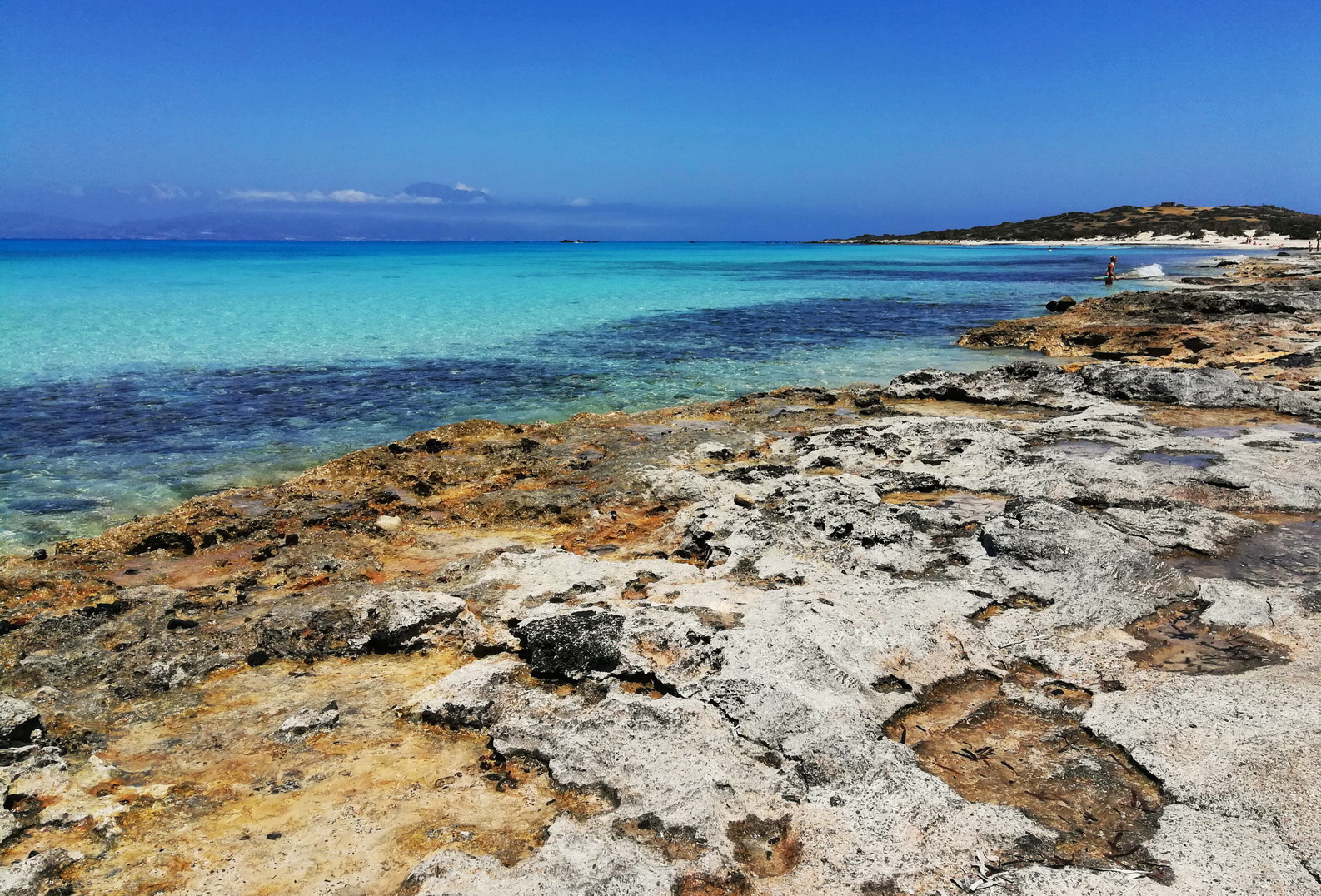 Crete is a big island, so it makes sense it would have islands of its own. Chryssi, off of the coast of Ierapetra on the south coast, is reached by a 10 minute ride skimming over the breezy surface of the Lybian sea.
This tiny island of bright white, silken sands is a unique habitat. A rare variety of Lebanese cedar trees, joined by juniper trees, covers the island. The shade is sweet with their fragrance.
Boats dock on the island's south side. Then you follow the wooden walkways through the trees and shrubs to find the beach. Even for Greece, it's extraordinary. The waters are incomparably clear and jewel-toned, shallow at first. Younger bathers were having a great time.
A cantina serves soft drinks and cold beers.
Fourni- Touring a Historic Village on Horseback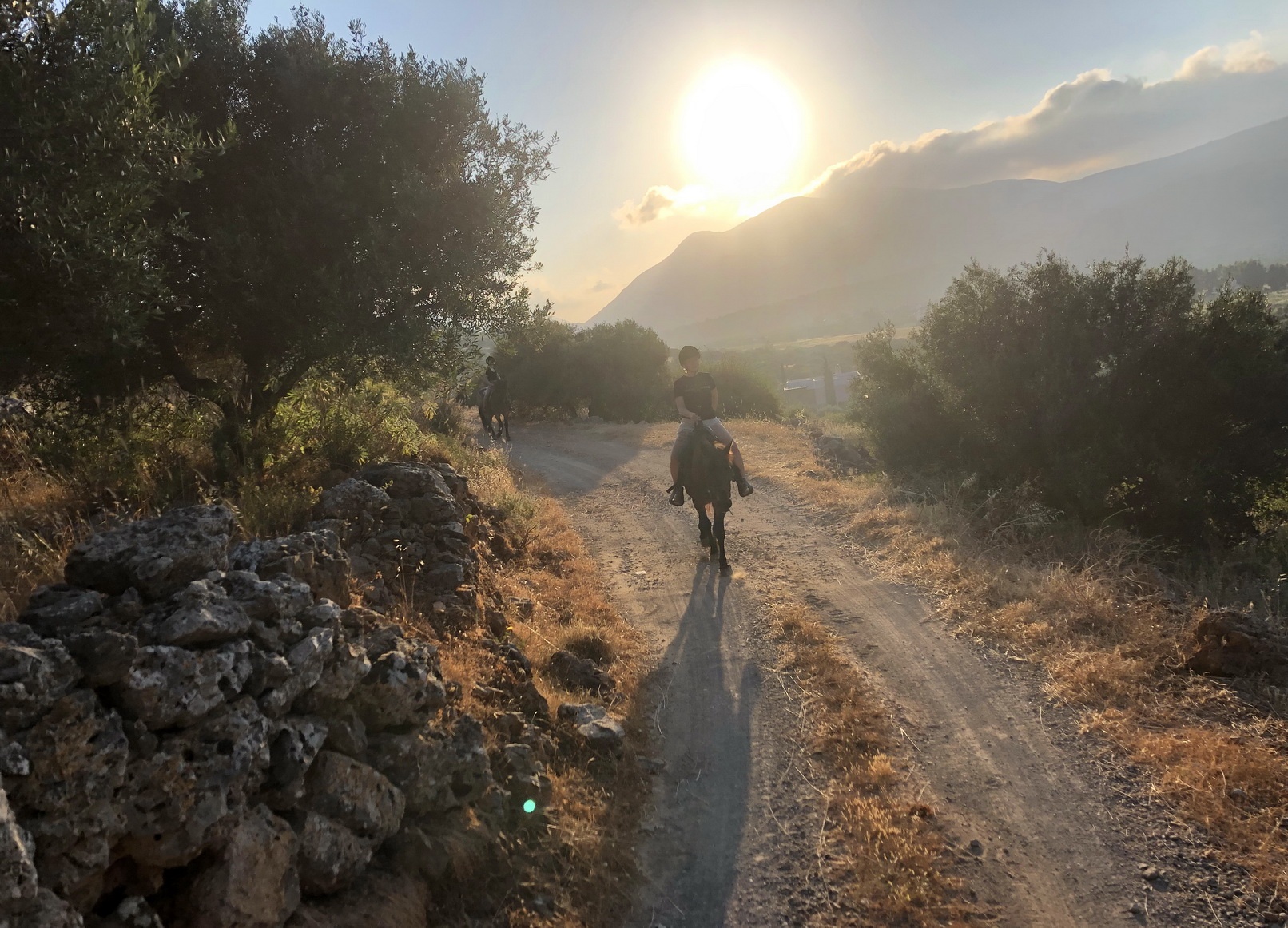 Again, Lasithi is so much more than its fantastic beaches. One of our favorite experiences was visiting this quiet, picturesque village where time stands still. With Fourni Horses, we rode through golden fields and ancient olive groves on horseback, stopping to explore a long abandoned monastery with its millstones in the courtyard.
Exploring the Coast of Elounda by Boat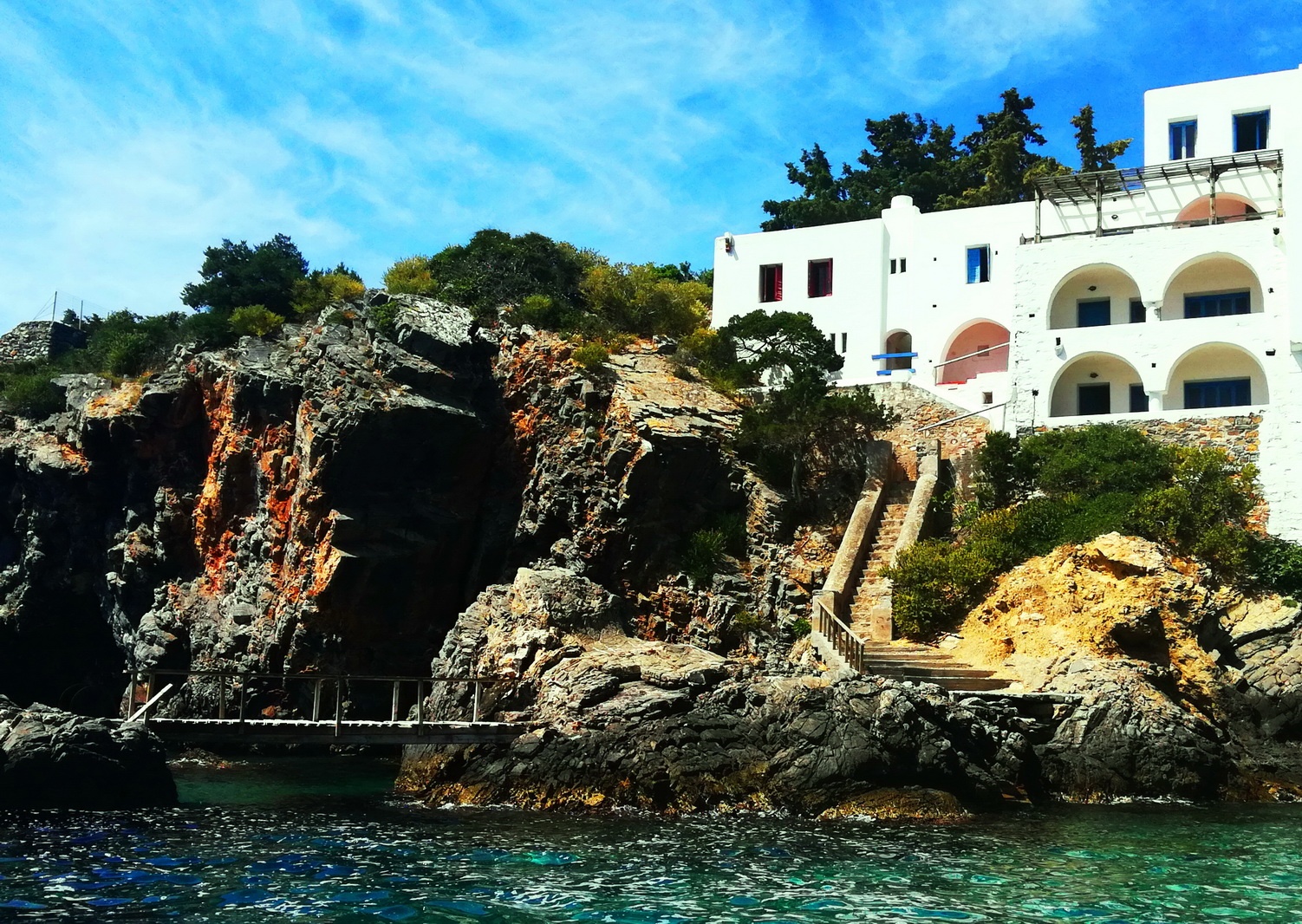 It's a treat to explore this famously beautiful coastline by boat. Captain Michalis of MVDiving took us on a fantastic day trip. Under a bright Cretan sun, we sped over the water as occasional sea splashes refreshed us.
We stopped at whatever coves caught our eye. On the way, we spotted undersea Minoan ruins. On the surrounding hills, stone houses were so carefully camouflaged in the stark rocky landscape that they were nearly impossible to make out. This was protection against centuries of marauding pirates. We stopped at a cove for a picnic lunch with chilled wine. But none for me- I had an appointment to experience my first scuba dive.
Spinalonga Island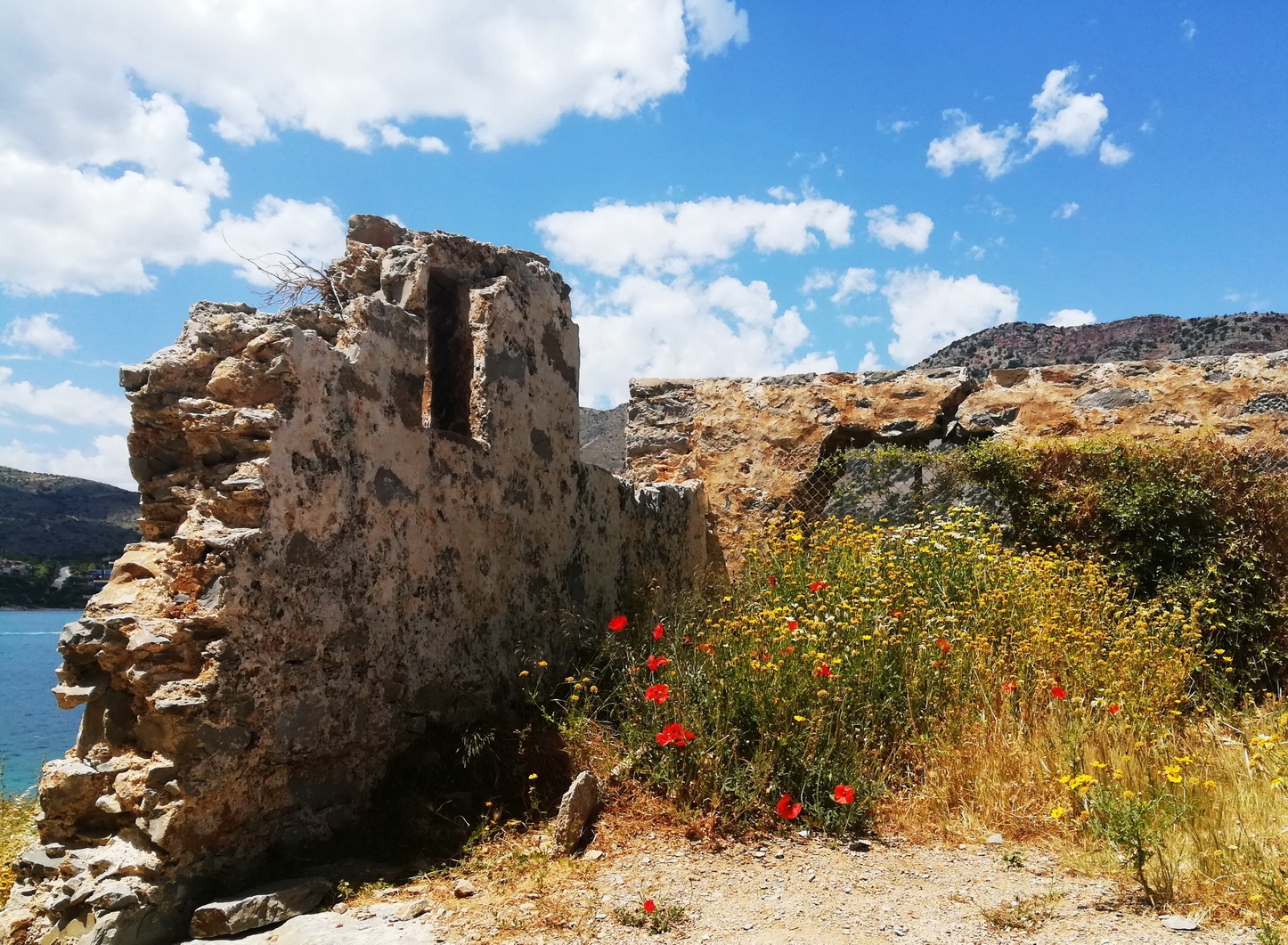 This beautiful island – barely 200 meters from the coast by the town of Plaka – has a dramatic and poignant history.
Bands of Arab pirates made the land nearly uninhabitable, starting in the 7th century. Then, in the 15th century the Venetians came. They saw the potential for the area. First, they made salt pans. Then, in response to the continued threat of pirates, plus Ottoman ships as well, they started to fortify the island. Eventually, this island-fortress became one of the most important fortifications of the entire Mediterranean. They named it Spinalonga – an Italian interpretation of "Stin Elounda" (at Elounda), according to Venetian documents.
But, as stunning as it is, that is not why most people know the name Spinalonga. In the first half of the 20th Century – from 1903 – 1957 – this was a leper colony. Touring Spinalonga today, you can learn in detail about the life of the inhabitants in a wonderfully atmospheric museum amid the ruins. People left their families to come here, but they were not alone. They met, fell in love, and had children. Survivors of the colony said that they missed the sense of community they had experienced, and wished to return
Lasithi – Discovering the Wilder Side of Crete
Lasithi is an enchanting mix. You'll find some of the world's most glamorous resorts. But there is also a very relaxed, entirely unpretentious mood. They is an abundance of wild natural beauty, biodiversity, and a fascinatingly varied terrain. Much of the tourism is contained within the many grand resorts, leaving the other pleasures of the region relatively untouched. It's like visiting Greece in the 1980's.
Best of all, we loved meeting the people of Lasithi. Generous in spirit, they were warm and open. In Lasithi, you don't feel like a tourist so much as a very welcome visitor.
I