If you have not vacationed in a luxury private villa, you may find you like it much more than a luxury hotel. Our unique private villa give us lots of room to spread out, and beautiful spaces to come together as a group. We were a large party, and we enjoyed the seclusion and privacy to enjoy one another's company and the total freedom to make our own schedule.
For the ultimate experience of Crete, stay in a beautiful village. We all love the beaches and the sea, but not necessarily the crowds and the traffic that come with them. The ideal solution? Stay just five minutes from the sea, in the hills high above. Fall asleep under a starry sky and wake up to birdsong.
Better yet, don't leave at all. We were so happy in our villa in Asteri village, and with village life in general. But this is also an ideal location for exploring one of Crete's most interesting regions – Rethymnon.
Luxury and Tradition
Our spotless and elegant private villa had every luxury. But it also had a strong sense of place. The vast stone villa had been the home of our host, and his father's woodworking studio. Our host had restored it to preserve its original character, including bare stone walls and a soaring exposed-beam ceiling in our large living space. The history of the villa as a woodworking studio features charmingly in the decor – not only with tools, but also in the furnishings. Most of the beautiful pieces in the living area were hand crafted by our host Argyris himself.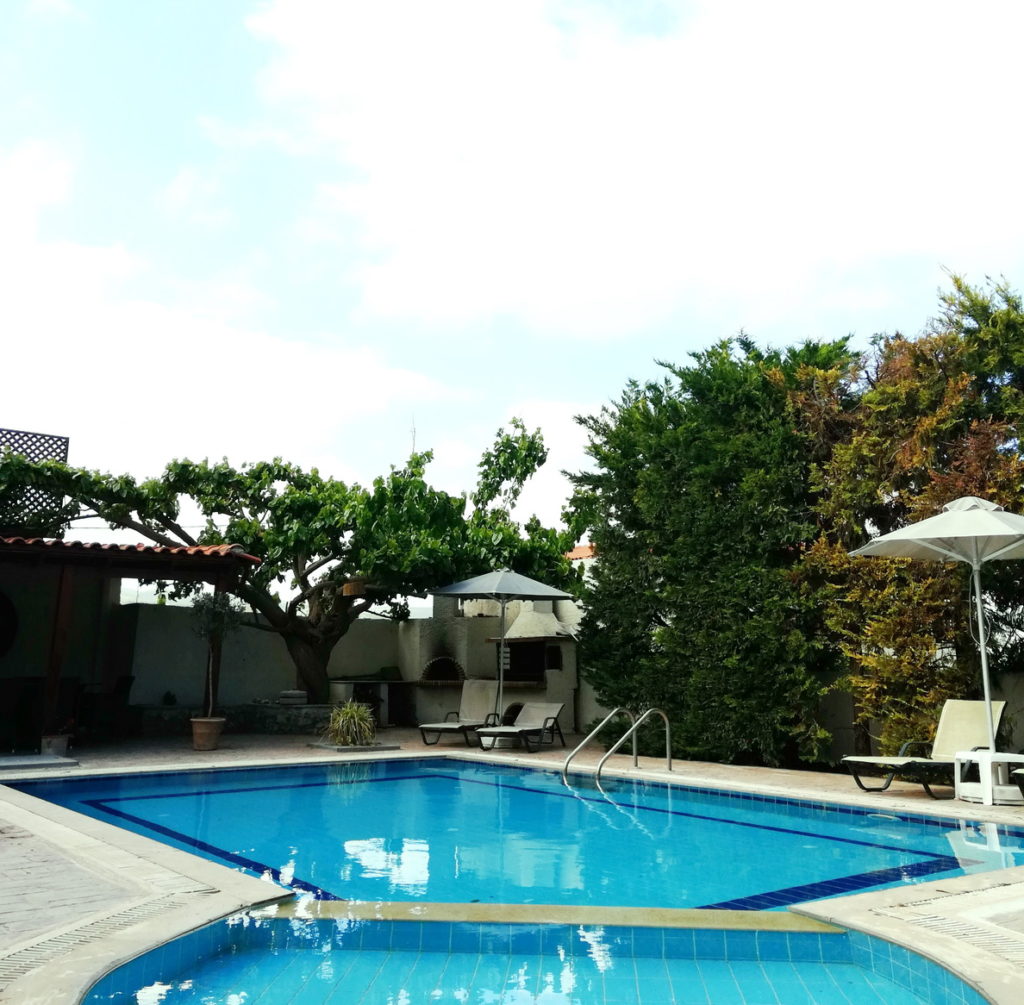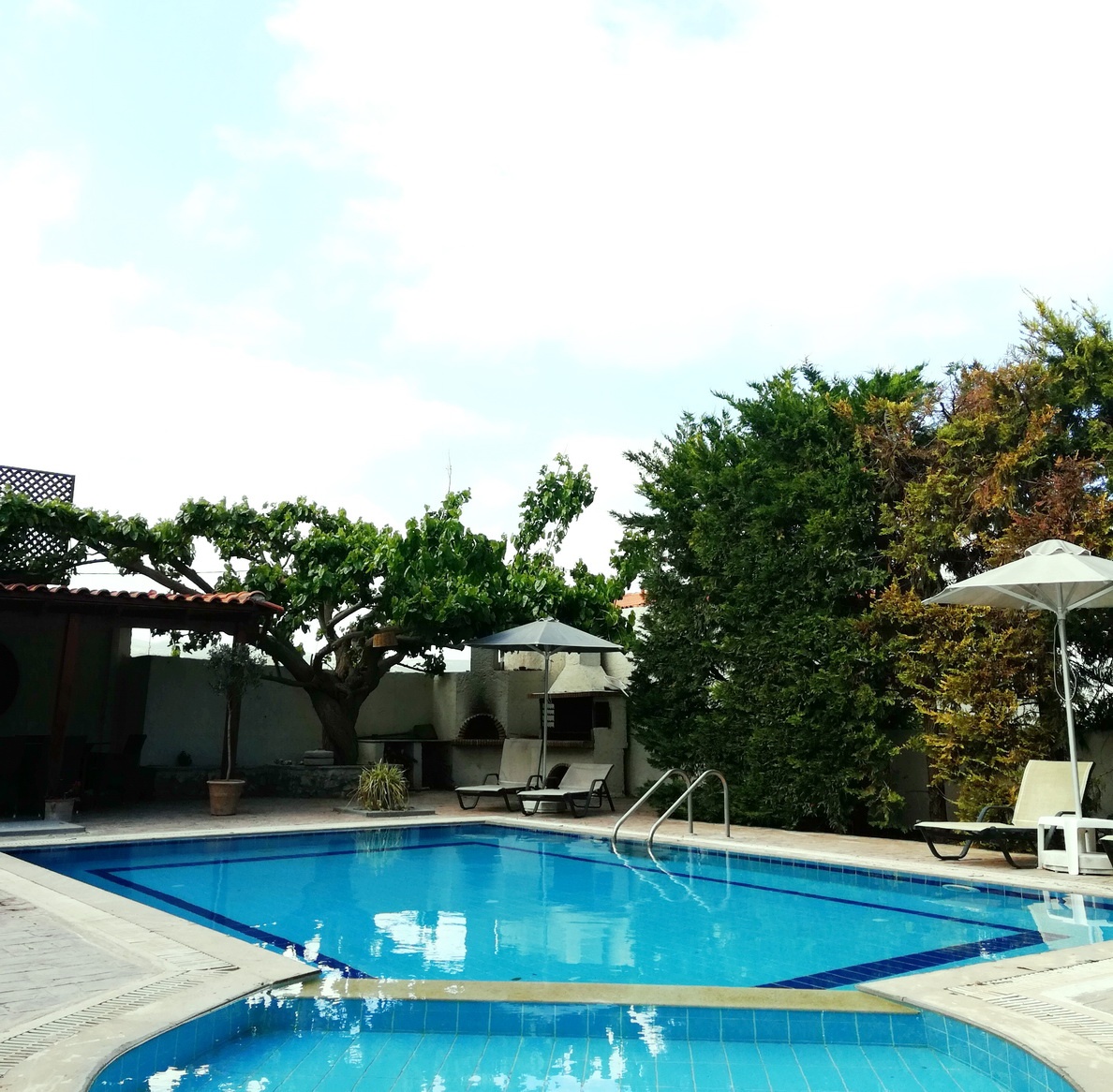 … and still more Luxury….
It's really, really fun having your own pool. Lounging around a private pool, even if you are working on your laptop instead of swimming, makes every moment feel like a vacation. And this is a nice big pool – 8m x 5m and up to 1.4m deep, with an extra children's pool on the side. There were comfortable loungers for all, umbrellas, side tables, and plenty of towels.
There's a pergola and outdoor seating area. And best of all, there is a wood-burning oven. This is a big improvement on a grill. You have all the romance of outdoor cooking and the delicious taste of wood smoke, but without the smoke and the ash getting in everyone's eyes. Our lamb and potatoes melted in the mouth. This combination of rustic pleasures and luxury surroundings is really made our stay in a private villa so memorable.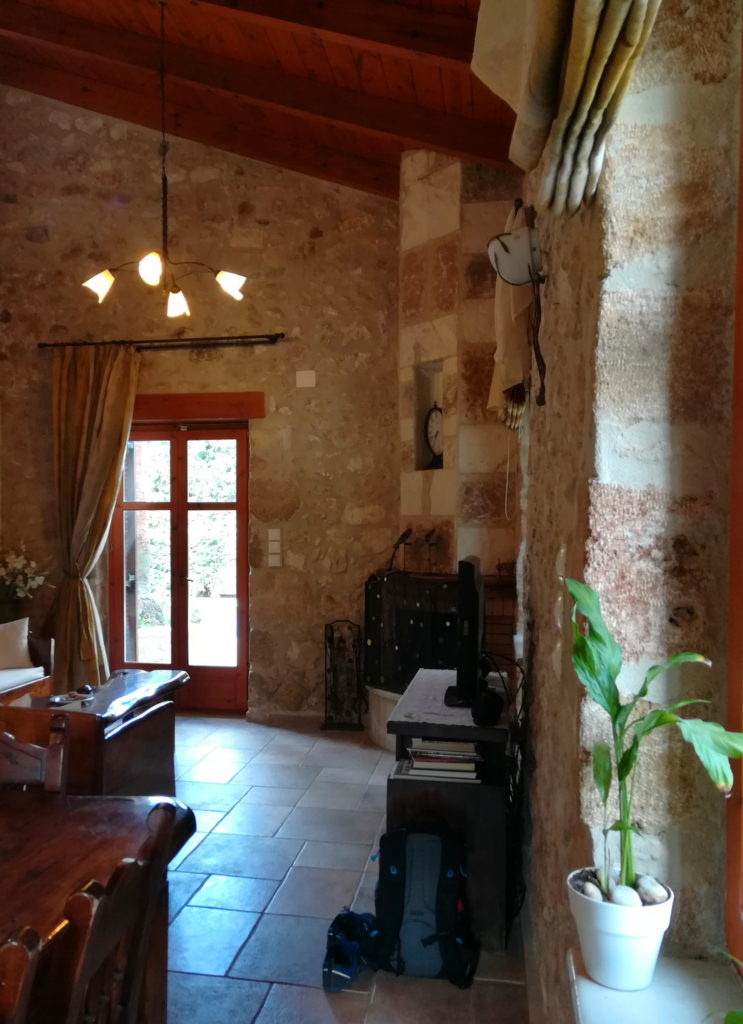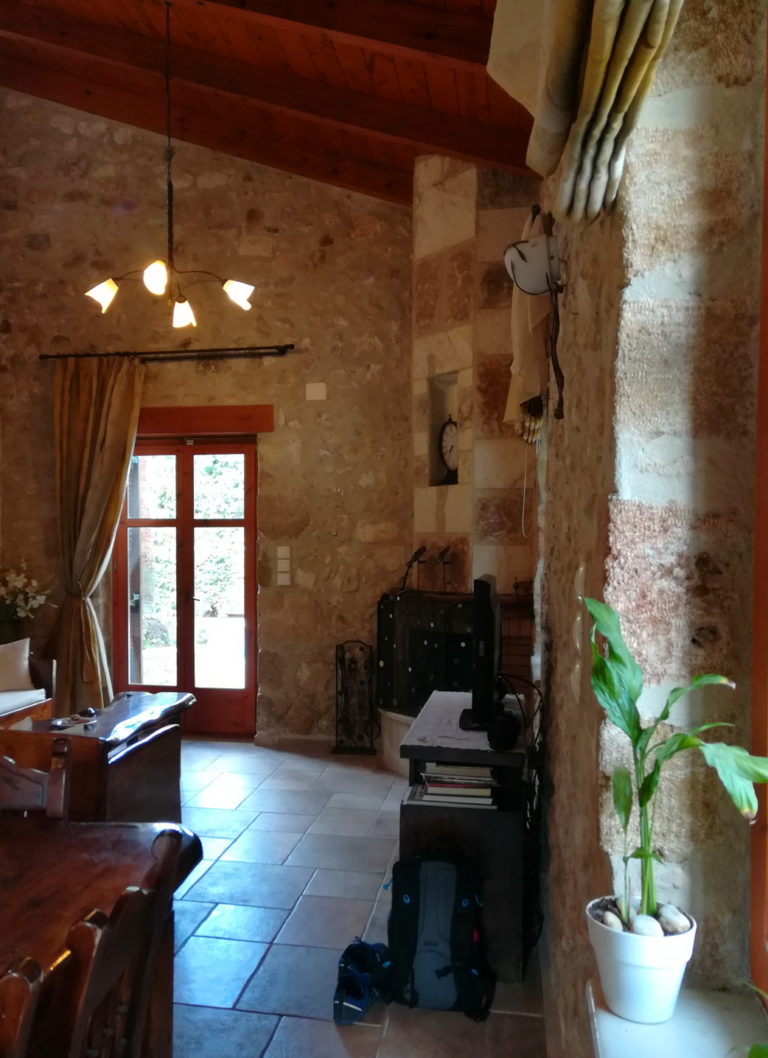 Accommodations at the Private Villa
Our private villa had a large open plan living space with the soaring wood-beamed ceiling included a fully outfitted kitchen with every feature and convenience. There was plenty of dishware, and more wine glasses and coffee cups than I have ever seen collected in a single home. There's a grand table from a single gorgeous piece of wood that can comfortably seat ten at least, and a cozy seating area with more hand-carved furniture and a complete entertainment system. The living space opens onto the large patio and pool area.
We had four bedrooms – two with twin beds and two with queen beds, and each with its own private full bath, one with a Jacuzzi, and one with a hydro-massage shower.
There is also anything a complete household needs – a washer and dryer, iron and ironing boars, dishwasher, fully equipped kitchen, plenty of linens. For a complete list of amenities and features, visit the Amazing Villas in Crete site.
Asteri Village
Asteri is wonderful place to stay. Our private villa was surrounded by olive trees and wildflowers and beautiful village architecture. We loved walking along the village paths before breakfast and taking in the views of the countryside in the golden early morning light. A highlight of the village is Poliou House, a museum that shares the beauty, culture, and craftsmanship of a traditional Cretan home. There is also a taverna for an authentic taste of a Cretan village. A mini market a couple of minutes away on foot had everything we needed, and larger supermarkets were a 5-minute drive away.
Services at the Villa
If you really can't bear to leave, optional additional services offered by our hosts at Amazing Villas in Crete include grocery delivery. They can also arrange parties and dinners so you get a complete experience of authentic Cretan lifestyle with the finest locally sourced meats and produce. Argyris made us dinner at the villa the first night – that lamb roast in the wood-burning outdoor oven, with a salad from vegetables from his mother's garden and some great local wines.
Additional available services include babysitting, airport transfers, car hire, tours and excursions – basically anything you need. You are not on your own, but in the hands of a discreet and helpful local host and his family. A private villa is first and foremost truly private, but also everything you need.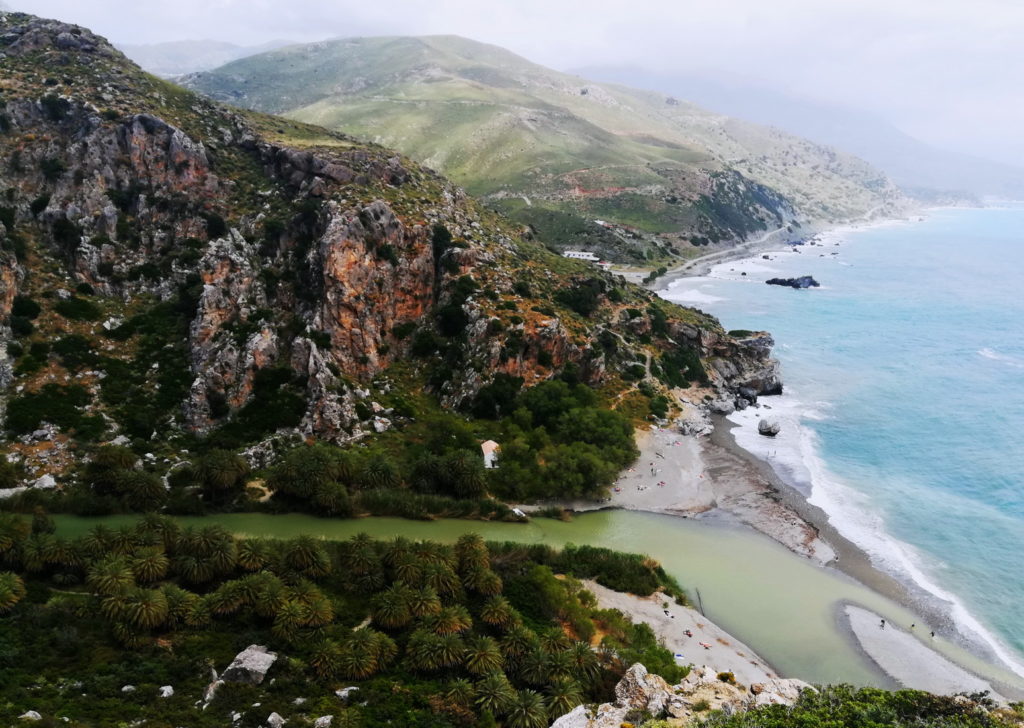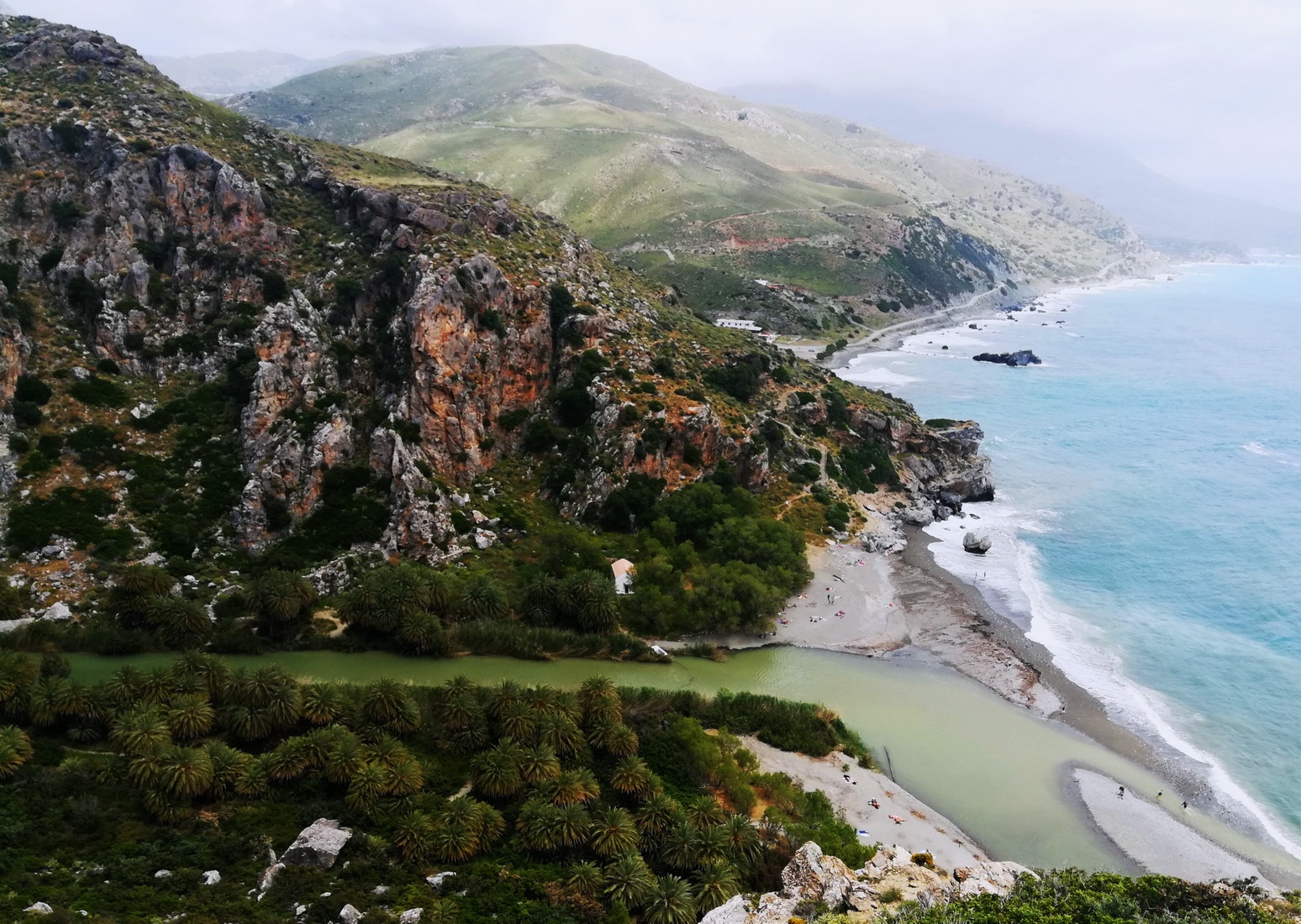 Excursions near the Private Villa in Asteri Village
As we say, we hated to leave the villa. But there was so much of Crete to discover nearby. Asteri is a perfect central point with easy road access to explore all of the Rethymnon region. Rethymnon town is less than 15 minutes away. The beach of Stavromenos is 5 minutes away. But we opted for one of the most exotic beaches of all Crete.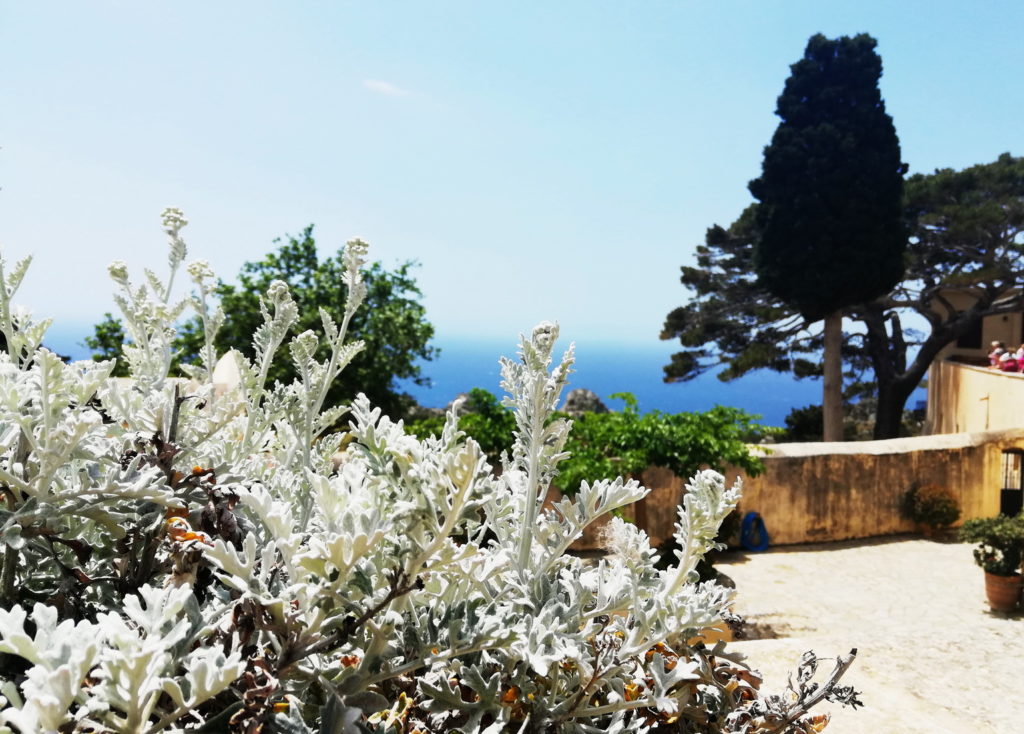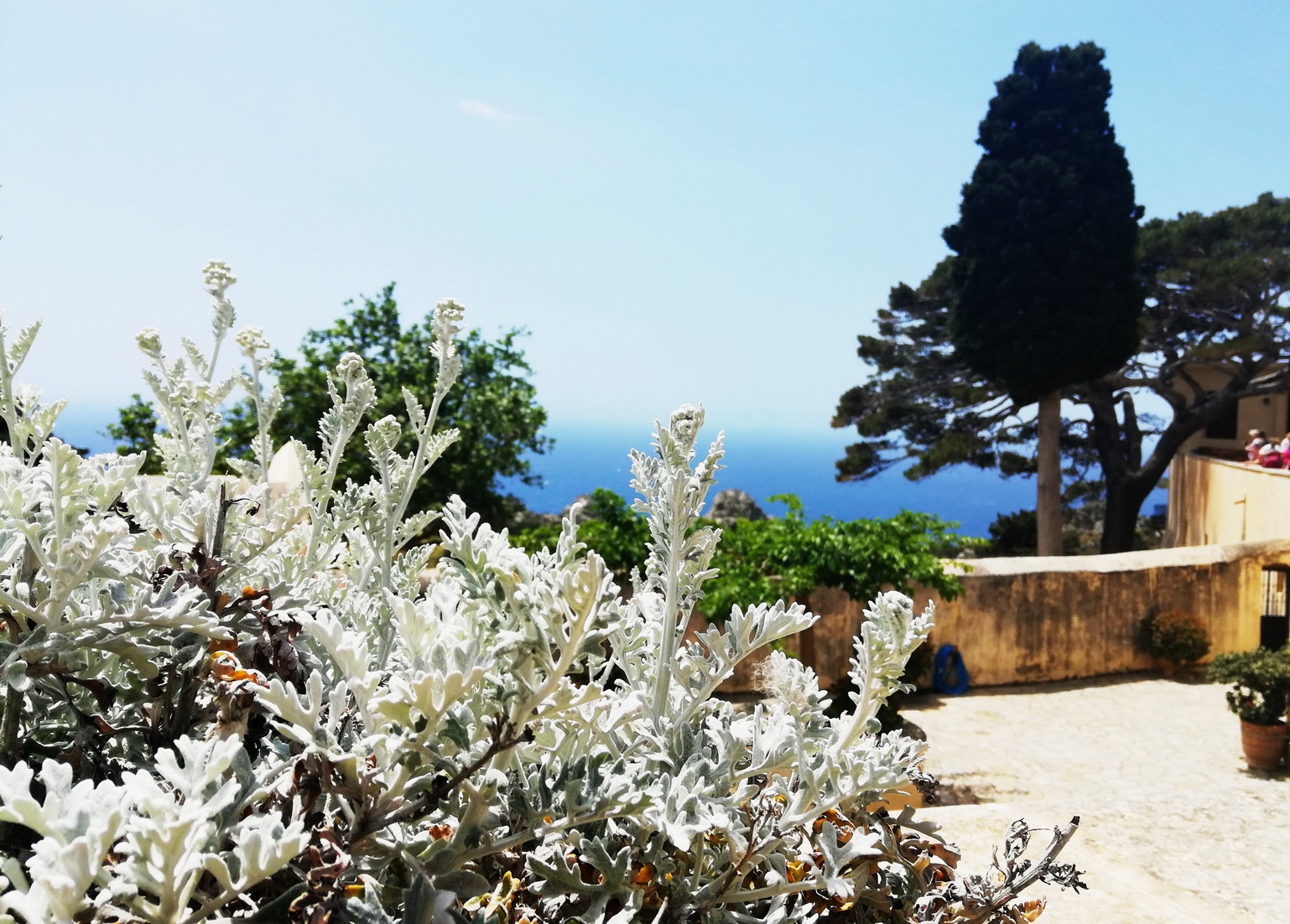 Moni Preveli and Preveli Beach
Preveli is on Crete's south coast, on the Libyan sea. Rethymnon is Crete's narrowest point, and it takes us less than an hour to get there. Moni ("Moni" means Monastery) Preveli is a late 16th century monastery known for its role in the liberation of Crete and in the Cretan resistance during WWII. Below it is Preveli beach, with its palm forest on the banks of a cool river flowing into the sea.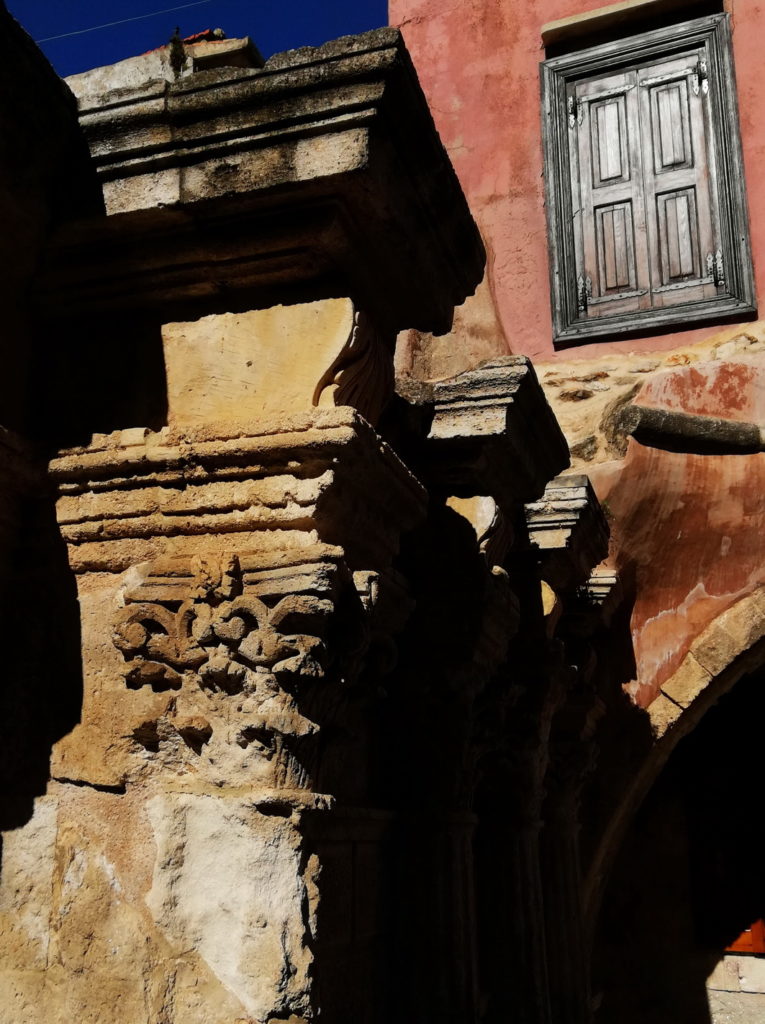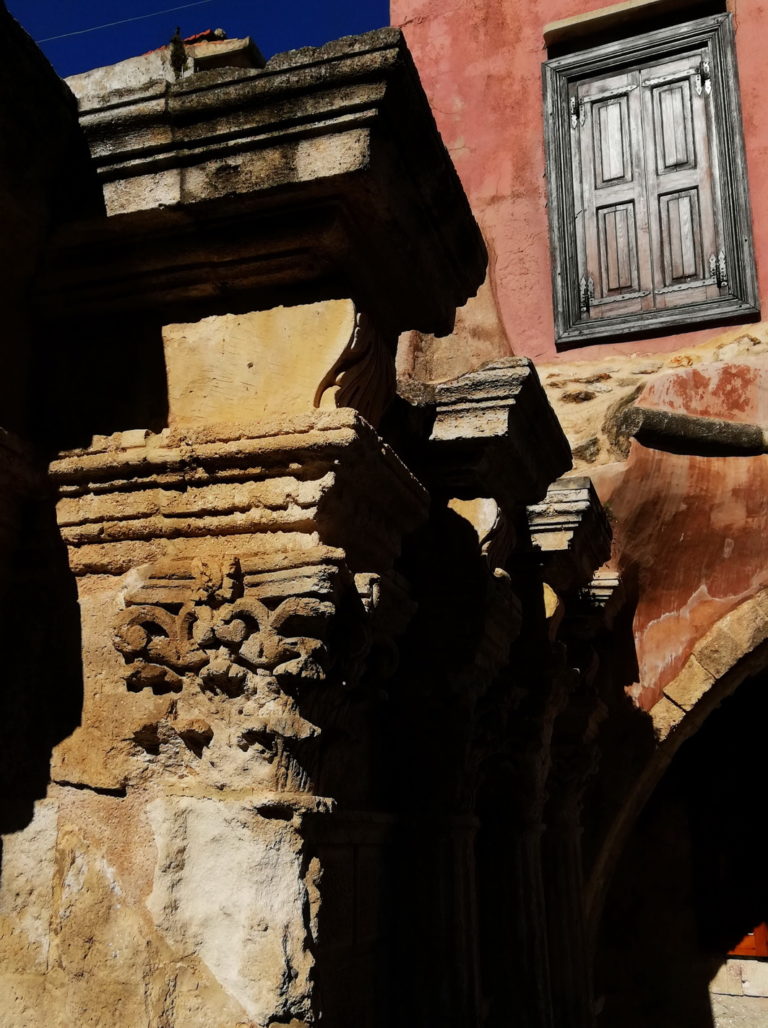 Rethymnon Town
This is one of Crete's loveliest towns. It's marked by a dreamy Venetian character and a gorgeous fortress in protecting the city from the sea. The harbor and marina are perfect for a romantic stroll walk and dinner at a fish taverna with table right on the waterfront. The alleys of the old town are scented with climbing jasmine and bright with pink bougainvillea. Craftsmen – like the 85 year old Kyrios Giorgos who makes phyllo by hand – keep the traditions of the city alive. Water still flows fresh and sweet from the early 17th C Rimondi Fountain, a perfect place for a drink and snapshot.
Kourkoulou Winery, Patsos, Amariou
In just over half an hour from our villa we were at a brand new winery that specializes in reviving ancient Cretan Grape varieties. We enjoyed a guided tasting in their modern tasting room and learned about varieties such a Vidimo, Liatiko, and Romeiko. The drive and the views from the vineyard were wonderful.
A Private Villa Holiday
We loved everything about our stay at Amazing Villas in Crete. This is the perfect location to use as a home base for exploring, as we did. But we wished we had more time to enjoy our comfortable, luxurious villa and have another poolside barbecue.
This would be a perfect place for a large group. We noticed that the villa next door – with its own authentic style and also with a large pool – is available from Amazing Villas in Crete. With the two, you could host a family reunion or a party of friends up to 14 people. We found that for a group this is a surprisingly affordable option, with every luxury, warm and professional service, and attention to detail.
We'd come back, and for a longer stay.