A SpotyPal can be shipped to you anywhere, with free shipping worldwide for three pieces or more, and it turns out, you can make a passport ring. Or anything else you wish.
The Holiday That Didn't Happen
A few months ago I was on very early morning flight from Gatwick to Thessaloniki. I was lingering in the bookstore and was nearly the last to board. To the side on the ground was an English couple with both their carry-ons open, panties and cameras and cardigans strewn all over. Their trench coats were turned inside out, purses and wallets emptied. You could feel their panic. The gate attendant was kind but there was little he could do. "Can you perhaps call all the shops?" they wondered "Maybe we left or passports at one of them." "I'd like to help, but I wouldn't know where to start. And it's already last call for this flight." I felt badly for them. And not in a "but you should have been more responsible" kind of way – I have mislaid passports and tickets, but always have managed to locate them at the very last minute. But only by sheer luck.
It's easier if I misplace my phone. You can always call a phone.
If you leave your phone somewhere, you borrow some else's phone and call yourself. It rings. An honest person who has been waiting for your panicked call answers the phone. Or maybe your phone is tucked into a magazine you were flipping through and no one has found it. Someone will wonder why the latest issue of Vanity Fair is ringing. They'll find your phone and pick it up.
Finding A Cell Phone
In fact, how many times have you been on a crowded bus, or even in your own home on a particularly chaotic day, and had a friend call you or called yourself from your landline, just so you didn't have to tear your house or your handbags apart to find the phone that you know is definitely "somewhere."? And, if you have ever had to completely empty your carry-on and personal item to lay your hands on your passport at airport security – amid grey plastic bins and impatient travelers – you'll surely have found yourself wishing that you just could make your passport ring.
Enter Spotypal – Which Finds Things You Can't Afford to Lose
It turns out, you can make a passport ring. Or anything else you wish. Enter Spotypal. It's the size of a postage stamp and weighs about as much as a stick of gum, and it's like magic. Or, at least, like a really fun and useful toy. Click here to visit their website.
Spotypal does quite a bit more than just make your passport – or anything else, like a set of keys – ring. What if you could locate your missing object on a map that you could read on right on your phone?
That couple's passports were definitely within minutes of the gate. With Spotypal, they could have located them in no time at all and made their flight.
For Locating the Practical and the Priceless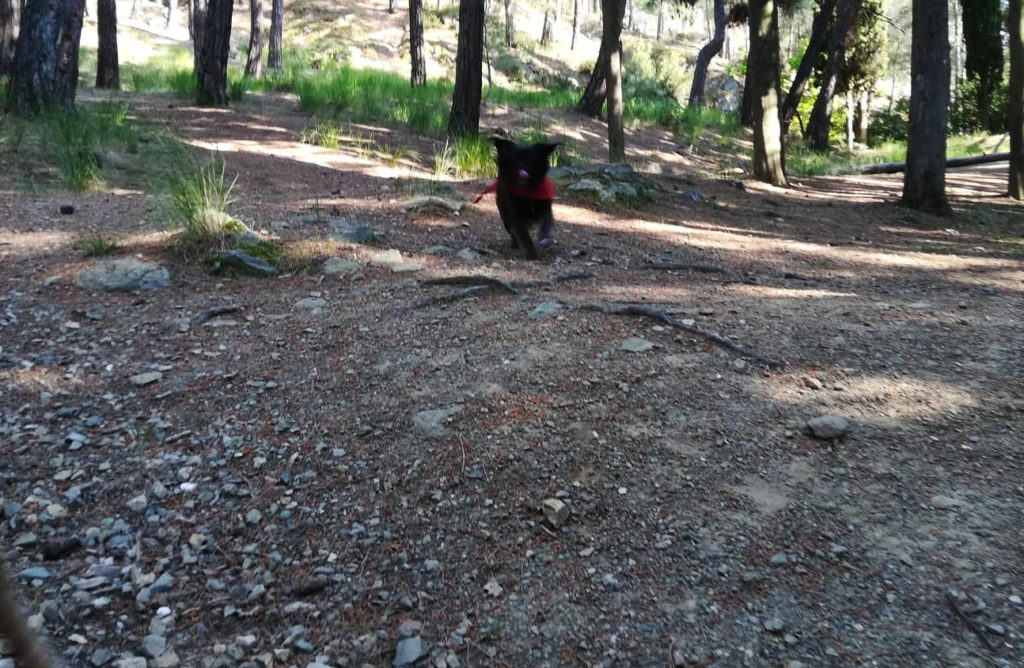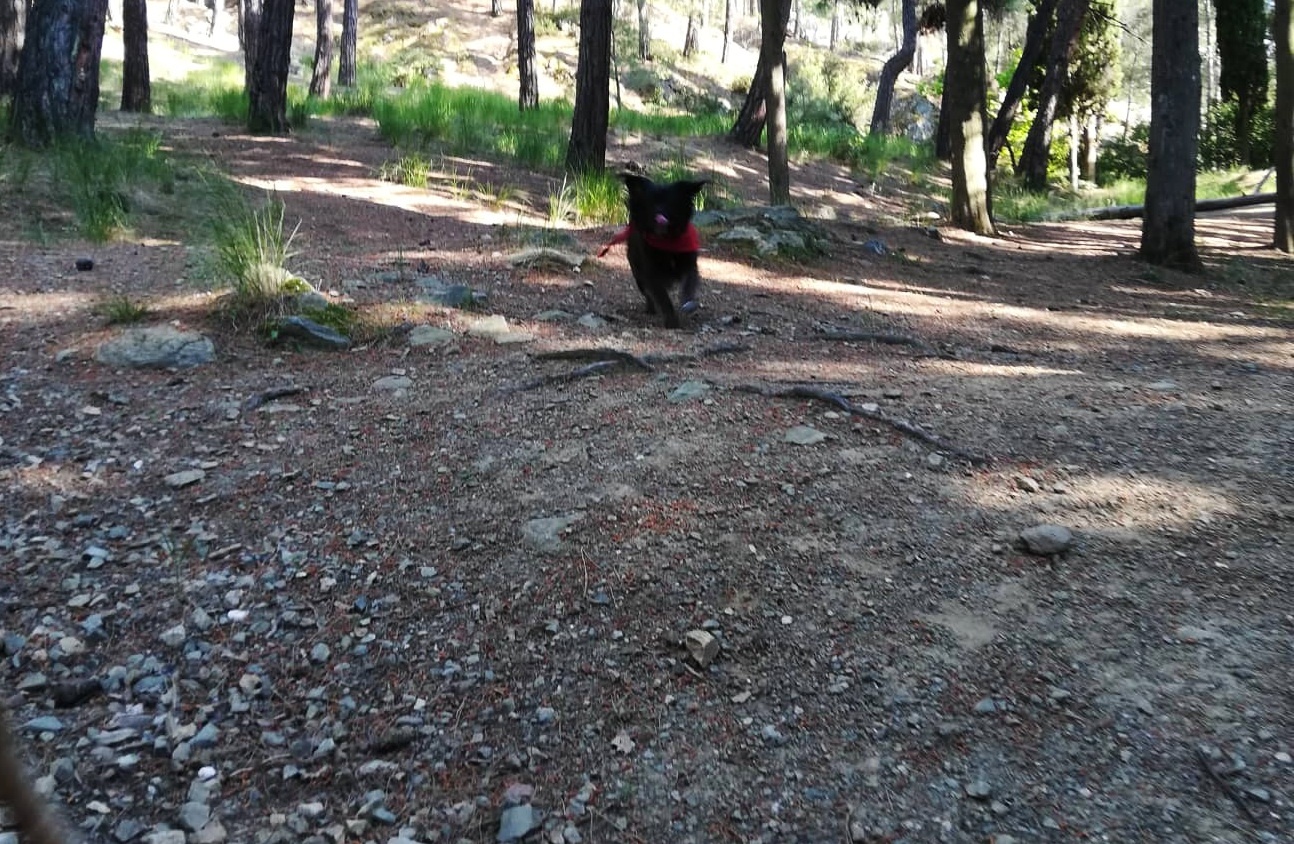 Spotypal is good for locating things that are practical, and also things that are priceless. I tried it out on something priceless that has a mind of its own, unpredictable and playful.
Fiona loves the woods. She's short-legged – close to the ground and dark. This makes it hard to spot her among rocks and bushes. She's also a bold and fearless explorer, which makes trips to the woods fun, but also stressful. I'm always trying to keep Fiona in sight.
I thought this would be a great way to check out SpotyPal's features. I would still keep my usual level of vigilance – maybe scaled back a little. But I would also track her on the device.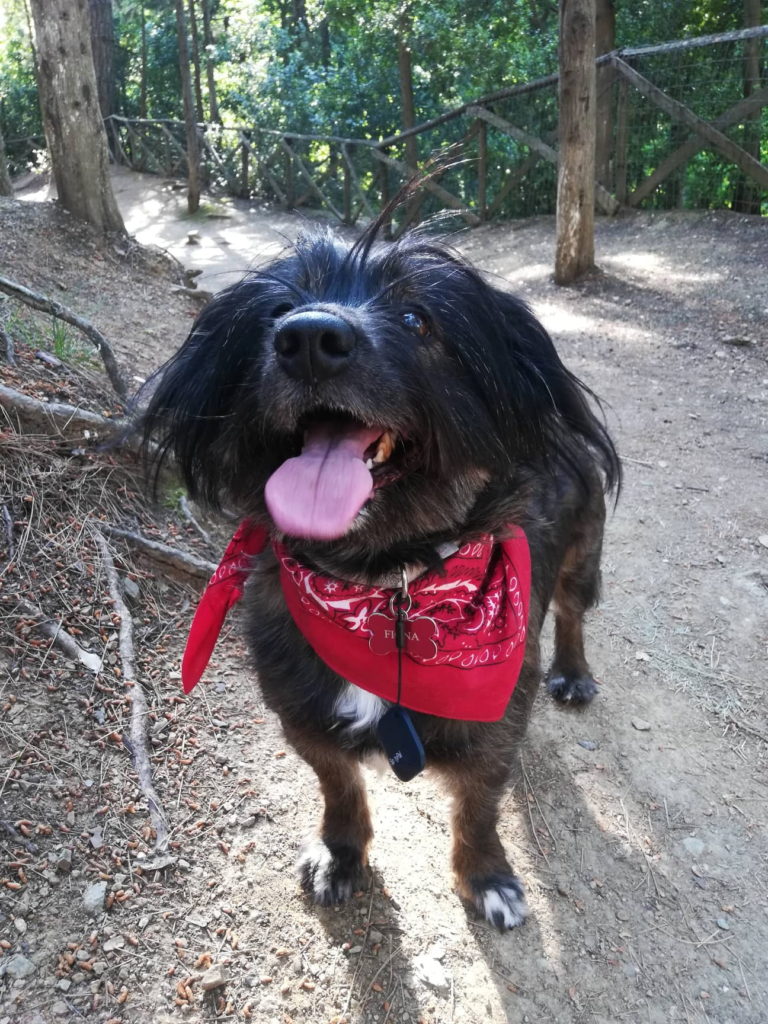 SpotyPal is small enough and so light-weight she didn't even realize she was wearing it. It comes with an elastic cord that is easy to attach to anything, like the leash ring on a pet's collar. (If you were thinking of attaching it to your passport, you could just use a small zippered pouch, which I do anyway to protect it from spills.)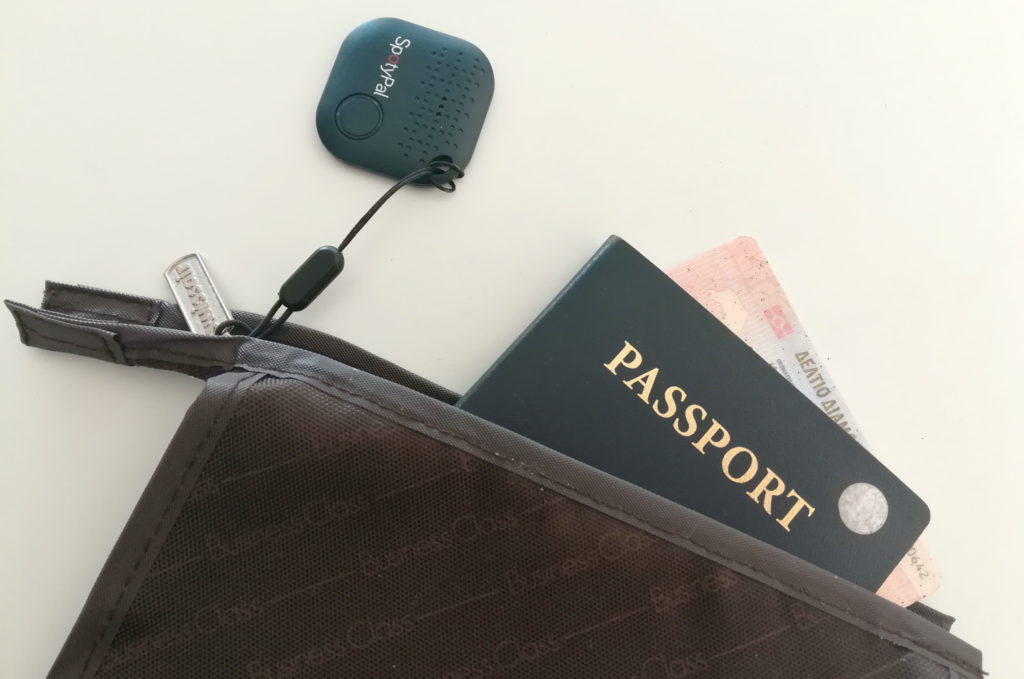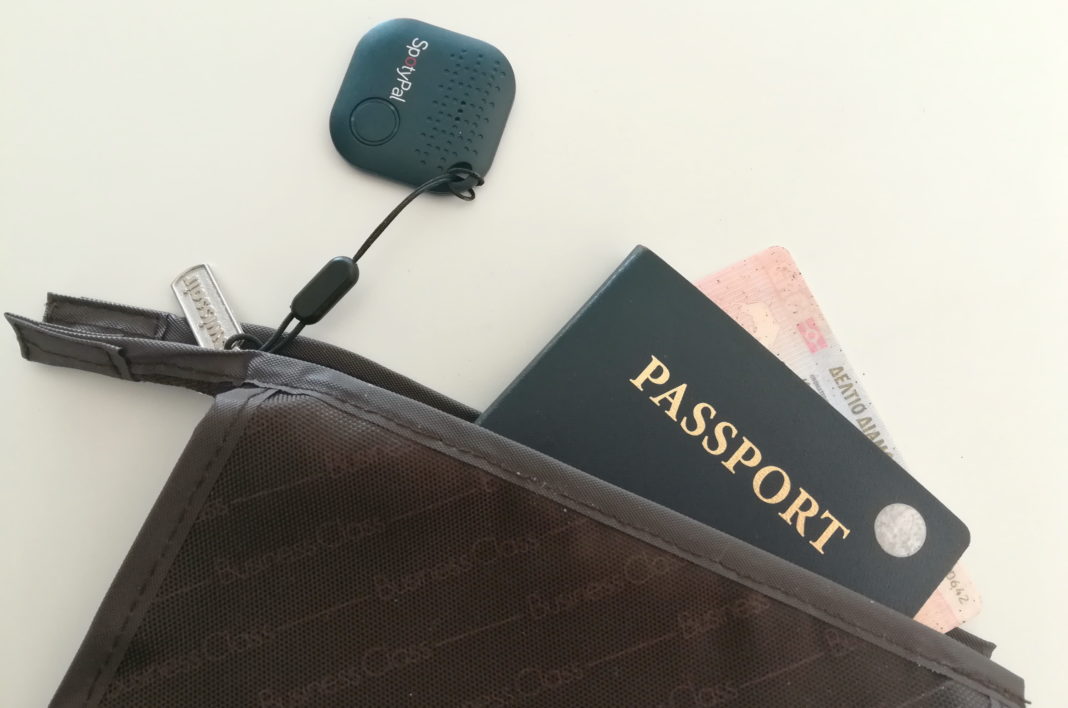 SpotyPal has an app that is easy to use and customize your device as you like. Whenever Fiona strayed, I would get an alert on my phone. Then I clicked on the map. Then I looked up, just to get eyes on her. Sure enough, she was where the map said she is.
Spotypal's Other Features
There is a free SpotyPal app to download. It's simple to use. The first step is to connect your SpotyPal device to the phone. You do this by holding it near the phone and pressing the button until you hear a tone. Then you name your SpotyPal and assign an icon. This is particularly useful in case you have several SpotyPal devices – then you know where your pet is (a paw on the map), and where your keys are, each with its on easily identified icon on your map, like this: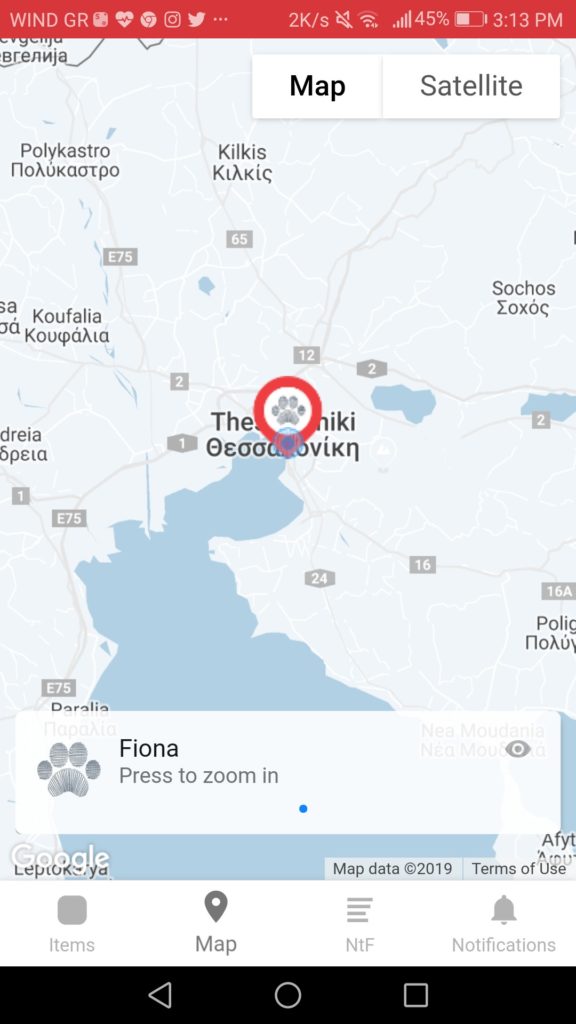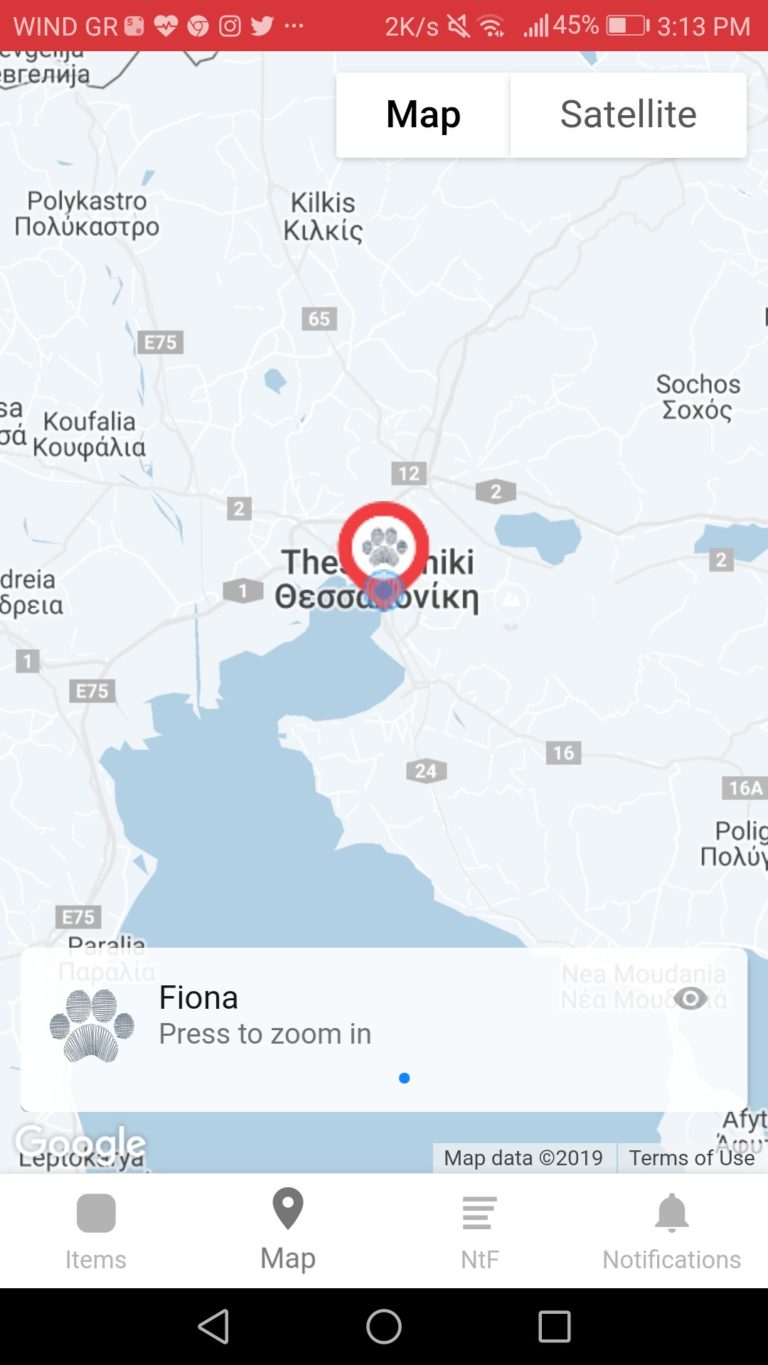 A SpotyPal costs 29 eu (presently in June, 2019, they have a 1 + 1 offer!), and there are economical multipacks, great if you have a family or if you just have a lot of things to keep track of.
Finding Things That Have Strayed
It's really nice to get a notification when you and your SpotyPal are drifting apart, like this: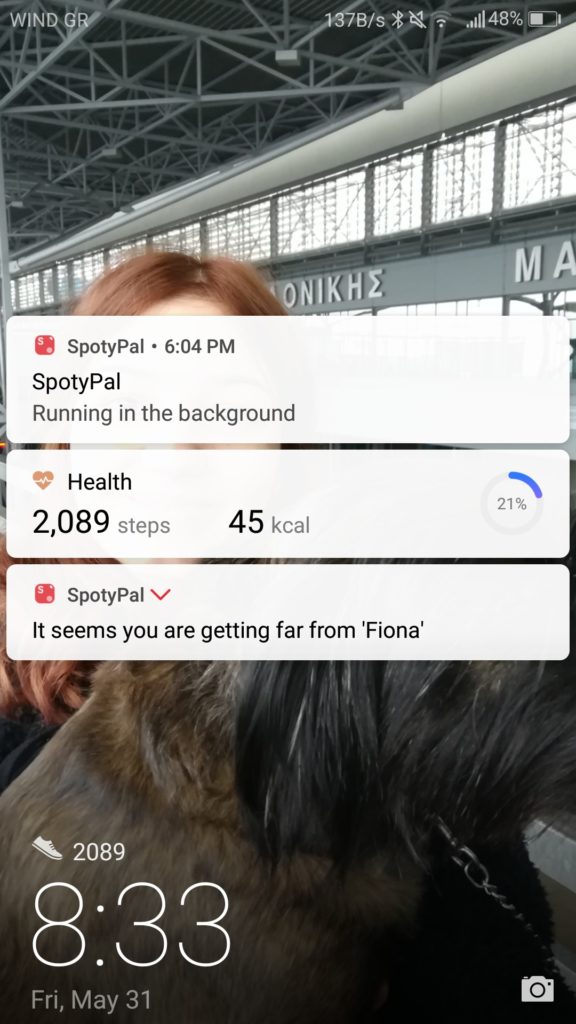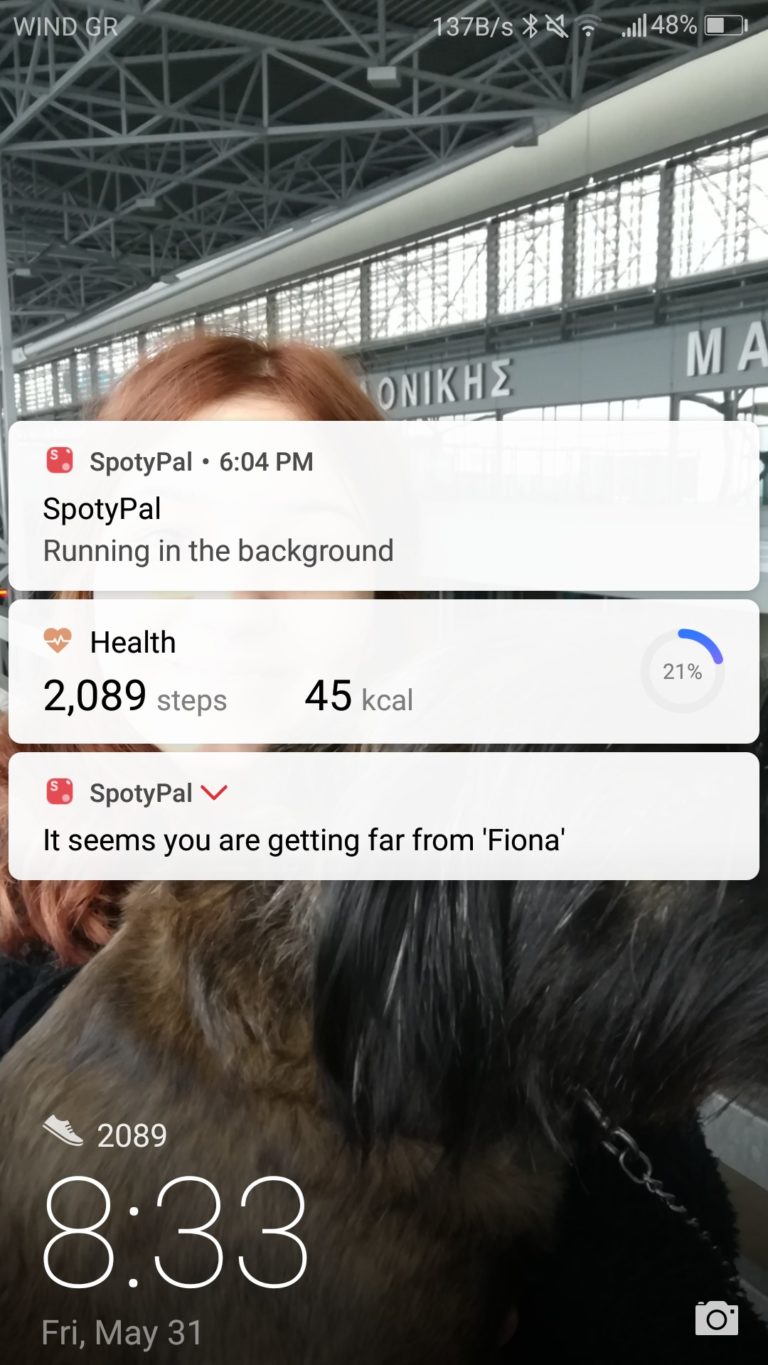 Last Seen Location: The SpotyPal has a range of about 70 meters. After that, the item remains on the map where it was when you were last 70 meters apart, so you can retrace your steps and locate it.
Crowd-Finding: Do you need help finding your far away item? There is a brilliant crowd-finding function. Whenever any SpotyPal, anywhere, passes near your lost item, you'll get an alert. You have absolute privacy. The crowd will not know what they are helping you find.
Find Your Phone: Just as the app on your phone helps you find the item attached to your SpotyPal, the SpotyPal can help you find your phone, even if it's on silent.
Alarm Clock: Using your app, you can program the SpotyPal to wake you.
Nearby Alert: Just like you receive a separation alert, you'll receive a notification on your phone when your device is again in range as the item approaches you – on your checked luggage, for instance. Or as you approach your lost item.
2-Way Alert: Lets you know if you are forgetting either your phone, or your SpotyPal and attached items.
SOS Alert: In the app, you can pre-set some contacts so that they will receive an SOS alert with your location. All you need to do is press the button on your SpotyPal.
How to Get a SpotyPal
A SpotyPal can be shipped to you anywhere, with free shipping worldwide for three pieces or more. If you're shipping to the US from the USA store, shipping is free with a minimum purchase of $50, and in the UK from the UK store, with free shipping for a purchase of £42.00 or more.