Kimolos' Specialties- from a raw and rugged Cycladic Island
This small, unpretentious, and utterly charming Cycladic Island is a fine dining destination. Kimolos' specialties are like the island itself: pure, bold, and authentic. The island is dry and rocky, so whatever manages to grow here has intensity.  Dry soil and bright sun concentrate the flavors of the produce. Their breed of tomato is small- the size of a newborn's fist. These lumpy little beauties are packed with sweet, tangy intensity. Instead of cucumbers, they grow "ξυλάγουρα" (xylagoura)- a shorter, fatter, pale skinned fruit that has two lives. Young and unripe, it's the most delicate, crisp "cucumber" you can imagine. As it ripens and swells, it becomes a melon. They're so tasty that islanders who went to Piraeus in search of work found the splendid melons of Attiki bland. The koroneiki olive- like it does throughout much of Greece- produces fine rich oil.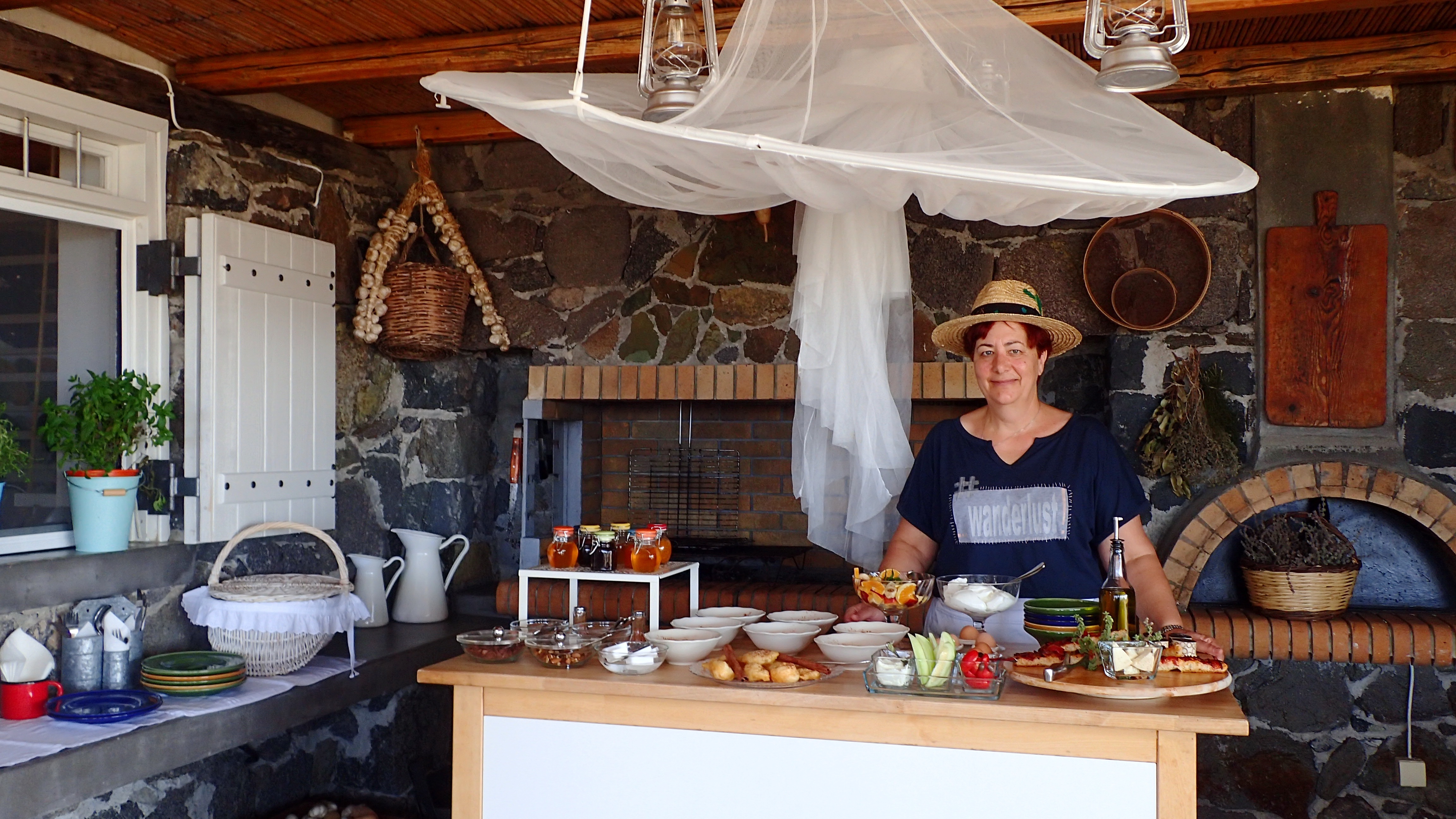 A personal, authentic gastronomic experience
Why do I know all of this? Because of the place I was staying- Kimolia Gi. Kyria Odigitria the proprietress keeps an excellent garden and she showed them to me. Her son Giorgos told me how they close down in fall because the olive harvest is a lot of work and needs all of their attention. His grandfather built the olive press, and other members of the community use it, too. Kyria Maria, her mother, makes "Beltes". I visited her in the garden and she explained how she does it. You take those island tomatoes and chop them very fine, then salt them and put them in a large pan of the roof to concentrate in the sun as the high winds whisk away moisture. You stir it often. The resulting tangy is bright in flavor and color.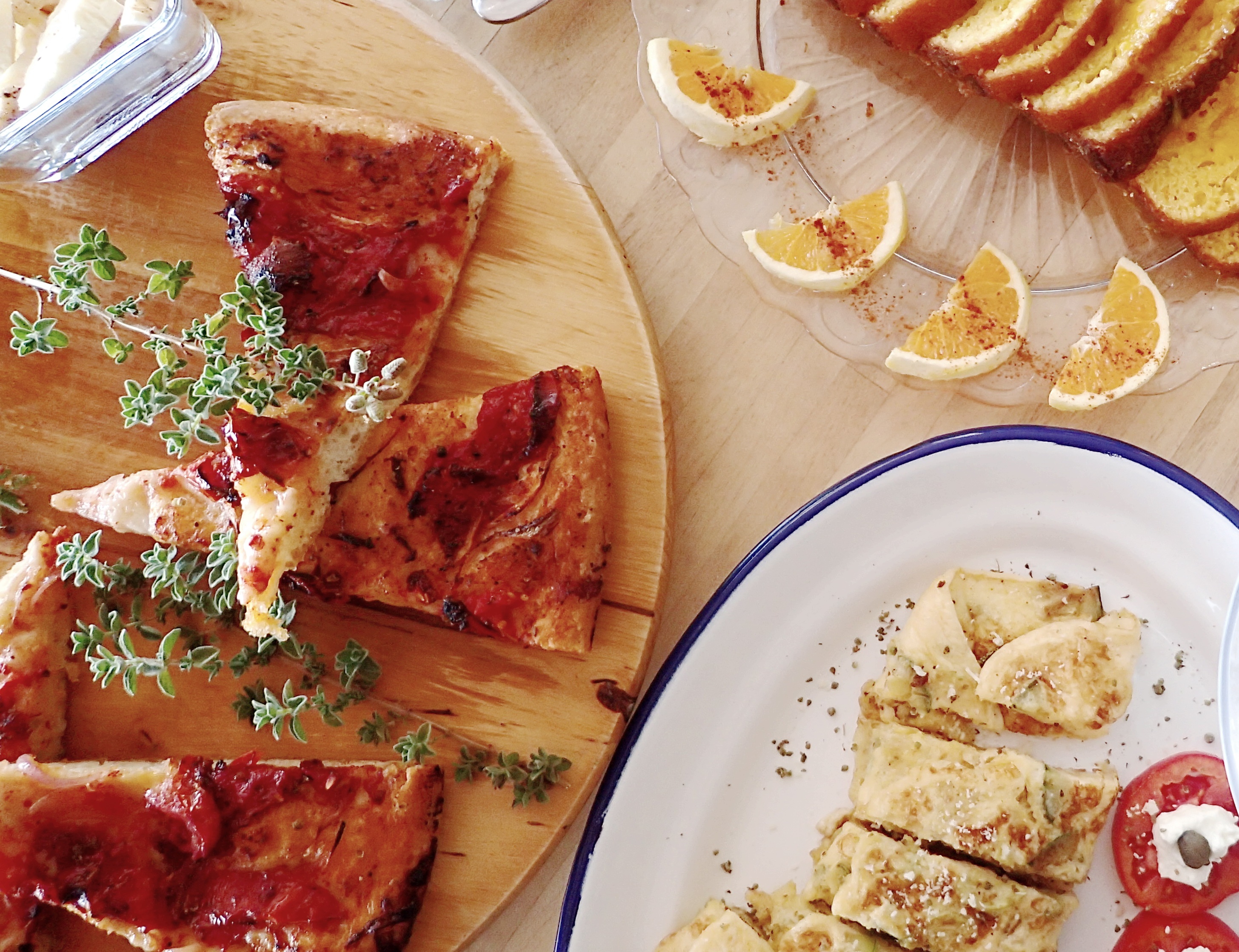 This was the secret of the excellent "Ladenia" we had for breakfast. Ladenia is a soft, slightly elastic flatbread with a crisp lower crust. It is made with flour, yeast, salt, olive oil, and little else but for the smear of tomato and the sprinkling salt on top. It is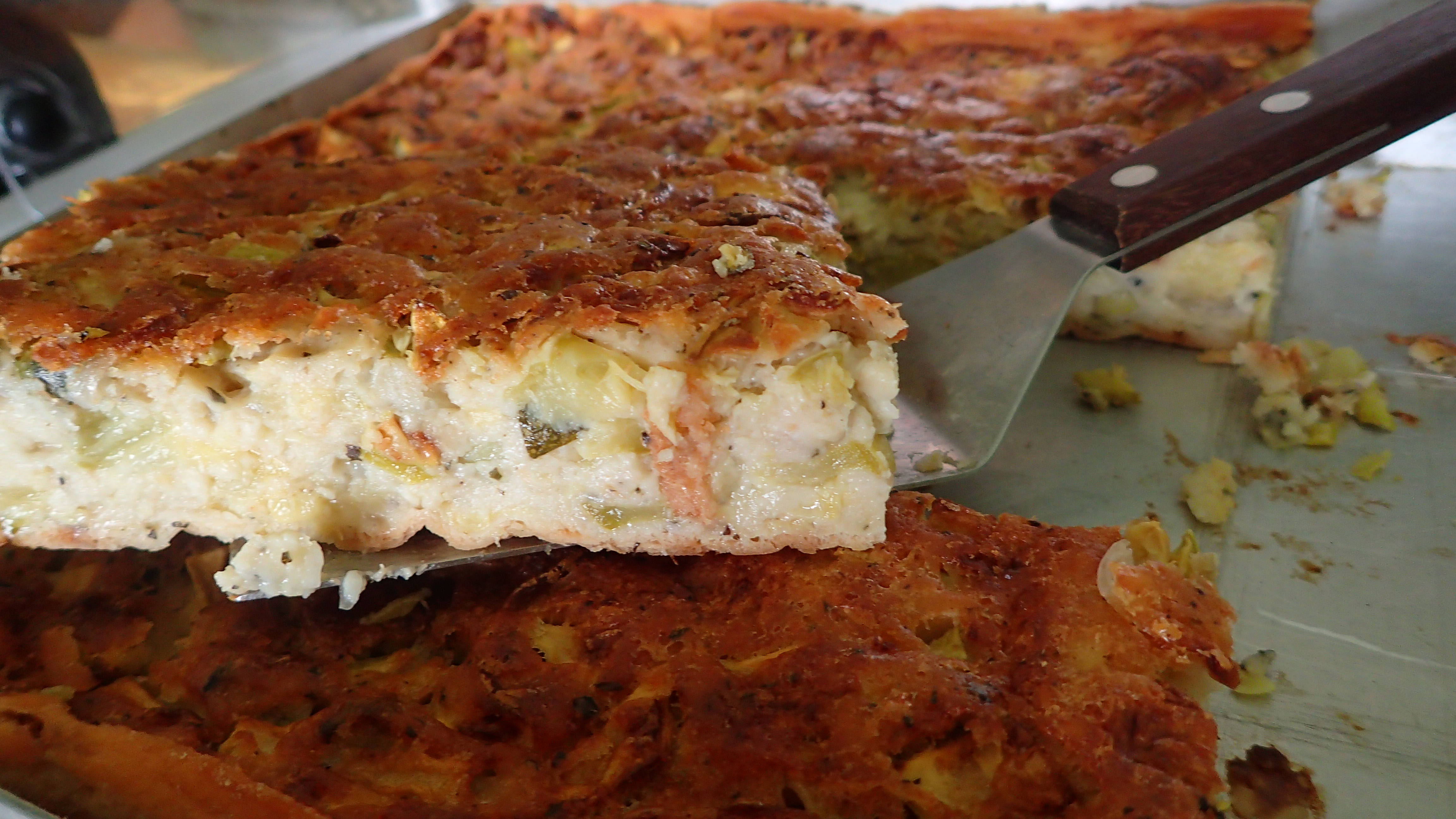 like what you always hope a focaccia will be like. It's also so much more delicious than it sounds.
This ending "-enia" is used for other Kimolos specialties, like "Tirenia". These are cheese pies made with a yeast dough, folded around some soft sweet goat's cheese to make a tidy square with an open top. "Kolokithenia" is a made of grated zucchini, herbs, cheese, and held together with egg and some flour.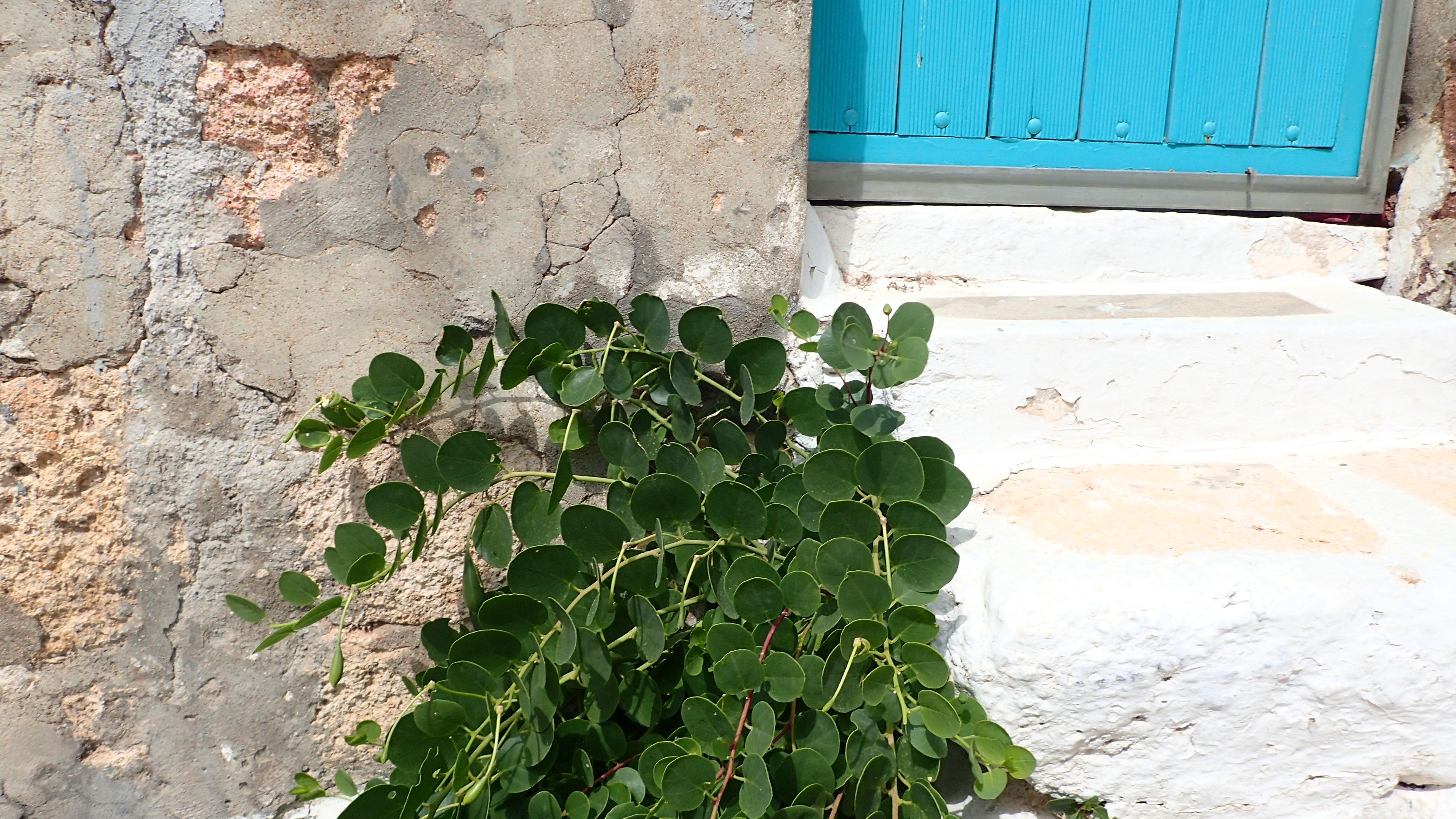 Capers- the Roses of Kimolos
That's what ourfriend and guide Dimitris Ventouris says when he spies a bush of round caper leaves sprouting from the base of a stone house in Chorio, the island's only town. Many of the Cycladics are known for capers, which take to the dry and rocky soil. Rumors abound that in some places imported capers are repackaged and sold as local. Kimolos isn't the kind of place you need to worry about that. The foods and the people providing them have integrity. Capers are packed not in brine but simply in salt. They're irresistible on their own.
Kritamo
This wild green grows by the sea, looks a little like seaweed, and has a bracing saline tang. Pickled, it makes a tangy meze or adds pungency to a mild dish, like fava or potatoes.
Almyrakia
This thick-leafed green also grows on the shore and is also rich with the salt of the sea- hence the sanme "almyrakia" (salty) It's boiled and served with oil and lemon as a delicious salad.
Wild Thyme, Majoram, Throubi, and Oregano
What the island's dry soil and high winds are magic for herbs. They're explosive with fragrance. One fine chef- Augustos Galanos of Meltemi View and Taste gathers them himself in the mountains. He brought me to see the stacks of them drying. The condensed scent of the Kimolean landscape filled the room.
Island of Goats
Cheeses of Kimolos- Xyno and Manoura
This is the perfect landscape for goats to roam and graze. Our rice pudding at breakfast was made from their milk, and so was the tangy soft goat's cheese called "Xyno". Goats' milk also makes the local "Manoura". Cylinders of white cheese are placed on roof tops to dry out, then they are aged in the lees of wine. Delicate air bubbles make the hard cheese lacy in texture. The wine leavings give it an appealing trace of mustiness.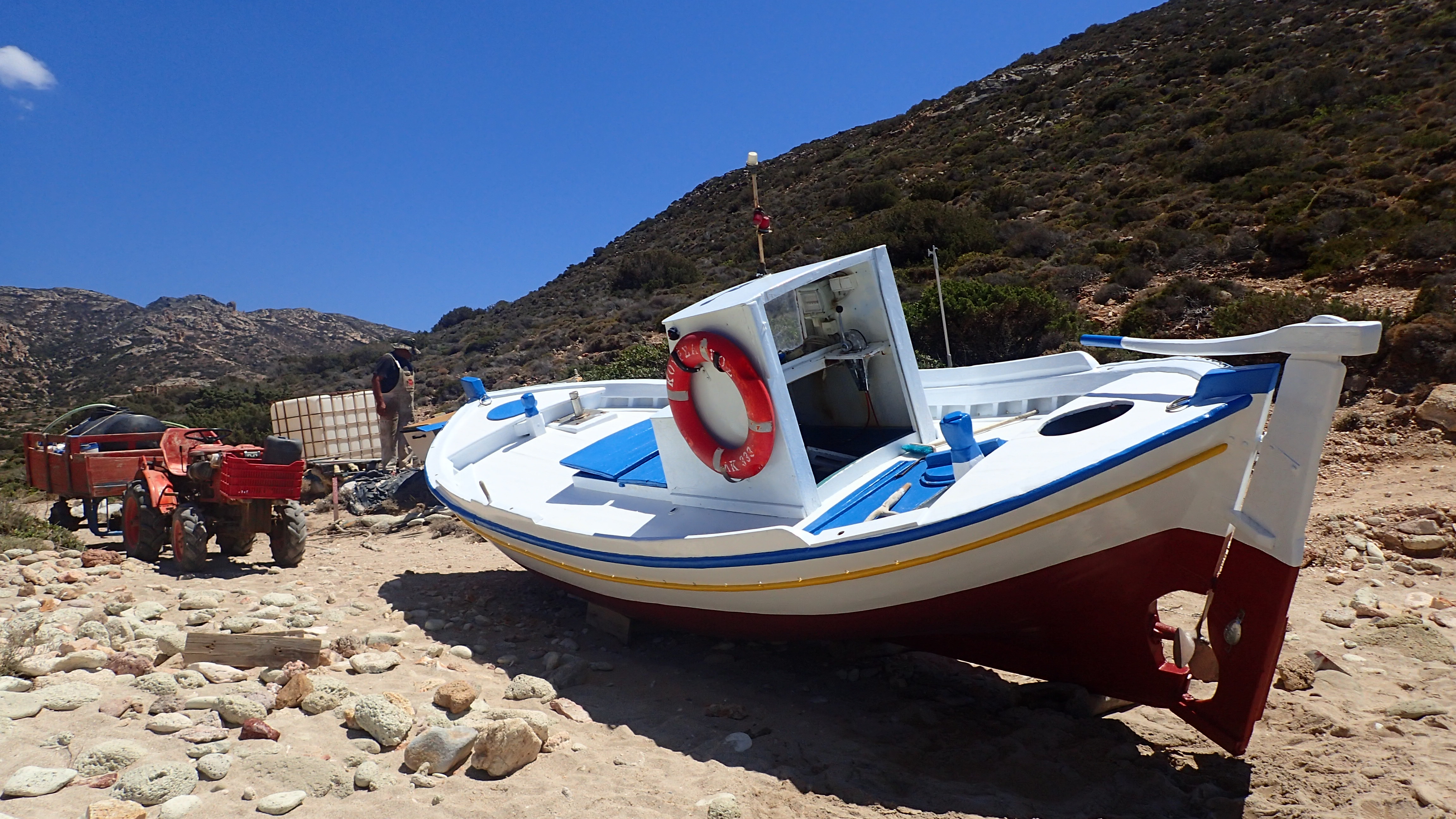 Secret Cheeses
Everyone knows that the foods that are the hardest to get are the tastiest. By that measure, this was the finest cheese you'll taste. How did we get it? Well, we took a boat ride around an uninhabited island, logically named Poliegos ("many goats"). While we were docked at a deserted beach, a man came down a mountain trail from tending his goats. He needed help pushing his boat out. In the course of conversation, we learned he makes cheeses, and will occasionally sell a few. When we showed up at his house later that night, he hauled sacks of small cylindrical cheeses out of the refrigerator. They were smeared damply with lees. They smelled heavenly. We weighed our selections on a kitchen scale. We had some tsicoudia. It was straight from the freezer, still thick enough to coat the glass.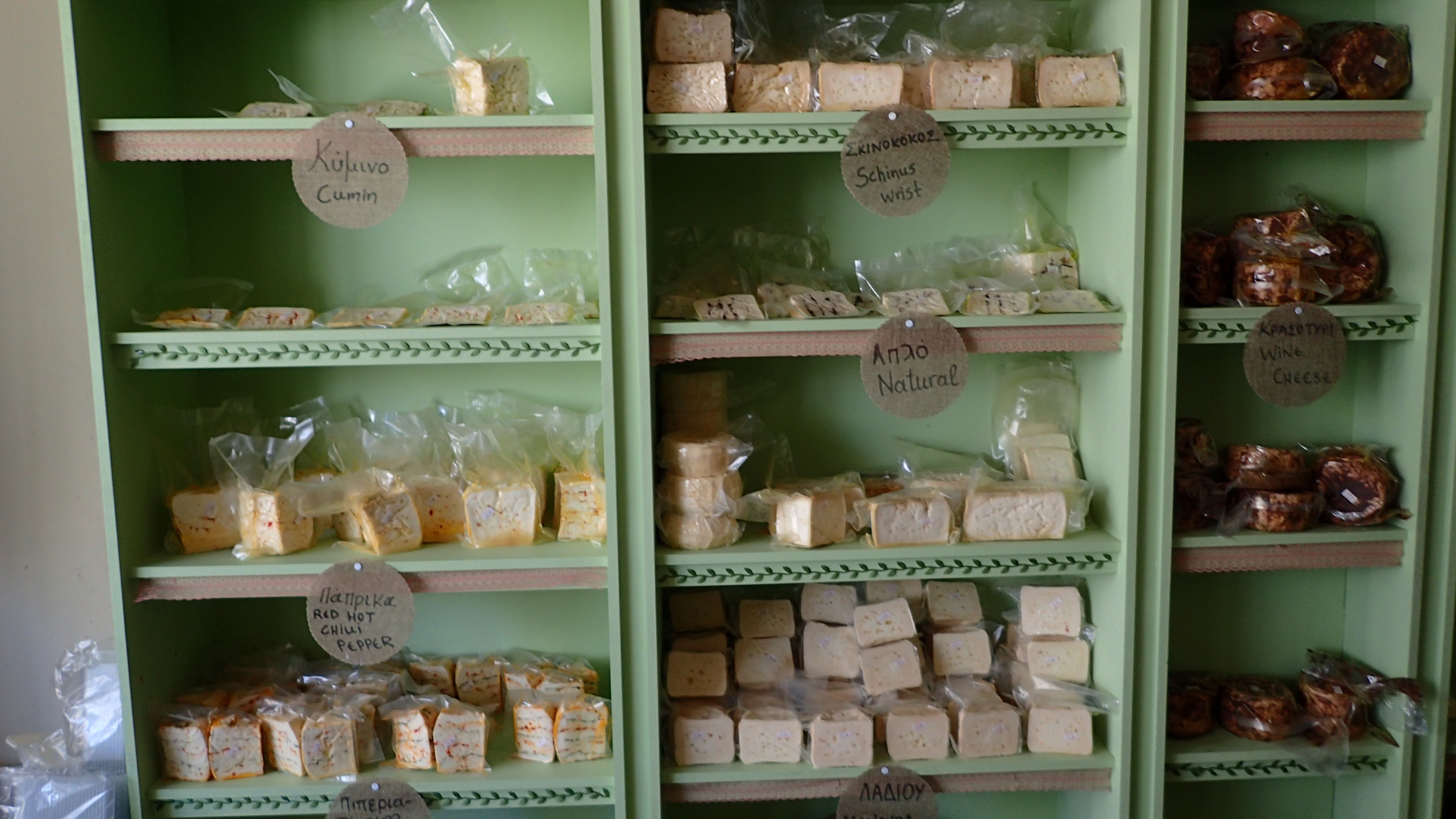 An Artisanal Store
You can't always count on running into a cheese maker on a deserted beach on an uninhabited island. So it's fortunate there's a store. The guy who runs it has his own goats. "If there's a storm and the boats don;t come, the kids on Kimolos will still have fresh milk" he says. He makes a great variety of cheeses- with the leavings of wine pressing, and other Manoura laced with various fresh mountain herbs- an ideal pairing since this is what the goats have been grazing on. He also sells capers, salted and hand-packed into jars. And of course fresh meats too.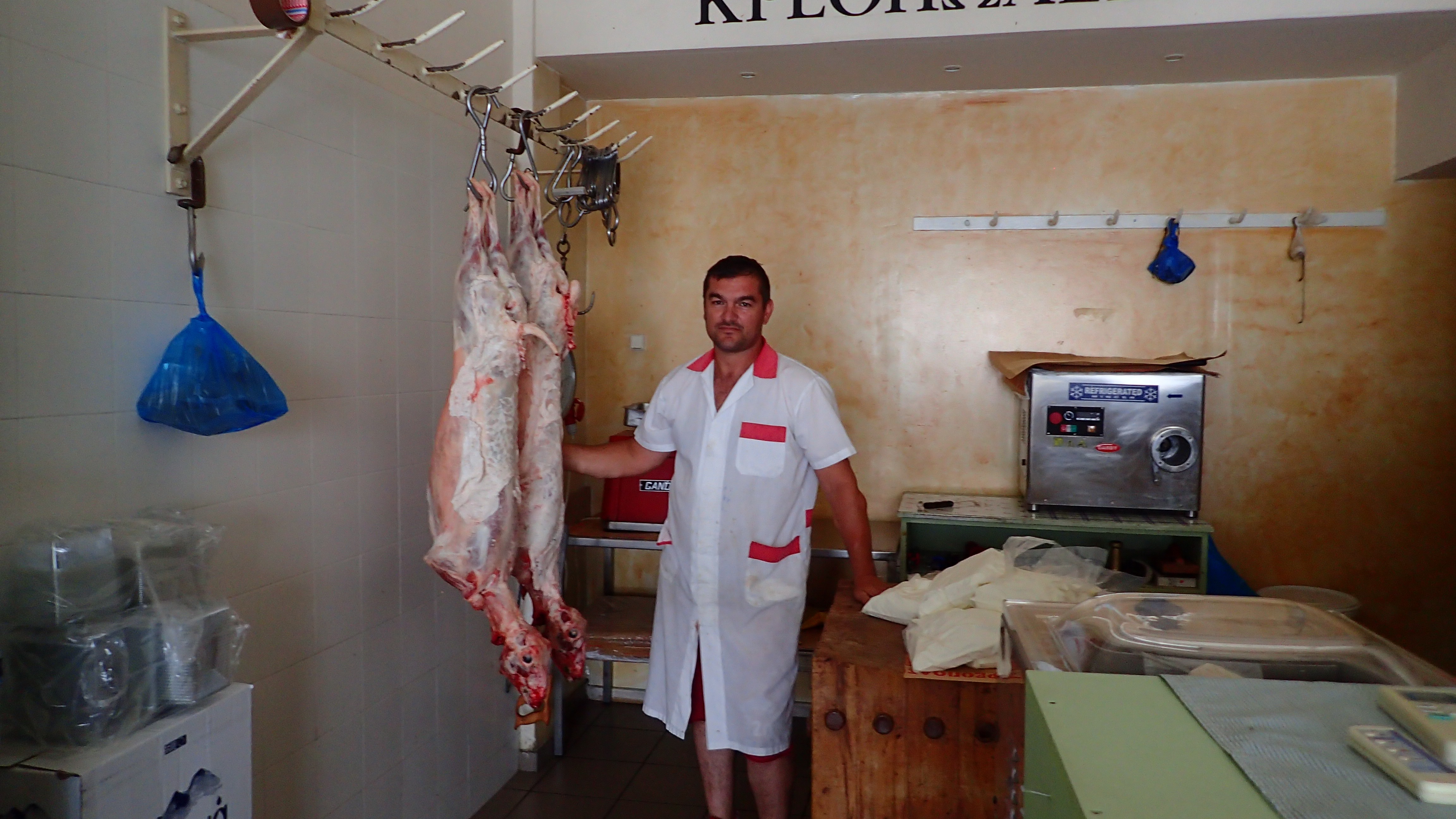 Goat- Kimolos' meat of choice.
The goats here breathe fresh sea air and dine on pungent wild herbs. They frolic in the mountainous terrain and build meat of character, scented with throubi and thyme. So it needs nothing but a skillful braise and a little salt and lemon. Ladera- vegetables simmered with tomato and oil- served with goat are a Kimolean specialty.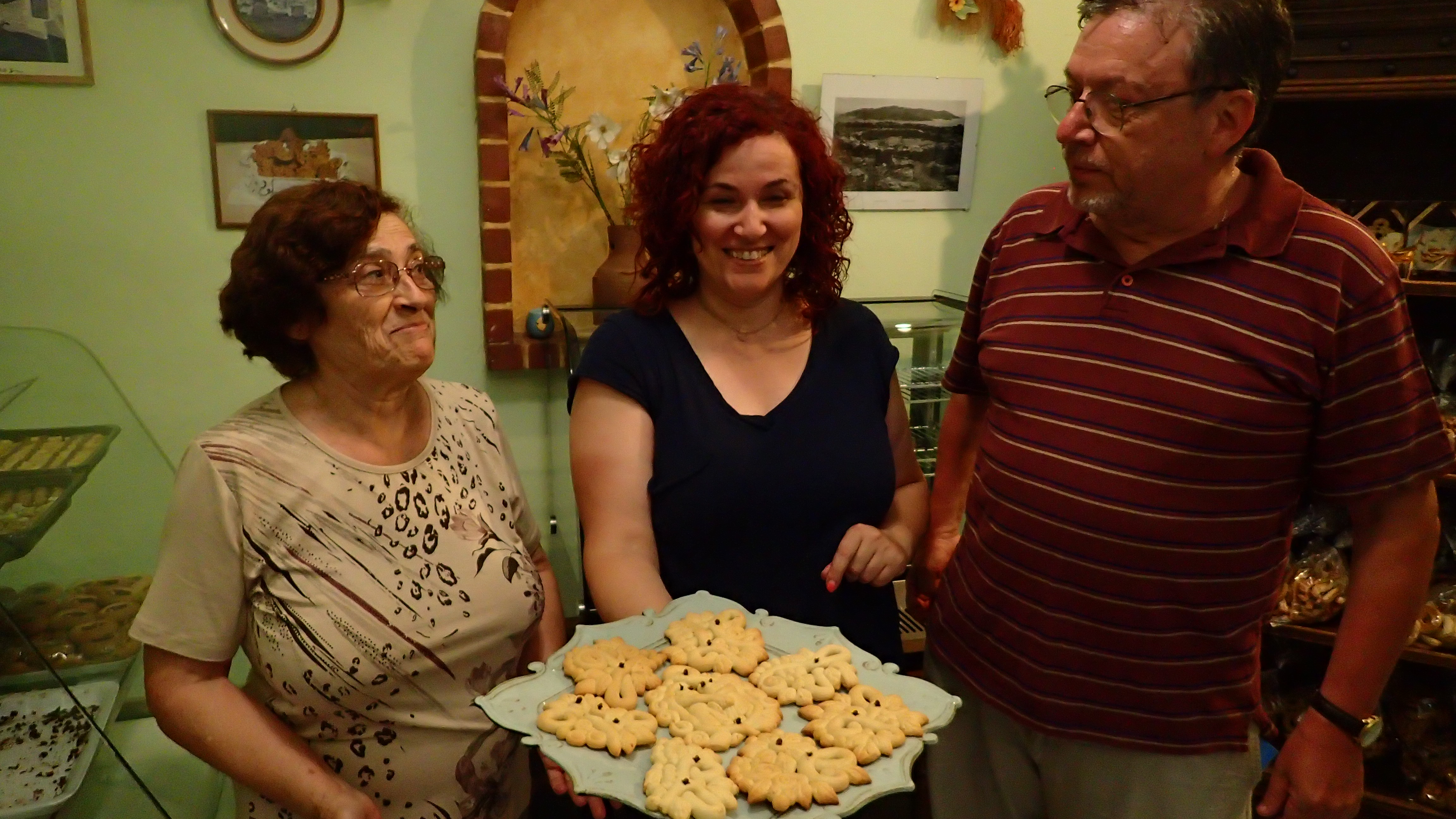 The providers of Kimolos
The islanders are proud, in the best sense, of their culinary heritage. They preserve it and share it. Like Kyria Margarita's exquisite wedding cookies that she made for us- each one a lacy work of art.