The rich and delicate Pastéis de Nata are the signature pastries of Lisbon. We loved making Pastéis de Nata at the Academia Time Out Workshop.
Before your first trip to Lisbon, friends who have been there will rave about lots of things- the people, the Azulejos (Lisbon's gorgeous tiles), the seafood, the fado, the bookstores, the wine (there is no bad wine in Lisbon) and pastéis de nata. These are custard tarts. They don't sound like something to rave about. But pastéis de nata are incredible – rich, delicate, fragrant. They're blistered nearly black on top, while the custard remains delicate and soft – like a crème brûlée in a flaky shell. We ate them in the morning and in the afternoon. We bought boxes of them to have in bed with wine from the mini bar.
They're always fresh from the oven – although the midnight snack ones were not bad. But this isn't something you can stock up on to bring home. They are too delicate to travel well. The only solution was to learn how to make them. We were in luck, because at the Academia Time Out, they were offering a pastéis de nata class. So now we can have them whenever we like.
Related Post: Experiencing the Time Out Market, Lisbon
Where to Try Pastéis de Nata in Lisbon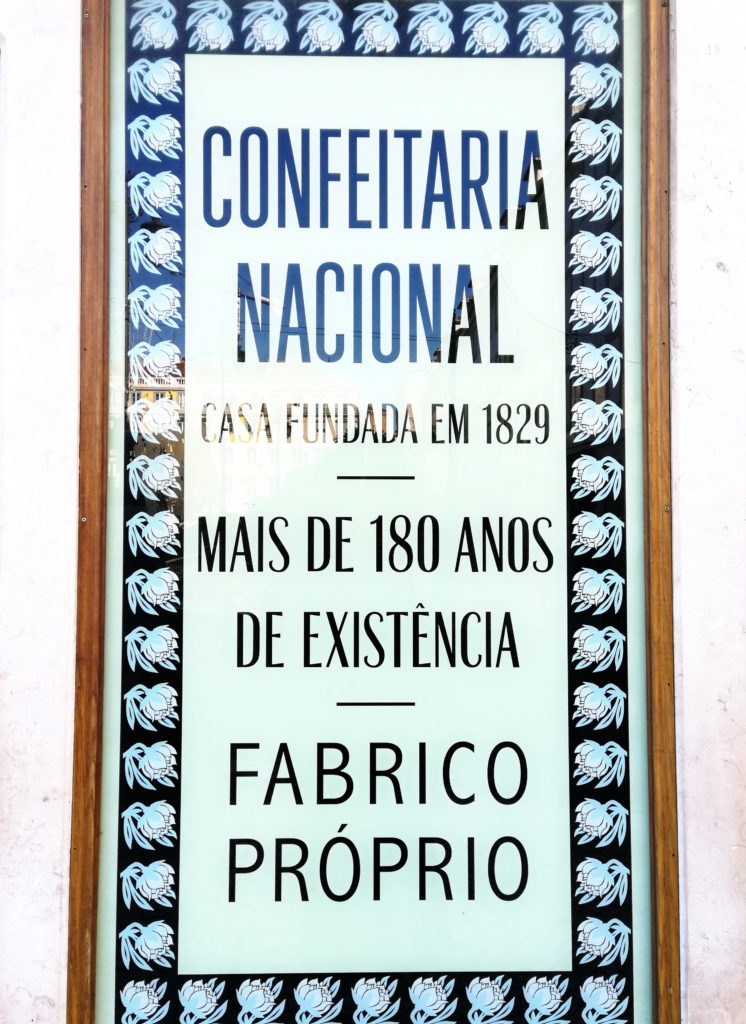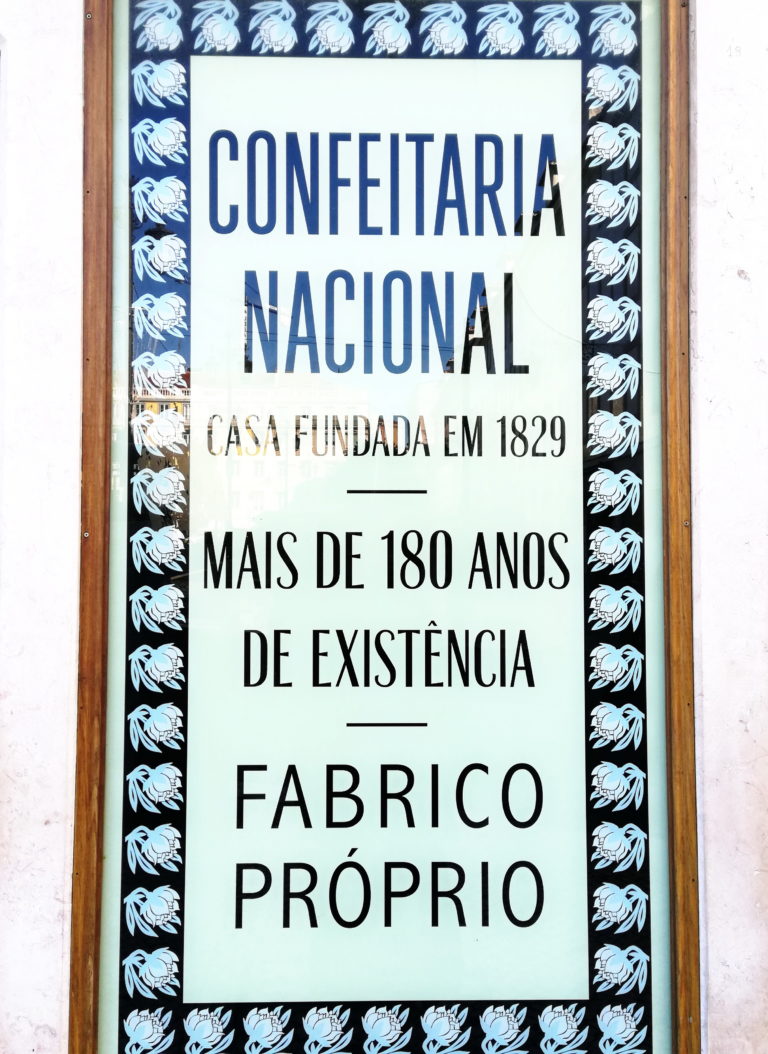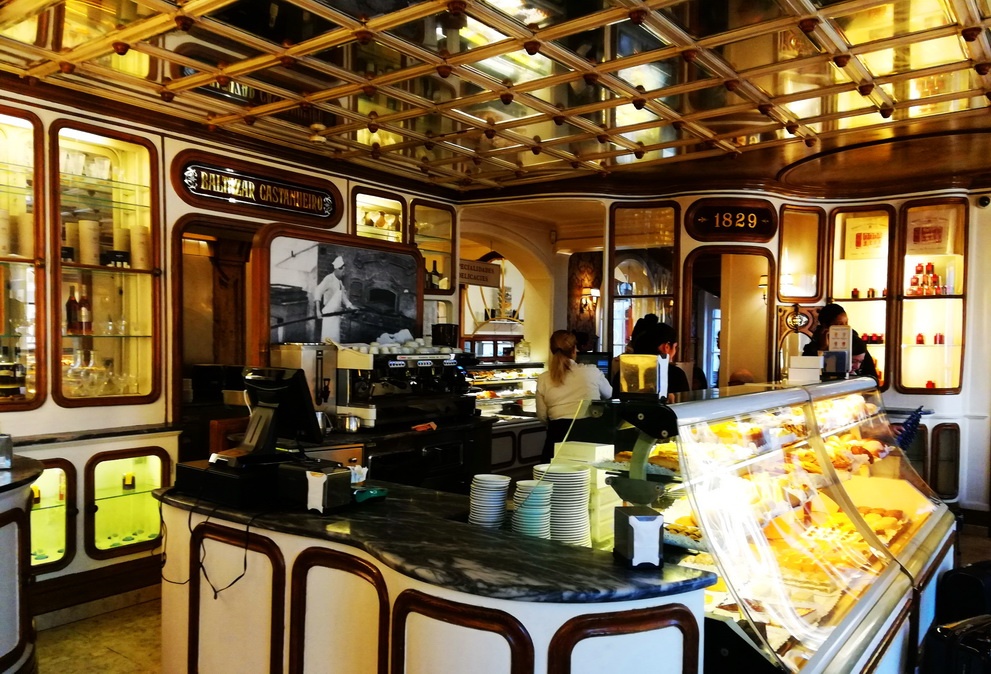 We had pastéis de nata at every opportunity in our 3 days in Lisbon – they're everywhere. So after a while knew what makes a good pastel de nata ('pastel' is the singular). There are many opportunities to enjoy a pastel de nata in Lisbon.
Pastéis de Nata at the Confeiteria Nacional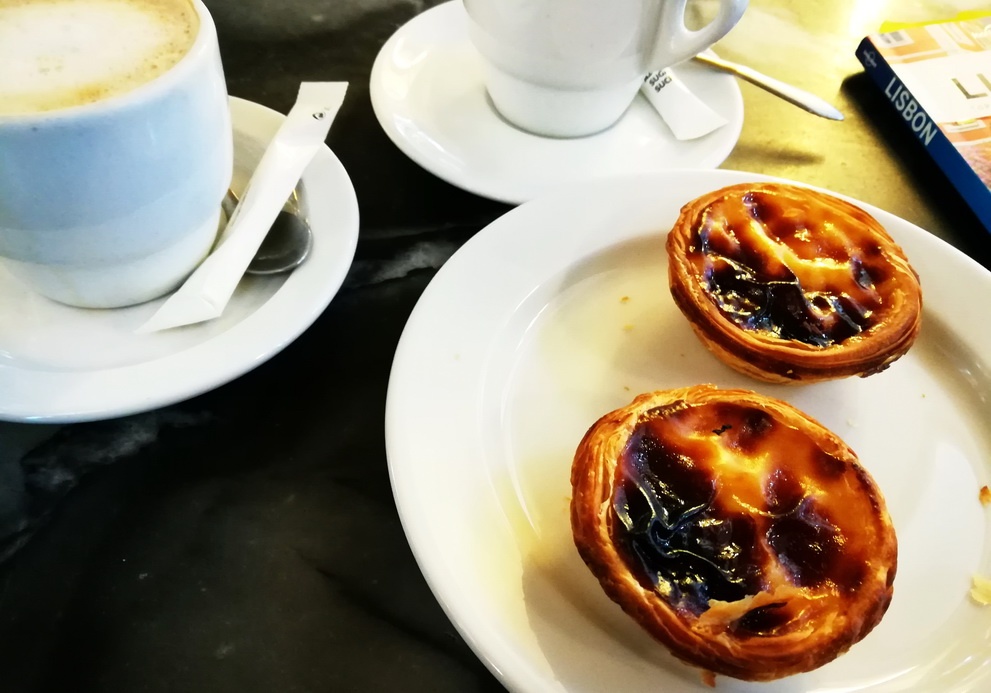 Our first was at the Confeiteria Nacional, the oldest patisserie in Lisbon. The Confeiteria Nacional is a destination in itself – essential on your Lisbon itinerary. Since 1829, this opulent patisserie has been operating on the Praça da Figueira, serving hot, frothing café com leite and a range of traditional Portuguese pastries. It has been in hands of the family of the founder – Balthazar Castanheiro – for six generations.
There is table service at the Confeiteria Nacional, and there is even an elegant prix fix lunch menu. But we enjoyed standing up. You order your coffee at the marble counter, and select your pastry. Then you bring them over to one of the pretty marble stands. This is the prettiest and liveliest part of the cafe, filled with chatter and the sound of the espresso machine. The ceiling is covered with mirrors and carved wood, and beautiful antique molds and baking tools are displayed in glass cases. All the cakes are in front of you, and the passers by at the Praça da Figueira are right outside. This is the most beautiful place in Lisbon to have pastéis de nata, and they're excellent.
Confeiteria Nacional, Praça da Figueira, Praça Dom Pedro IV
Pasteis de Nata at Manteigaria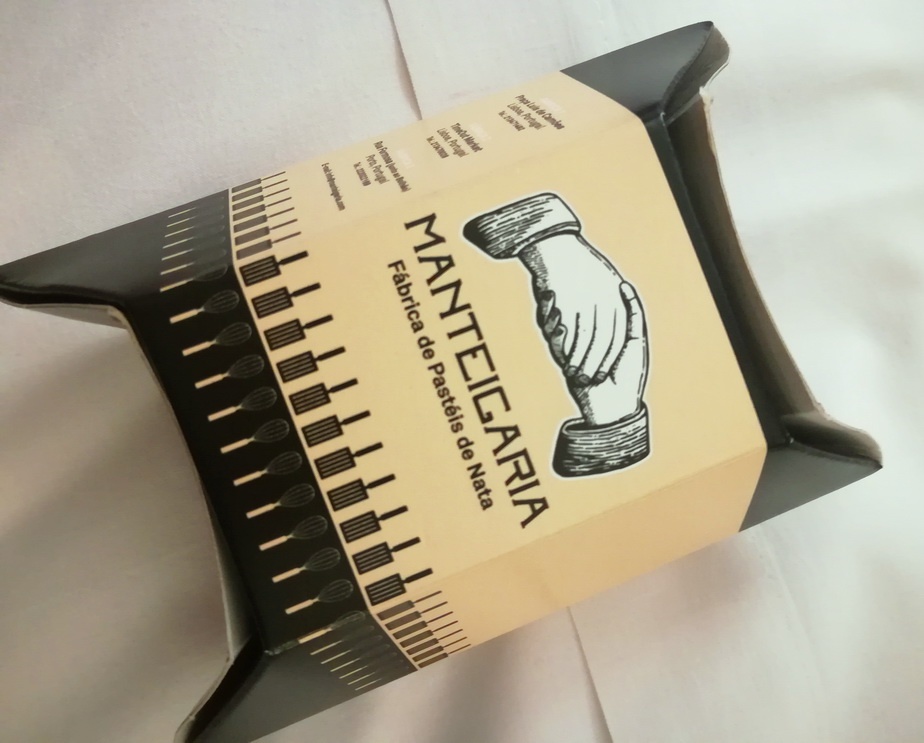 We had heard that Manteigaria ("dairy") makes some of the finest pastéis de nata. They have a main shop, but we had ours in the Time Out Market Lisboa. This was also a good sign, because this is a curated experience, with only the best shops getting a spot. Pastéis de nata are characterized by the contrast of the crisp and delicate pastry crust and the creaminess of the custard filling. By that measure, these were excellent. The crust was shattering crisp and buttery, and the filling only just barely help its shape.
Pastéis de Nata at Pastéis de Belém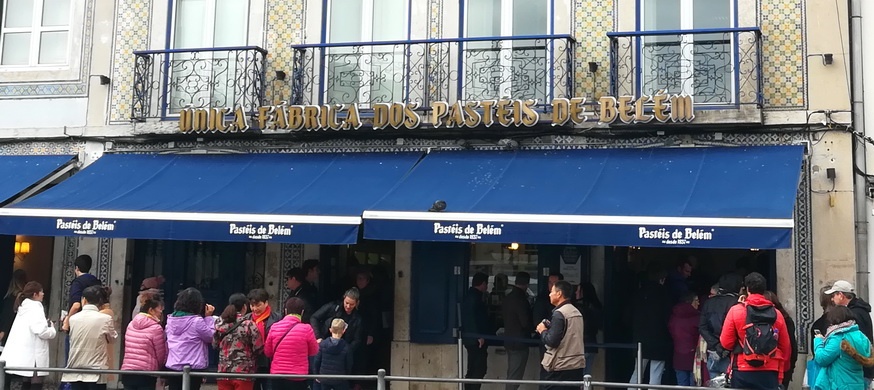 Belém is the historic district in the west of Lisbon, on the banks of the Tagus. You'll be coming out here to see the Torre de Belém, where the explorers embarked on their journeys. The grand 16th century Jerónimos Monastery is also out here. And as it turns out, the monks of the monastery were instrumental in inventing the Pastéis de Nata. Convents and monasteries closed in the liberal revolution of 1820, and the nuns and monks needed to earn a living. It turns out the monks of the Jerónimos Monastery were skilled bakers. Their pastries – called Pastéis de Belém – became popular with the many visitors who came to enjoy the sights of Belém. Pastéis de Belém preserves the original recipe of the monks, and makes them still. They're delicious, and it's fun to try them in this historic shop, which has been making them since 1837.
Pastéis de Belém, Rua de Belém nº 84 to 92
Making Pastéis de Nata at the Academia Time Out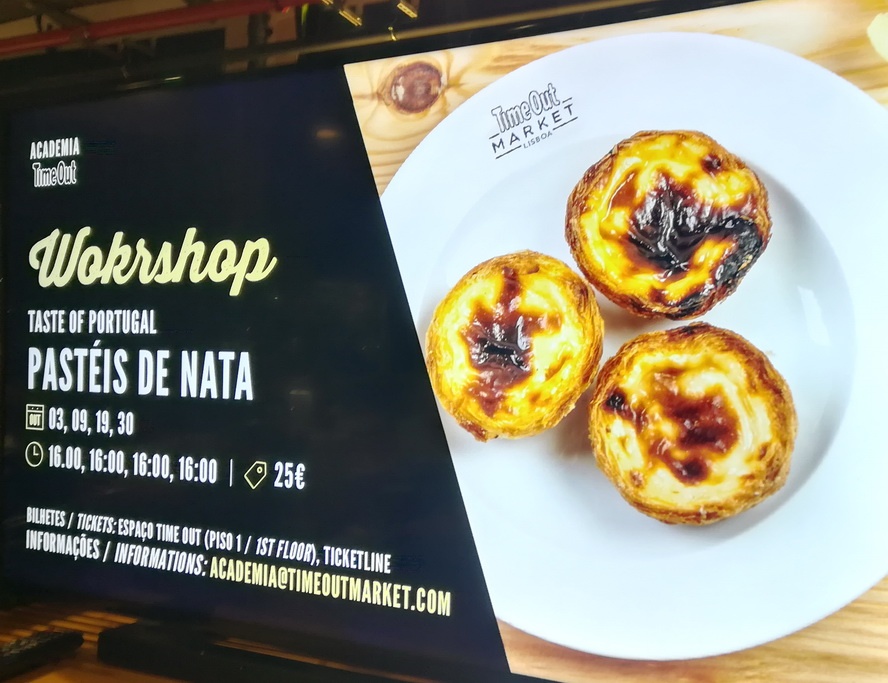 So now, we knew what we wanted to achieve – a rich custard filling, barely set and blistered on top, wobbling gently in a crisp and flaky shell.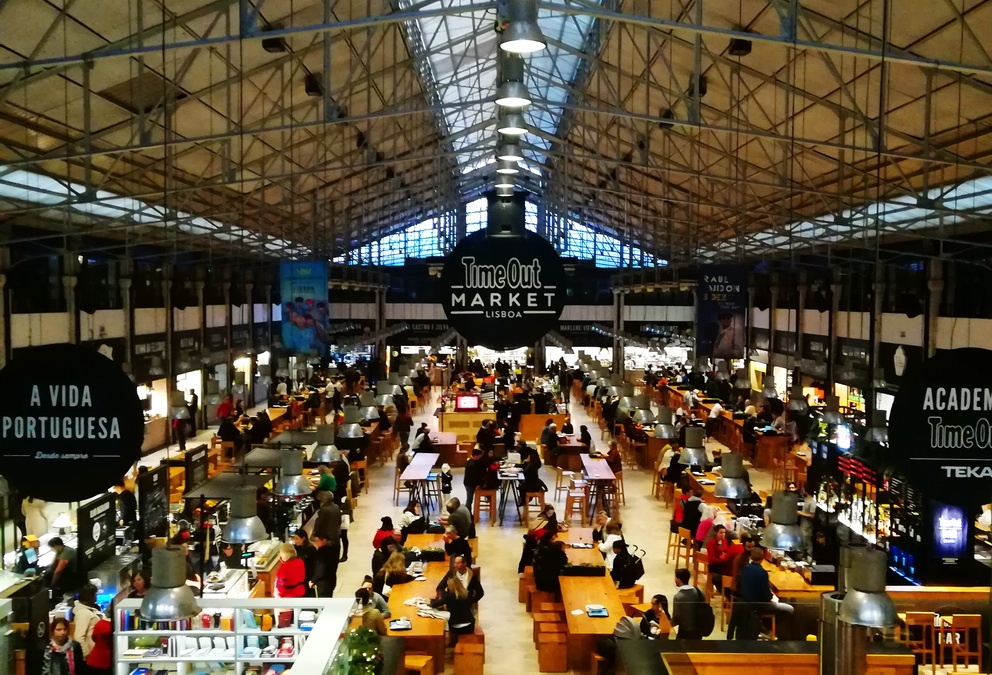 The Academia Time Out is in the main floor of the high-energy Time Out Market Lisboa. All around us were people drinking wine, eating, and snacking on warm pastéis de nata from Manteigaria – a good inspiration for us. Each pair had a gleaming work station, with all of our equipment and ingredients before us. They gave us natty aprons – large professional aprons with a pocket (I bought one afterwards). To hear our instructors, we had earpieces.
First we started with the custard. The pastéis de nata we had eaten up to now were pure, but not plain – they had a full and delicate fragrance. We see now why. A cinnamon stick and some lemon peel steep in the milk we heat for the custard. Also, for body, we see that the custard is thickened not just with egg yolks, but also with some flour. It's already a little thick and silky when it goes into the pastry shell for baking. That makes sense, because our instructor tells us these take a blisteringly hot oven – 400° F – for a brief amount of time.
There is a large screen where we could watch what our instructor is doing via an overhead camera. As she worked, another instructor came by to see how we are all doing. We had all the information we needed, and time to get it right. I bake all the time, but my partner was a novice and she had no trouble at all.
We used ready puff pastry, so there was no messy rolling and cutting. Shaping it into a roll, we sliced off disks, and pressed them with our thumbs into the forms. First we started with just four, so we could see how they turned out and make adjustments. The instructor came by to give us essential tips for success, like making a rim above the form, and not filling them too full.
Making Pasteis de Nata at Home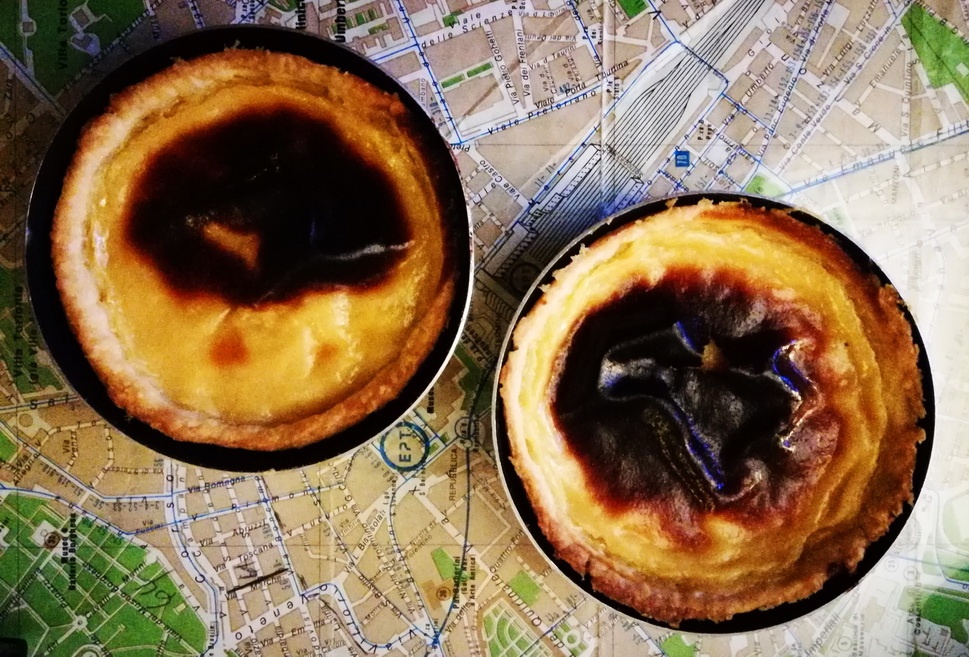 We used the recipe given us at the Academia Time Out for the custard. It worked as perfectly at home as it did in Lisbon. We made our own puff pastry for the crust, and pressed it thin. Our home oven goes to 270° F, and as soon as they were black in spots, we took them out. The thin crust did not need much time to brown. It was a perfect success.
A new skill is the perfect souvenir to take from your travels. See what's going on at the Academia Time Out when you're in Lisbon – they had a full program of workshops when we were there.