3 days in Lisbon is just enough to give you a great first taste. This is a shimmering, delicious fairy tale of a city, and not just for the (excellent) cuisine. The tiled buildings sparkle with juicy colors. And Lisbon smells delicious too – that scent in the air is either probably a savory Pastel de Bacalhau (a salt cod croquette), or a hot and buttery Pastel de Nata – more on those delights later. Here's what to do in Lisbon in 3 days – including culture, leisure, and cuisine. Plus delicious wine and plenty of steaming milky coffee.
Hilly with magnificent vistas and winding alleys, and grand plazas near the sea, Lisbon offers many different moods in a compact space. There are wonderful, intimate museum experiences, elegant cafes, and casual neighborhood restaurants to discover. So yes, on a three day itinerary of Lisbon, Portugal, you can see enough to get a feel for the city. And probably to start planning your next trip, which is exactly what we did.
3 Days in Lisbon, Day One – Getting Oriented
One of the things that makes Lisbon ideal for a three day city break is the fact that you won't waste a half day – or the price of a good meal – getting from the airport to the center of town. Lisbon's Metro connects the airport with the center in a matter of minutes, so you can begin enjoying your three day itinerary of Lisbon right away.
The geography of Lisbon is pretty extraordinary. It's perched on the shores of the broad Tagus river, opening dramatically onto the Atlantic in the west. Once a major colonial power, Lisbon feels like a geographic frontier, now exuding a quiet, laid-back confidence. This is a city with nothing to prove, perfectly content to embrace its beautiful loneliness at the very edge of Europe.
Lisbon – A City of Seven Hills
So many cities lay claim to the title "the city of seven hills" – Rome, Athens, Istanbul, San Francisco. However, Lisbon deserves the title more than most, because these really are serious hills. They're much more like the hills of San Francisco than the hills of Athens. In fact, there's even an elevator to get from the Baixa to the Bairro Alto – the Santa Justa Elevator. And there are also two funiculars.
All these hills mean incredible views, and enchanting winding paths, along with lots of enchanting architecture suited to small and sloping lots. The rooftops of Lisbon are beautiful, and you'll see lots of them.
A Colonial Past and a Multi-Cultural Present
The riches of colonial days have left glorious monuments we will visit on our three day itinerary for Lisbon. Portugal's history has brought people of former colonial lands together in Lisbon. Inspiring young people from across the globe have filled the city with vibrance and verve. Lisbon's multicultural energy sings from the (elaborately tiled) pavements.
Three Days in Lisbon, Day One – Coffee and Pastry at Confeitaria Nacional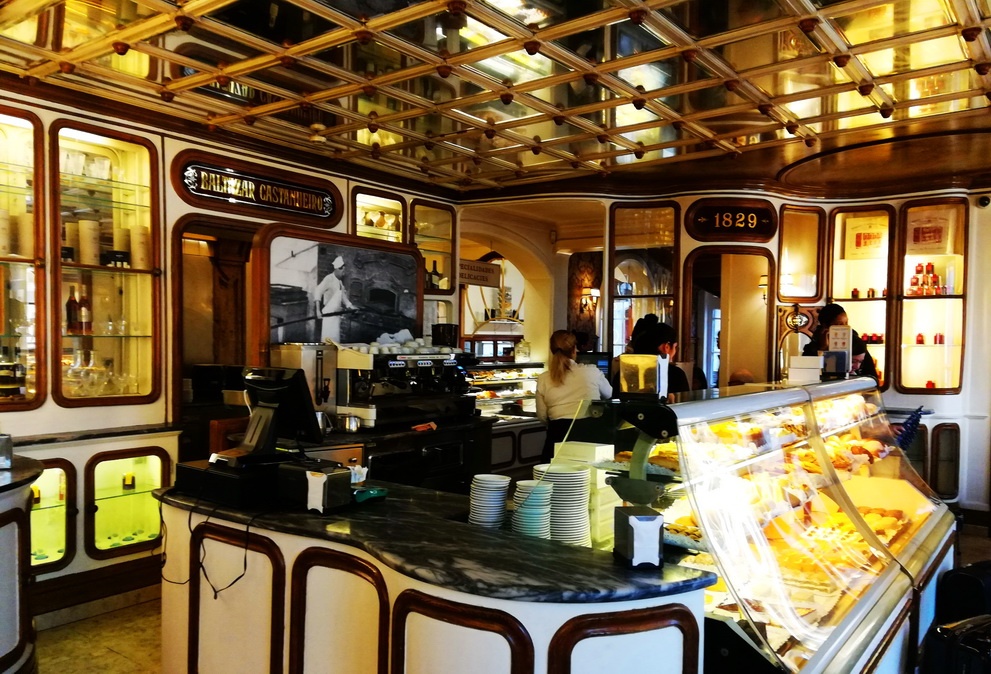 By the time you check into your hotel – Lisbon has some excellent Boutique Hotels -or apartment, it may be afternoon. A light snack and a coffee at Lisbon's historic Confeitaria Nacional will give you a sugar and caffeine lift to help you cover a lot of territory on foot. The Confeitaria is also Lisbon's oldest and loveliest cafe, with a mirrored ceiling and beautiful marble stands for resting your coffee and pastry. Don't waste time sitting at a table – not only is the coffee more expensive, but the action – the hum of the espresso machine, the melodic sound of Portuguese – is all in the self-service section in front. Jewel-like confections golden with egg yolk glow in the display cases.
The Confeiteria is on the Praça da Figueira – one of the principal squares of the Baixa and a perfect starting point for exploring the cosmopolitan city center.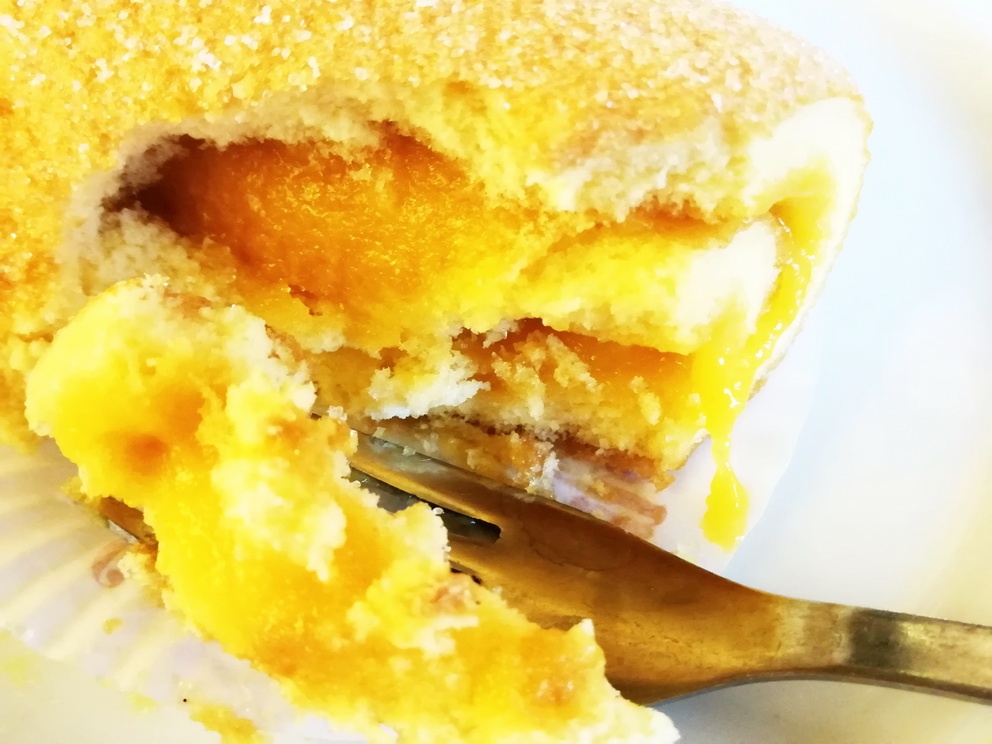 3 Days in Lisbon, Day One – The Baixa: Rossio Square, the Rua Augusta, the Rua de Sapateiros, and the Praça do Comércio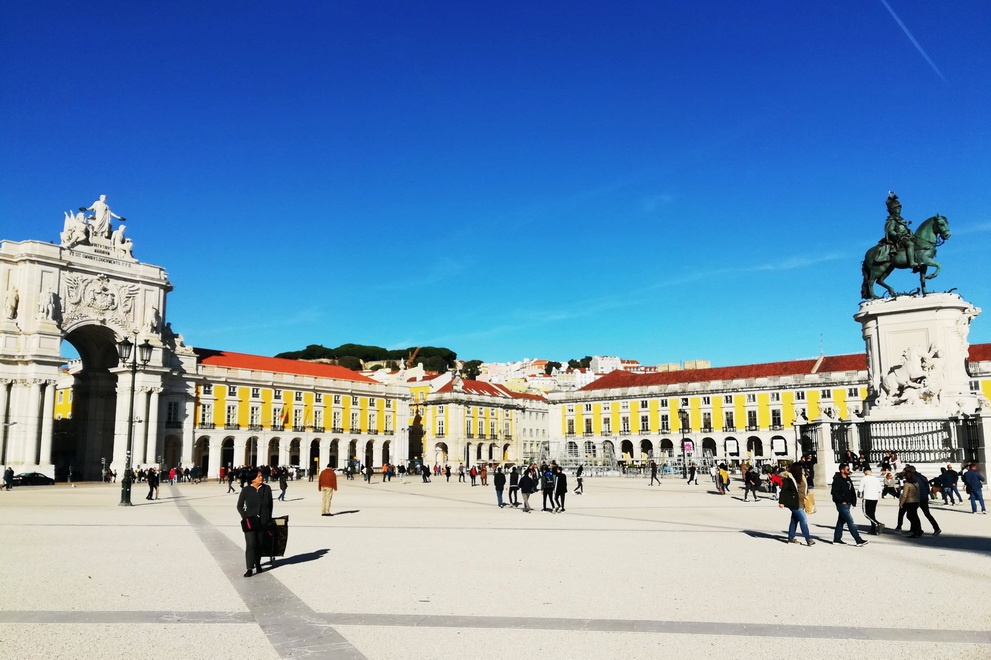 The Baixa is the flat and central part of Lisbon, and it has a consistent architectural character that gives it a distinct and elegant identity. This is owning to an earthquake that devastated Lisbon in 1755. The Marquis of Pombal was prime minister under King Dom José I. Under Pombal's direction, military engineers – particularly Eugénio dos Santos – rebuilt in elegance and intrducing a grid plan of broad avenues. It's from the Marquis de Pombal that the area sometimes has the name "Pombaline" or the "Pombaline Baixa" Notable are the anti-seismic measures, as well as the restrained neoclassicism of the facades. These reflect both the architectural rationality of the enlightenment, and the expediency of the rebuilding.
Rossio Square is one of Lisbon's defining plazas, for centuries a center of civic life, whether in celebration or revolt. From here the broad Rua dos Sapteiros (the street of the cobblers) leads towards the Tagus. So does the Rua Augusta. This pedestrian street has beautiful patterns of lacj and white tile. It leads to a grand arch that opens on to an immense plaza. This is the Praça do Comércio – the defining square of the city and a great place to both feel the majesty of Lisbon and get oriented.
This was the location of the Ribiera palace before the earthquake. Now grand arcades line three of its sides while the bank of the broad river Tagus makes up the fourth. This is one of Europe's most impressive public squares, somewhere between Piazza San Marco in Venice and St. Peter's Square in dimension. That equestrian statue in the center is of King Dom José I. Called "The Reformer," it was during his reign that the Pombaline Baixa took shape.
What to do in Lisbon, Portugal – Day Lisbon Itinerary, Day One, evening: The Santa Justa Elevator, the Bairro Alto, and Chiado
"Baixa" means "low," and "Alta" is high. The Bairra Alta is so much higher than the Baixa that there is a beautiful elevator to get to it. The Elevador de Santa Justa takes you from Rua Aura directly up to the Largo de Carmo – Carmo Square. It's approximately 7 stories up – 45 meters. This Art Nouveau beauty has been taking people up to the Largo de Carmo since the beginning of the 20th century.
Bairro Alta is one of the favorite neighborhoods for going out. Though many say it only really picks up around 10 pm, there are still plenty of excellent restaurants up here for both traditional home-style dishes and more novel cuisine.
Nearby elegant Chiado is also a favorite neighborhood for dining out. If you're here in Lisbon for a special occasion, you might mark it at the supremely elegant, legendary Tavares restaurant – one of Europe's oldest restaurants.
Three Days in Lisbon, Day 2 Morning – Pasteis de Nata, the Museu Nacional do Azulejo, and the Time Out Market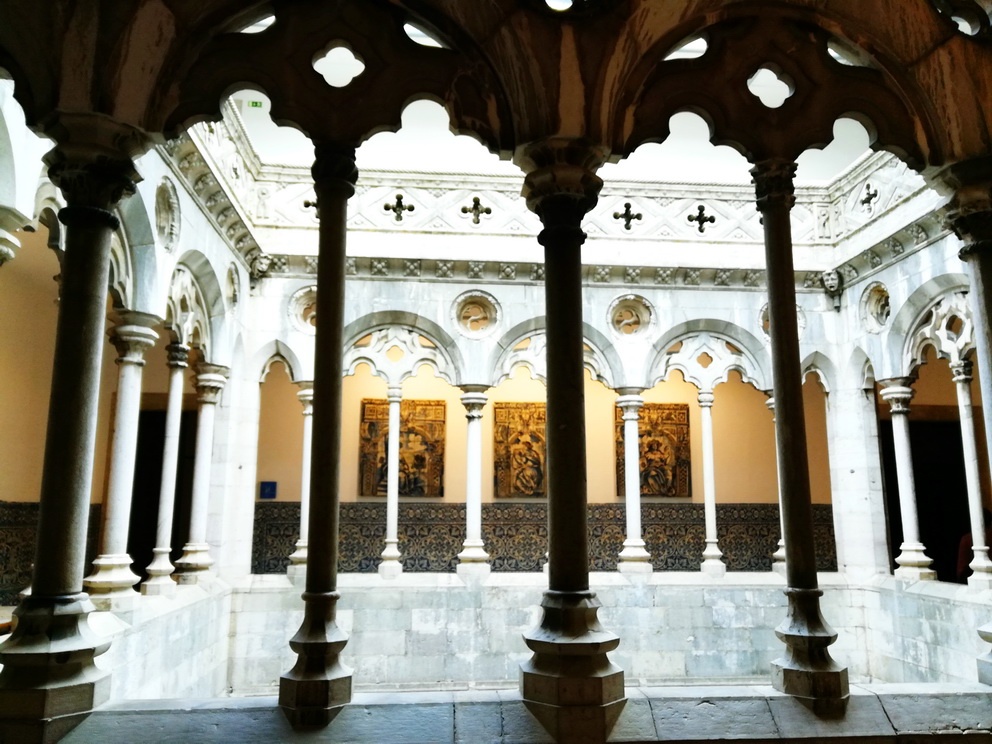 Much of our second day in Lisbon can take place along the banks of the Tagus river. We'll start in the northeast, then stop off somewhere just west of the Praça do Comércio for an unbelievable seafood lunch. After lunch, we'll continue west, on to dramatic Belém.
Breakfast – Pastel de Nata and a Café com Leite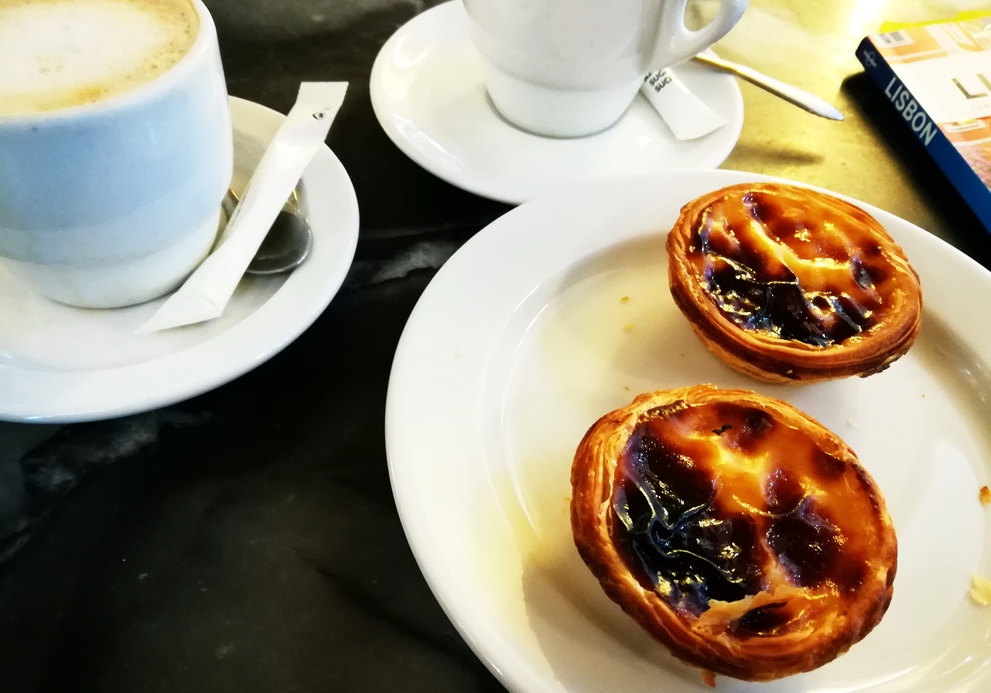 The most famous pastry of Lisbon is without question the Pastel de Nata. It sounds like nothing special – an egg custard tart. But it's fantastic – a rich cream with a light fragrance of orange and cinnamon in a crisp pastry shell, blacked in spots like a crème brûlée. You eat them fresh from the oven, still warm. There is probably no such thing as a bad Pastel de Nata, but there are plenty of great ones. Over our three days in Lisbon, we had several.
Café com leite – like a richer and slightly darker caffè latte – is perfect with them. You can get this combination many places – we returned to the Confeitaria Nacional for ours.
If you want more than one pastel, order Pasteis de Nata.
The Museu Nacional do Azulejo – Highlight of a Three-Day Itinerary for Lisbon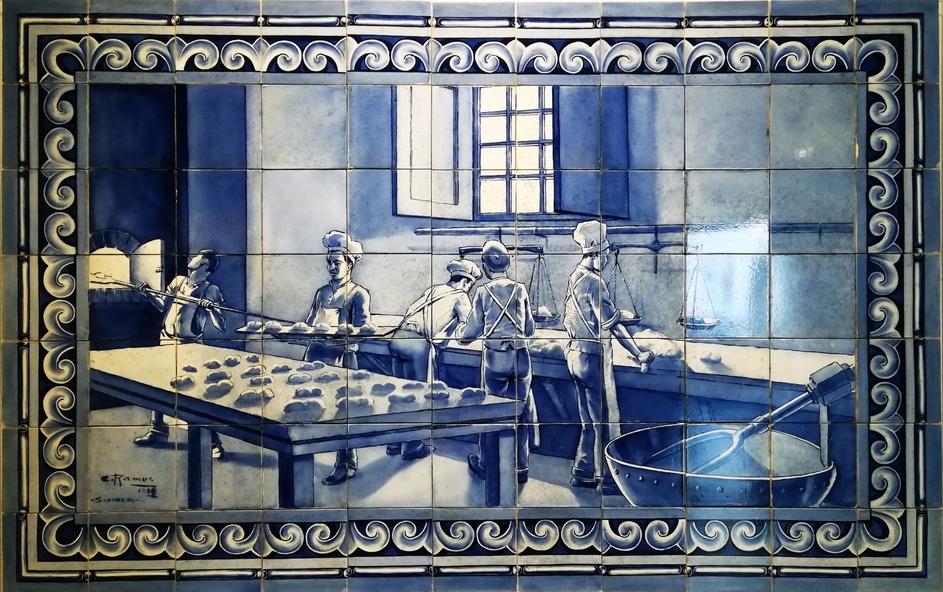 After trying Lisbon's definitive pastry, we'll visit a museum devoted to its definitive design characteristic. Azulejos are the ornate tiles you'll see on even the more humble of the buildings. Glazed tiles give beauty and elegance to every corner of this enchanting city. They're also central to the aesthetic heritage of Portugal.
The word "Azulejos" comes from the Arabic "az-zulay," which is logical. Tiles were first introduced to the Iberian peninsula by the Moors, and then became popular in Portugal.
There is not one style of Portuguese tile. Rather, this is a key medium that expresses various artistic currents. Elaborate geometric patterns – depicting no figures as is consistent with Islamic law – were initially popular. These were then joined by specially commissioned tiles depicting figurative scenes – entire narratives. The blue and white so commonly in use dates from the Age of Discoveries (15th to early 17th centuries). Delft China, which imitated in turn Chinese porcelain in its color scheme, was much in fashion. The scenes were originally done in Holland. Later, Portuguese workshops began production.
Tile has always been an essential medium, reflecting all eras of art. There are heroic scenes of peasants and workmen from the early 20th century, art nouveau decorative tiles, art deco, and even contemporary art.
The Museu Nacional do Azueljo (the Lisbon National Tile Museum) is beautiful and fascinating. A morning here gives light history and deep insight into Lisbon's rich aesthetic heritage, and is a highlight of three days in Lisbon.
Related post: Tile Museum Lisbon – Visiting the Lisbon National Tile Museum
Time Out Market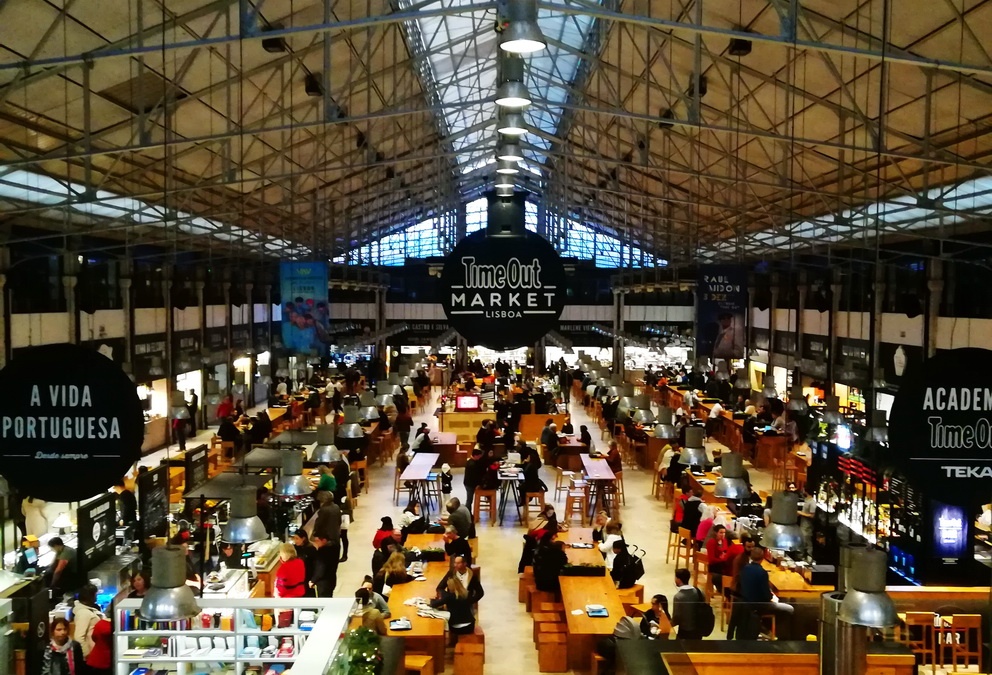 The people of the Time Out magazine have done an incredible job of revitalizing the old Mercado da Ribiera. The Time Out Market keeps all of the energy and excitement of a classic European covered market. It's also a playful venue for Lisbon's evolving contemporary food scene.
Local restaurants, bakeries, artisanal food craftspeople, and wine bars are represented around the edges of the market. In the middle are tables for strangers to congregate over Lisbon's most creative and traditional dishes, in a lively and casual setting. We found we really loved the Time Out Market Lisbon experience. We even learned how to make Pastéis de Nata there.
Related Post: Academia Time Out – Making Pastéis de Nata in Lisbon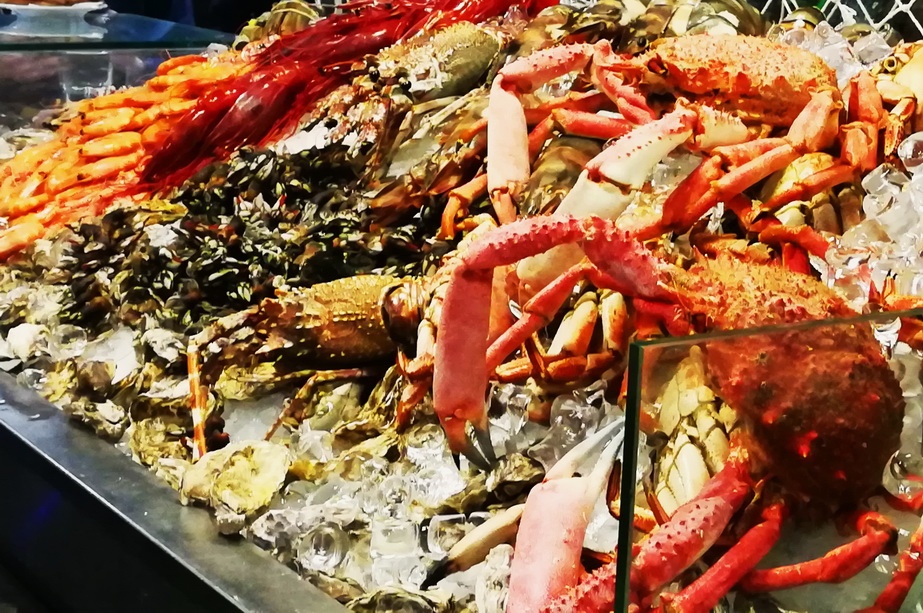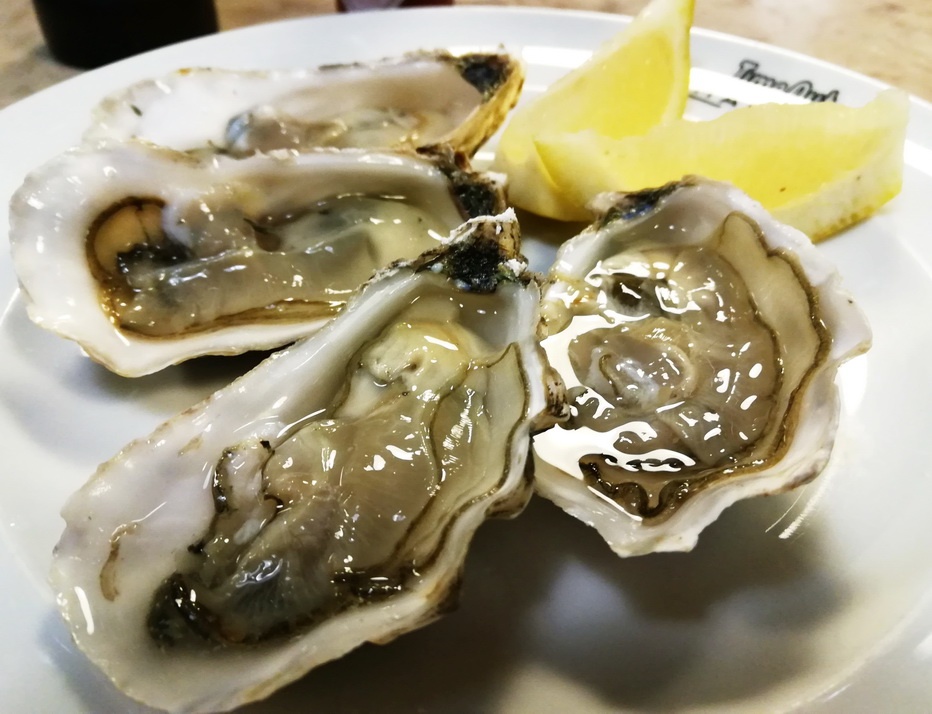 For a supreme treat, visit the arm of the market parallel to the central hall. Here you'll find raw bars beautifully stacked with sweet fresh shellfish. The variety is staggering. Beside them are tanks of lobsters and crayfish and other specialties. These are prepared in front of you. Seating is shoulder to shoulder at the counter. You'll have a delicious view of heaps of barnacles, crayfish, oysters, clams, lobsters. 17th-century Dutch painters couldn't make up a more lavish display. Vinho verde – a refreshing white – or espumante – Portuguese sparkling wine – will not make you too drowsy, or conceal the sweet tastes of the sea. This feast might set you back a little, but it won't weigh you down. That's good, because we're off to Belém next.
A Three Day Itinerary of Lisbon, Day 2 – Belém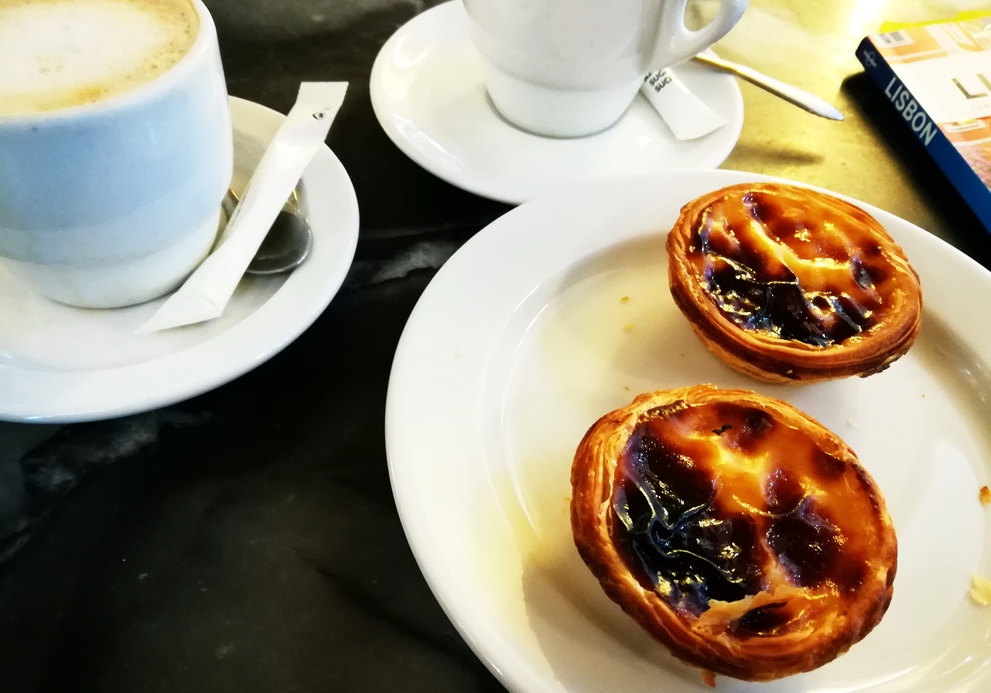 Hugging the banks of the Tagus to the west is the district of Belém. It's best known for its tower of the same name. But this is also the district for its fine museums, a botanical Garden, and a famous monastery. It's an essential destination for a fulfilling three days in Lisbon.
The Torre de Belém – Tower of Belém
This majestic fairy tale of a tower has guarded the entrance to Lisbon since the 1519. The Tower of Belém – or Torre de São Vicente (Tower of St. Vincent) served as a ceremonial gateway. It was from here that the explorers embarked on their great journeys, and here that they triumphantly disembarked on return. As such, it's a powerful symbol of Europe's Age of Discoveries, and among Europe's most significant historical sites. A mosaic, roughly across from the Gulbenkian Planetarium, shows the vast reach of Portuguese explorers at the height of Portugal's power.
The fanciful architectural style of the tower – Portuguese late-Gothic – is often called Manueline. This is because it is named for King Manuel I, whose reign of 1495-1521 coincided with the style.
The Mosteiro dos Jerónimos – The Jerónimos Monastery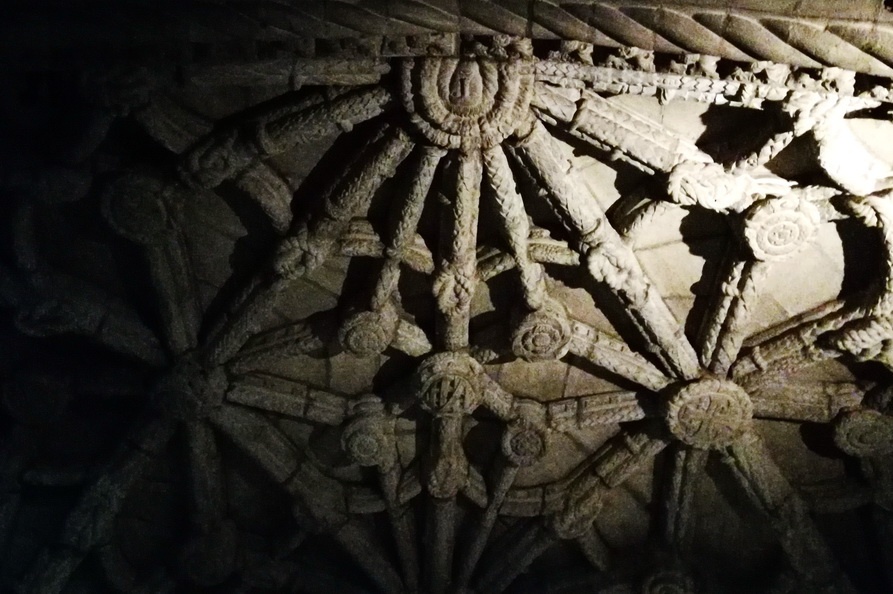 Also in the Manueline style, this grand monastery took a century to construct, beginning in 1501. Money was no object, because Portugal was in the process of amassing great wealth through exploration. The source of funding was a 5% tax on commerce from Africa and the Far East. The Hieronymite monks – or monks from the Order of Jermone – prayed both for the King's immortal soul, and for the great navigators and sailors who set off on expeditions from the nearby port of Restelo. The ornate decoration fancifully incorporates many maritime motifs, true to both its purpose and the source of wealth that built it.
Pastéis de Belém

Before you leave Belém, you'll want to have yet another Pastel de Nata. Those fabulous pastries were invented in Belém, by the monks of the Jerónimos Monastery. During the Liberal Revolution of 1820, convent and monasteries were closed. Because of this, the monks and nuns needed a means to survive. The monks established a sugar cane refinery and began to sell these pasties. Belém, on account of the beautiful monastery and the tower, was a destination for people from Lisbon. The pastries of the monks quickly became popular. Pastéis de Belém opened in 1837, using the authentic recipe of the monks. Master confectioners here have preserved the tradition and the original recipe to the present.
Enjoying a Pastél de Belém at this charming old-world shop is to enjoy the pastry at its source.
Pastéis de Belém, Rua de Belém nº 84 to 92
The Museums of Belém
Depending on your schedule, you can slip into one of Belém's fine museums. The futuristic building of the MAAT announces its identity. This is the Museum of Art, Architecture, and Technology. The Berardo Collection focuses on modern and contemporary art. The Calouste Gulbenkian Planetarium is also here. If you're looking for something fanciful and not at all modern, you can try the National Coach Museum. It houses one of the world's largest collections of horse-drawn coaches. There are some extremely elaborate examples of the craft, the vehicles of famous monarchs.
A Three-Day Itinerary of Lisbon, Day 2 – Evening – Dinner and Drinks in the Cais do Sodre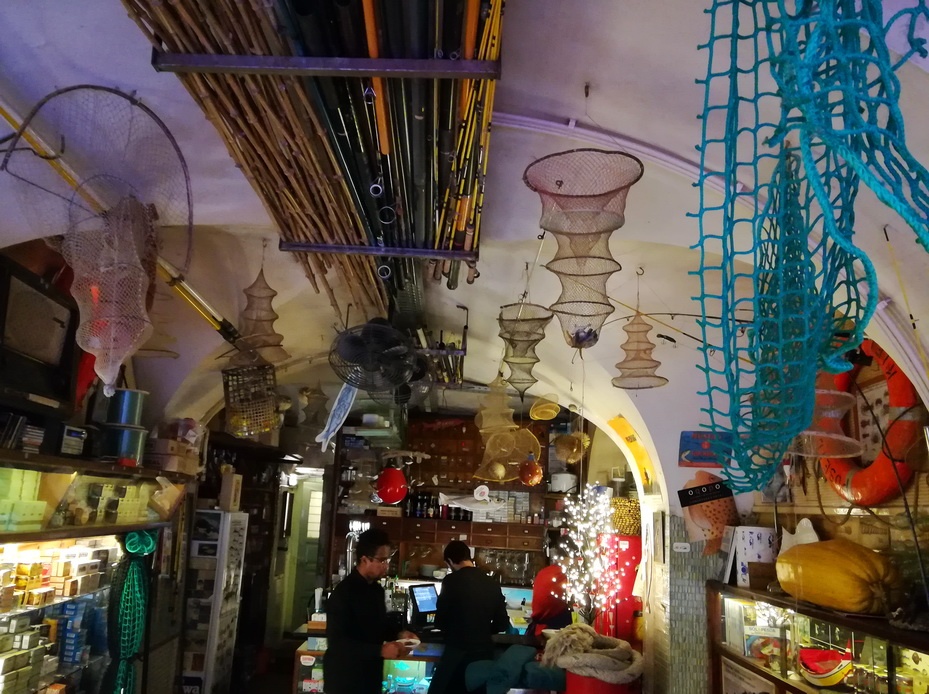 After a short rest, we can go back to one of the liveliest parts of town, the Cais do Sodre, near the Time Out Market. "Cais" means pier. Just like in many of the world's more interesting cities, this waterfront district was once one of the rougher parts of town, and it's now one of the most fashionable. The Cais do Sodre retains plenty of character – although some some may say grittiness. But not us – two of our very favorite spots that we discovered on our three days in Lisbon were in the Cais do Sodre.
Dinner at Sol e Pesca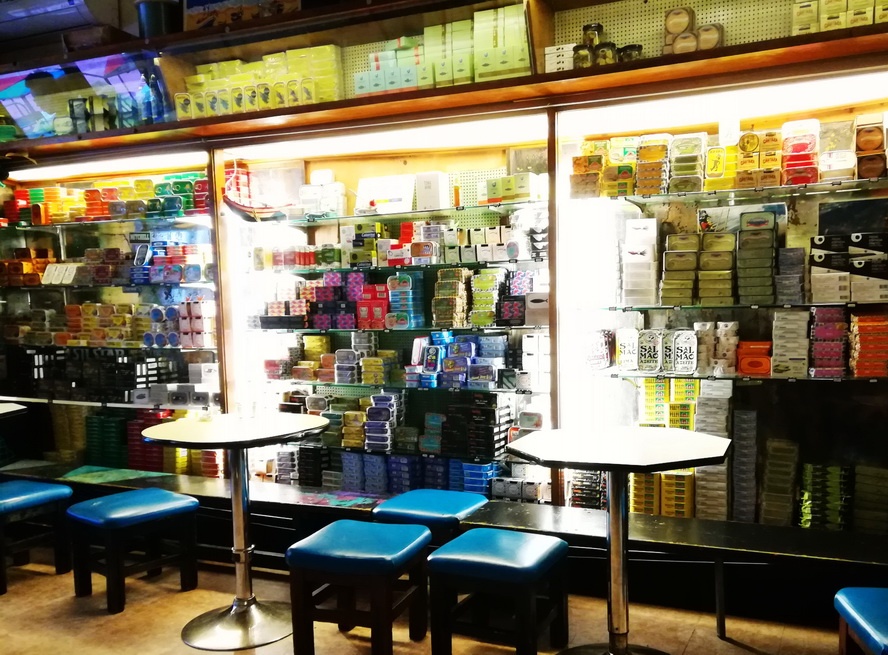 Sol e Pesca is a delight. There's no place that captures the authentic character of the Cais do Sodre better, because Sol e Pesca has changed almost not at all. This former bait and tackle shop has become a restaurant with the absolute minimum intervention. This is not a theme restaurant, or some tongue in cheek clever and ironic statement. Its stylish original sign sets the tone. The owners just left everything in the cozy space exactly as it was, nets and floats and all. Except that they added a few low tables. And they stacked the glass display cases that once held tackle with an assortment of canned fish.
That's what you'll be eating – the best selection of canned fish that Portugal has to offer. If you haven't heard, Portugal is famous for impeccable canned fish in stunning variety. You can look at the menu, or just look at the display cases and ask for your selection. There are a few salads and accompaniments. We had a fava bean salad along with our mackerel canned in a light curry sauce. The bread was delicious. We also had a small carafe of aerated white wine, which we drank from low tumblers. After that we had another, and another tin. The music is great, low enough for conversation.
Sol e Pesca is on Rua Nova do Carvalho, popularly called "Pink Street" – for obvious reasons. Just look for the sign.
An After Dinner Drink at Pensão Amor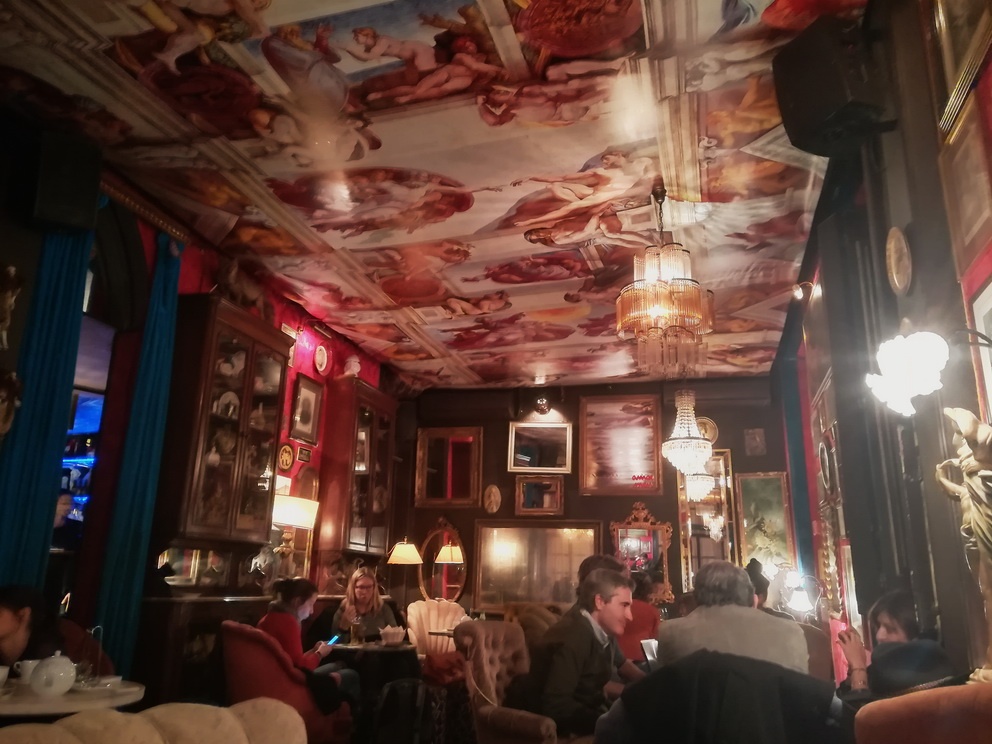 The Hostel of Love is another place that plays to its theme, with just as much authenticity and a little more humor. At this cozy and sex-positive bar and lounge, you can settle into a slightly shabby velvet couch and sip a pisco sour beneath the ceiling of the Sistine chapel. This former Pension/brothel has many rooms. After your drink you can wander and explore, enjoy the burlesque murals and cheerful phallus displays. The experience is somehow not tacky. Instead, it's more playful, with fantastic service and music, and delicious drinks.
Three Days in Lisbon, Day 3 – The Tram 28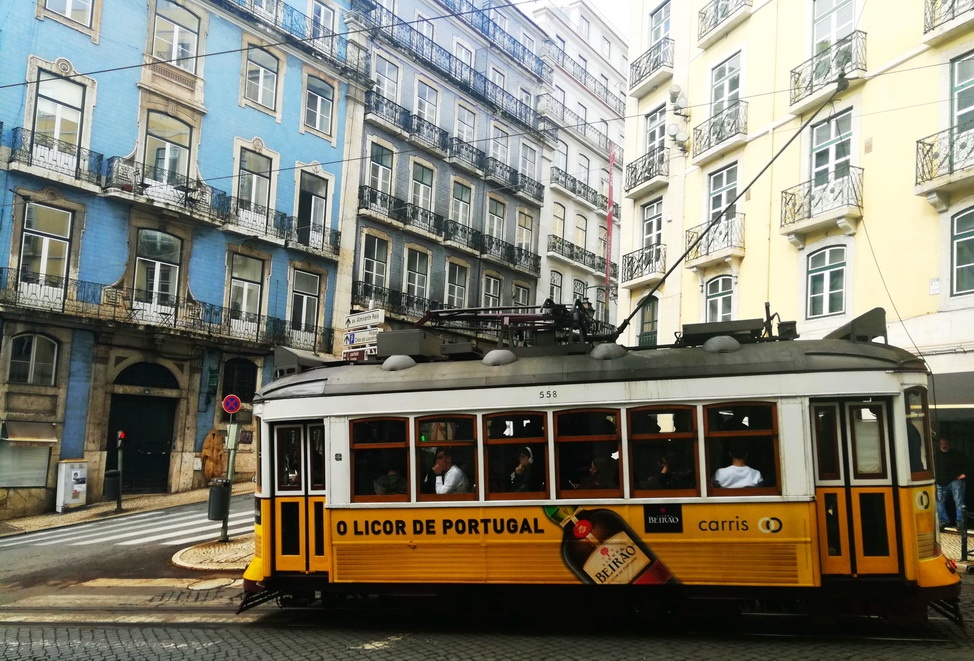 Yes – it's super popular with tourists, and there's a line. But you'll regret not doing it. It's an essential experience on a three day itinerary of Lisbon. Moreover, it takes you to some prime destinations. The famous Tram 28 really does exist though to take locals through Graca, Alfama, Baixa, and Estrella. This long route goes through some of Lisbon's most interesting neighborhoods. Because we skipped breakfast and got there quite early, we were the only non-locals on a not very crowded tram. We could even look out the windows as we rode.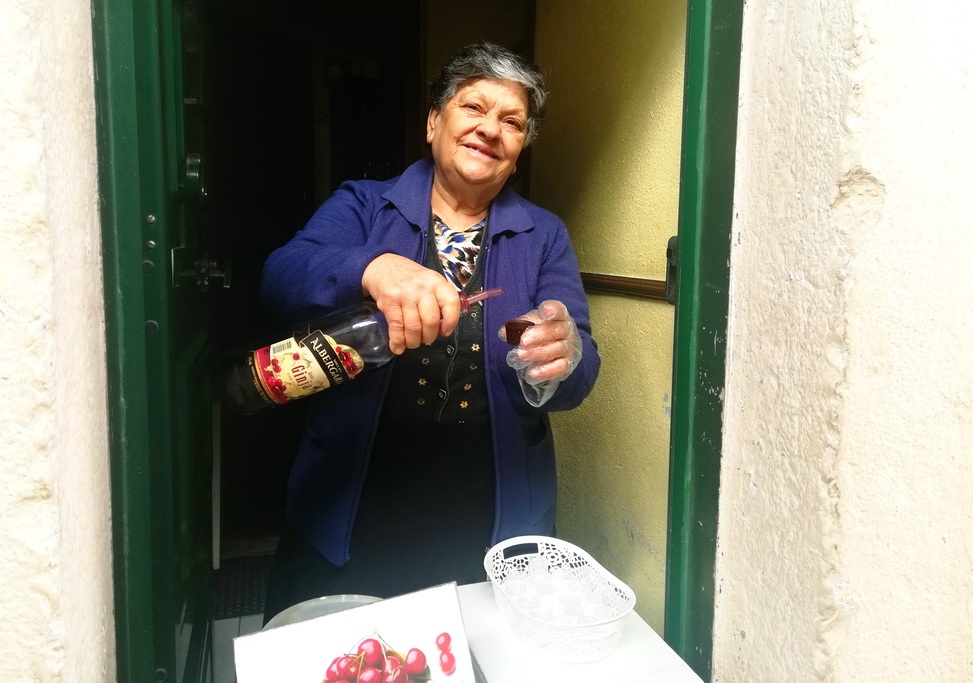 We boarded at the square Martim Moniz, rode up through Alfama, and then descended at a high point to wander downhill through Alfama. This is Lisbon's famous delightful hilltop neighborhood of tiled buildings, delicious food, Fado, and grandmothers selling shots of Ginjinha out of doorways.
The classic yellow trams themselves are things of beauty. They are called "Remodelado" because they were renovated with new brakes and electric systems in the 1990s. But their original wooden interiors are just as they always were. Getting around on these stylish remodelados helped us make the most of out three day itinerary of Lisbon.
Three Days in Lisbon, Day 3: Browsing and Shopping
I hate wasting time shopping when I travel. But I love buying food and browsing in old bookstores, and looking at antiques. On a three day itinerary of Lisbon, there's definitely time for a little hunting for souvenirs – edible, antique, or both. Our shopping expedition brings us through charming Chiado and Baixa.
Conserveira de Lisboa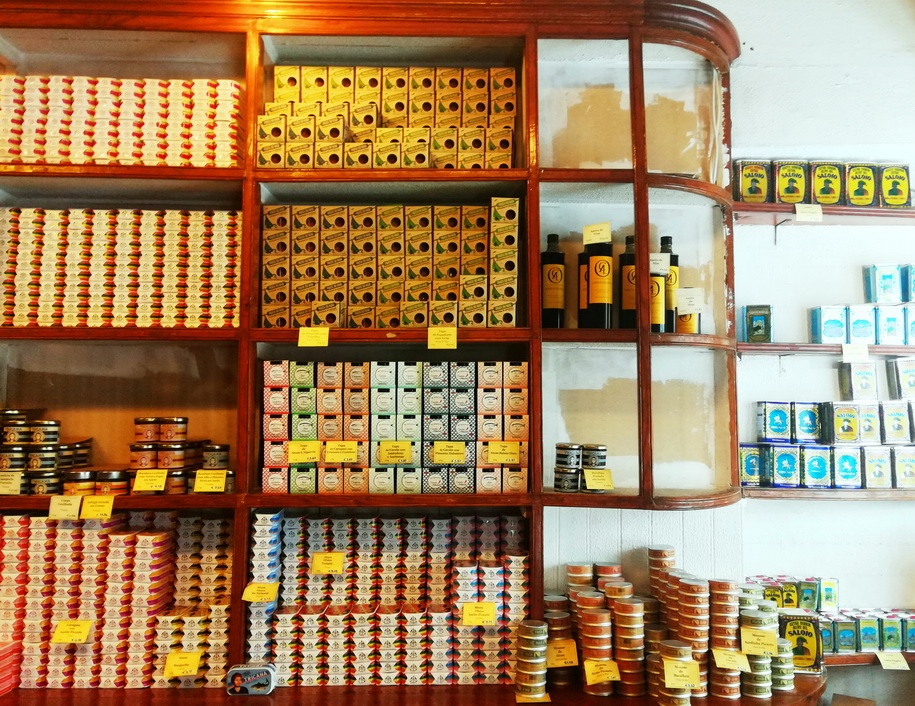 After that meal at Sol e Pesca, you might want to stock up on canned fish. Lisbon is full of trendy, high-design canned fish boutiques with outrageous prices. Therefore, a much better and more authentic option is to join the matrons at the Conserveira de Lisboa. This is an enchanting small shop with wooden shelves behind the counter. There is one of each tin displayed on the counter. You point and ask. Soon you have a tidy bundle, which they will wrap in brown paper and tie up in twine. Warm service, delicious goods, and supermarket prices.
Conserveira da Lisboa, Rua dos Bacalhoeiros, 34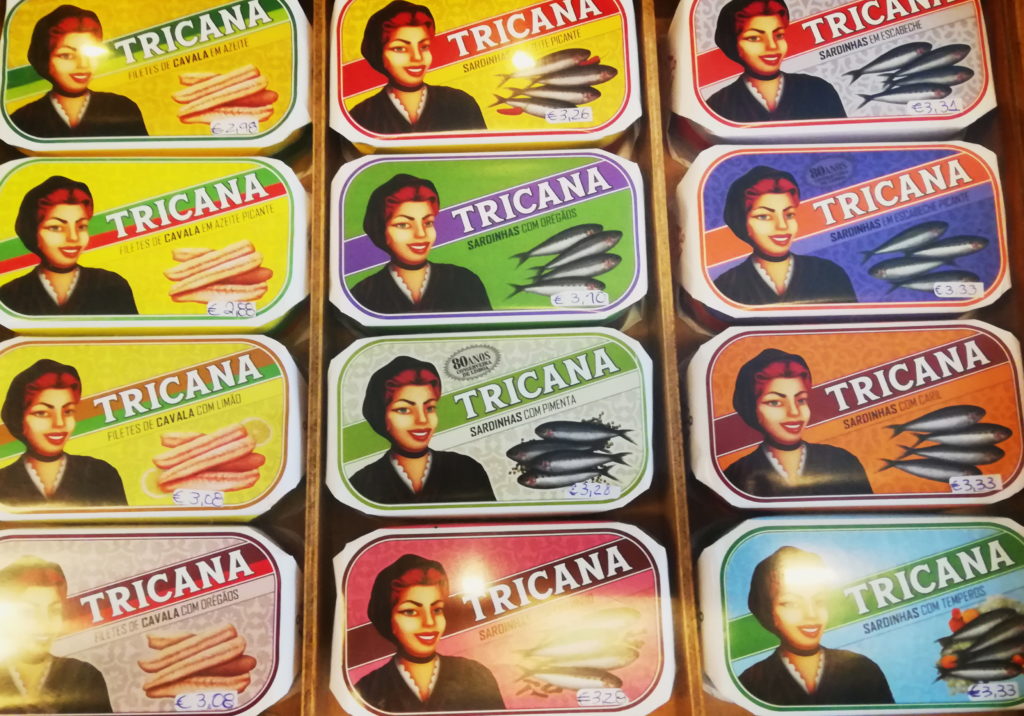 The Bookstores of Chiado
In Chaido, you'll find the world's oldest bookstore, Livraria Bertrand. It's been open since 1732. But once you're inside, Livraria Bertrand doesn't look so old. Even more importantly for bibliophiles, it doesn't smell old, either. For more serious old book browsing with that great old book scent, plus maps and charts and other wantable curiosities, we loved Livraria Sa' da Costa, across the street.
Livraria Sa' da Costa – Rua Garrett, 100-102
Antique Azulejos at D'Orey Azulejos
Not a five-minute walk from livraria Sa' da Costa is a unique and fabulous antique store. D'Orey has a beautiful selection of antique tiles. These even include entire pictorial scenes, such as we saw in the Museu Nacional do Azulejo. Some are designed for walls, others to ascend grand staircases. There are also smaller decorative panels. Additionally, they have related objects including decorative plates, busts, statues, and smaller decorative objects, as well as furnishings. It's like a museum where you can buy things.
A Three-Day Itinerary of Lisbon, Day 3 – A Fun Farewell Dinner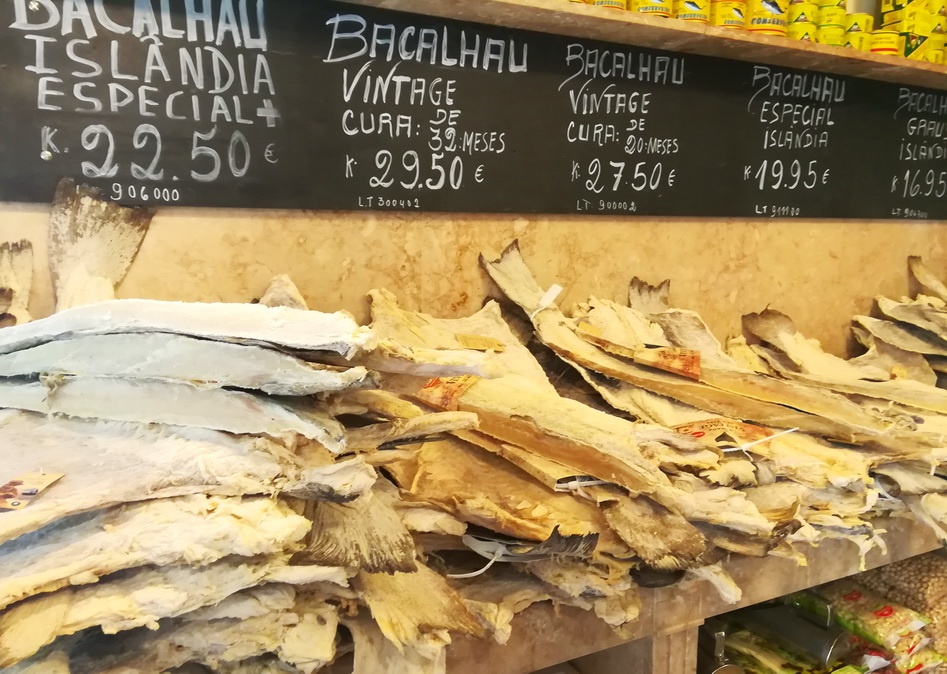 We still haven't had two classic tastes of Lisbon – a shot of the famous cherry liqueur Ginjhina, and a meal of salt cod. This is a perfect way to end our trip
A Ginjinha Espinheira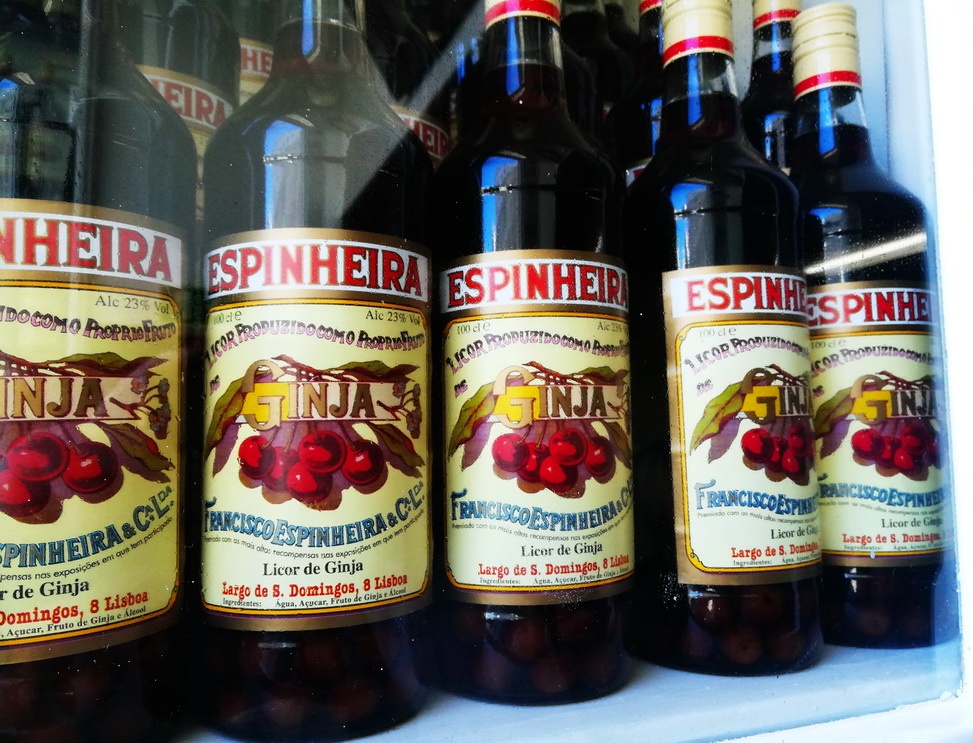 There are a few small traditional places around Rossio square selling shots of Ginjinha. Best known among them is A Ginjinha Espinheira. It opened in 1840, and not much has changed since then, including the family who owns it. This tiny and exquisite shop has just one thing – Ginjinha – a liqueur made of sour Morello cherries (the 'ginja'). When you walk in to this tiny, sweet and boozy-smelling shop – the floor sticky with liqueur – you'll notice a small sink to your right. Order a shot – with our without a cherries. The cherries are 20 cents extra and because they're delightfully bitter you may want them. You get a short shot that's overflowing, and then drink it right at the bar or standing outside. This is an everyday kind of treat for locals, and a pleasant custom. Your hands will definitely be sticky – that's what the sink is for.
A Ginjinha Espinheira, Largo São Domingos 8
Dining on Bacalhau – Salt Cod
Although Lisbon has an overwhelming selection of glistening fresh Atlantic sea foods, a traditional Lisbon favorite remains salt cod. Salt cod finds glorious expression in prepared in a host of home style dishes. We had it more than once in our three days in Lisbon.
Don't pass up simple steamed salt cod, because they have such good quality bacalhau that it shines on its own. But we also enjoyed two of the many preparations. Pastéis de Bacalhau are crisp fried croquettes of cod – a popular bar snack or appetizer. The sumptuous main dish Bacalhau à Brás features cod blended with crisp fried matchstick potatoes and onions and bound with silky, just barley set egg. We enjoyed Bacalhau à Brás at the Time Out Market, and at Faz Frio – a restaurant tip we got from 2foodtrippers.
This is such a staple of Portuguese cuisine that there is a great variety of grades of salt cod. even at the cheapest places, we found that even the simple steamed salt cod was a better quality of raw material than we are used to. We saw stacks of butterflied whole cod displayed and celebrated all over.
A Three Day Itinerary of Lisbon, Day 4 – Snack on the way to the Airport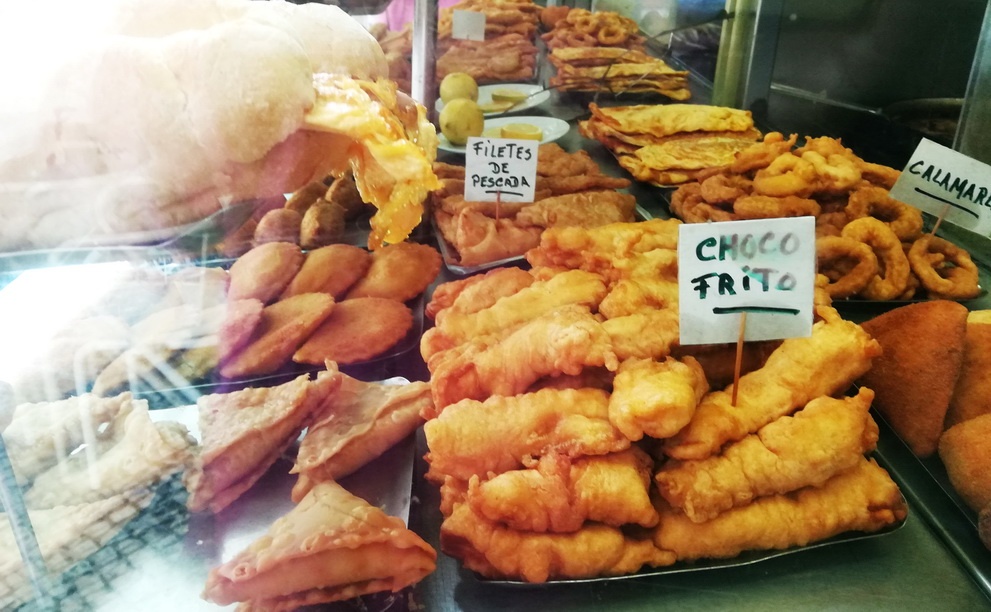 If you're lucky, you're flight leaves late. And there is no city I have ever visited anywhere that has an easier airport connection than Lisbon. So you can make the most of your morning. Maybe in your three days in Lisbon you didn't manage to try a petisco – such as a Pastel de Bacalhau. These are snacks with to have with a beer or wine. They're available any hour at casual neighborhood snack bars. This is also the place to try a bifnana – delicate thin slices of seasoned pork, saucy and sauteed and piled into a crusty roll.
Or maybe you can stop in at the Confeiteria Nacional one more time, for a sponge cake roll; its silky filling is rich with egg yolk.
We got up early and did both.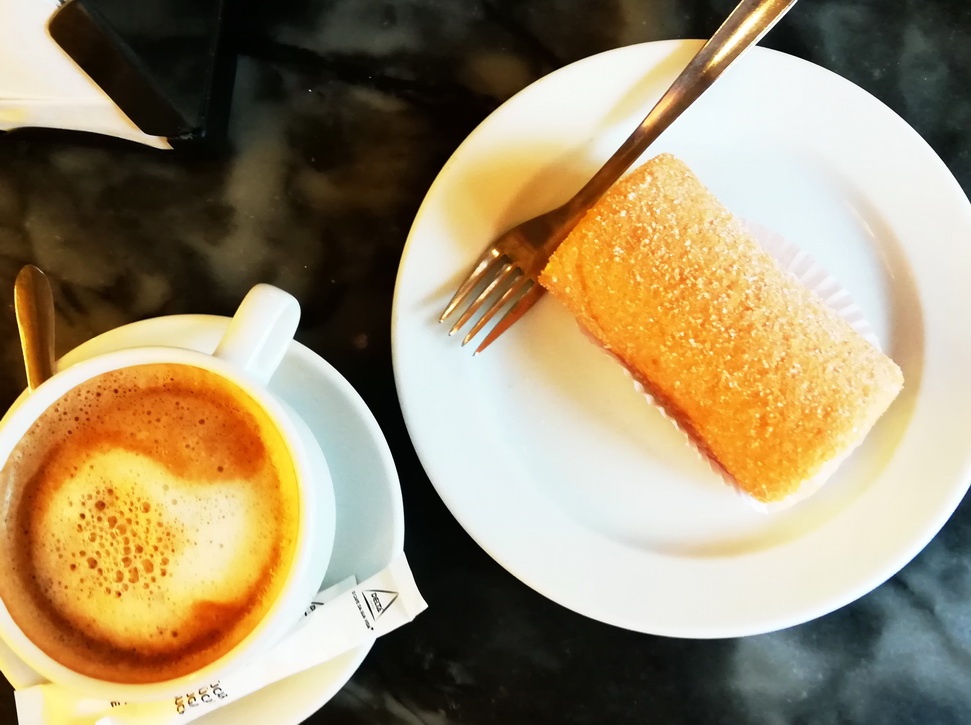 Three Days in Lisbon
This is one of the greatest European city break destinations I have visited in years. Lisbon is perfect for culture, dining and drinking, browsing in old bookshops. It's a lively, warm city and extremely relaxed. Moreover, Lisbon offers everything great about the southern European experience, with none of the stress. It has a strong character that shines through whatever you happen to be doing at any moment, whether you're having a ginja standing up in the street in the afternoon sun, taking in the sights, or just rambling through the hilly streets and their gorgeously tiled facades. Three days in Lisbon was just enough time to see a couple the highlights. Best of all, we got a good feel for the relaxed pace of life, and sampled many of the city's small pleasures. I can't wait to get back, and hope you have a wonderful time.