Mykonos is a unique place, an island of fascinating contrasts. This is an island where you can dine on exquisite gourmet dishes while you're barefoot and wearing nothing but a bathing suit and a pareo. You can shop at designer boutiques at midnight, and the supermarket has both laundry detergent and cases of Dom Perignon and Veuve Cliquot.
Mykonos is the name on famous lips when they let something slip about their summer plans, and it is one of the top places to visit, especially for your first time in Greece. Mykonos is one of a small handful of elite, premier cosmopolitan destinations for beach life worldwide. It offers the best of everything, in every category: beaches, dining, clubbing, nightlife, and the ultimate in luxury shopping. There is even some gallery-hopping. This island deserves the hype – you won't be disappointed.
It's also a simple, classic Cycladic island of fisherman and herders. There's a stream of the latest world-famous DJ's all throughout the season. And then, there are also nights of traditional folk dancing to the music of the bagpipe of Mykonos. This is what makes Mykonos special – it's authentically beautiful and real.
This Cycladic wonder offers endless possibilities. Mykonos can deliver whatever type of island experience you are looking for – clubbing and socializing in some of the world's most beautiful settings, or, especially at the season's edges, simply the most romantic and luxurious destination you can imagine – ideal for a honeymoon in Greece.
A Mykonos vacation package can help you make the most of what Mykonos has to offer you, whatever your travel style. Here are some of the best things to do on Mykonos:
1. Discover the Best Beaches on Mykonos
Of course, everything centers around the beaches, and Mykonos has some of Greece's finest. Whatever type of beach you enjoy – whether organized and fully serviced or wild, whether calm or windy for watersports, Mykonos will have it.
Best Beaches for a Cosmopolitan Experience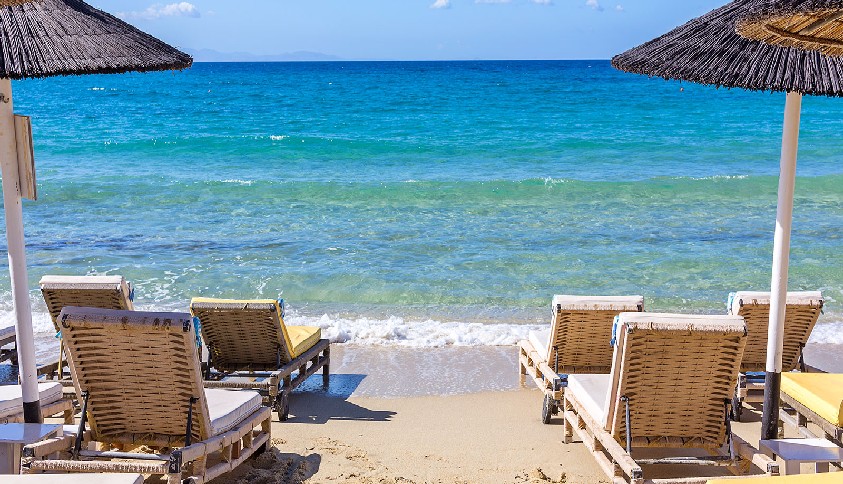 The definitive Mykonos experience combines sand and surf with sophistication – or, in some cases, it combines sand and surf with excellent cocktails, DJs, and a little hedonistic abandon. Here are the best places to have a delightful and deluxe beach experience, Mykonos-style.
Paradise and Super Paradise are likely Mykonos' most famous beaches on account of the name. The name may not be subtle, but perhaps it's honest, if your idea of Paradise involves beautiful scenery, beautiful people, and excellent cocktails. Paradise Beach is a great party beach, great for socializing. It's convivially crowded, a little loud, and the drinks are flowing. Super Paradise Beach is like Paradise, perfected. Smaller, and slightly more refined, Super Paradise has been called the "Party that Never Ends." In the spirit of embracing the full Mediterranean experience, there may be some nudism.
My personal favorite, the long sandy Elia Beach in its own cove offers just the right mix of natural beauty and sophisticated style. The restaurant, where you'll dine in the shade with your toes in the sand, has wonderful seafood and salads served with style. There's also beachside service. Paraga is ultra-glamorous and great for people watching. This is where you'll want to be looking your Mykonos best – without trying too hard of course. This is a gorgeous beach with excellent waters and excellent services from morning coffee to evening cocktails and excellent dining. Psarou is also one of the premier luxury beaches for socializing and all around glamour.
Best Beaches for Watersports
Some of the beaches are kissed with bracing winds. They keep the larger crowds away, and make windsurfing on Mykonos a pleasure.
Megali Ammos means "Great Sand". Even though it's within walking distance of Mykonos Town, you probably won't find it crowded because of the high winds. This, of course, is what makes it perfect for the windsurfing. Another popular beach for windsurfing is Ftelia. This fully serviced beach that also has a social side later in the evening. Kalo Livadi is a large, family friendly beach is fully serviced and also has water sports facilities. Also family-friendly and popular with windsurfers, Kalafati Beach is next to a charming old fishing village. It has a pleasant local character.
The Best Wild Beaches of Mykonos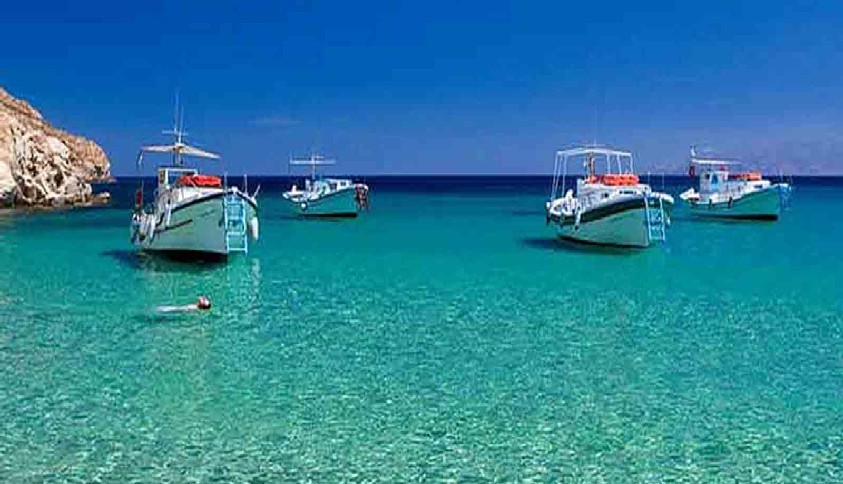 Underneath all the glamour and glitz, Mykonos has the elemental, raw beauty of the Cycladic Islands. Pack up your umbrella and towels, a bottle of sunscreen and some chilled bottles of water and a little bread, loutso and Kopanisti (a local cured pork and zesty cheese, respectively) and enjoy these wilder beaches.
Unspoiled Fokos Beach, wild and somewhat remote, inspires a more profound connection with nature, which explains the occasional nudity. Secluded Kapari Beach and its wonderful waters also inspires some nudism. It's a little difficult to access – part of its charm. Chouklia means pebbles – this pristine, pure white pebble beach is remote, unspoiled, and uncrowded – perfect for a serene experience of Mykonos' natural beauty.
2. Find your Favorite – Mykonos' Best Clubs
Best Beach Clubs on Mykonos
Clubs and Beaches in Mykonos are sometimes synonymous. But there are also plenty of clubs in the Chora. These tips are of the moment- part of the fun is tuning in to the vibe of the island and finding the club of the moment. Jackie O' beach club that overlooks Super Paradise is perfect for lounging by day. There are also special events like theme parties and guest DJs. One of Mykonos' most legendary clubs, Cavo Paradiso, has an outdoor dance floor that's full until dawn. Many people head here after things in Mykonos Town start to slow down. Paradise Beach Club – also, logically, on Paradise Beach – books the most prestigious international DJs, like Tiesto and Ministry of Sound. Busy after midnight, and by day enjoy the club's own beach. Super Paradise Beach Club does a good job of delivering the classic Mykonos beach experience: DJ sets each night, a beautiful crowd with some celebrities, a perfect beach, and cocktails flowing. Pasaji, at Ornos Beach, offers a more relaxed version of the Beach Club experience. Fantastic swimming and beach lounging, then great food and drinks in a sophisticated, friendly atmosphere.
Clubs in Mykonos Town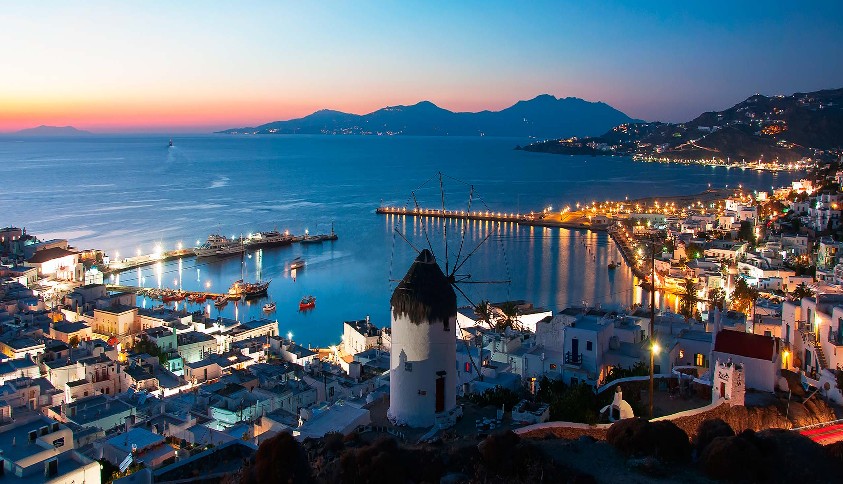 The streets of Mykonos town pulse with excitement after sundown. Just taking in the nighttime mood with cocktails followed by some after hour's designer shopping is a quintessential Mykonos experience. Later on, you can join the part and one of these popular clubs, or check out the season's new arrivals. Along Mykonos' enchanting alleyways and plateias, you'l find the right club for every style.
That after-hours designer shopping will come in handy if you want to get into Astra, one of the town's most exclusive and glamorous clubs. Kastro, a bar in Little Venice is the gold standard for the original Mykonos experience. It's unpretentious, relaxed, and the views are stellar. There's also Mykonos Town location for Jackie O'. The famous club features drag shows and lots of over the top fun. This is also a good place to start your evening, with a cocktail while enjoying the sunset views.
3. Sample the Best Restaurants on Mykonos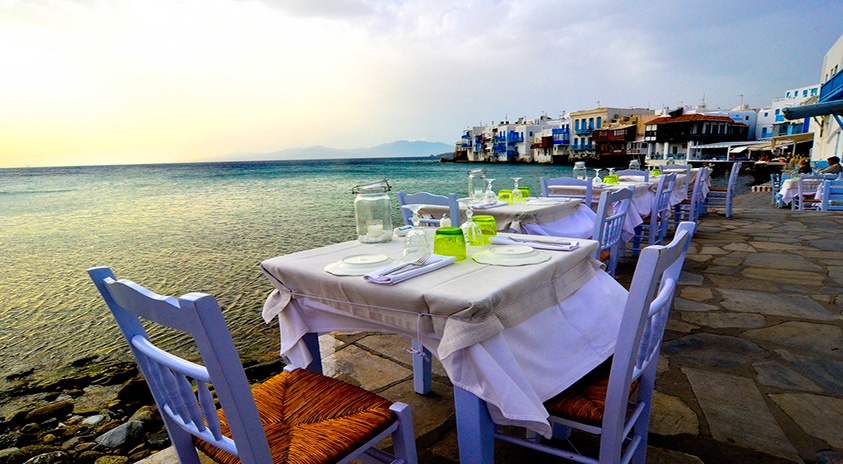 This is an island where you can see world class famous chefs hanging out with the fisherman at dawn, getting their pick of the catch. There is serious, high-end dining on Mykonos, and also plenty of authentic local dining experiences. Here is a small handful of the many choices.
Funky Kitchen, like the name suggests, is an ideal place to enjoy inventive Mediterranean dishes based on prime local ingredients and French techniques. At Elia, a chic restaurant in the sand, you can enjoy elegant grilled fresh seafood and delicious seafood pastas, all steps from the surf of Elia Beach, making it ideal for an après-swim lunch. Bill and Coo, of the Suites and Lounge of the same name, is an award-winning gourmet restaurant, offering one of the island's best fine dining experiences. Inventive, delightful platings make for a memorable experience. On Ornos bay, you'll find a branch of the internationally phenomenon the Buddha Bar. In an exotic setting on the beach in the Santa Marina resort, you'll dine on exquisite Asian cuisine, including impeccable sushi. For a more low-key and local experience with decades of tradition behind it, you'll want to try Nikolas Taverna. Away from the action of the main beaches and Mykonos town, you reach this charming beach taverna by walking along a path from Platys Gialos. For three generations, this family-owned restaurant has been serving the best in authentic local cuisine, featuring fresh-caught fish and locally-sourced meats.
The Best Cultural Destinations on Mykonos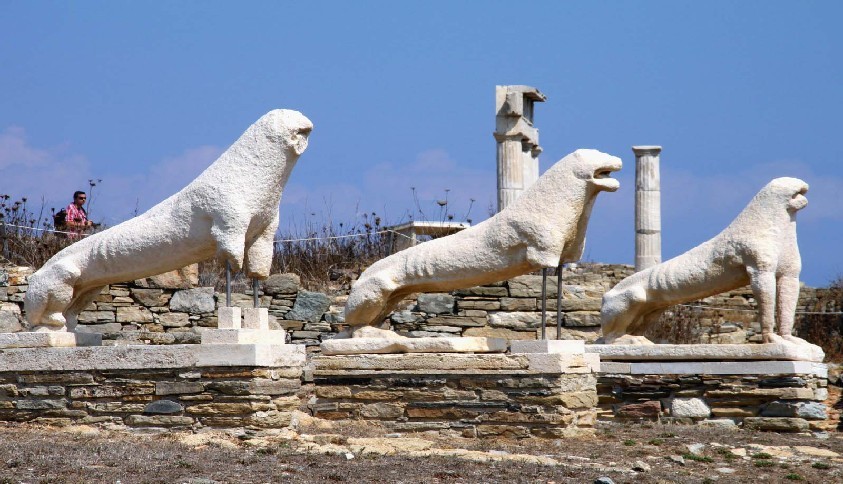 Fascinatingly, this international destination for a contemporary, cosmopolitan experience – in other words, one of the most famous party islands of the world – is the gateway for one of the most sacred sites of ancient Greece. Truly, Mykonos is an island of extraordinary contrasts.
Boats leave daily for Delos, a tiny island that's one of the most significant archaeological sites in all of Greece. The mythological birthplace of Apollo and Artemis, Delos was a sacred sanctuary. Peoples from all over built temples and elaborate buildings. After the Persian wars, this became the treasury of the Delian league, bringing even more wealth. Wandering through this vast archaeological paradise, you'll see some famously familiar images, such as the lions of the Lions' Terrace, and the enormous hand from the colossal Apollo that once was here. Mosaics in situ, the statues of the house of Cleopatra, and the much-intact Sacred Way all evoke ancient splendor. On site you'll find the Archaeological Museum of Delos (the hand is in here)
The Archaeological Museum of Mykonos is rich in findings from the nearby island of Rheneia and some from Mykonos, from the pre-historic through Hellenistic periods. Pottery, statuary, figurines, grave stelle, and jewelry are on exhibition. At the Maritime Museum, which is in an elegant 19th-century island home, you can learn about Mykonos' seafaring soul, through nautical objects from the ancient times through the present. Traditional Mykonos thrives amid the contemporary high life swirling around it – the island has a strong and proud culture. Learn about it at Lena's House, a preserved classic Mykonian house of the 19th century. This is an annex of the Mykonos Folklore Museum. Windmills are such a strong symbol of Mykonos. One of them, the Boni windmill, also serves as an outdoor Museum of Agriculture, displaying a wine press, a water-wheel, a dovecote, and a traditional village-style oven, among other artifacts. It's a beautiful place to visit.