What makes Greece a honeymoon destination like no other? There are few places on the planet that have the romance of Greece – the waves splashing against the walls in Mykonos' charming Little Venice, the Parthenon's golden glow on a balmy Athenian evening, and – perhaps above all – the view of the sunset over the caldera of Santorini.
But in Greece – as, ideally, in love – it's about much more than the beauty. It's character and soul that make Greece such a compelling honeymoon destination. Greece's eternal quality gives it a special kind of romance.
Greece is not a one-size-fits-all honeymoon factory – this beautiful country has a culture and history created over millennia. This ensures that your experience will be authentic and unique. It will be your out-of-the-way taverna under the bougainvillea with the grilled fresh-caught fish, your secret beach, your moonlit stroll along the harbor – in short, your memories.
With experienced planning, your honeymoon in Greece can unfold exactly as you wish. You can see all the places you've dreamed of, without concerning yourself with any of the (less romantic) details, like airport transfers and ferry tickets. You can spend your days and nights exploring, discovering the country, and doing nothing at all – something else that Greece is ideal for.
Honeymoon in Greece – Athens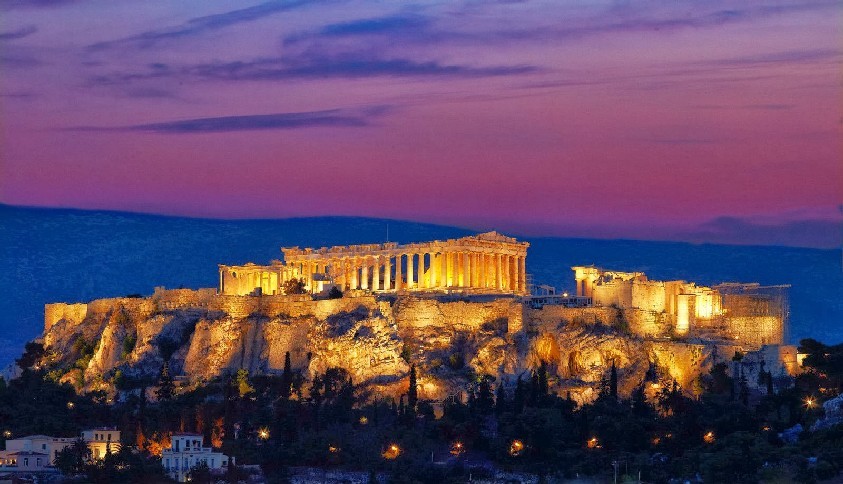 Athens is a magical place to begin your honeymoon in Greece. It's not just the practicality. Athens is, by any measure, one of Europe's most romantic capitals. Your first glimpse of the Parthenon by night is thrilling. Take in the major sites and world-class museums, or just get lost wandering through the charming lanes of Plaka, looking for the perfect candlelit taverna.
Honeymoon in Greece – Exploring Greece's Natural Beauty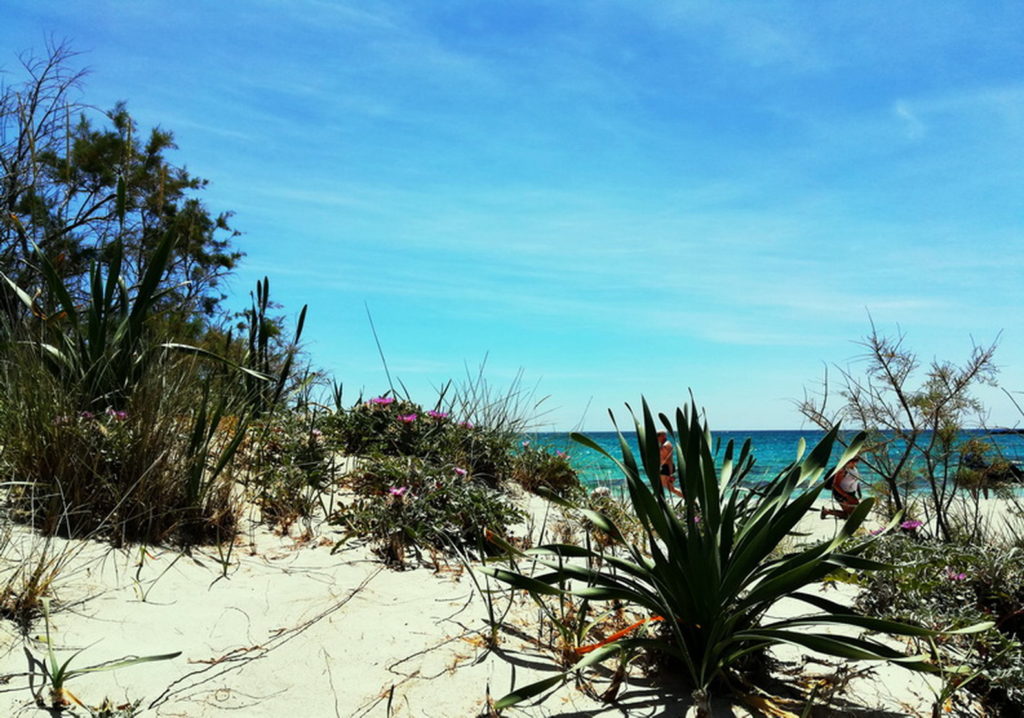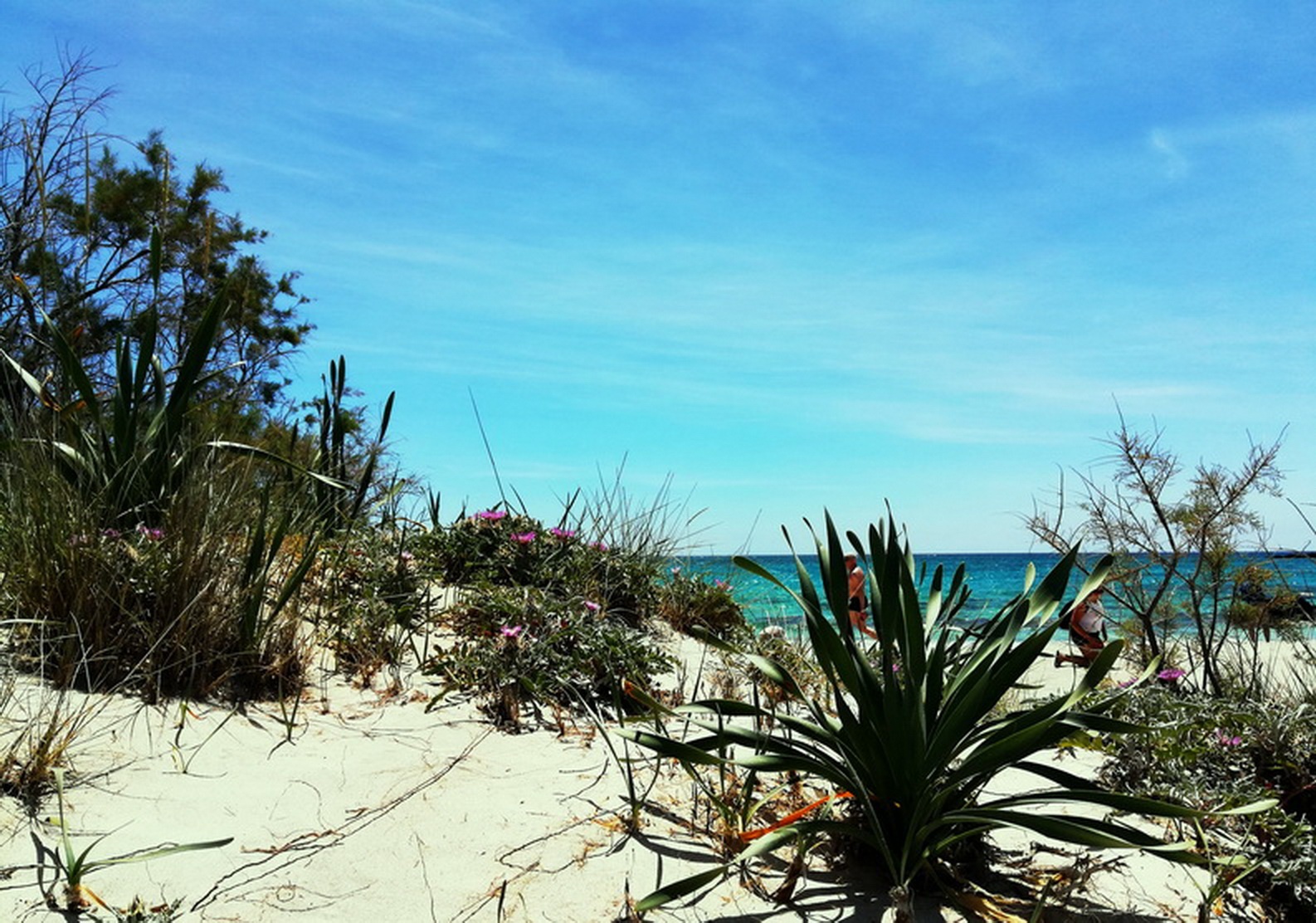 Of course, Greece's fabled beauty is one of the main draws of the country. There are so many idyllic Greek settings, each with its special character, that they are actually world destinations in themselves, as recognizable and breathtaking as one's first view of the Eiffel Tower – or, better still – the glorious Parthenon. Of course, Greece is filled with more memorably beautiful sights than you can count. Your Greek honeymoon with definitely have a cinematic backdrop wherever you go. But a few sights really do stand out, like the caldera of Santorni, uniquely lovely in all the world, or pink sandy paradise of a beach and the crystal lagoon of Elafonissi, in Crete.
Honeymoon Destination Islands
Greece has well over 200 inhabited islands. Honestly, it's hard to go wrong. But it's very easy to go spectacularly right. A few of the Greek Islands are particularly famous for a reason – they deliver a travel experience so ideal they approach fantasy.
Related Post: A Vacation in the Greek Islands – Best Greek Islands to Visit
Crete for a Honeymoon in Greece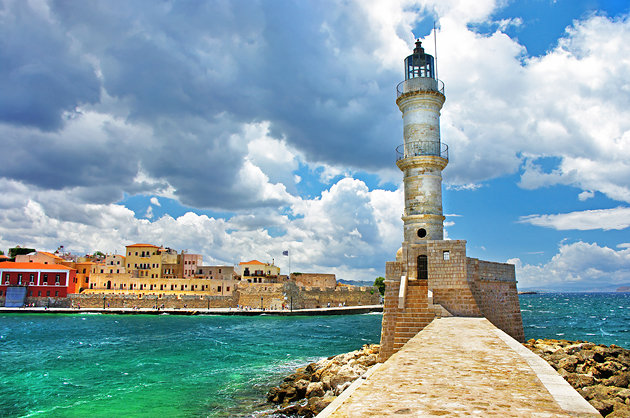 Of all the Greek Islands, Crete has the most individualistic personality. It has its own fantastic cuisine, a rugged and uncompromising terrain, inhabitants of warmth and courage, and some of Greece's most stirring and exciting music (no one plays lyre like the Cretans). Moreover, it has a unique and fascinating ancient history.
Historic Crete
Crete was the home of the mysterious and advanced Bronze Age culture, the Minoans, a civilization who was thriving over a thousand years before the Parthenon was built. Knossos, the dramatic red and black palace so spectacularly restored by Sir Arthur Evans, is one the world's most engaging archaeological sites, full of mystery, secrets, and beauty. A honeymoon on Crete can include as much history and archaeology as you like.
Honeymoon on Crete – Gorgeous Beaches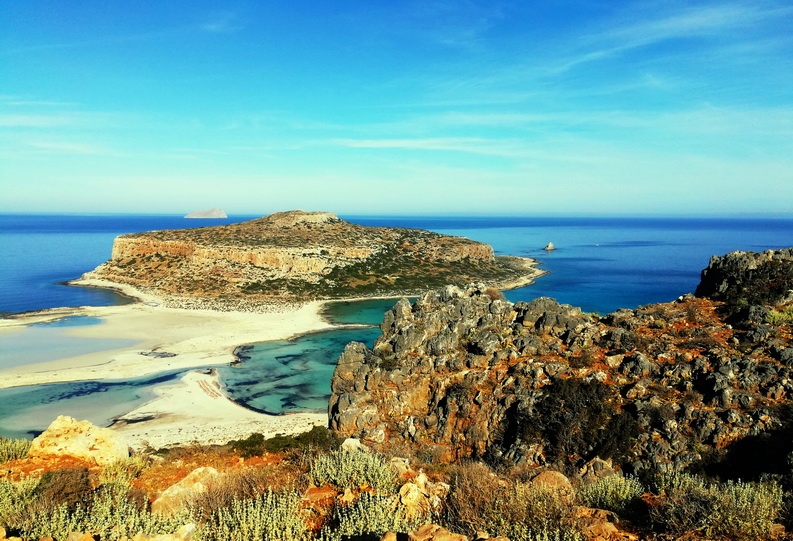 Crete also has several of the most famous beaches in all of Greece – and indeed the world. Balos – an island, lagoon, and stunning beach at the very tip of one of the norther peninsulas – was once a secret, known just to local fisherman and herders. You'll still share the hike down with goats, who love a climb. Or you can reach this hidden marvel by boat. There is also Elafonissi, of pink sands and wildflowers- in fact a protected natural habitat. Or visit the south coast for your choice of pristine beaches on the coast of the Libyan sea. The most famous one is Matala – a free-spirited paradise first popular in the 1960s and 70s (Joni Mitchell even sang about it). There is also Sougia, line with tamarisk trees, and countless hidden covesand beaches to discover. Vai, on the western edge of the island, is the largest natural palm forest in Europe, edging a dreamy, silky white and turquoise beach.
Adventure Honeymoon in Crete
Adeventure can be a wonderful part of a honeymoon in Greece, and Crete provides plenty of opportunity. The Samarian gorge is a famous and unforgettable hike that will take you to the shores of the Libyan sea on Crete's south coast. It's all downhill, and suitable for most. But the 17 kilometers of glorious scenery are a challenge. You'll love your dip in the cool waters of Agia Roumeli before a boat ride back to civilization (no roads reach this rugged corner of heaven), where you'll stop by dreamy Loutro, also reached only by boat or a hike.
Crete is also a paradise for cavers, with many many caves of both geological and historic fascination. Caving is thrilling, beautiful, and can be an exciting way to cool off.
Honeymoon on Crete – Romantic Cities
A honeymoon on Crete offers a romantic setting. The cities of Crete are full of Venetian beauty. Venice controlled Crete for centuries, resulting in the fairy-tale architecture you can see in Chania, Rethymnon, and Heraklion. Chania is one of Greece's most romantic cities, with winding narrow alleys lined with pastel traditional homes and sweet boughs of jasmine, seaside tavernas with blue and white checkered tablecloths, a Venetian fortress, and one of Greece's most idyllic harbors, marked by an Egyptian lighthouse.
Honeymoon in Greece – Mykonos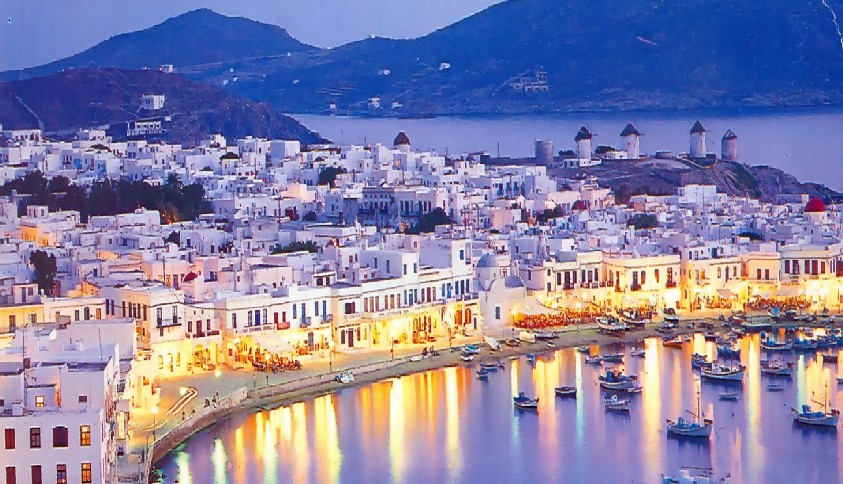 There's a reason Mykonos is so famous. All the hype is true, and in fact it doesn't even capture the island. A place of contrasts, this is both one of the most glamorous destinations anywhere, and the most authentic. It is teeming with paparazi and free-flowing magnums of Champagne in some corners, and goat herders and fishermen in their beautifully painted boats in others.
That's the secret to Mykonos' enduring charm. It's a place of true beauty that gets discovered over and over again, without ever getting spoiled.
Stroll through the alleys of the Chora, where you can either enjoy some of the world's most exclusive shopping late into the night, or just get a gelato and watch the crowds go by. This is one of the definitive Cycladic islands, with its pristine architecture of pure white, and bright trim in blues and reds.
By day, enjoy some of the world's most spectacular beaches in style. Many of the best beaches are fully-serviced. In Mykonos, this does not mean a nylon lounger and an iced coffee. You can have your own soft white bed, shielded from the sun by white curtains, waiter service bringing anything your heart desires. When it's time for lunch, the most convivial and elegant restaurants on the island have floors of sand and are shaded by reeds. Feast in your bathing suit – everyone else will be, too. You're also guaranteed the best honeymoon pics ever. It's just something about the island – the glamour of Mykonos is contagious.
Related Post: The Best Things to do in Mykonos
Delos
A short boat ride from Mykonos is the archaeological site of Delos, on its own island. Former sacred site and treasury, this magnificent archaeological site rewards exploration.The island has an almost mystical energy. Enjoy the sense of shared discovery on a morning excursion to this fascinating island, a world-famous destination.
Honeymoon on Paros
Paros is one of the Greek Islands on everyone's lips these days. Although nothing can replace the allure of Mykonos, Paros is quickly becoming the island of choice for those interesting in a buzzing social scene with a pristine Cycladic backdrop.
Discovering Parikia
The main town of many Greek islands is simply called the "Chora", or town – like Mykonos Town, for example. Paros is different. Here you have Parikia, one of the loveliest towns of the Cycladic Islands with a busy harbor. Parikia has both the classic whitewashed cycladic architect, plus the elegance of neoclassical mansions. A Venetian fortress – the Kastra – overlooks the town. Here you'll find the same sort of delightful winding alleys as in Mykonos Town. Even though Paros offers a refreshingly more low-key Cycladic experience, you'll find plenty of elegant and sophisticated dining options and chic bars for your first festive nights out as a newly-married couple.
An Active Honeymoon on Paros
Although they have the name Kalderimi elsewhere, the paths that connect the towns of Paros are "Strati." Many date from the Byzantine era, and they're an ideal way to discover the soul of the island. You can walk from the village of Lefkes to the Village of Prodromos for example, and cross over a Byzantine stone bridge en route. Another path, from Marpissa to the onastery of Agios Antonios, takes you by churches, 17th-century houses, and old windmills, and rewards you with magnificent vistas. The villages of Paros a delight. Discovering them is a great way to have a private and unique honeymoon experience, away from the crowds.
Are you perhaps equestrians? No matter if you are not – even beginners can enjoy exploring Naxos on horseback. There are two riding centers on the island, and trails that run along the beaches or inland.
You can also tour along the coast by kayak or canoe together, discovering your own secret coves along the way.
Honeymoon in Greece – Naxos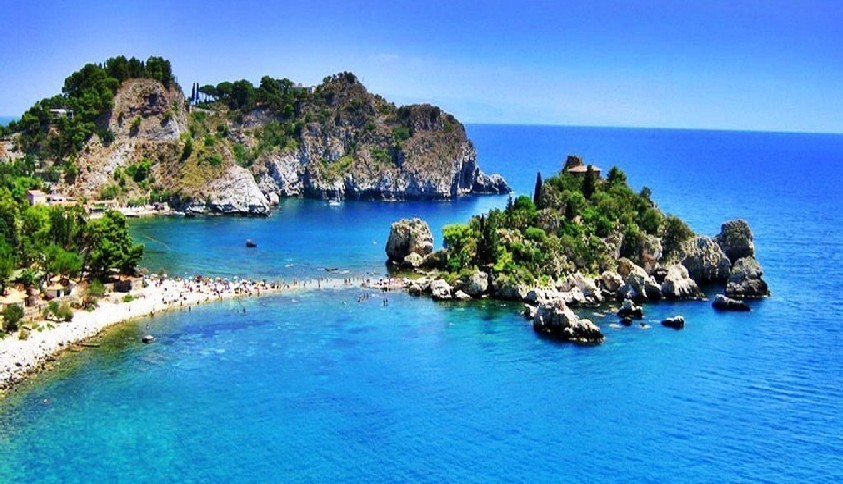 A honeymoon in the Cyclades delivers a lot of atmosphere and romance. For a more low-key Cycladic experience, you can combine the energy of the Mykonos honeymoon experience with some time on Naxos. Naxos delivers the same pristine Cycladic beauty as Mykonos, and more of it – Naxos is the largest of the Cycladic islands. There are fabulous beaches, authentic tavernas, and a charming town. Naxos Town is filled with the classic white Buildings of the Cyclades, plus grander Venetian mansions is a delight to explore, with a beautiful Kastro area.
Scuba Diving on Naxos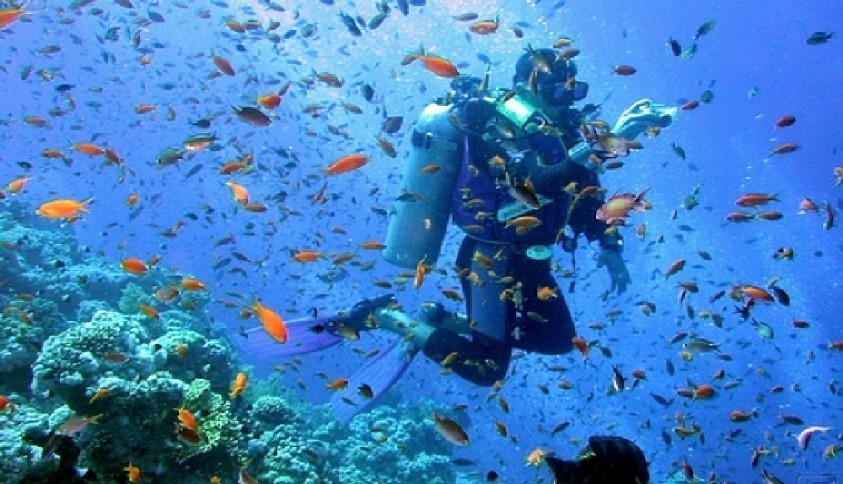 These spectacular beaches are a great place to so scuba diving. If you are new to diving, this is also a good opportunity to start your new life together with and exciting new experience.
Hiking Honeymoon on Naxos
Hiking on Naxos is a joy. First of all, this is the greenest of the Cycladic islands. Moreover, it's fun to navigate via a network of old marble paths, called Kalderimi. These are footpaths that connected villages and fields in centuries past. You'll hike alongside old stone walls, discover tiny villages and churches many centuries old, and perhaps even pass some ancient monuments.
Honeymoon on Santorini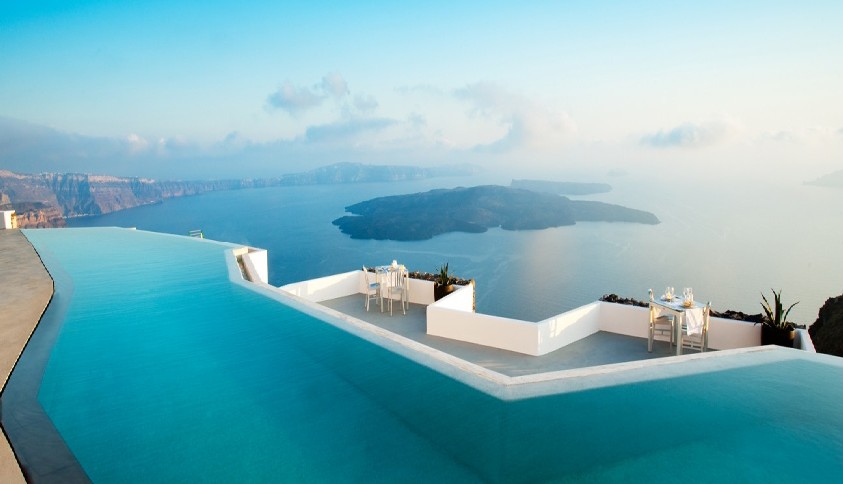 Santorini may well be one of the most famous honeymoon destinations in the world. There is good reason for that. With a topography unique in all the world, Santorini is unforgettable, a place everyone should experience at least once in a lifetime. A honeymoon on Santorini
Honeymoon on Santorini – Greece's Most Dramatic Island
Santorini is a volcanic island. (In fact, the eruption of the volcano of Thera is what contributed to the decline of the Minoans of Crete.) What once was more or less round, is now a narrow and long island curved around a bay. The bay is the caldera – the crater of the volcano. In the center of the bay are Nea (new) and Palea Kameni, volcanic islands have formed over the last two millennia from repeated eruptions. Theraisa and the smaller Aspronisi are at the edge of the caldera.
Owing to the volcanic explosion, the remaining main island rises sharply from the caldera. It's a dramatic, even surreal site. Entering the caldera by boat and arriving in the small harbor, a cliff rising sharply in front of you, is unforgettable. The ferry ride to Santorini is inegral to the experience.
Beach Honeymoon on Santorini
Owing to its geologically dramatic past, Santorini has some extraordinary beaches. These include Perissa – famous for its black sand, Red Beach – where the deep terra cotta of the sand meets bold turquoise waters, and White Beach – also called Vlychada beach, famous for its extraordinary rock formations.
The landscape and beaches of Santorini are nearly other-worldly. A honeymoon on Santorini is almost like a honeymoon on another planet.
Honeymoon Accommodations on Santorini
If you are looking for extraordinary accommodations for your honeymoon, Santorini delivers beyond your imagination. There are four towns located directly at the edge of the caldera – Fira (the main town), Oia, Imerovigli, and Firostafani. Many of the finest accommodations are set almost precariously at the edge, for uninterrupted views. Some are even built into caves in the face of the cliff.
A Santorini Honeymoon – Gastronomy and Wine
Besides the drama of the topography, the volcano also gave Santorini unique soil. This means that on your honeymoon in Santorini you can taste extraordinary local foods and wines. The high mineral content of the soil makes for an extraordinary terroir. It's beautifully expressed in the finest Assyrtiko wines. This indigenous grape thrives in the dry soil, nourished by dew. The flavors are clear and bold. A tour of wineries on Santorini would make a romantic honeymoon activity.
As the Assyrtiko grape thrives in the extreme conditions, so does a special variety of tomato. The small tomatoes of Santorini burst with flavor. One specialty featuring them are zesty tomato croquettes. Other island specialties include stuffed zucchini flowers, fried fish marinated with rosemary, and a seasoned and very flavorful cured pork. The dishes here are resourceful, inventive, and honest. On Santorini, you can enjoy sophisticated meals that have a strong sense of identity.
Related Post: Santorini – Best Beaches, Sights and Experiences
Honeymoon in Greece – Rhodes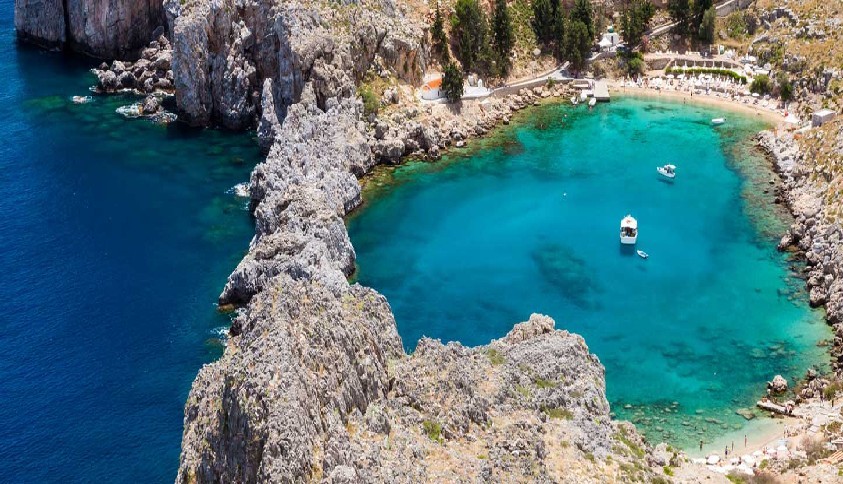 This big island was one of the first Greek islands to welcome many visitors from abroad. But Rhodes' early popularity did not spoil it. This is an island that delivers a vast variety of experience, blessed with rare natural beauty.
Rhodes Town
Rhodes Town is not exactly what you think of when you think of Greece, and in a really wonderful way. It has a magnificent Medieval romance. One of the most famous buildings is the Palace of the Grand Master, a 14th-century castle built by the Knights Hospitaller. Along with he Knights Templar, they were one of the most formidable and prestigious military orders of the Holy Land. The walled town is a marvellous medieval labyrinth of charming stone alleys.
History of Rhodes
The Colossus of Rhodes was one of the seven wonder of the ancient world- imagine this mighty statue protecting the harbor as you go on a moonlit stroll. Then drive to Lindos. Along the approach to Lindos is the sometimes affectionately called the "Ooh-Ah Corner", for its majestic and singular views. Lindos is crowned by an Acropolis with its grand gates at of the 4th century BC, and ruins of the Temple Athena Lindia. This is also one of Rhodes' loveliest towns, with the famously elegant captains' houses of the 16th to 18th centuries, and classic sugar-cube houses with intricately pebbled courtyards, elegant details, and bright tangles of bougainvillea.
Beach Honeymoon on Rhodes
Rhodes has many, many spectacular beaches, with the happy result that they are often not very crowded, and sometimes not crowded at all – perfect for a honeymoon.
Right by Lindos are two perfect beaches – St. Paul's beach with its lovely restaurant, and the Megalos (big) and Mikros (small) Yialos (Beach). More unconventional and exciting beaches can be found on the west end of Rhodes. this edge of the island experiences high winds. This keeps larger crowds away, but makes the beaches like Ialysos and Ixya great for windsurfing and kite surfing. Centers rent equipment and give lessons – learning a new and exciting skill together is a great honeymoon activity. If you are looking for something even more romantic and remote, you can try the southern edge of the west side of the island, where you will find hidden coves where you can swim off the rocks in a sea of almost impossible jewel tones. A honeymoon on Rhodes offers plenty of possibilities to make discoveries together.
Natural Wonders in Rhodes
With so many spectacular beaches, you may not be tempted to explore the interior of the island. But Rhodes is full of wonders and surprises. You can start with the famous Valley of the Butterflies, part of the Natura 200 network and just over 20 km from Rhodes Town. Also close to Rhodes Town is Seven Springs (Epta Piges) – another part of the Natura 2000 network and a rich biotope. Escape to this lush woodland filled with springs and a lake. This is a habitat for tortoises, eels, and crabs, as well as geese, ducks, and peacocks.
Hiking Honeymoon on Rhodes
For an active honeymoon in Greece, consider discovering Rhodes on foot. The varied terrain of Rhodes offers fine hiking route for every level of skill or ambition. Mt. Attavyros, at 1250 meters, is the highest point on Rhodes. The ascent begins at 500m near the village of Embona. The challenging hike (bring water and even a sweatshirt as the atmosphere changes, even in summer) will reward you with splendid views. You can also explore the coastline. An excellent path begins near Rhodes Town and leads to the Bay of Ialysos. There are other routes that explore archaeological sites, and even the old moat of Rhodes Town. You can visit this site for more ideas.
Honeymoon in Greece
True – there are a lot of premium destinations in Greece. But this is a manageable country; you don't need to limit yourself to just one or two, especially with the help of an experienced travel designer (Antelope Travel, for instance, are expert at arranging an exciting multi-destination honeymoon with zero stress). Especially if it's your first visit to Greece, it's tempting to embrace it, and experience as much as possible.
"Kala Stefana"
This is the traditional wish given to brides and grooms to be. It literally means "Happy Wreaths" for the wreaths used in the Orthodox Christian wedding ceremony to unite the couple. Happy wedding, and happy planning!