Rizogalo – Greek rice pudding – is a classic Greek dessert and one of the easiest Greek desserts to master. The name means simply "rice-milk" (ρύζι – "rizi" = rice, γάλα "gala" = milk), and this wholesome rizogalo recipe uses little more than that.
Ingredients for Rizogalo
Rizogalo – Greek rice pudding – is a classic Greek dessert and one of the easiest Greek desserts to master. The name means simply "rice-milk" (ρύζι – "rizi" = rice, γάλα "gala" = milk), and this wholesome rizogalo recipe uses little more than that. A traditional Greek rice pudding recipe uses just rice, milk, sugar, and some cornstarch for thickening. For fragrance, cinnamon is the most popular. Our rizogalo recipe has a couple of refinements. Heavy cream makes our rice pudding extra velvety and raises it from the status of after-school snack to dessert. Vanilla beans give it a nice perfume. An optional saffron syrup – Greek saffron is famous for its quality – makes it dinner-party special.
What Kind of Rice to Use for Greek Rice Pudding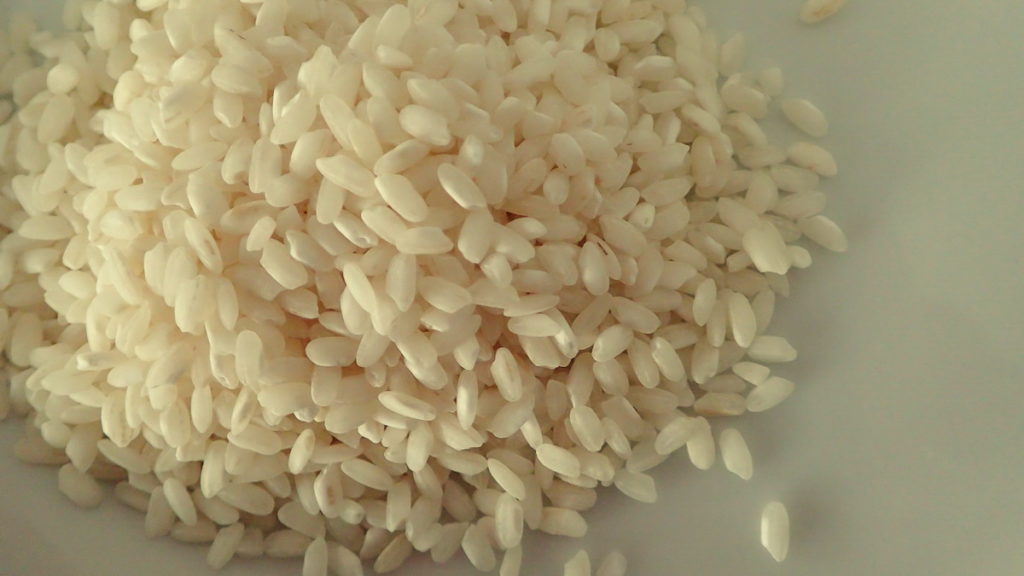 Rice pudding is best with any short grain rice. "Carolina" rice or "Glacé" are the rice varieties of choice for rice pudding in Greece. But I've also made this rizogalo recipe with Arborio, Calrose, Bomba, and even with sushi rice. Any starchy, creamy, soft rice varieties are just right for Greek rice pudding.
Greek Rice Pudding Variations
Adding a strip of orange zest or lemon zest plus a cinnamon stick to the rizogalo as it simmers are traditional flavors that would be on hand in most Greek households. Other flavorful additions include "masticha" – mastic of Chios – the refreshingly fragrant sap of a wild pistachio tree, or rosewater.
How to Make Rizogalo – Easy Tips for Success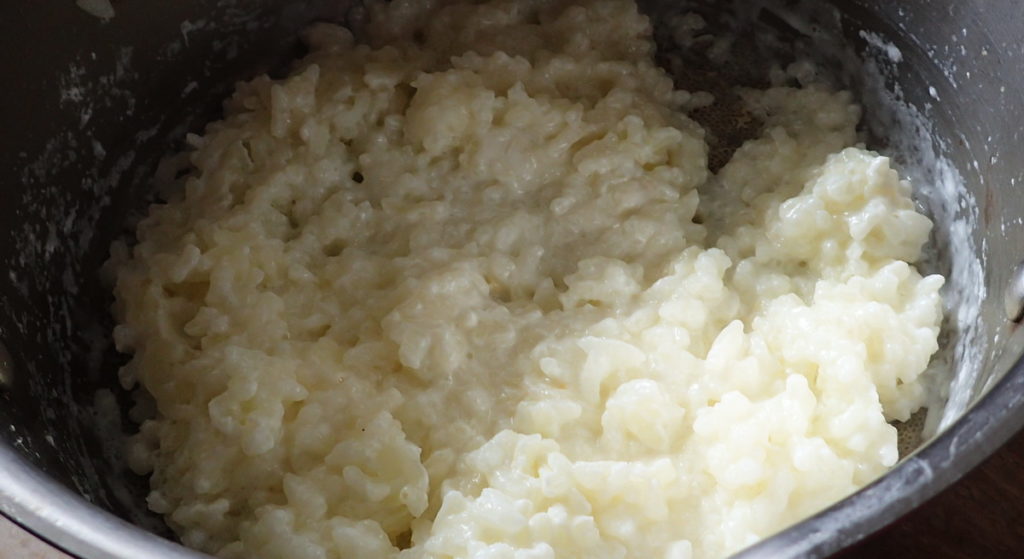 The key to a successful rizogalo is of course the rice – it should be tender and delicate, with the grains intact.
It's amazing how much liquid rice can absorb. Patience is key. We use very low heat so the rice can absorb the all the milk without scorching and sticking. Once we have tender, fluffy rice that is completely cooked in milk, we add more milk and cornstarch, together with the sugar to make a silky rice pudding.
Rice tastes a lot better when there is some salt to bring its full flavor out. We season the rice with a little salt in the initial stages of cooking, so the rice can absorb the small amount of salt completely. Then we add more milk to continue cooking the rice.
When to Serve Rizogalo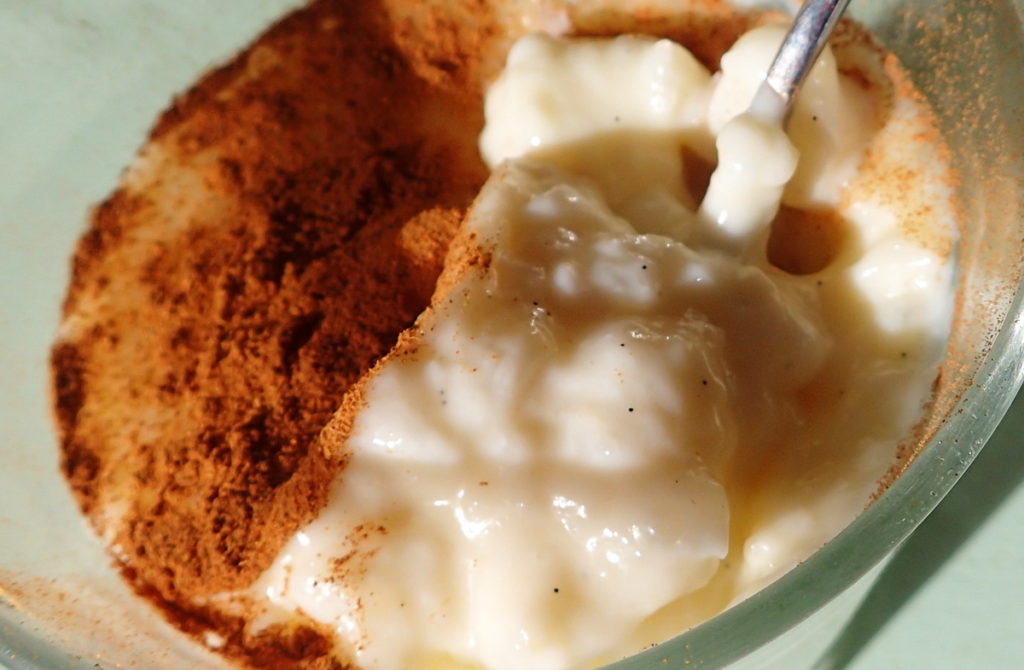 Rizogalo is an all-day dish in Greece. With its wholesome ingredients, it makes a nice breakfast or an afternoon snack. But with our upgrade of the heavy cream, this lush pudding moves solidly into the dessert category.
As to the season, Greek rice pudding is a year-round dish. But it's particularly well-suited to fall and winter.
For more classic homestyle Greek treats, you might try these:
Ladokouloura – Easy Vegan Koulourakia with Olive Oil, Orange, and Cinnamon
Tiropita with Honey – A Simple Greek Cheese Pie
Kourabiedes – Greek Butter Cookies
Melomacarona – Soft, Moist, Cinnamon and Honey Cookies with Walnuts
Yield: 6 generous servings
Rizogalo - Greek Rice Pudding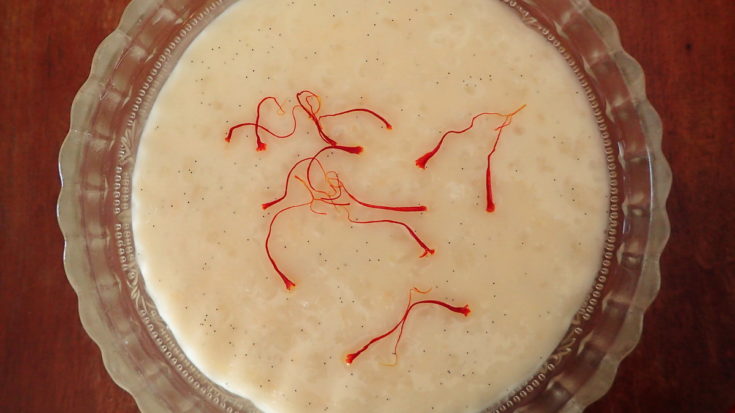 Rizogalo - "rice-milk" in Greek - is a simple and wholesome rice pudding. Heavy cream gives it extra finesse.
Ingredients
60 grams / 1/3 C short grain rice - Carolina, Arborio, or similar
a pinch of salt
1.25 liter / 5 C whole milk
30 grams / 4-5 T cornstarch
1 tsp. pure vanilla extract, or some seeds scraped from a pod
135 grams / 2/3 C sugar
Instructions
Measure and rinse your rice.
Put it in a heavy-bottomed pit with the pinch of salt and 250 ml / 1 C of the milk. Cover and let cook over low heat until the rice has completely absorbed the milk, about 15 to 20 minutes.
Add another 250 ml / 1 C of the milk and cook until it, too, is absorbed by the rice. The rice will be fluffy and soft.
Add another 500 ml / 2 C milk to the pot and whisk to loosen the cooked rice and distribute it evenly.
Raise heat to medium and simmer a moment.
Mix the remaining cold milk with the sugar and cornstarch until the starch is dissolved.
Add to the simmering milk and rice mixture, and, stirring gently, bring to a full boil. Boil for a minute.
Add the heavy cream and the vanilla.
Pour into 6 to 8 serving dishes, and cool.
Serve warm or chilled.
Notes
Instead of the vanilla, you can simmer the milk and rice with a cinnamon stick and strip of orange or lemon zest
The pudding needs to come to a full boil to cook the starch properly for a silky texture. However, don't stir the pudding too vigorously after the starch is added.
Some saffron threads, bloomed in water, can be added to the pudding, or to a simple syrup to be poured on top.