It's easy to get used to nice things, and so hard to do without them once you have. Homemade blood orange marmalade is like that. I remember I used to buy jams and marmalades in the store, and they were pretty good. But when you start having your own marmalade, there's no going back. It's not as great of a commitment as it sounds. Small batch urban canning is spontaneous, fun, and gives out a huge payoff of seeming so virtuous and impressive. It's as simple as cooking up some fruit and some sugar, one of the easier lifestyle upgrades. And your house will smell terrific.
Blood Orange Marmalade – Using Winter Sanguini
In Greece in winter, citrus is at its peak. There are lemons, different types of oranges both for juice and for eating out of hand, fragrant bergamots, some grapefruit, and finally, blood oranges. They're popularly also called sanguini, a word derived from "sanguis" (blood in Latin), and they're are prized for their beautiful ruby-colored juice.
Of all the winter citrus, blood oranges are some of the finest for marmalade. They are more tangy and tart than naval oranges, and they have a little bit of bitterness which is delicious in the marmalade. Best of all, their color is wonderful – from deep coral to blood red like their name. This gives blood orange marmalade a beautiful blush color.
Orange is the bright taste of Greece in winter and it makes its appearance in many recipes, like these vegan ladokouloura with orange, cinnamon, and sesame.
Blood Oranges – Cooking with Winter Citrus
Stone fruits and berries follow one simple ratio that works for them all. Citrus fruits, on the other hand, need a lot of water and a little finesse. This is only logical- they're complicated- with zest, pith, membrane, flesh, pits. They also have a complicated personality- sweet, tangy, and- what makes them so distinctive- bitter.
Blood oranges – sanguini in many languages- have plenty of zing and make very beautiful, rosy marmalade. To round out its alluring bitter-tangy-sweet complexity, we add a fourth note: floral. A spoonful of orange blossom water at the end gives the marmalade an ethereal fragrance.
This blood orange marmalade recipe needs a head start, as the prepared fruit needs to soak overnight. All we need to do is prepare the fruit and cover it with water – it's not more than 10 minutes of work. Soaking the prepared blood oranges overnight softens the peel and the pith. By morning, the soaking water will be full of a pleasant bitterness to balance the sugar. the pith will also have released its pectin, which will thicken the marmalade.
Marmalade with Orange Blossom Water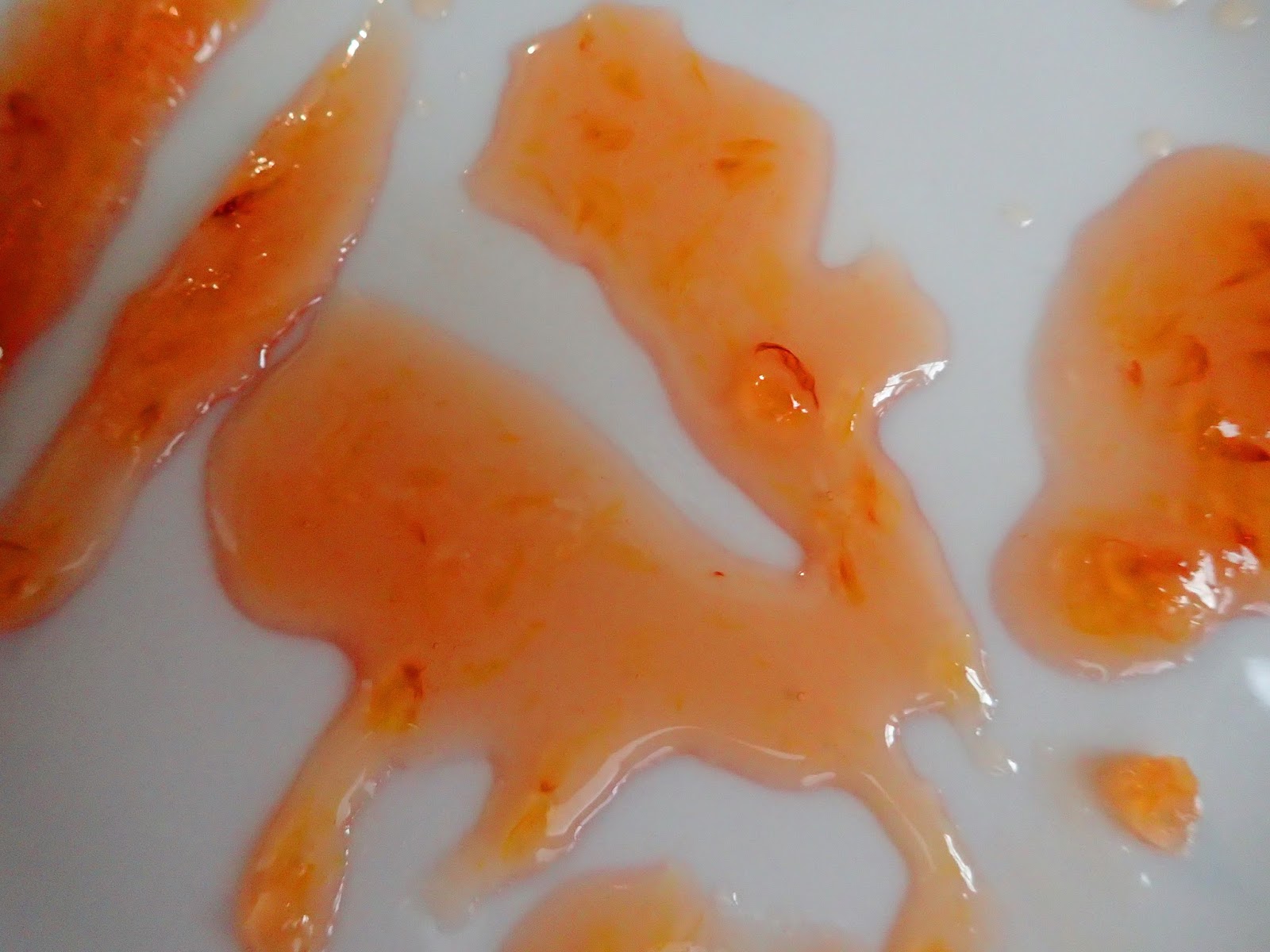 Orange blossom water is a common ingredient in the Eastern Mediterranean. The distilled essence of orange blossoms adds a note of perfume to round out the flavor. We add it to the blood orange marmalade at the last minute to keep the fresh essence of the blossoms. The blood orange marmalade will also be delicious without it, but it's a very nice touch.
Doing Small-Batch Canning at Home
Our orange blood marmalade recipe makes only a small amount. This is because a small batch cooks up much faster, preserving the fresh, bright notes of the fruit. It's very tempting to double the batch, but a larger batch can develop a boiled flavor. For detailed information on safe and successful home canning, check here.
Yield: Two 350 gram / 12 ounce Jars
Blood Orange Marmalade with Orange Blossom Water
This rosy, tangy marmalade made with blood oranges and orange blossom water is sophisticated, delicious, and easy to put together
Total Time
12 hours
50 minutes
Ingredients
500 gr / 1 lb Sanguini / Blood Oranges (about 4 or 5)
800 ml / 3 C Water
600 gr / 3 C Sugar
a little lemon juice
1 T Orange Blossom Water (optional)
Instructions
The day before making the marmalade, wash the fruit very well - we will be using the whole fruit, peel and all.
Cut the blood oranges in half and each half into half again, removing any pits. Put two quarters together and cut into very thin quarter-round slices. Repeat with all of the sanguini.
Put the orange slices in a bowl, cover with water, cover the bowl, and set aside to soak overnight.
Put three small plates in the freezer - we'll use them the next day to test when the marmalade is ready.
The next day, assemble two sterilized jars and brand new sterilized lids, a tall pot, and a long-handled wooden spoon.
Pour the orange with their soaking water into the pot and bring rapidly to a boil. Turn heat down to medium/high.
Add the sugar, and continue to boil, stirring continuously and making sure the spoon makes constant contact with the bottom of the pot.
Meanwhile, bring a large pot of water to the boil, deep enough to cover the jars.
It will seem like not much is happening for a while, but after around 10 to 15 minutes you'll notice there is less froth and the bubbles seem larger. Pay close attention and start testing right away, as once it seems to start thickening it thickens very quickly.
Remove one of the plates from the freezer and put a spoonful of jam on it. As soon as it cools, run your finger through the middle. It should leave a path with the marmalade seeping slowly back toward the center from the sides.
As soon as the marmalade is ready, remove the pot from the heat and quickly test for sweetness - you may need to balance the sweetness with a squeeze of lemon. Add the orange blossom water to taste.
Quickly pour into the sterilized jars. Put on the lids and put into the boiling water bath making sure the lids are completely covered. Boil for 10 minutes or so, and remove.
Notes
1. If you plan on having the marmalade soon, you can skip the boiling water processing and just store it in the refrigerator.
2. Resist the urge to make a double batch - a small batch cooks up much faster and the result is a fresher and brighter tasting marmalade.
If you like the idea of using floral essence in your sweets, then these Turkish desserts might also inspire you.