The classic Turkish desserts of Istanbul are edible jewels, exotic like the city.
After an excellent meal in Istanbul, there is not necessarily a dessert. That's because Turkish desserts and sweets are so elaborate – and often so generous – that they command undivided attention.
Turkish desserts and sweets are not an after-thought – they're an event, and an essential part of an Istanbul street food experience.
The Famous Sweets of Istanbul – Turkish Delight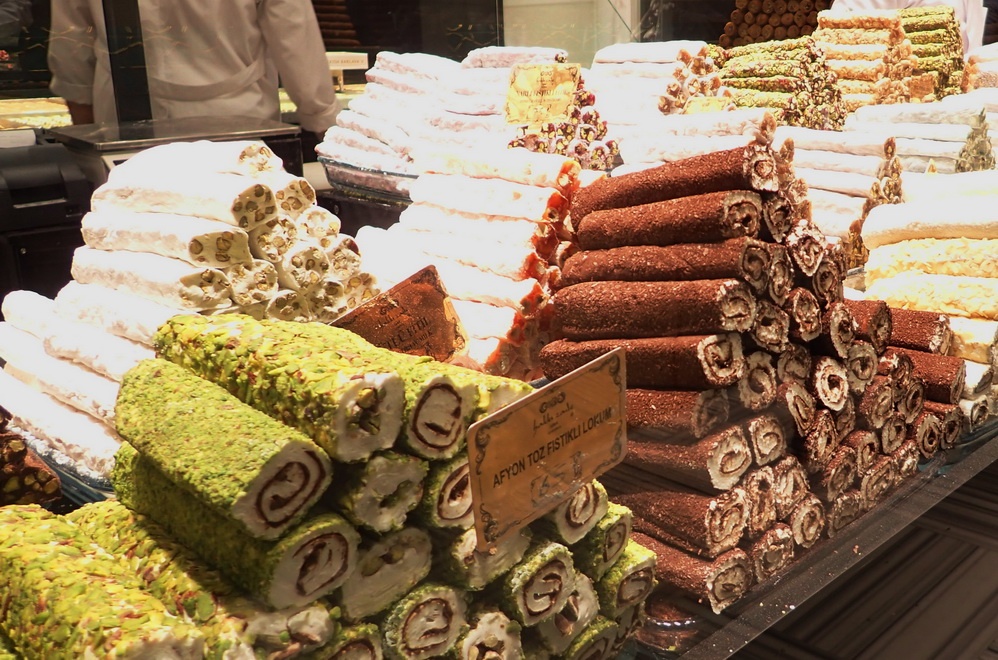 Treat, souvenir, and edible icon – Turkish delight takes its name from the country. In Turkey, their name is lokum. Lokum come in an astounding variety of flavors and price ranges. Made of starch and sugar, locum with simple flavorings can be an expensive treat.
Locum made with fruits – like pomegranate – and nuts are more luxurious, and priced accordingly. Some more elaborate versions of locum include layers of nougat, nuts, or fruits. The opulent window displays of locum in the higher-end confiseries of Istanbul are beguiling.
This essential Turkish sweet comes in flavors as exotic as perfumes, like bergamot, rose, masticha, and pomegranate.
Pişmaniye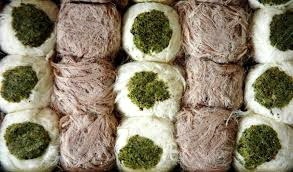 This dreamy Turkish sweet is a hybrid of cotton-candy and halva hybrid. It's a treat of spun sugar and toasted flour with butter.
We bought a box of pişmaniye and ate it in bed in our hotel room after the hamam, washed down with şalgam (pickled turnip juice). From touch alone you would never think this is food – it feels like some gossamer insulation or packing material – dry, fluffy, delicate. You put wisps of it in your mouth and it melts on the tongue, leaving a lingering faint coating of richness from the roasted flour. Because of this flour, it is less sweet than cotton candy, so you can just keep eating wisp after wisp of it until you fall asleep, which is exactly what we did.
Pişmaniye wilts easily on a damp day. Enjoy it as soon as you open the box while it's fluffy and fresh

Lokma or Lokmasi – A Turkish Dessert to try Fresh and Hot
Lokma means a "bite" in Turkish. These bite-sized (sometimes larger) puffs are soaked in a honey syrup. They manage to be crisp, soft, and juicy all at once. You can find excellent lokma by the Galatas bridge, near the ekmek balik vendors and the şalgam carts.
Dondurmas – An Entertaining Turkish Dessert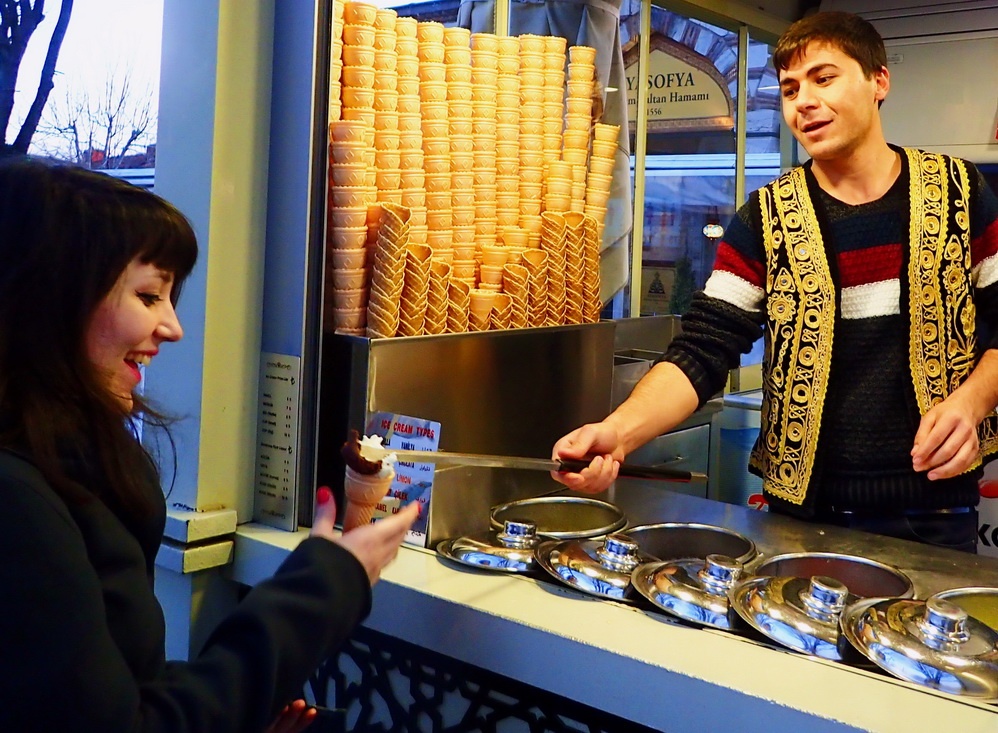 Dense, silky dondurma is a delight. Dondurmas is unlike like any ice cream you have ever had before. Originating in the town of Maras, dondurmas is thickened with sahlep – the pounded root of a type of wild orchid. This gives it an incredible texture, so thick it is actually chewy. In fact, it's so thick that the traditional dondurmas vendors of Maras even hang slabs of it from hooks.
In Istanbul, the dondurmas have a little fun with it, swirling the cones and and tossing them around. The elastic dondurmas won't fall out of the cone, and children are delighted with the show.
Traditional Turkish Desserts with Phyllo
Turkish desserts made with delicate phyllo are extremely popular. Baklava comes in many varieties, with different shapes and fillings. However there are also many Turkish sweets with various types of phyllo, cream, and nuts. Some of the finest ones are made fresh, and served warm.
Baklava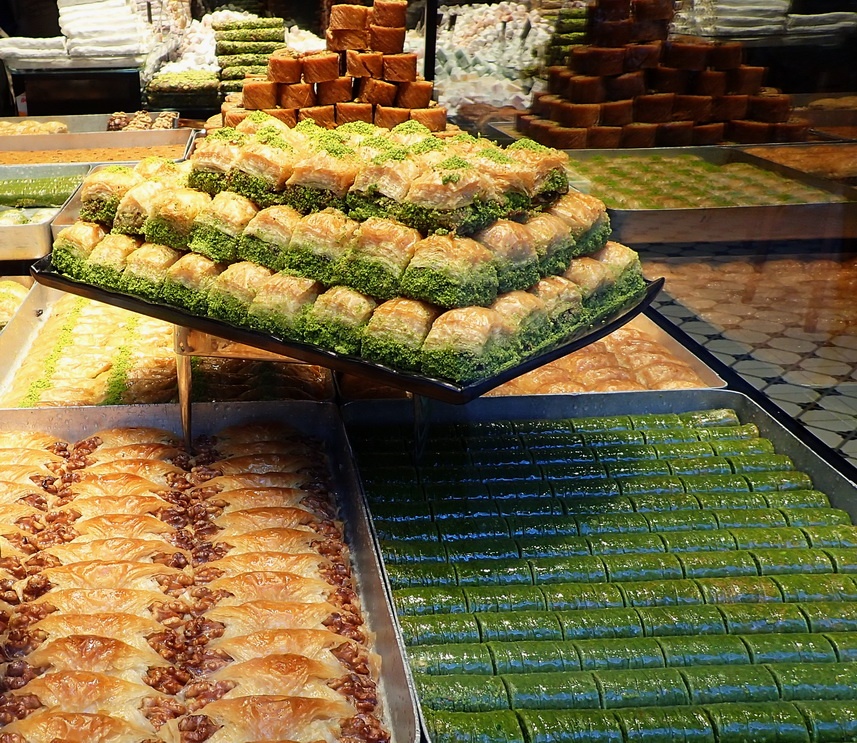 Turkish baklava is delicate. In a good baklava, the butter comes forward, and your fingers are not sticky with syrup. Baklava comes in all shapes – rolls, diamonds, circles and spirals – and had various nut fillings. While walnuts are most common in Greece, much Turkish baklava is filled with pistachios.
For partly this reason, the most famous baklava is from the town of Ganziatep. The local pistachios fill baklava that is so excellent that it has a protected origin designation.
Even if your pistachio baklava is not from Gaziantep, you will still enjoy the rich – even strong – flavor of pistachio.
In all events, having baklava in Istanbul is an essential experience of the city, one of many to try.
Künefe and Katmer: Turkish Desserts Served Warm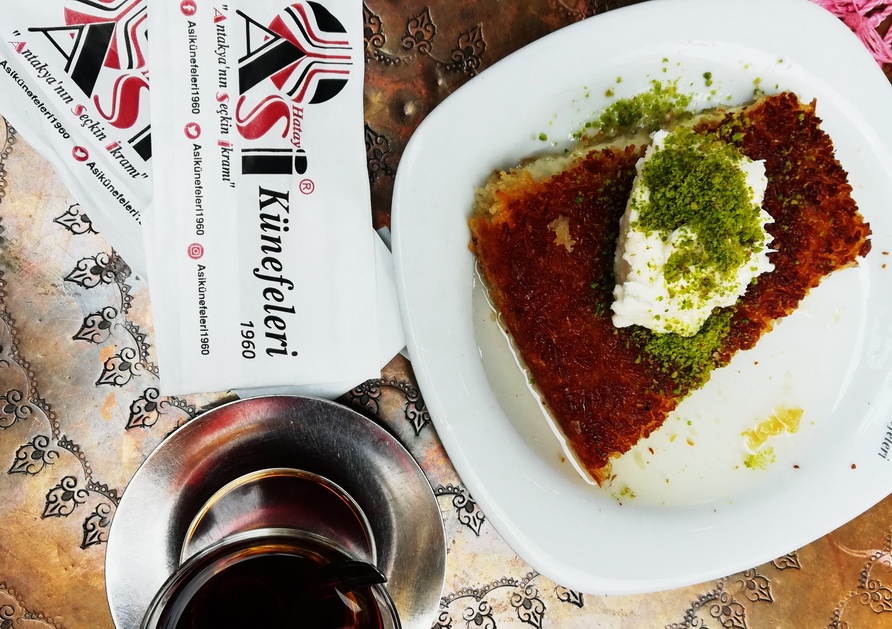 Two things make the künefe a special Turkish dessert- you eat it warm, and it has a filling of melted cheese. This is not cheese like the ricotta in canoli or the cream cheese in a cheesecake. It's a gooey, stringy cheese, like a mozarella. The cheese is in the center of two discs of kataifi- delicate strands of dough. Kataifi has a wonderful texture and also soaks syrup very well.
Künefe is delicious cooked over the coals. You can find it this way at small places in the alleys near the spice market. Once the kataifi is golden and the cheese is melted, the künefe is served with hot syrup. The cheese doesn't soak up the syrup, and is a fine contrast to the crisp, syrupy kataifi.
Katmer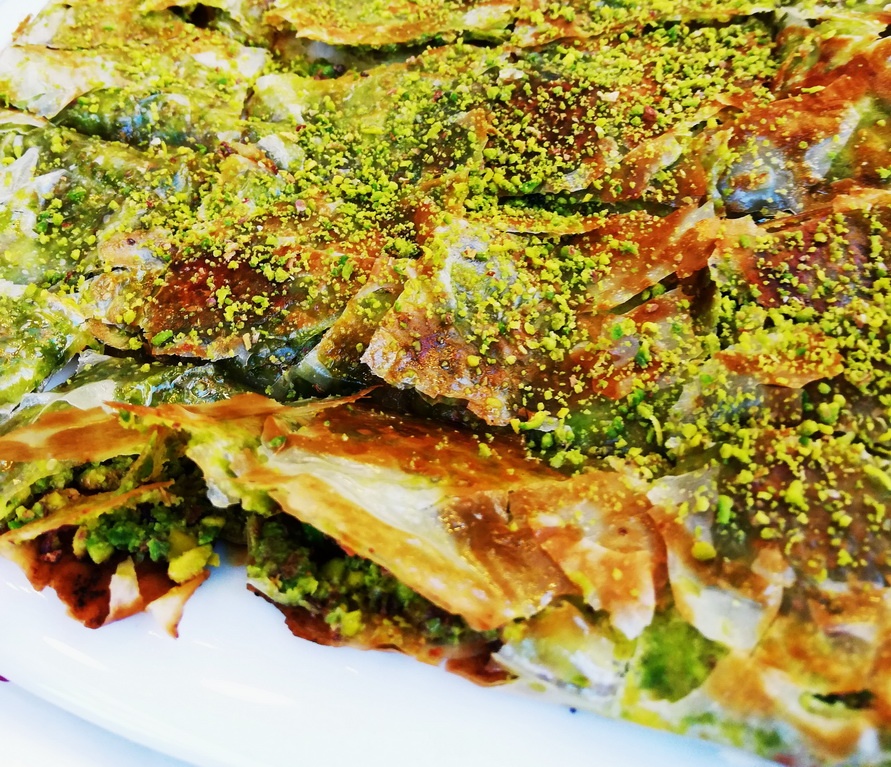 This is another delicious Turkish dessert that you eat while its fresh and hot. Katmer is a delicate, flaky pastry of Anatolia. You can find katmer with a variety of fillings throughout Turkey. But the Katmer you will enjoy in Istanbul is Gaziantep-style. It's rich with the taste of pistachios. In Gaziantep, katmer has a filling of thick cream and ground pistachios.
Turkish Desserts from the Muhallebicisi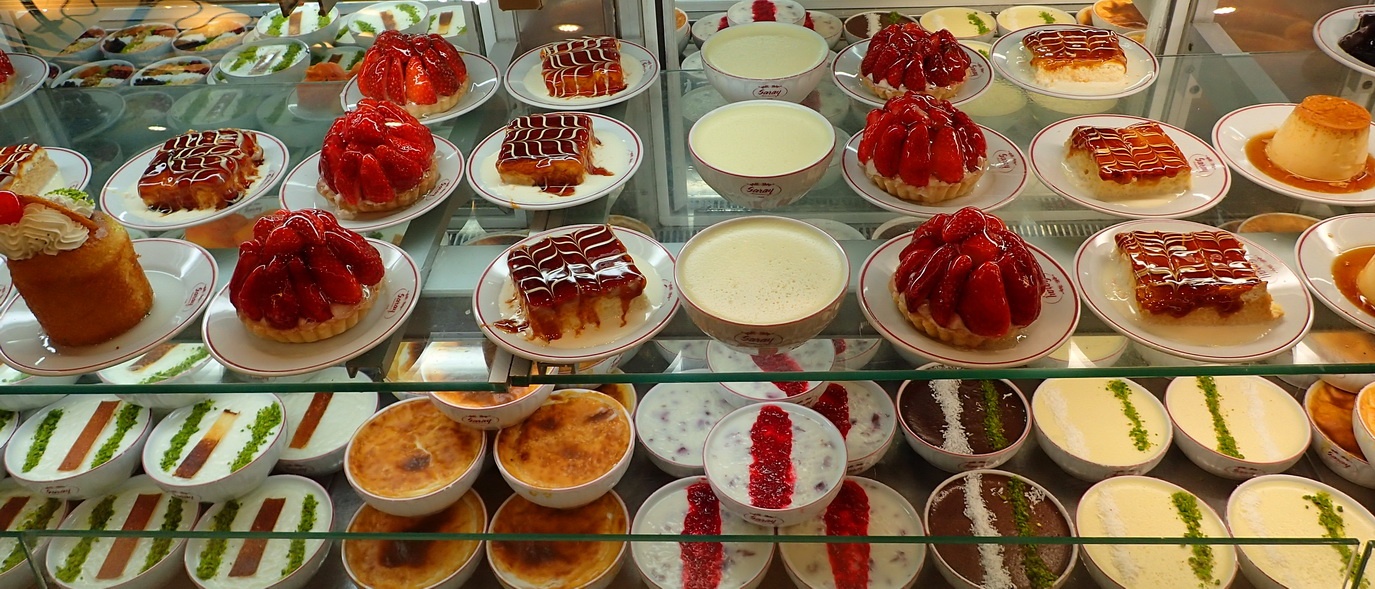 A Muhallebicisi is a pudding shop- a store specializing in milk-based Turkish desserts.
Tavuk Göğsü
The reputation of the almost legendary tavuk göğsü stems from its key ingredient – chicken breast. Tavuk göğsü in fact means "chicken breast" – it's part of the sumptuous culinary heritage of Ottoman Palace cuisine.
It is not nearly as strange as it sounds. You can faintly taste the chicken through the dessert's milky sweetness. It's very pleasant. The chicken, pounded, serves as a thickener that makes an unusually thick, almost elastic texture.
This is a Turkish dessert worth finding while you are in Istanbul. It's as delicious as it is unusual.
Kazan Dibi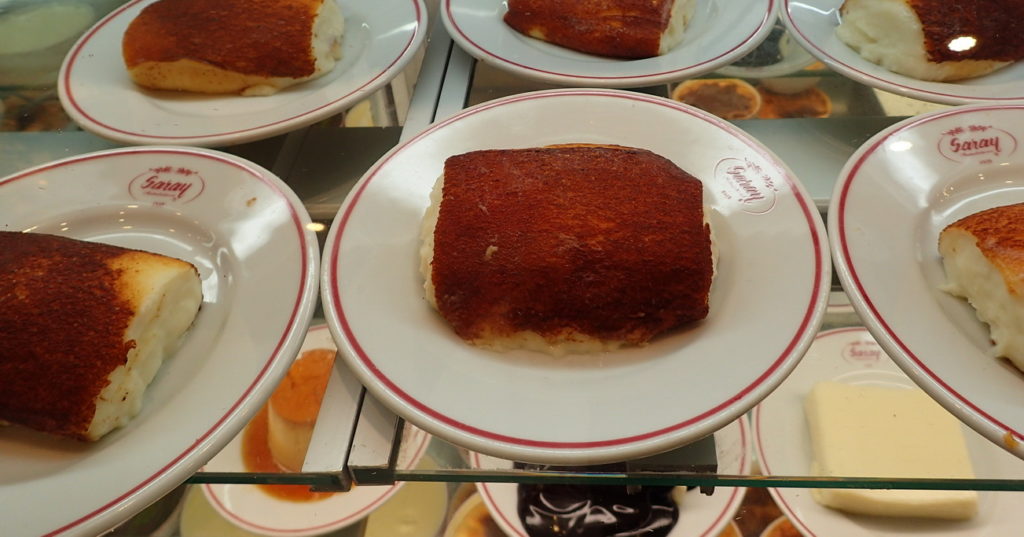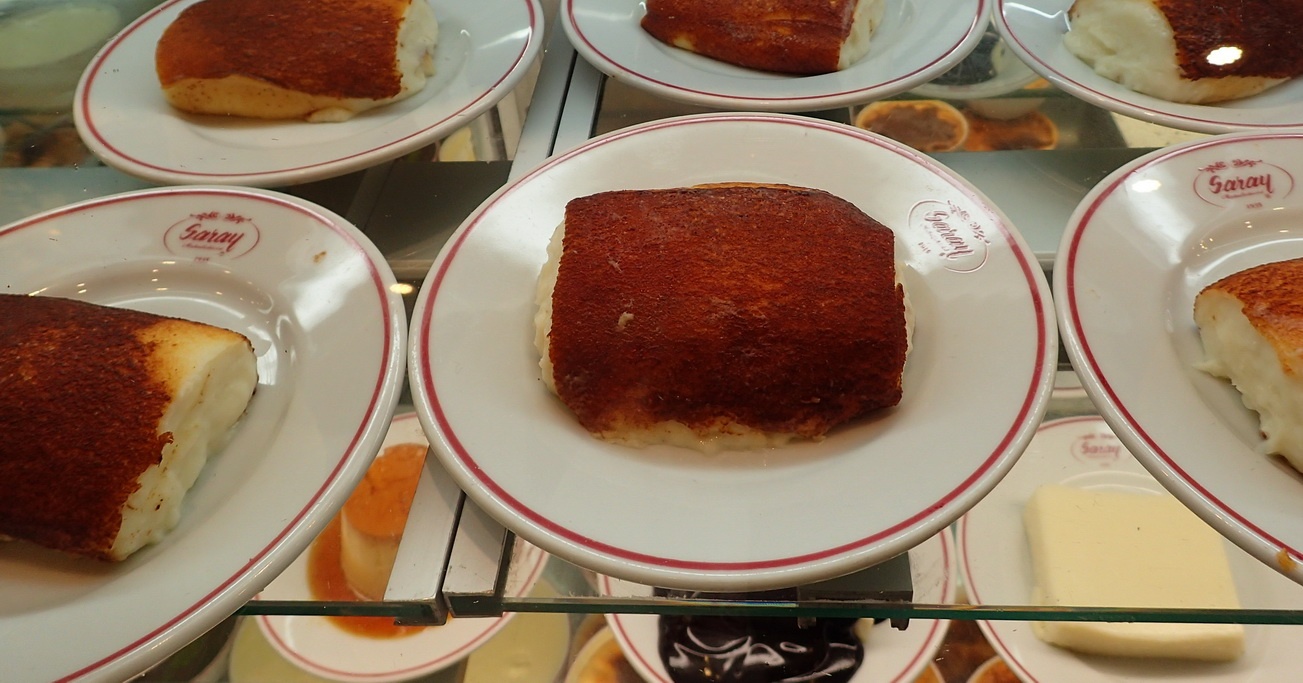 Kazan dibi means "bottom of the pot." Imagine a crème caramel with attitude.
This classic Turkish dessert is traditionally tavuk göğsü with the bottom of the cream burned The cream is then removed from the pan and served burned-side up, often in a roll. The kazan dibi at Saray along the Istikal Caddesi (near Taksim square) is so thick you chew it.
Saray- Kuloğlu, 107, 34433 Beyoğlu
Muhallebiler – Comforting and Creamy Turkish Desserts


In addition to the classic Turkish puddings like tavuk göğsü, kazan dibi, and sütlaç (rice pudding), there are more elaborate, jewel-like pudding desserts. Creamy puddings shimmer under layers of gelatin, fruits, and nuts.
Pastalar
The pastry chefs of Istanbul are great at western desserts, like pastalar -layer cakes. The exotic Istanbul touch is in the excess. They have more fillings, more icings, more decorations than their western counterparts. There is an excellent selection at Hazif Mustafa – you'll find locations throughout Istanbul. They have many excellent layered puddings as well.
Istanbul's Food Culture
These classic Turkish desserts are just one aspect of Istanbul's unparalleled food culture. Turkish cuisine is complex and compelling, with many classic dishes and regional specialties to explore.
The experience begins as soon as you wake. Turkish breakfasts, as you will see at one of these ideal Istanbul breakfast places are legendary – a gastronomic and cultural ritual.
Istanbul's grand culinary culture will inevitably be a part of your day. As you visit the Magnificent Mosques of Istanbul, you can take a break at a Çay Bahçesi (tea garden), get a hot pides (like an open calzone) from a wood-burning oven for lunch, or an ekmek balik (fish sandwich) by the Galata bridge. Then continue to a meyhane in the evening for conversation and meze with a little raki.