Greece to Sicily, Italy by Motorcycle
Traveling from Greece to Sicily by motorcycle is a road trip that has just the right balance between scenic drives and destinations worth exploring.
We love driving for pleasure. On our six day trip to Italy by motorcycle, we had plenty of satisfying drives, but none were exhausting. They left us with plenty of time for enjoying Palermo and exploring more of Sicily. The longest drive was 454 km – Reggio Calabria to Brindisi.
The total km for the trip was 2200. This included lots of driving around cities and also plenty of spontaneous exploring along the way.
Italy is fast becoming our favorite destination to explore by motorcycle. Our route planning starts with a map and a stack of good guide books to get the balance of urban destinations, cultural diversions, and exciting scenic drives.
We loved out trip last year, going from Bari to Marseille, taking in some of our favorite destinations in Italy. This year's Sicily trip allowed us to focus on one fantastic region. Next year, we plan to explore the most beautiful towns along the Amalfi coast – a legendary drive.
We traveled light, with one case and a small bagster. Packing for a motorcycle trip is a refreshing exercise in minimalism. We also did a little research on tips for road tripping in Italy, so the basics were no surprise.
Day 1: Igoumenitsa to Cosenza
If you're traveling to Sicily, Italy's southern port of Brindisi is a good choice.
Taking the Ferry from Greece to Italy by Motorcycle
The ferry ride from Igoumenitsa to Brindisi is only about 6 or 7 hours. Because there are daytime routes, you don't need to book an expensive cabin or arrive exhausted from sleeping on deck.
We arrived around 17:00. By the time we drove off the ferry, we still had a couple of hours of daylight in August.
We paid €175 round trip for 2 people plus a large bike.
Brindisi to Cosenza
This stretch of the E90 has a reputation of being a dangerous road. The road surface is fine, although narrow. The thing that really makes it dangerous is the other drivers. There's often almost no shoulder, and drivers impatient to reach their villages and towns frequently use the lane for oncoming traffic to pass or just drive much faster.
Google maps estimates a little over 3 hours for the 270 km journey. If you take it slowly, as we did, it's a good estimate.
The E90 hugs the coastline for much of the distance, and there's plenty to see. This is a curvy but flat road – you'll be driving close to the sea.
It had been dark for some time when we reached Cosenza. This is not one of the spectacular, picturesque Italian towns you hear about. But Cosenza, and particularly the hotel Vescovo Rosso, makes an ideal stop for bikers. There's an underground garage. The rooms – ours was a suite, for around €50, was spotless and huge and comfortable. Directly across the street was a very friendly pizzeria with a wood-burning oven. They had extra-large thin-crusted pies, and extra-large bottles of ice-cold Sardinian beer to go with them. When it comes to what to eat in Italy, there is much more than pizza and gelato, But these two never disappoint.
We woke rested and, after a hotel breakfast with strong caffe lattes, were ready for the road.
Italy by Motorcycle, Day 2: Cosenza to Palermo, via Cefalù
The scenery is fine as you leave Cosenza. Once the E45 hits Lamezia Terme, the Tyrrhenian sea comes into view. The road turns inland around Vibo Valenitia and then rejoins the coast on to Villa San Giovanni for a beautiful, curving drive.
Taking the Ferry from Villa San Giovanni to Messina with a Motorcycle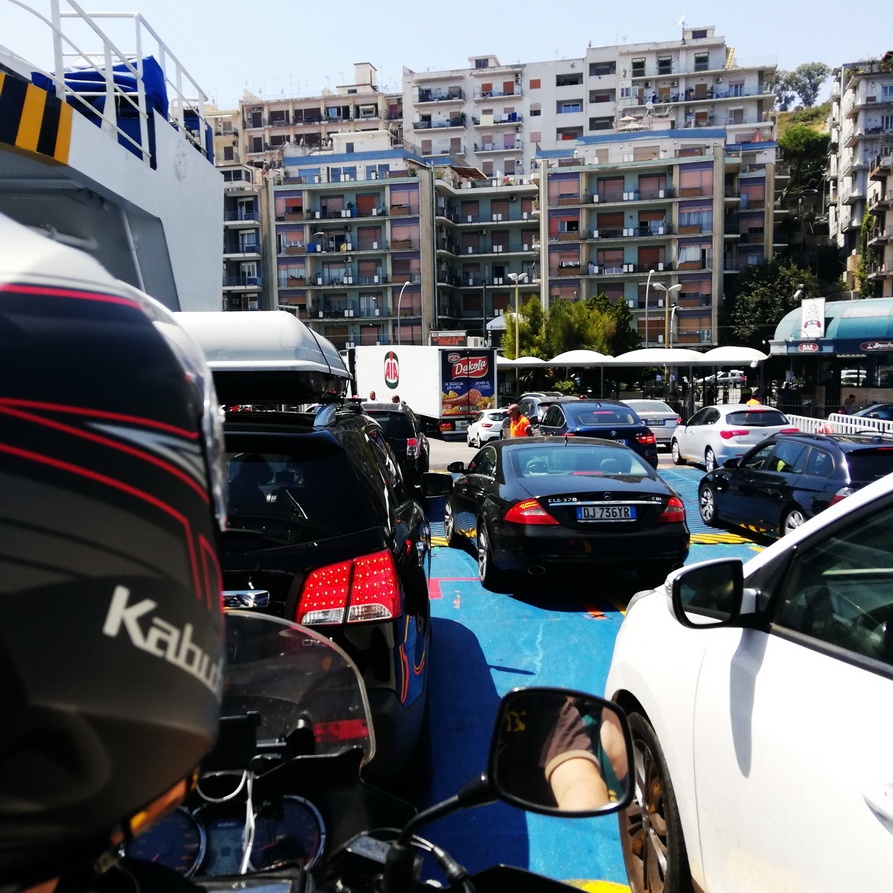 The strait of Messina is narrow. From Villa San Giovanni, you can make out the apartment buildings across the way in Messina. The coasts of Calabria and Sicily could easily be connected by bridge, but they aren't. That was actually nice – the ferry ride makes it feel like you are truly going to an island.
Car ferries cross the strait of Messina throughout the day and night. In the high season, the line of cars to get on the ferry is extremely long. Officials will wave you through and you will be so glad you're on a motorcycle. Waiting in the sun would be difficult.
The line will take you through toll-type machines, where you put in the type of vehicle and number of passengers. We paid €15 for the bike plus the two of us.
Once you secure your motorcycle, there's just enough time to go upstairs, get in line for the cashier, and order an espresso. Drink fast – the ferry docks in Messina before you know it. Get on your bike as the ferry is parking- people drive off the boat quickly.
Italy by Motorcycle: Messina to Palermo along the North Coast
Messina is a nice town, and we'd have been glad to stop there for a bit. But we had planned to visit Cefalù en route, and wanted to get to Palermo well before dark.
This is a toll road. Shortly after Messina on the E90, you'll take a ticket from the toll booth to hold onto. You'll pay the toll when you exit the highway. Our toll from Messina to Cefalù was about €9.
You would be thinking that this paid stretch of road would be in better condition than the E90 on the mainland – which was toll-free. Of the many many tunnels, some are nearly or even completely dark. It's hard for your eyes to adjust from the bright sunshine. The view is largely industrial.
Driving, Southern Italian and Sicilian Style
We found the people of southern Italy and Sicily completely charming- warm, generous, friendly. However, even people with experience driving in Greece will be surprised. Be prepared for the aggressive driving style you may find in this part of the world.
Cefalù
We got off the E90 in Cefalù, a famous medieval town with a landmark Cathedral. Honestly, much as we wanted to see it, we wished we hadn't left the highway. Cefalù looks lovely, but the old-town is closed to traffic – motorcycles too. The rest of the town is really crowded and hard to navigate. We ended up finding a place to park and take a quick look but didn't want to remove the bagster and take it to the cathedral.
Palermo by Night
One of the best things about traveling from Greece to Italy by motorcycle is exploring the urban destinations by motorcycle. You can see so much of a place cruising through the streets, and you orient yourself quickly. After just three nights, we had a enough grasp of the layout of Palermo to navigate without a GPS.
Our host told us that the Old Town of Palermo was strictly closed to traffic of all kinds. This might be true in theory, but certainly not in practice – many Vespas, motorcycles, and three-wheeled vehicles were cruising through the streets by night. One thing that is surprising strict in Palermo is motorcycle parking. There are clearly marked spaces in the street. We rarely saw motorcycles parked on sidewalks.
Palermo is great to discover by night. The streets of the old town are ripe with the scent of fruit with a faint tinge of fish from the markets – Capo, Ballarò, Vecchio. Laughter and conversation flow from tables set up in the squares and alleys. Palermo is famous for its street culture and food. Our first meal – a Pane ca' Meusa – was really more of an initiation than a sandwich. A late night neighborhood gelato place was crowded with families with strollers, matrons, and teenagers.
We were looking forward to exploring more of the city the next day, hoping to experience as many things as possible from this interesting itinerary for things to do in Palermo.
Greece to Sicily by Motorcycle, Day 3: Palermo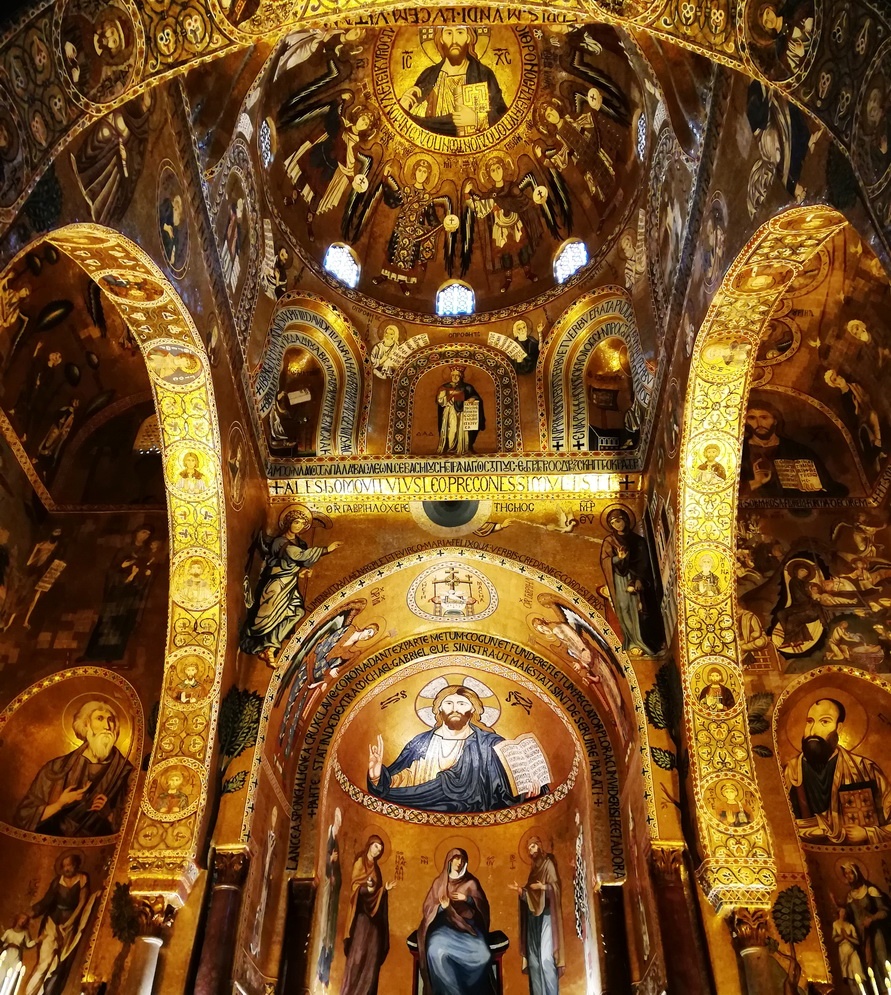 We had a day of classic sightseeing. One of the most interesting things about going from Greece to Sicily by motorcycle is seeing the continuation of the landscape, the climate, and the general approach to life. Another interesting thing is finding so much of Greece in Sicily. The Arab-Norman-Byzantine architecture is a fascinating combination of elements. In the churches of Sicily, Byzantine mosaics with Greek inscriptions sparkle.
We visited the Cathedral of Palermo (the Duomo), the Church of San Cataldo, the Church of Santa Maria dell'Ammiraglio, the Royal Palace, and the Palatine Chapel. Of these, only the Duomo was free of admission. The churches had a modest admission price, and the Palatine Chapel – together with the Royal Palace – was closer to €12.
Where to Stay in Palermo
We were happy at our kind quirky room for €49 in a grand Belle Epoque apartment building. We found many options for places to stay and used booking.com en route.
Day 4: Palermo, Mondello, and Monreale
A Greece to Sicily by motorcycle trip is not complete without a Mediterranean swim. Mondello is Palermo's glamorous seaside resort, about a half an hour out of town. Taking the route we did – a narrow road hugging the shore on the way there – we saw different facets of Palermo and the beach suburbs.
Palermo's topography is dramatic. The bay of Palermo is defined to the northwest by a 600 meter granite peak – Mt. Pellegrino. Here, you can hike along granite paths to take in the views and visit the sanctuary of St. Rosalia, a patron saint of Palermo.
After passing by the glamorous historic Liberty style hotel – the Villa Igiea, at the southern edge of Mt. Pellegrino, we were soon in the run-down but still charming seaside areas around Vergine Maria.
There's a lot of beachfront here and the sea is beautiful, but the beaches are not very clean. Municipal facilities are lacking.
Mondello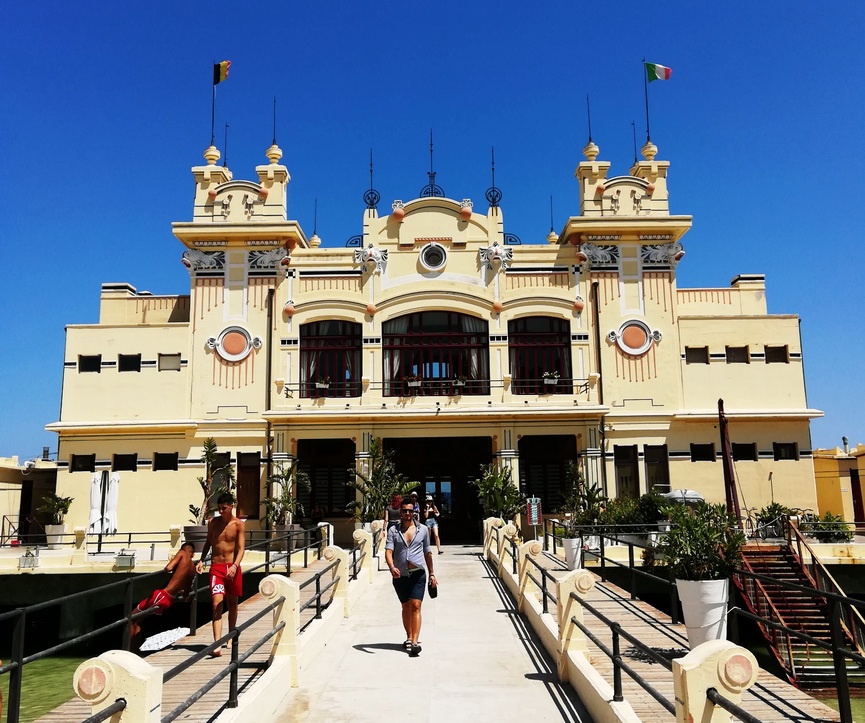 After Vergine Maria, there is a whole stretch of fabulous seafront homes of various period styles, many from the 1950s and 60s. As you come into Mondello, the famous Liberty style (Sicilian Art Nouveau) mansions take over. This perfectly manicured resort town, filled with trees and flowers, has a beach of white silky sand. Mondello's Liberty style Pavilion – the Antico Stabilimento Balneare di Mondello of 1911-12 – is one of the main monuments of this Sicilian interpretation of Art Nouveau.
So, this is obviously a very fancy beach. Most of the beach of Mondello is completely enclosed in white picket fences. There are umbrellas and loungers to rent, but on the day we were there, these were completely sold out. We then found a corridor between the fences and saw that a few meters of sand bordering the waves are public access. The swimming is great, but very warm.
We took the inland route back to Palermo and this is a beautiful road lined by trees on both sides. They form a canopy overhead for much of the drive.
Monreale
Monreale is a historic hillside town high above Palermo. The 12th century Cathedral of Monreale is one of they key Arab-Norman-Byzantine monuments of Sicily. The old town has a charming medieval character.
The drive to Monreale alone is worth the trip, offering great views of a fertile valley below and the whole of Palermo beyond.
Much like Cefalù, we found it hard to navigate and the old town was inaccessible, except on foot. We would have been glad to leave the bike and walk into the old town, but were not determined enough to find a parking place.
Day 5: Palermo to Reggio di Calabria, via Catania and Taormina
The inland route is beautiful. You'll pass hills and valleys golden with wheat, and a few silvery olive groves. Now and then there will be a herd of sheep or beautiful pure white cows. Villages along the route are reached by access roads, so nothing will slow you down. We saw very few gas stations and were glad we'd filled the tank before leaving Palermo.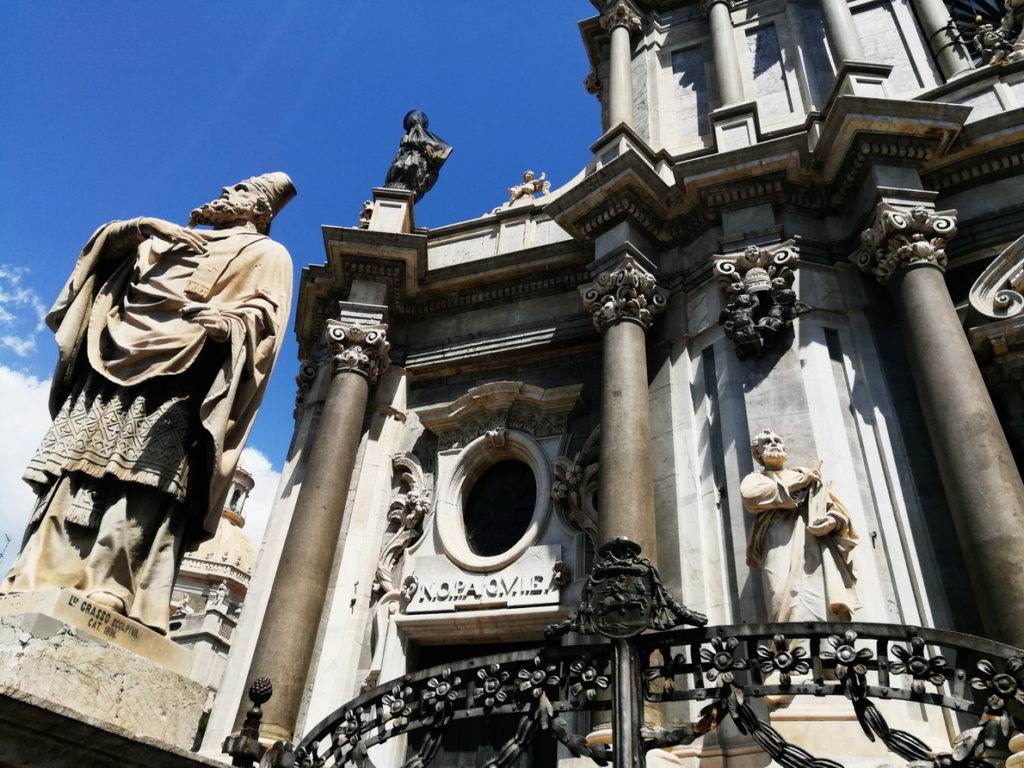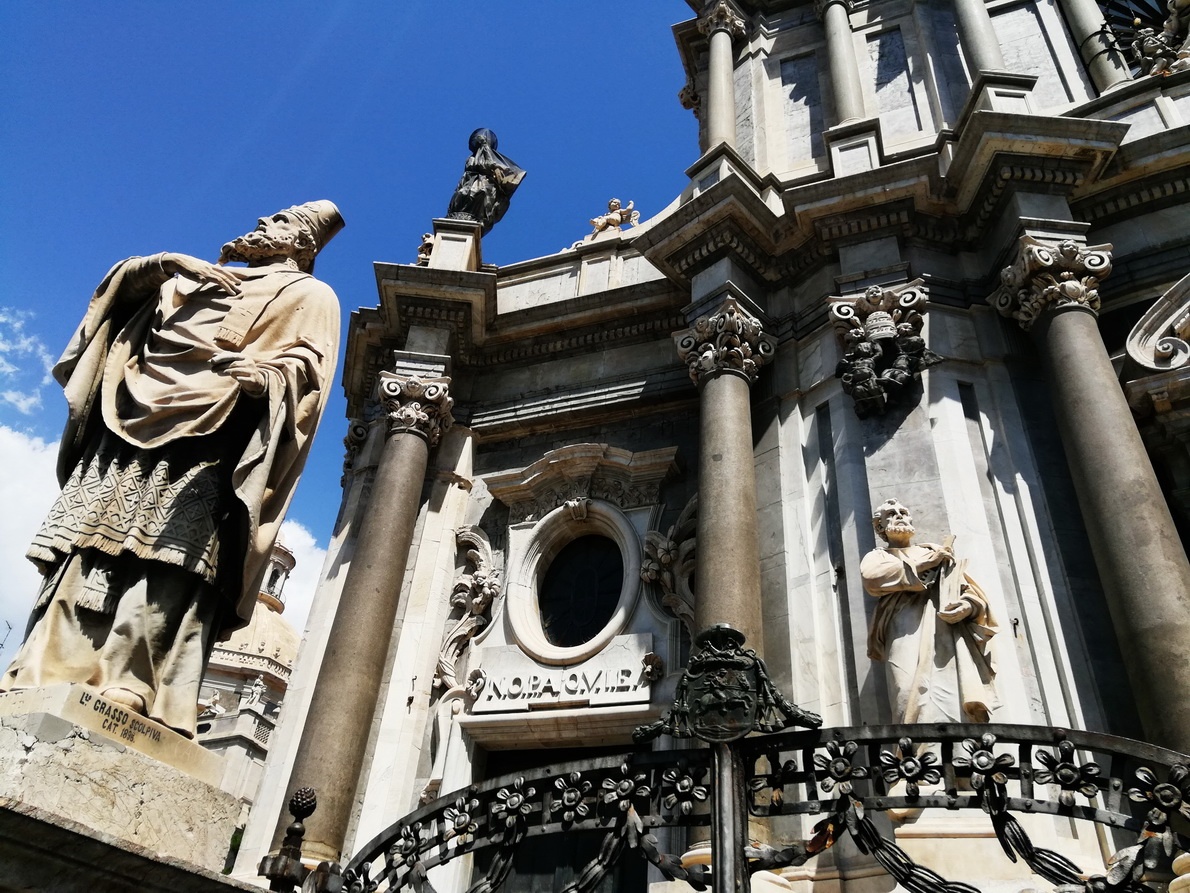 Catania's historic center is spectacular. Since the bike was fully loaded up, and there is no parking in the center, we stopped in the marketplace directly on the other side of the city walls at the Porta Uzeda – a main entrance gate – and took turns visiting the Piazza Duomo.
Because of its wild Baroque architecture, Catania is a UNESCO World Heritage site. The Porta Uzeda itself is dramatic enough. Then you see the grand facades lining the piazza, and the Duomo – Catania's Cathedral of Saint Agatha and "u Liortu" (the Fontana dell'Elefante) alone are well worth getting off the highway for.
We had planned to stop in Taormina, especially after reading this great itinerary of things to do in Taormina from Maureen on Life on the Mediterranean. But we had to be content with a view of glamorous Isola Bella beach as we passed – we had an agenda in Calabria and needed the daylight hours to explore the villages of Magna Grecia.
We caught the ferry in Messina to return to Villa San Giovanni, buying a ticket from a window this time. From Villa San Giovanni on the other side, it was just a short ride to Reggio di Calabria.
Magna Grecia- Trying to Reach Galliciano by a Rough Road
Part of the pleasure of going from Greece to Sicily by motorcycle is finding a slice of Greece in Italy. Magna Grecia – "Great Greece" – is the Roman name for the Greek settlements in Sicily and southern Italy. It's a dramatic, scenic region.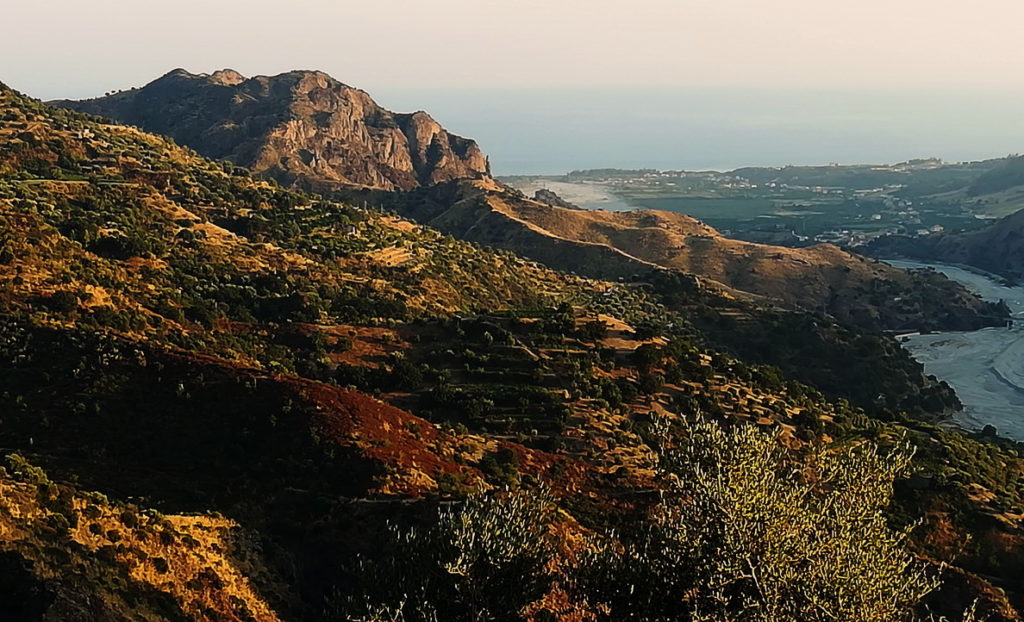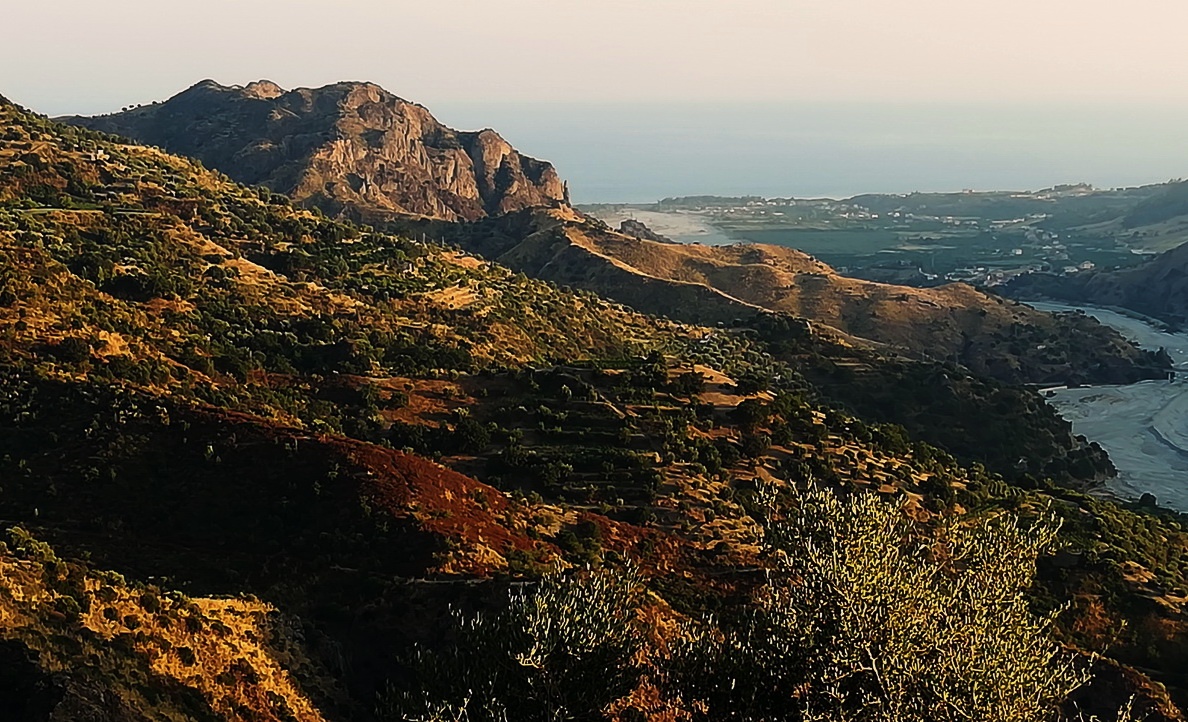 The Griko people – or Greciani – live in villages in Calabria and Abruzzo. They speak modern Italian, but they also speak a local dialect that's a version of Greek.
One of the villages that preserves its Greek heritage is Galliciano, in the region of Condofuri in Reggio Calabria. We thought it would be a beautiful drive, and it really was, especially after turning inland to cross though a valley – a dry river bed. A green and gold mountainous landscape rose on all sides. On one of the hills was the ruins of castle.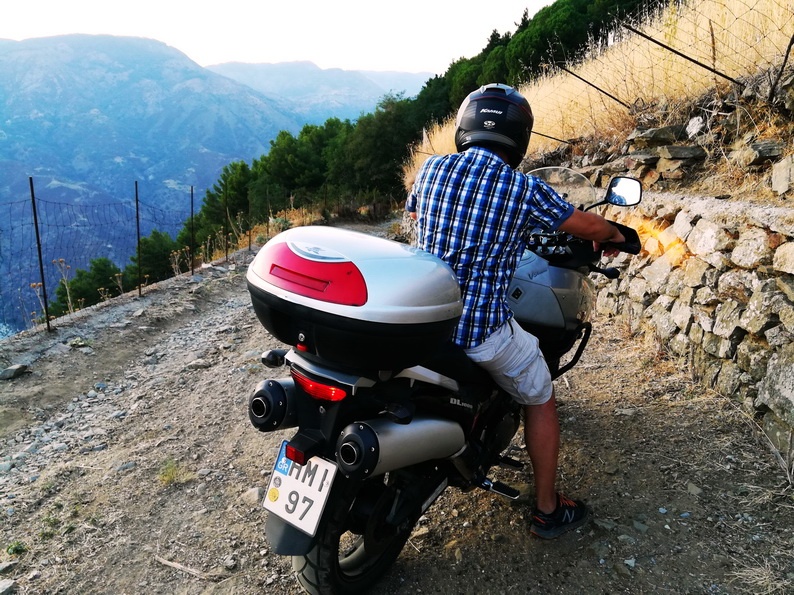 This is the kind of adventurous, challenging drive we had been looking forward to on the entire trip. The road was steep. As it continued to rise, the views got more dramatic with every hair-pin turn in the narrow road.
Magna Grecia looks exactly like regular Grecia- especially Crete. The landscape and herds of goats, the vistas, the olive groves, and the kind manner of the people we all the same. Like the Cretans, they even like guns – metal signs along the road are riddled with bullet holes.
Also like Crete, the road was not in consistently good condition. Large sections were dirt road with an uneven surface and many large, loose stones. After a small fall, we still pressed on – Galliciano was just 2 km away. But the sun was going down, and the road became ever rougher as we continued, so we turned around, resolving to find a paved route on our next road trip.
Reggio di Calabria
We hadn't heard much about Reggio di Calabria, so we were surprised by how much we liked it. There's a long park-like promenade above the waterfront with extraordinary ficus trees – the largest we had ever seen. Best of all, the promenade is crowded with families and vacationers – nearly all Italian – strolling and eating gelato until late in the night. This is a festive town to stop off in.
Day 6 – Reggio di Calabria to Brindisi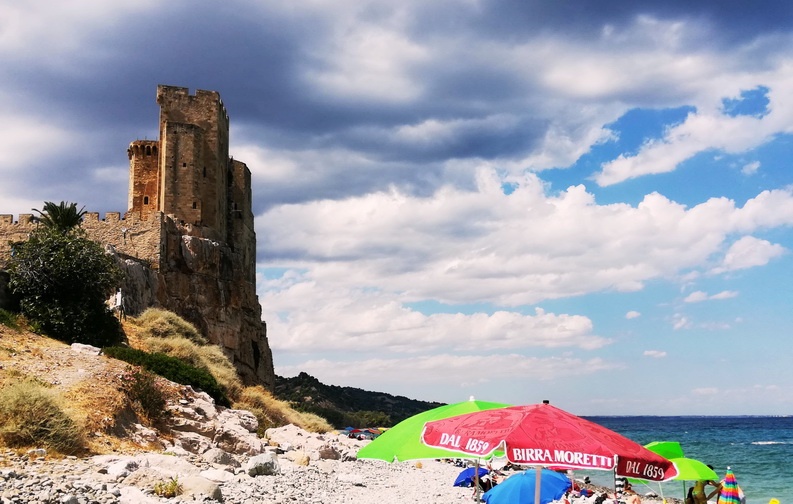 This was our longest single drive on the whole trip. The road surface is fine, and we got to see portions of the landscape we had missed because it was already dark when we had passed through them on the way to Sicily.
We saw a seaside village with the ruins of a castle, and decided to take a break there. This was Roseto Capo Spulico, another of the Greek towns of Calabria. People were enjoying the beach under the shade of Birra Moretti umbrellas. A castle rose steeply on a cliff at the beach's edge.
On the main road was a strip of stores shops selling Calabrian products. We stopped at one and they made us the best meal of the entire trip – a sandwich of nduja, a spreadable salami, deep red and spicy with hot Calabrian peppers.
Brindisi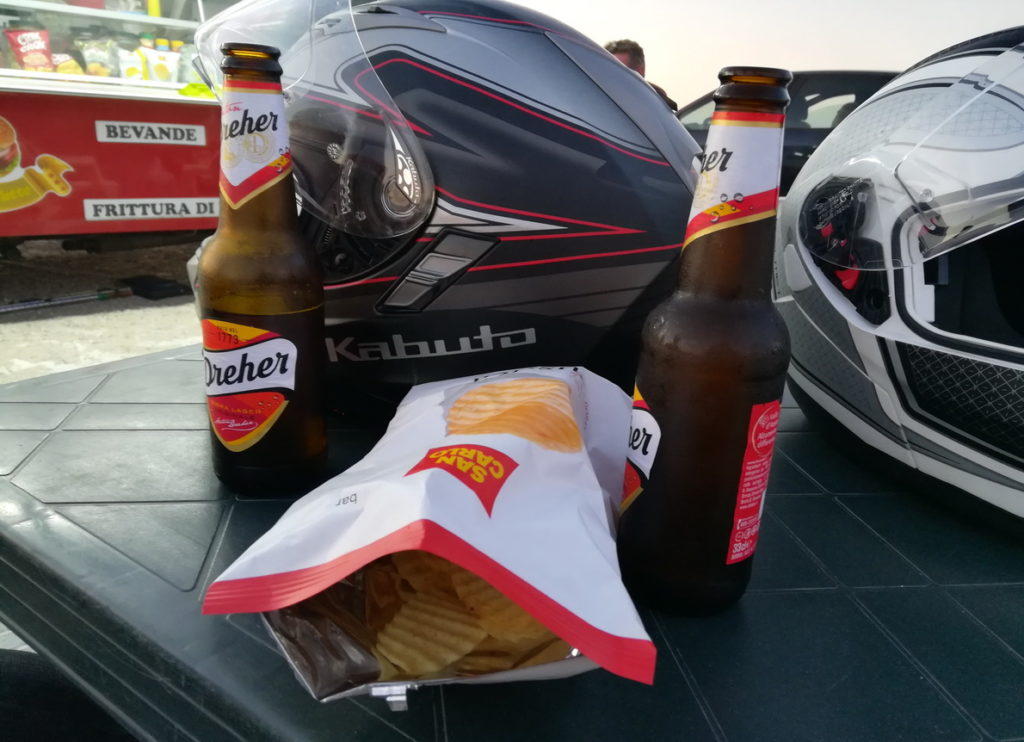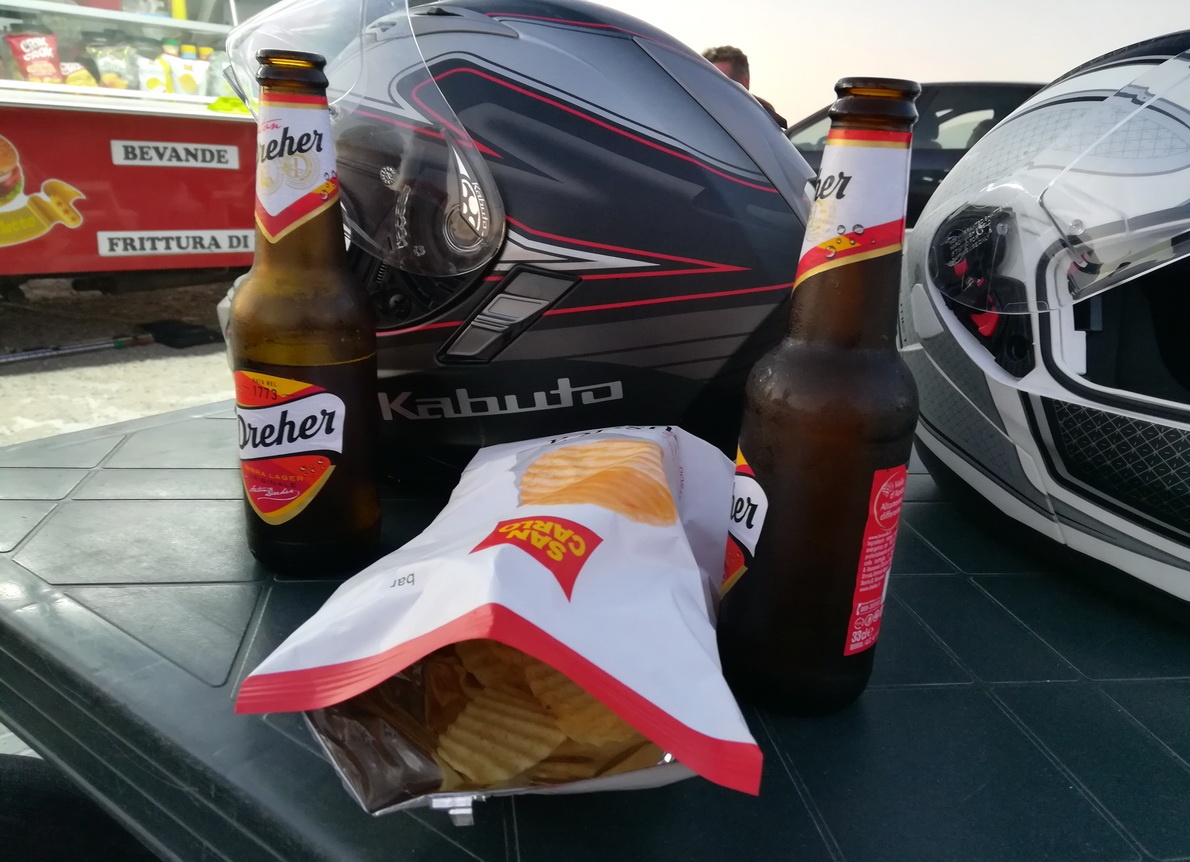 Brindisi is another town we had not heard much about. We were here because it was practical for getting on the ferry the next day at noon. But, like Reggio di Calabria, it turned out to be a fine place to spend an evening.
We first drove through the old city, stopping to visit San Giovanni al Sepolcro and the Portico of the Knights Templar.
We then went out towards the lighthouse, along a pleasingly desolate strip of land. Sea spray from crashing waves splashed at us. We stopped at a cantina where a few fisherman were having a beer. The sun was setting and a strong wind was cool.
The main harbor front is charming. We parked the motorcycle between cars as a local guy had advised us to do – there's no sidewalk parking in Brindisi, either. We walked along the port with the water at our right. Passing bars and restaurants, we came to a row of cantinas with a view of the boats. Local people of all ages crowded around the many tables, enjoying grilled meats and cold beers. We joined them.
Staying in Brindisi
We stayed at the Ibis, which was on a main street, easy to reach, with street parking outside. The room had a good bed, a great shower, and was a little under 60 in high season.
Day 7: Brindisi to Igoumenitsa to Thessaloniki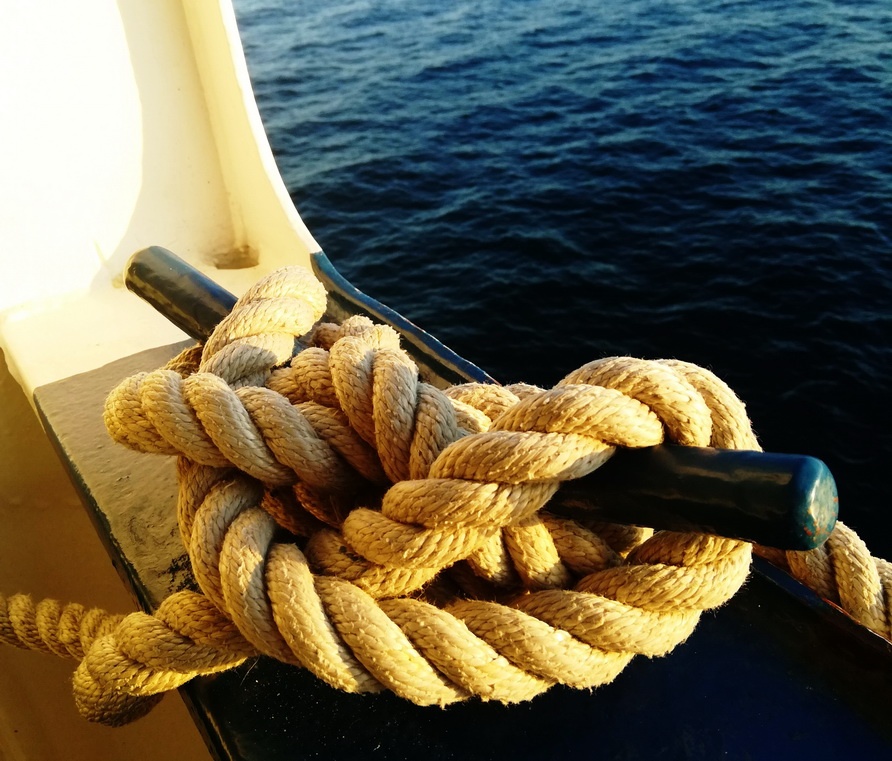 The ferry – Grimaldi lines – was crowded and truly filthy. There was very little shaded outdoor seating on both of the boats. It's worth going early. We had a great time anyway. The ride is only about 7 hours, and we had fine company – an Italian family on their way to Mani.
We also had a chance to recount the journey. Going from Greece to Sicily by motorcycle was an ideal one week trip. There was enough driving, with beautiful – sometimes thrilling – routes. But none of the drives were more than 6 hours. There was plenty of time for spontaneous stops and sightseeing along the way.
This was also a more economical trip than we took last year – Thessaloniki to Marseille.
We'll definitely be making a trip from Greece to Sicily by motorcycle again. Next time, we'll visit more of Calabria and the villages of Magna Grecia, and take the southern round of Sicily.
Please note- If you use one of the affiliate links in this post to book a room, I'll get a small percentage from booking.com out of their share (thanks for the support!). It won't come out of the hotel owner's share, and your room will cost you exactly the same, not more.