When we planned a motorcycle trip from Greece to Sicily, one of the first things we researched was what to eat in Palermo. Food is such an integral part of the Italy experience. This taste of Sicily had us already planning a much longer trip, to much more of Italy.
Palermo is world famous for its street food culture, its gelati and canoli, and its trattorie. We promised ourselves to try everything. We nearly succeeded.
What to Eat in Palermo: Wild Street Food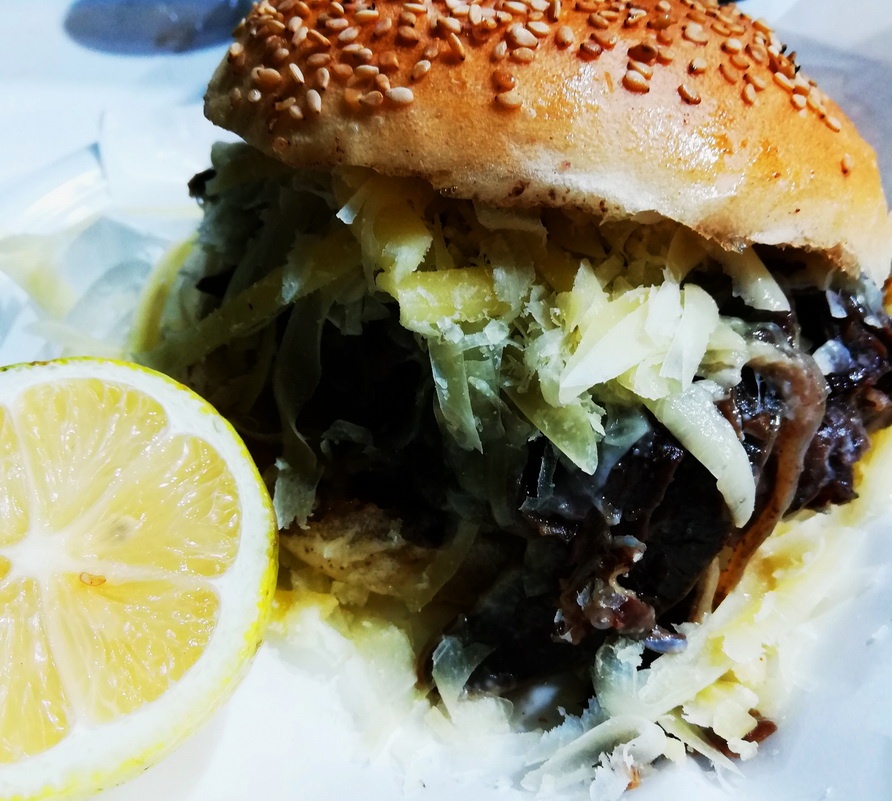 One of the main reasons Street Food in Palermo may be so famous is that some of the specialties are made of unfamiliar – even daring – ingredients.
This is the original cucina povera – a cuisine of humble, affordable things, like slaughterhouse scraps.
We live in Greece – also a nose-to-tail culture, where nothing goes to waste and organ meats can be a delight. We thought Greece's rustic cuisine would be a good preparation. (Sometimes, like in the case of stigghiola, it wasn't quite enough preparation though).
Pane ca' Meusa, Pane con la Milza – Palermo's Popular Sandwich
Pane Ca' Meusa – or Pane con la Milza – looks delicious. Thin, delicate pieces of dark brown lean meat simmer in a brown sauce. Every now and then, a hunk of snowy lard goes into the bubbling cauldron. It melts fast.
Pane ca' Meusa is made with spleen and some lung. A guy serves up a generous ladle full of the meat onto a split white roll, draining off some of the fat. You can get your pane ca' meusa schettu – that means plain. Or you can get it maritatu, which mean 'married' with a handful of grated caciocavallo cheese – a mild cheese with a texture like Gouda.
We got our pane ca' meusa maritatu, and we squeezed the lemon half generously over it. The texture is nice, but for the occasional stringy parts. The taste is somewhere between beef and liver.
People rave about pane ca' meusa. But also consider, its popularity has not spread.
Honestly it's not bad though. Still hungry from the drive from Calabria, we even got a second one.
Where to Find a Pane ca' Meusa
We heard you can find these all over, but even touring Palermo by motorcycle we didn't see them much. The one place that was easy to spot was Nino u Ballerinu. Fluorescent lights and Latin music spill out into the street. People gather here around stands with cold beers and snacks on plastic plates at all hours- Nino u Ballerinu never closes.
Nino u Ballerinu, Corso Camillo Finocchiaro Aprile 76/78
Stigghiola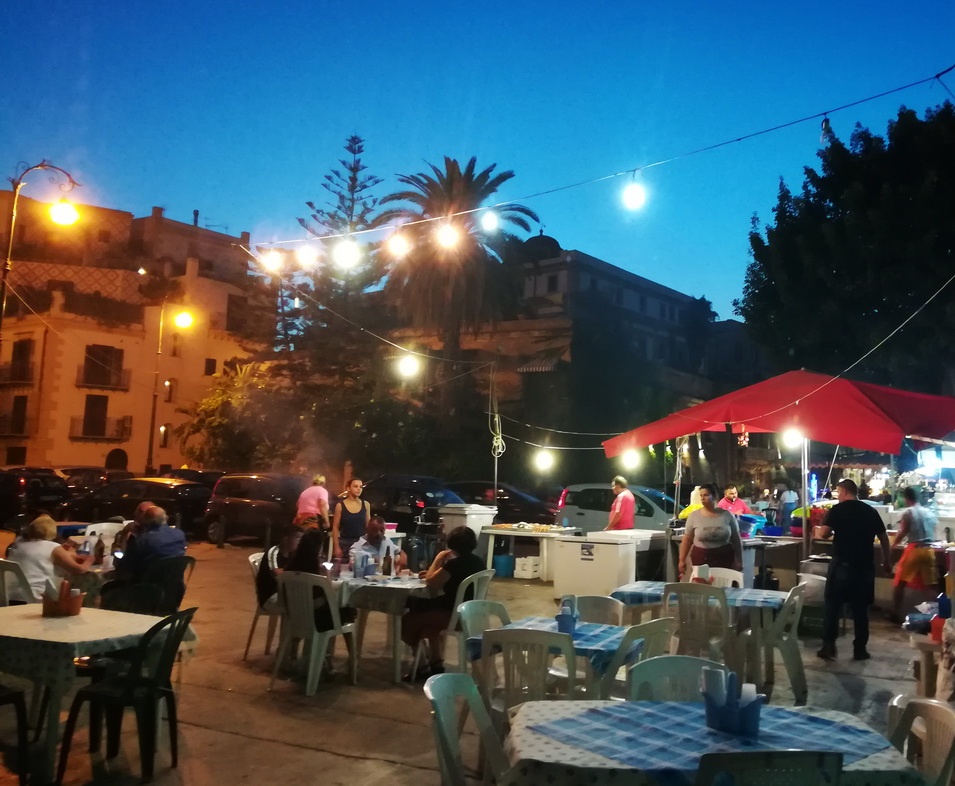 Of the many things to eat in Palermo, stigghiola may be the most challenging – it's almost an initiation.
Greeks have some famous intestine preparations. There is mageiritsa – the egg-lemon soup that breaks the Easter fast after midnight mass on Saturday. Gardoubakia are tender lamb intestines wrapped around organ meats and bathed in a lemony sauce in the oven. Kokoretsi is a similar preparation, but more intensely seasoned with salt and pepper and roasted on the spit until mahogany and crisp.
In Palermo, stigghiola are simply skewered intestine, cooked on the grill. They were chewy, and stayed long in the mouth. Some people – in Greece also – complain that if you clean the intestines too vigorously, you wash away all the flavor. This was not a problem – at the cantina where we tried them, there was still plenty of flavor. Happily, a large beer in Italy is .66 liters. A cold bottle of Moretti helped wash them down.
Where to Eat Stigghiola in Palermo
The best thing about stigghiola is where to eat them.
A friend from Rome had told us that there are stands selling good seafood in the neighborhood around the Piazza Kalsa. We drove to this romantic corner of Palermo, a grand plaza near the sea, at dusk. Many simple fish restaurants had people outside trying to draw us in, which we never like.
But then we spotted some lights at a corner by the waterfront. We found two cantinas – one for seafood (that's Da Letizia e Paolo Cefalu), and directly across from it there was one for meats, including stigghiola. The cantinas are by the old city walls. Crumbling mansions are built into them, overtaken by climbing vines. The promenade was lush with palms. Matrons, stray dogs, families with strollers, and professional escorts in lucite stilettos walked by.
We had no time for the seafood cantina, but the selection was astonishing, including fresh ricci di mare (sea urchins)- which we know and love from Greece – and polpo (octopus).
The whole experience was definitely worthwhile, most especially because the man at the grill was so thrilled to see foreigners sitting down for stigghiola.
Frittola
Frittola is a street food specialty with an almost cult status. So we were disappointed that we couldn't find it. Even if we had, I'm not sure we would have tried it.
Frittola is cloaked in mystery. That's not an expression. Apparently, frittola is literally cloaked – served up by hand from a pot that is always hidden beneath a cloth. Also, no one can – or will – say what's in frittola. It may not be precisely known – it's various slaughterhouse scraps, fried in lard. It looks surprisingly tasty in photos.
What to Eat in Palermo – More (Accessible) Street Food Classics
Arancini
These balls of rice, breaded and fried, take their name from the oranges they resemble- arancini. In Rome they call a similar treat supplì. The cooked rice is shaped around a filling – classically a ragù with some peas. Arancini fill you up fast.
At Ke Palle, on the popular tourist street Via Maqueda, there is a whole variety of creative fillings.
Ke Palle, Via Maqueda 270
Pane e Panelle
Also a product of cucina povera, this filling and starchy dish could not be simpler. Chick pea flour fritters, fried in batter, are served on a bun. It is as authentic as pane ca' meusa – much less challenging, but also less interesting to eat.
Pane e Crocchè
Potato croquettes the size of a very small egg – deep fried crisp- are served on a bun. You can find a sandwich with both panelle and crocchè.
Pizza for Breakfast – Sfincione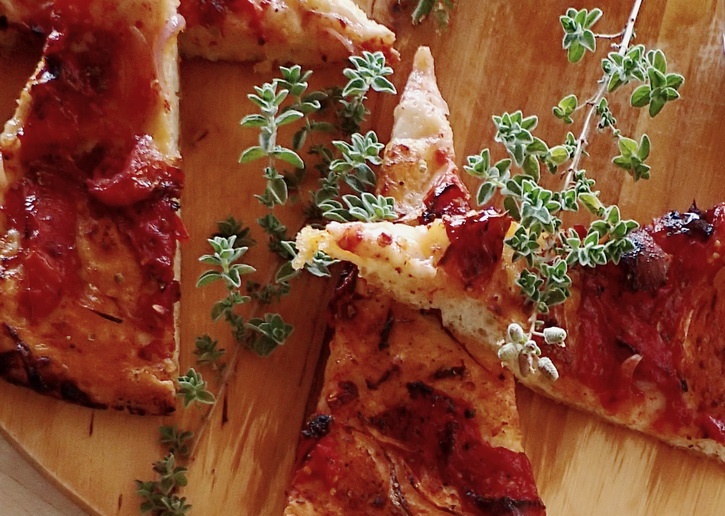 Sfincione is fabulous hybrid of an airy focaccia and a pizza, with no cheese. It's a popular snack, also in the morning. It will be familiar to anyone who likes Sicilian style pizza in the United States – thick and cut into squares, or the now popular Grandma Pie. It doesn't sound like much, particularly because of the sparse topping. But what topping – a small, lumpy Sicilian variety of tomato bursts with intense flavor. These are island flavors- concentrated by the bold Mediterranean sun. Both the tomato and a version of Sfincione are popular in the Cyclades. Except on the island of Kimolos, it's called Ladenia.
We found these at street vendors everywhere, especially in the markets like Capo, Ballarò, and Vucciria. They also have all these specialties at Nino u Ballerinu.
What to Eat in Palermo – Dolce and Gelato
Palermo excels with sweets day and night, from a canolo for breakfast to a brioche con gelato after midnight.
Caffè Latte e Cornetto
The cornetto is Italy's croissant. Usually, they're filled – Cornetto con Crema is a croissant filled with pastry cream. There's also chocolate filling – like Nutella. In Sicily, you can have a croissant filled with green and gloriously fragrant Pistachio cream.
For a crunchier version of the cornetto, try a sfogliatella.
How to Order Breakfast at a Cafè – or 'Bar' – in Italy
'Bar' in Italy often means a coffee bar, as you often drink your coffee standing at the bar. This is cheaper, and more fun
What you do is to look at the pastry case first to decide what you want- a cornetto, a canolo. If you don't know what something is called, you can point and ask so you can order it at the cashier.
Although cappuccino and caffè latte are just for the morning, Italians stop in for a quick espresso throughout the day. An Italian espresso is very short, and nearly half of it dense delicious foam. You only need about 90 cents and a couple of minutes to enjoy it.
Canolo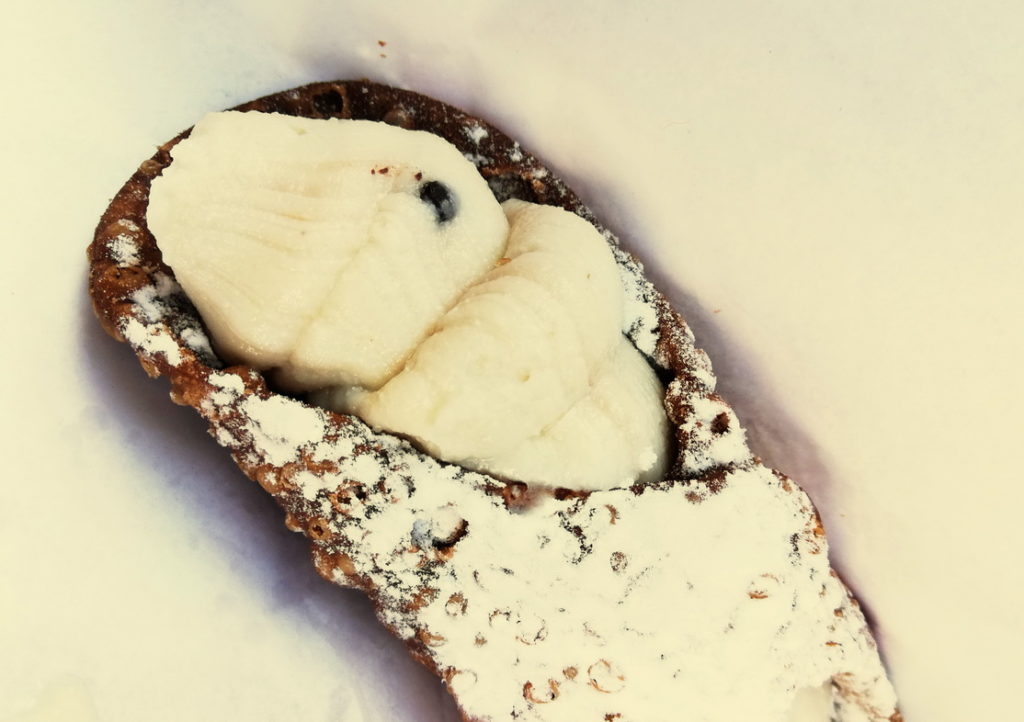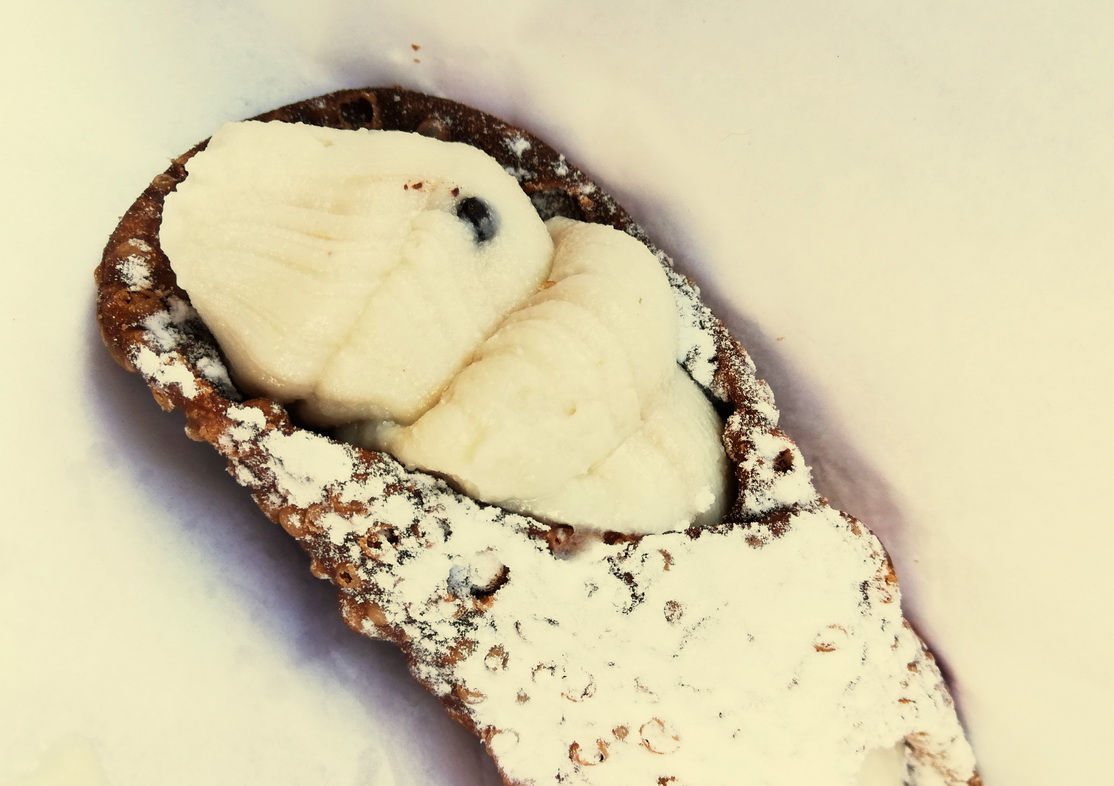 Is there another sweet more evocative of Sicily? "Leave the gun, take the cannoli" sums up priorities in "The Godfather" – part of our pre-Italy film fest for the food scenes (for more movies set in Italy, check out this excellent list).
Although we often use the plural – canoli – in English, Italians order a canolo – singular – when they're ordering just one. This is the queen of Sicilian pastry. A crisp – crumbling, not flaky – shell is filled with sweetened whipped ricotta cheese. The filling has candied citrus and chocolate, or, in Palermo – it can be pistachio filling.
Freshness is key – most places fill their canoli when ordered. Except at a busy cafe bar – but then the turnover is so quick that your canolo shell should still be crisp.
Cassatina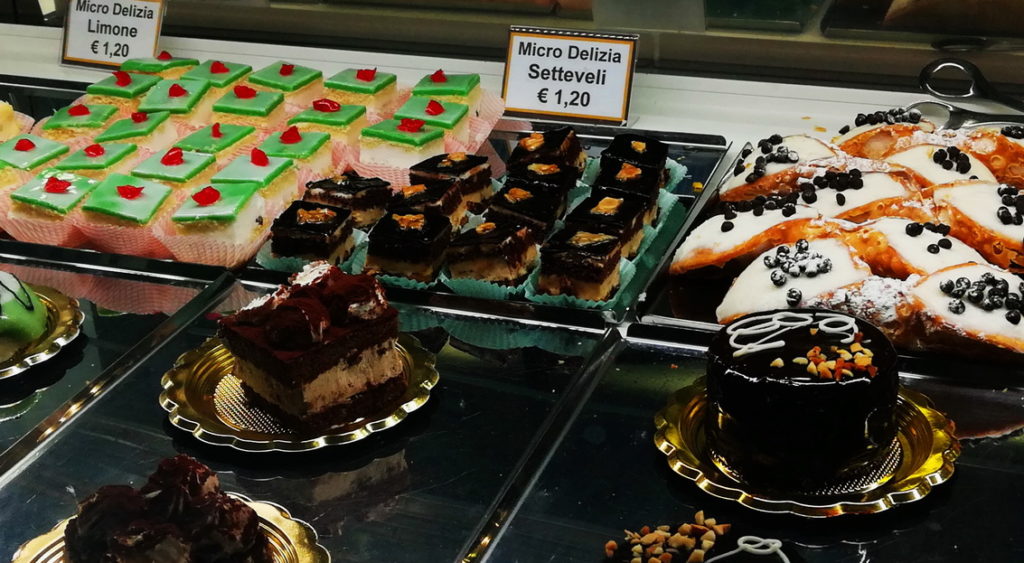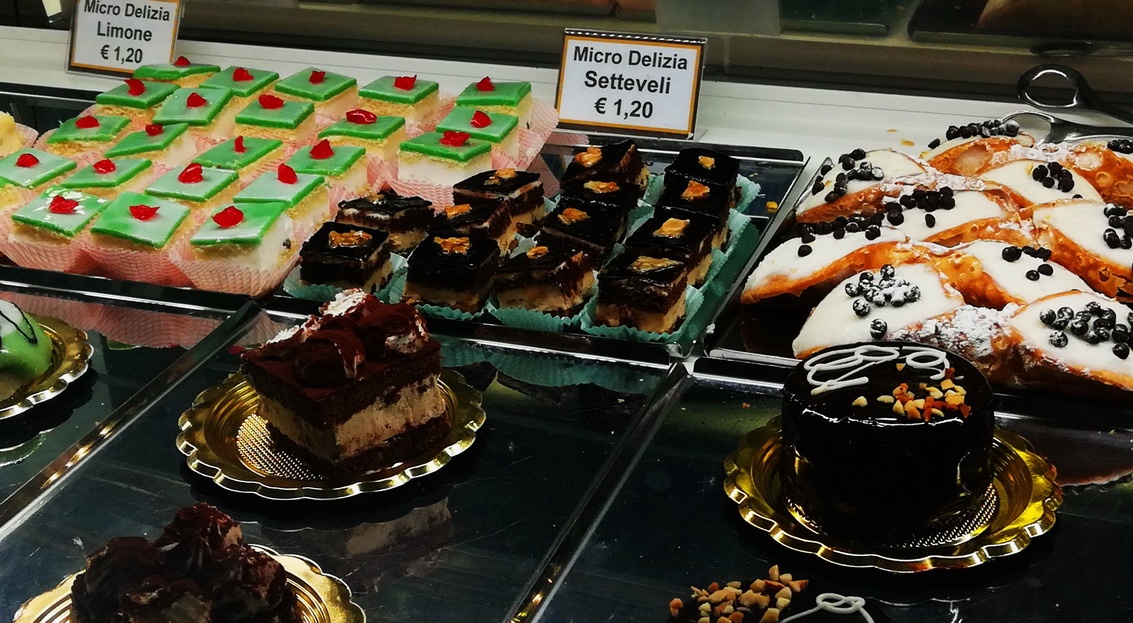 Almond paste, an Arab contribution to Palermo's culinary landscape, is part of many desserts. Here, a layer of sponge cake soaked in liquor is topped with ricotta cream, wrapped in green marzipan, and decorated with candied fruits.
Gelato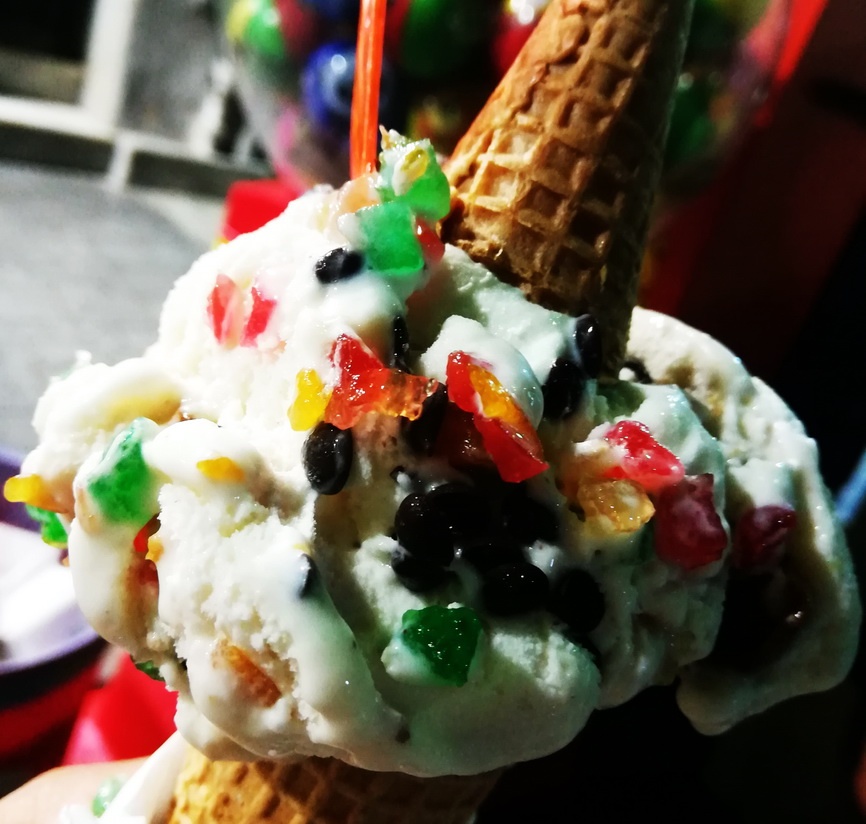 It's an obvious category. But gelato is a basic, like bread. The best late night Gelato we had – twice – was right down the street from Nino u Ballerinu.
This place had the same late-night mood as the pane ca' meusa place, but with more kids running around, babies in strollers, and grandparents enjoying a midnight treat.
We loved the old-style flavors, like cassata, with the ingredients of a cassata Siciliana. This one was packed with candies fruits and toasty whole almonds. Another night they had a fresh batch of torrone flavor – nougat with whole almonds.
Antica Gelateria dei Fratelli de Navanzino, Corso Camillo Finocchiaro Aprile, 19
Brioche con Gelato
Brioche con gelato is brilliant, unapologetic way to enjoy gelato for breakfast or any time of day. A fresh, soft brioche is split open and filled with the gelato of your choice. Pistcachio is a popular option. This place – open until past midnight every night, and until 2 am on Saturdays – makes a very nice one.
Brioscià, Via Mariano Stabile, 198
What to Eat in Palermo at a Restaurant
If you want to eat out in Palermo, you may need to plan a little. Some restaurants– especially places not catering specifically to tourists – close between lunch and dinner. For dinner especially, you often need to reserve a table – even at casual neighborhood places.
We got lucky though. When we stopped to make a dinner reservation at La Tavernaccia, they were still open for lunch. They had a table free, and we took it.
The menu is organized by primi and secondi. The primi were all pastas. The secondi were meats or fish. There was also antipasti. These were served buffet style, self service, with a small plate for €6 and a large plate for €12.
We had thought that dining etiquette demands we order a primi and a secondi, but we saw many tables just enjoying a pasta, maybe with an antipasta as a starter.
Many of the pastas were just €4, with some for €6 and some seafood pastas with clams, shrimp, or mussels for €10.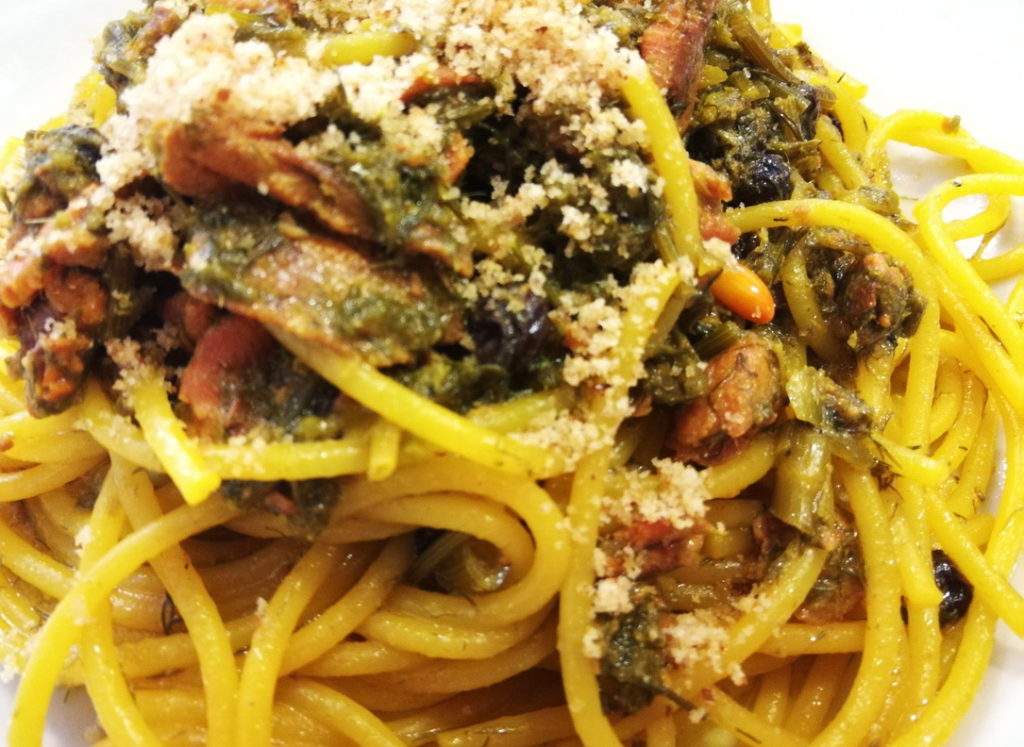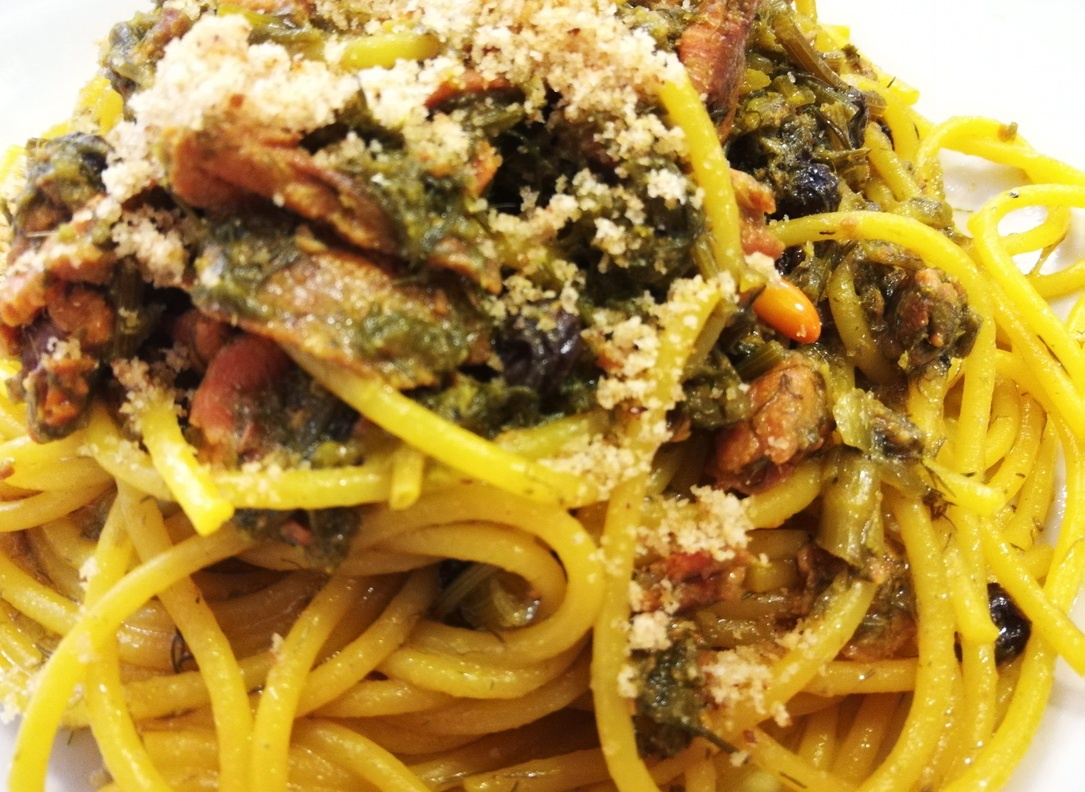 Pasta con le Sarde, a classic Palermo dish, was on the menu. It's beautiful to look at. The spaghetti is yellow with the saffron in the sauce. The sardines are cook down together with pale green fresh fennel. You can taste the Arabic influence in the pine nuts and raisins.
We wanted to dine at La Tavernaccia again, but they only open for dinner Wednesdays through Saturdays. You can have lunch there Monday through Saturday.
La Tavernaccia, Via Pignatelli Aragona. +39 347 511 1312.
What to Eat in Palermo- The Markets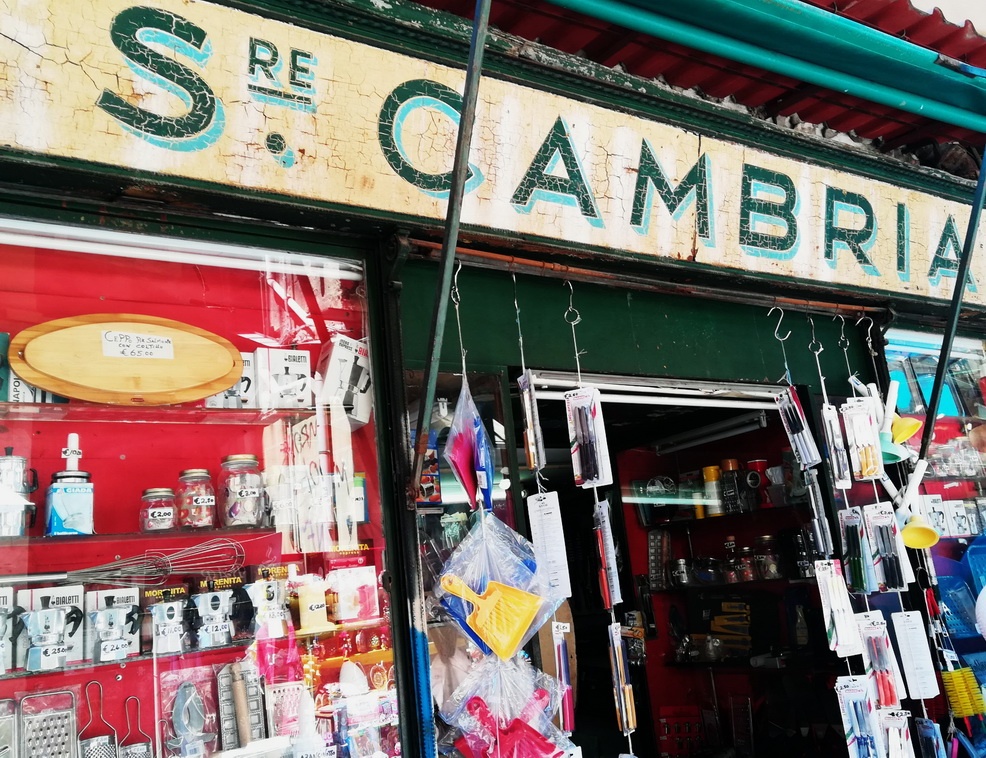 The food markets of Palermo make you want to cook for yourself, starting with the ravioli forms, gnocchi boards, and espresso pots at housewares stores. Then there was the food itself: cheeses and salumia – salamis and cured meats – and towers of olives. The produce at the markets is beautiful, plentiful, and inexpensive, like these bright purple eggplants: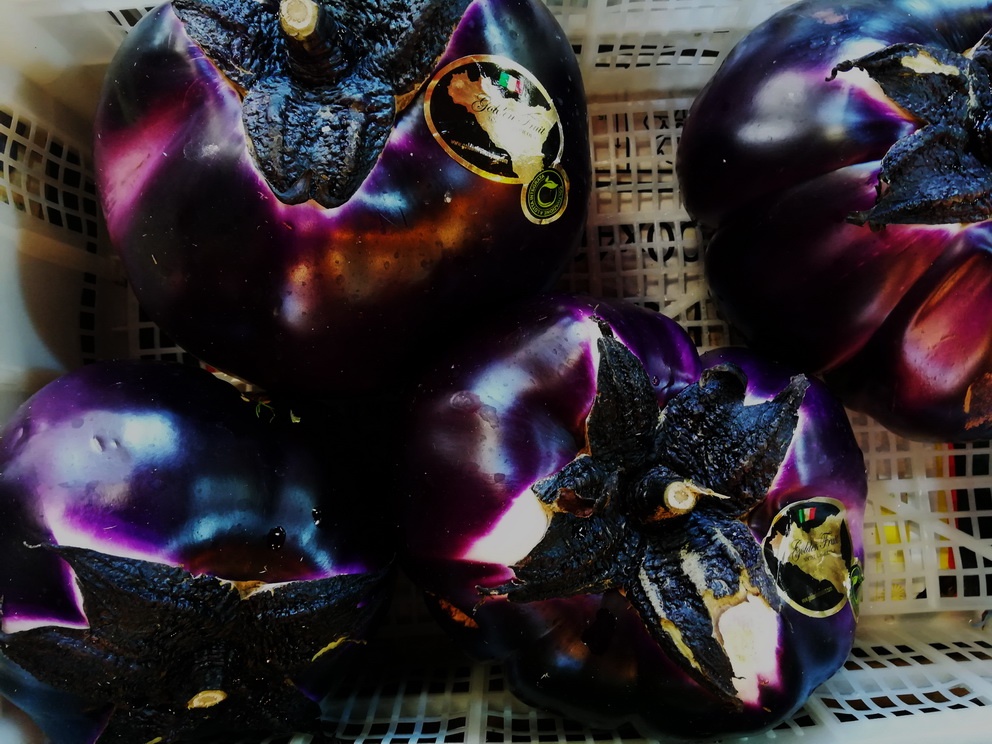 Even if you don't have a kitchen, the Capo market, Ballarò market, and Vucciria market are key destinations. Visiting a mercato is a total sensory experience. The produce is colorful and bright. Whole fish and exotic sea foods glisten like still lifes, and the cobblestones are slick with melted ice and fish scales. The heavy scent of ripe fruits and a subtle, primal base note of meat hangs in the air. Best of all are the personalities of the marketplace. The vendors sell with such zest there's even a word for it: abbanniate.
If your travels are definitely food-forward, you'll love Palermo. To continue your culinary explorations in Italy, hop on a train to Calabria for some nduja, then on to Naples for a pizza, and Rome for a plate of caccio e pepe. Travelling by interrail is the best way to savor the route to the fullest.