Winter in Budapest is the city's finest season. This is a superb winter destination. The things that Budapest is most famous for – luxurious thermal baths, peerless café culture, great red wine, evenings at the opera, sumptuous mitteleuropa cuisine, and nights out at the ruin pubs – are all at their best in winter.
Hungary's capital specializes in a sophisticated mix of high culture, nightlife, and palatial cafés and baths to recover in. It's the perfect place for a full program of sight-seeing and activities. It's a dreamy destination for Christmas, and a fun place to celebrate New Year's Eve. But Budapest is an even better place for doing nothing at all
Winter in Budapest is Beautiful
One of the things about Budapest that makes it an ideal winter destination is that you only need to open your eyes to enjoy it. It's a sugar-dusted fairy-tale in the snow. The architecture in Budapest is astounding. Nearly every building you see looks like it should be a landmark. Those that actually are world-class famous landmarks – among them the Hungarian Parliament Building, the Fisherman's Bastion, the Matthias Church, the Buda Castle, St. Stephen's Cathedral, and the Budapest Opera House – defy description.
Budapest represents grand old-world Europe at its shamelessly sumptuous peak. Wherever you wander – the elegant Andrassy Avenue, the charming Váci Utca pedestrian zone, the avenues running along the river Danube with their classic yellow trams – Budapest will impress and delight you.
All of these places are particularly beautiful in winter. The Gellert Hill, for example, is perhaps even more romantic with the bare branches of winter.
Winter in Budapest – Weather, and What to Pack
You'll know it's winter in Budapest, with a crispness in the air that makes a glass of Egri Bikavér ("Bulls' Blood" – a lush red from the wine town of Eger) or a tall Melange (Caffè Latte, Austro-Hungarian style) even more welcome than usual. Snow is not infrequent.
Good boots are essential for rain and slush. Bring gloves and a hat, and anything else you need for enjoying the parks, the monuments, and the Christmas Markets. Also, bring a bathing suit, or even two – Budapest's many historic Thermal Baths are an essential experience. With pools ranging from plunge pools to over 40 degrees C, ultra-dense steam baths, and saunas (often of 2 or 3 temperatures), they're made for warming up (and chilling out) in style.
An evening at the Opera or Ballet, or just a leisurely afternoon at some of the world's most elegant cafes, are worth dressing up for. Pack something nice to take full advantage of the more high-style winter pleasures in Budapest.
Staying in Budapest in Winter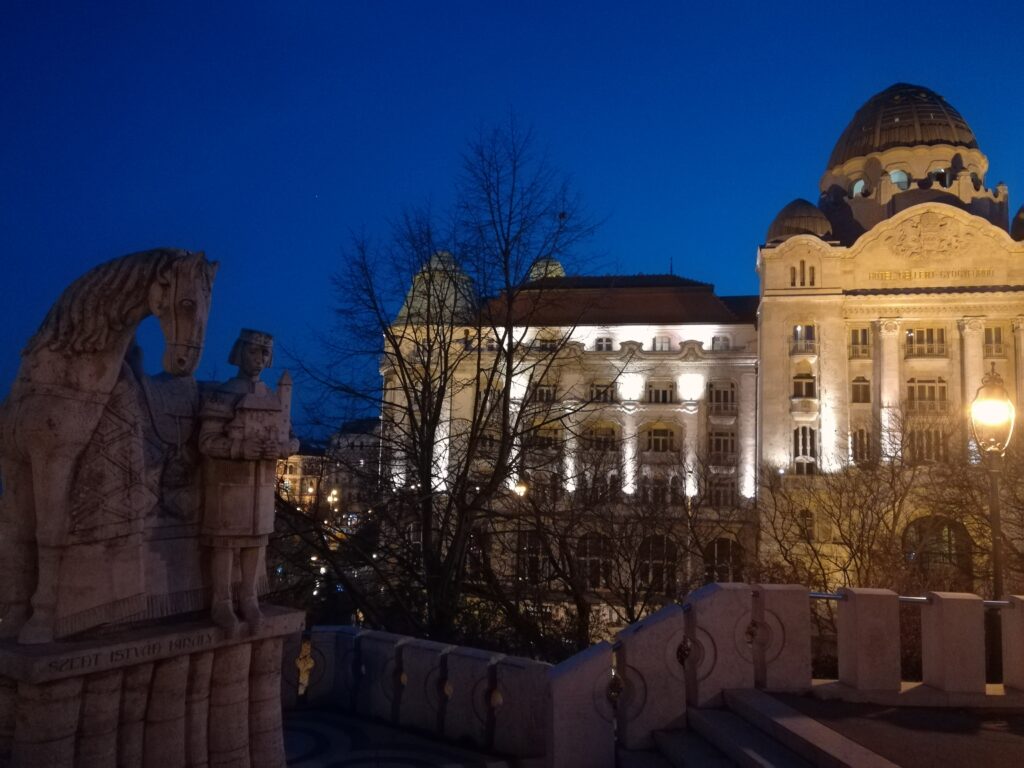 Budapest has fantastic hotels. If you really want to splash out, the Four Seasons Hotel Gresham Palace. This spectacular Art Nouveau beauty right beside the chain bridge is a familiar sight to many. It is both a landmark in Budapest and also stars in cameo appearances in various films as the definitive luxury hotel – even in Paris. About half the price and still plenty plush is the fabulous Corinthia Budapest, also in a supremely historic building. This is a great choice if you want to visit the Szechenyi Baths or have a meal at the legendary Gundel, as it's in the historic district between Szent István (St. Stephen's Cathedral) and the Városliget (city park) You can browse a complete selection of choices in all price ranges here, and also see photos and guest reviews.
Things to Do in Budapest in Winter
Swim in the Széchenyi Thermal Baths in the Snow in Winter in Budapest
These landmark historic baths are open all year of course. But winter is the best season to enjoy the Széchenyi Thermal Baths to the fullest. One of the truly iconic Budapest images is the old men playing chess in the outdoor thermal pools of the Széchenyi, as the steam rises all around them and snow falls in fat flakes from above. Join them.
The Széchenyi Baths are spectacular. This grand neo-Baroque bathing palace is filled with pools of various temperatures, steam baths, and saunas. It's an over-crowded tourist magnet in summer – particularly the outdoor pools. But in the winter, you can enjoy the baths in serenity with the locals.
… and also Visit the Gellert Baths
The Art Nouveau Gellert Baths are the most beautiful in all Budapest. The outdoor pools are only for summer, but the gorgeous Zolnay-tiled baths and vast pool under a glass ceiling are reason enough to come to Budapest. To enjoy them to the max, stay at the adjoining Gellert hotel.
In fact, a spa holiday is a great way to enjoy Budapest. Take your mother – this city is a fantastic Mother- Daughter Holiday destination.
Warm Up with Some Krampampuli at Budapest Christmas Markets
The whole city looks like a scene from a storybook. Budapest was made for Christmas, and the city knows it. The Christmas Markets of Budapest are enchanting. Even if you don't need to shop, stop by for traditional Budapest winter treats, including warming drinks such as mulled wine and krampampuli. Feast on stuffed cabbage and gulash. Or try traditional Hungarian desserts like kürtőskalács – the popular chimney cake or 'Sekler cake,' beigli (poppy seed rolls), or – if you can't make up your mind – flódni – a stacked pastry with layers of apple, walnut, and poppy seed fillings.
There are several Christmas Markets in Budapest. You'll find one in front of St. Stephens Basilica, at Fővám Square (tér) by the charming Central Market Hall, and at Erzsébet tér, among several. The largest and most popular Holiday Market is at Vörösmarty tér (square). This site has great detailed information.
… and Take a Decorated Tram to Get There
As if Budapest's old-fashioned yellow trams were not charming enough, some of them even get decked-out with lights throughout the holiday season. The Fényvillamos – "Light Tram" often runs along the tram #2 line, along the Danube banks on the Pest side.
Speaking of trams – decorated or not, Budapest's trams are an easy and civilized way to get around. Those running along the Danube on either side offer particularly fine views.
Get Dazzled by the Light Show at St. Stephen's Basilica
St. Stephen's Basilica by day offers magnificent panoramic views from its roof.
But you may want to visit by night. During the holidays, a fantastic light show is projected onto the facade of St. Stephen's Basilica. Plan your visit to the Christmas Fair here for later in the day to catch the show, as the begin around dusk.
3-D glasses are available at the Christmas Market in the square to enjoy the extravaganza to the fullest. But it's also supposed to be great without them. Animations of religious tales are brought to life with dazzling illusions and sound.
Visit the VII District in Pest – the Erzsébetváros – for the Gorgeous Moorish-Style Synagogue and the Ruin Pubs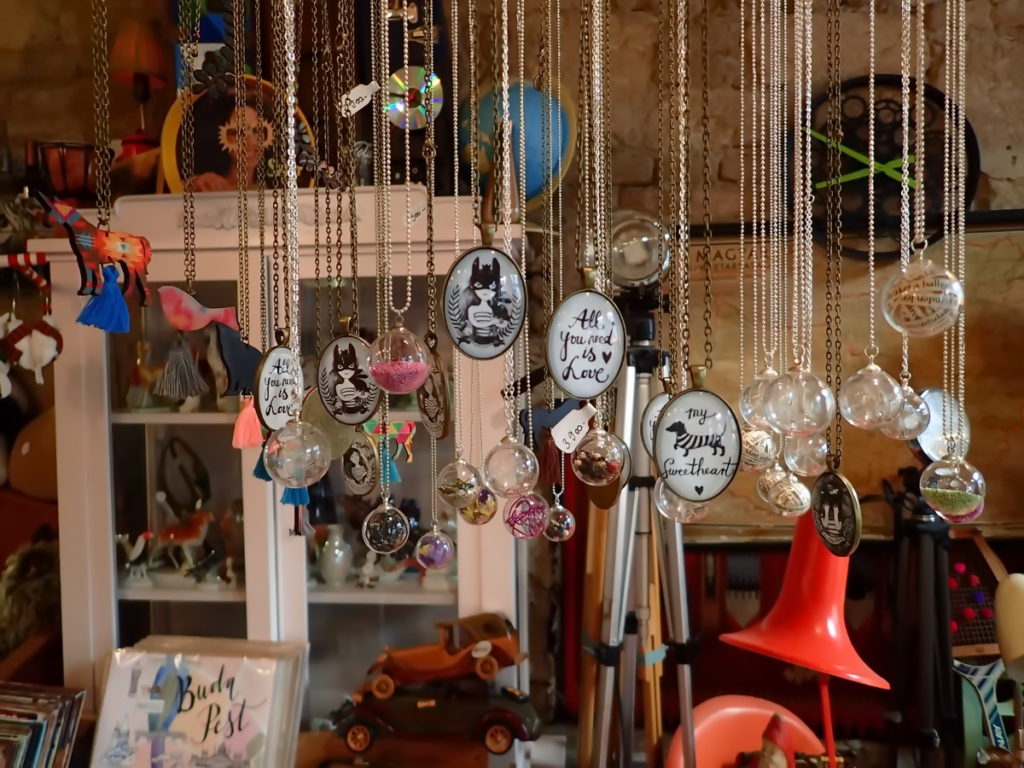 The Erzsébetváros – the 7th district – is now one of the most popular neighborhoods of Budapest. The name Erzsébetváros means "Elisabeth town." The district is named for one of Hungary's most famous historic figures – the Hungarian Queen/Austrian Empress Elisabeth (the popular "Sisi"). The historically Jewish quarter is home to Europe's largest functioning synagogue – the Dohány Street Synagogue. This mid-19th century masterpiece is famous for its opulent Moorish revival architecture.
The Erzsébetváros experienced a revival at the beginning of the millennium, largely because of the now world-famous ruin pub scene. These pubs – which encompass restaurants, bars, coffee houses – celebrate the unique urban texture of Budapest's 7th district. Hosting concerts and events, these serve as excellent cultural destinations. Today, the neighborhood has a compelling and complex identity, a mix of old-style kosher restaurants, wine bars, ruin pubs, street art, and design.
Dress up for a Stroll along Andrassy Avenue
As the Champs-Élysées is to Paris, the Ringstrasse to Vienna, and the İstiklal Caddesi to Istanbul, so Andrássy Avenue is to Budapest. More than a street, Andrássy Avenue (Andrássy út) is a defining facet of the city's identity, and a destination in itself.
If you're looking for a splashy dose of old-world urban elegance, then you will love strolling along the broad Andrassy. This glamorous avenue links Erzsébet Square with the Városliget – the City Park. Andrássy Avenue is lined with grand Neo-Renaissance mansions, all built in the last quarter of the 19th century by Budapest's most celebrated architects of the time. These now house embassies, luxury boutiques, and elegant cafés – just right for a hit of window-shopping and indulging in a little Kaufrausch. This is also where you'll find the Hungarian State Opera House, as well as the "Pest Broadway" – an intersection with four magnificent theaters on its corners ("Pest" as we are now on the Pest side of the Danube).
In recognition of its architectural pedigree and cultural and historic importance, Andrássy Avenue was declared a UNESCO World Heritage Site in 2002.
Go Skating at the City Park Ice Rink by the Vajdahunyad Castle
There's nothing like the sound of skate blades on ice. Join the skaters at Europe's oldest (from 1869) and largest (over 12,000 square meters) – ice skating rink. This romantic skating rink is in front of the ultra-picturesque Vajdahunyad Castle, in the Városliget (City Park), right next to the Széchenyi Baths. In summer, it's a boating pond.
There are skates available for rent, and entry fees are very reasonable.
Take Photos from the Fisherman's Bastion
Built on the dramatic cliffs of Castle Hill is the Halászbástya – the Fisherman's Bastion – a spectacular lookout tower, framing one of Europe's most romantic views. Take in the full panorama of Budapest in Winter, the majesty of the snowy banks of the Danube, and the jaw-dropping Hungarian Parliament Building (a neo-Gothic extravaganza that's 300 meters long). Then take in the Bastion itself. This fortress, built at the end of the 19th century, is a neo-Romanesque fantasy, and the best Instagram spot in Budapest – which is really saying something.
Visit the Glorious Matthias Church
Right by the Fisherman's Bastion is one terrific surprise of a church. The Mátyás-templom – or Matthias Church – is a late-Gothic (14th century) beauty. The coronation of Franz-Joseph I of Hungary and his queen Elisabeth – 'Sisi' – of Austria (played in films by Romy Schneider) took place here in the Matthias church. A section of the church is dedicated to the story of the coronation and and the life of the ever beloved Sisi. During the Ottoman occupation, the Matthias Church was the main mosque of Buda.
The surprise is the interior. Nothing will quite prepare you for the bold interior of botanical and geometrical motifs, which cover the whole of the interior walls and ceilings. These are the work of the late 19th-century reconstruction and rebuilding of the church. Remnants of original medieval wall paintings served as a guide, but they also reflect a distinctively eastern European expression of Art Nouveau, the style of the age.
Take an Architectural Tour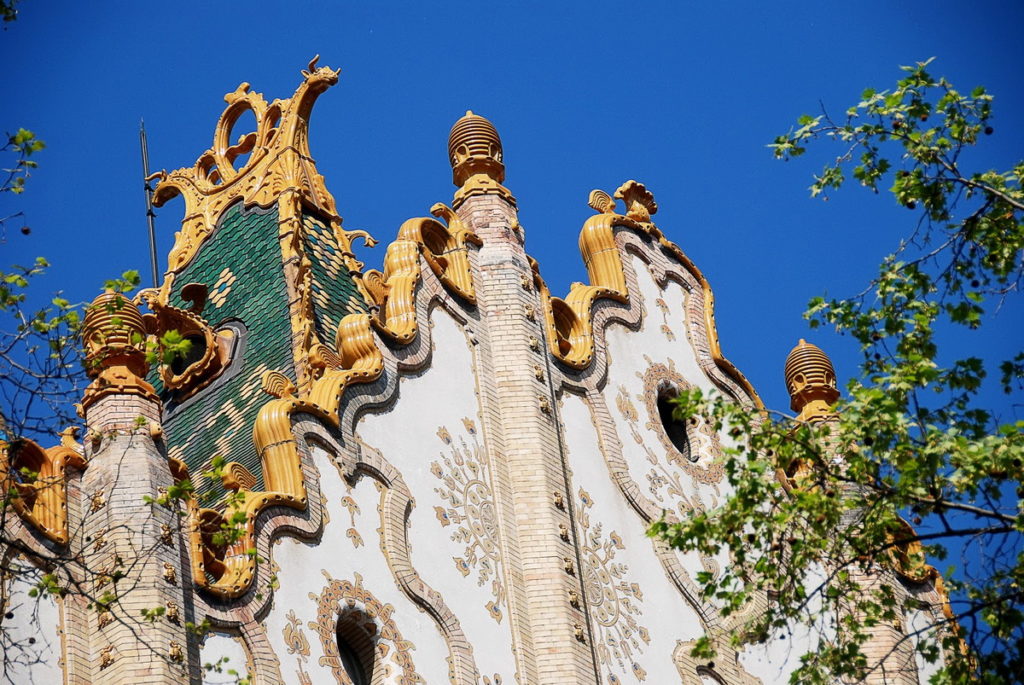 Budapest's history and its architecture are profoundly entwined. Learn more about the Austro-Hungarian compromise, Hungarian architectural identity, and Hungarian Art Nouveau on a tour with an architect. This was our experience: Guiding Architects – Touring Beautiful Budapest.
Have an Intellectual Debate in the Café New York – the Ultimate Kávéház
The Kávéház – Coffee House – is a Budapest institution, a definitive cultural essential. The culture of the coffee house was at its apex from the late 19th century through the early 20th century, with at one time an estimated 500 coffee houses operating throughout the city. Apartments could be small and, in winter, cold – especially for many artists and writers. The cafés of Budapest were an extension of the home and the studio. These were places to debate, and to create – cafés even stocked paper and ink for patrons' use.
Over 100 years later, not much has changed. The legendary cafés of Budapest remain places for intellectual conversation in inspiringly beautiful settings. Visit one for coffee and conversation. The ultra-elegant Café New York- an easy contender for most beautiful café in the world – is a sumptuous, gilded, baroque dream. Starving artists however no longer frequent it. This is a tourist magnet, but it's so lovely you might not mind – as long as you sit in the main room.
Another fine and more low-key choice is the exquisitely restored Centrál Café and Restaurant, which opened in 1887 and attracted composers, scientists, poets, and artists. This was a working café – literary journals were edited here on the marble tables amidst cups of melange. For pastry especially, try the world-famous Gerbeaud, serving the fine confections and coffee drinks on Vörösmarty tér since 1870.
Try All the Famous Cakes of Budapest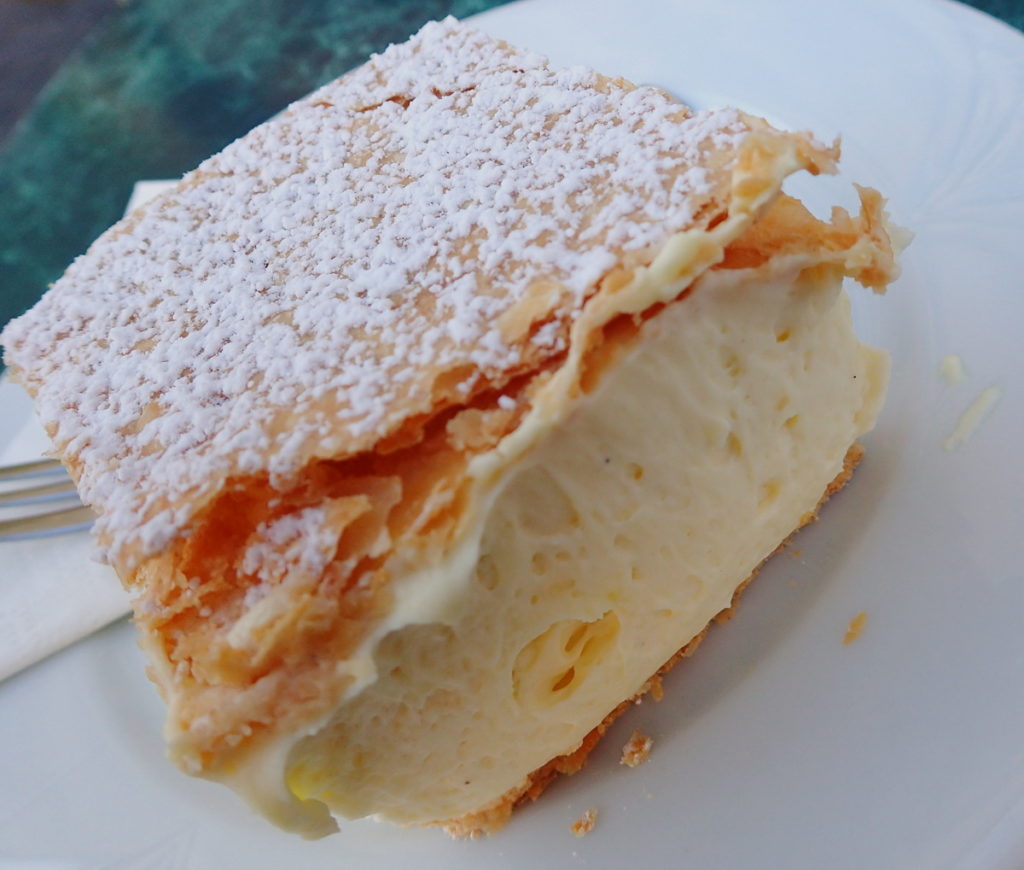 Or perhaps just these three. You might start with the unassuming-looking but very popular krémes. As it perhaps sounds, it's based on pastry cream – a square of rich crème patisserie between two thin and airy layers of puff pastry, with a dusting of sugar. It's so much more delicious than it looks. Another favorite is the Esterházy torte (named for Prince Pál Antal Esterházy de Galántha) – many layers of tender almond or walnut sponge alternating with a spiked pastry cream and topped with a marbled fondant. The most famous cake of Budapest worldwide is likely the Dobos torte (named for its inventor, the Hungarian chef József Dobos). Layers of sponge cake alternate with rich chocolate buttercream, all topped with a layer of hard, crisp caramel. Ruszwurm, in the Castle District, is the oldest confectioner in Budapest, upholding a tradition of excellence.
See a Performance at the Hungarian State Opera House
It hardly matters which one – anything in this lavish neo-Renaissance Opera house will be a treat. It's so beautiful that many people pay for a guided tour by day, to marvel at the opulent statuary, frescoes, mosaic floors, and gilded chandelier. Enjoy it as it's meant to be enjoyed, dressed up for the symphony, ballet, or opera. Watch the elegant crowds and imagine the opera house when Emperor Franz Joseph would have been among them, ensconced in the royal box, or when Gustav Mahler was the director.
But you'll have to be patient – the Hungarian State Opera House is closed for renovations at the moment, and is scheduled to re-open sometime in 2021.
What Makes Budapest the Ideal Winter Destination
Winter is the best season for visiting this grand European capital. Here are more reasons to experience winter in Budapest:
You'll Have the City to Yourself
Not completely, of course. But Budapest is extremely popular in the summer. In winter in Budapest, you'll find the museums less crowded, and the famous baths with more locals than tourists. The ruin pubs to will be less crowded. Budapest in winter has more of its authentic character intact.
What is Winter Like in Budapest?
With different weather systems meeting here, Budapest offers the whole spectrum of winter weather, from cold with blindingly clear skies, to serene foggy days, to generous snowfalls that cover the city in romance. There are also days with very mild temperatures.
Does Budapest Get Snow? Does it Snow in Budapest in December?
Very often it does. Both December and January are excellent month to enjoy the unique winter mood of Budapest.
Can You Go to Budapest Baths in Winter?
Not only can you go to the Budapest Baths in Winter – you must. Abundant hot therapeutic waters filling palatial, historic spas are one of the best reasons to come to Budapest in the winter.
Is Budapest, Hungary Expensive?
Hungary is an excellent value for money destination. There is a great selection of hotels and hostels in every price range. In winter in Budapest, you can generally take advantage of discounted rates, as this counts as the low season – even though winter is the most enchanting time to visit.
A dinner in a mid-priced restaurant is between 30 and 40 euros for 2, including wine. Cocktails and coffees cost slightly less than in Rome, Athens, or Madrid, for example. Entry into the baths, even the most expensive and luxurious baths, is generally less than 20 euros. Massages are a very affordable luxury.
Winter in Budapest
Whatever you're looking for in a winter destination – sophisticated urban pleasures, culture, museums, and beautiful outdoor locations – Budapest has it. Add to this the many excellent thermal baths and you have a truly unique city, an indulgent treat in the heart of winter.