Mother and daughter holidays are a fantastic way to enrich your relationship. It can also be a nice way to reverse your roles – it's really fun to see your mother let go of responsibility and just focus on enjoying each experience. On a mother-daughter trip to Europe, you can combine so many different elements and impressions.
Mother Daughter Trip Destinations
My mother has wanted to return to Spain since her stopover in Madrid on the way to Greece 15 years ago. She thought of Barcelona this time, longing particularly to see the works of Gaudí and other modernist masterpieces. In the end, we we found we couldn't miss Madrid, and we had to add Seville as well.
Mother – daughter holidays are about having a great time together. We like architecture. But we also like drinking wine in leafy piazzas and sampling Jamon. In fact, when I asked her what she wanted to experience, it was that: relaxing and taking in the beauty of the country. On our quality Mother – daughter trip to Europe, luxury translates to no chaos, no long lines, no check list. Famously crowded and chaotic Barcelona was a must. But we added Seville for tranquility – we were between Seville and Granada. We are going for a serene, stylish holiday.
Mother – Daughter Spa Getaways
My mother loved "The Grand Budapest Hotel" and loved it. But she never thought she would want to go to Budapest. For one thing, the film is not in Budapest. But real Budapest is in fact a very Wes Andersen, fairy-tale place to visit – elaborate tortes included. One of the best mother – daughter spa getaways, it answered our every wish for an destination. We loved the neo-Baroque baths, fancy cakes, and Gypsy combos we listened to while we drank glasses of hearty red wine. Generally, Budapest has become both one of my favorite destinations and one of my favorite places to lay-over the past few years. It's charming and easy to get to from the airport. Moreover, Budapest is an incredible value.
Mother – Daughter Holidays – Relaxed Travel
Luxury is as much about eliminating inconvenience as it is pleasure. And with this definition, luxury is not necessarily about money, but about planning. Consulting this comprehensive list of travel resources in advance has been tremendously helpful. We want to avoid the abrasions of travel, like long layovers, alarm clocks, looking for taxis. And we like trains over planes whenever possible.
Convenient Travel
When our destinations for a mother daughter holiday in Europe were set – Budapest, Madrid, Barcelona, and Seville – we set out to plan transportation. Never having to set an alarm is a priority for us – a non-negotiable luxury. A cheap flight that leaves at an exhausting hour is no economy. Our Wizz air connection from Thessaloniki left at a pleasant hour. The connection from Budapest to Madrid left late afternoon, arriving early in the evening. This way, we had no recovery time from our flights. We arrived fresh, ready to make the most of the afternoon and evening. We're paying for hotel rooms to relax and enjoy ourselves, not recover from our trip.
Taking the Train on a Mother Daughter Trip to Europe
To go from Madrid to Seville, we'll take the train. Spanish trains are notoriously nice, and notoriously expensive. We leave from Madrid's Atocha station, and arrive at Santa Justa in Seville less than three hours later, savoring the Andalusian landscape in between. No airport transfers offset the price of the train vs. the "budget" airfare. Door to door, the train is the faster option. Moreover, we have a huge choice of departure times. Best of all, going from city center to city center we are constantly in Spain. No sterile, international airport vibe breaks the mood. Our trip is all about the mood.
The Best Hotels for Mother – Daughter Holidays
Booking the hotels was the most fun. We decided what was important – local atmosphere and convenient locations were key factors. This led us to the Gellert in Budapest. The reviews have it at less than an 8. This is excellent – it weeds out the riff-raff who prize brand new carpeting over high ceilings and wide corridors. Our trip is also all about style.
Budapest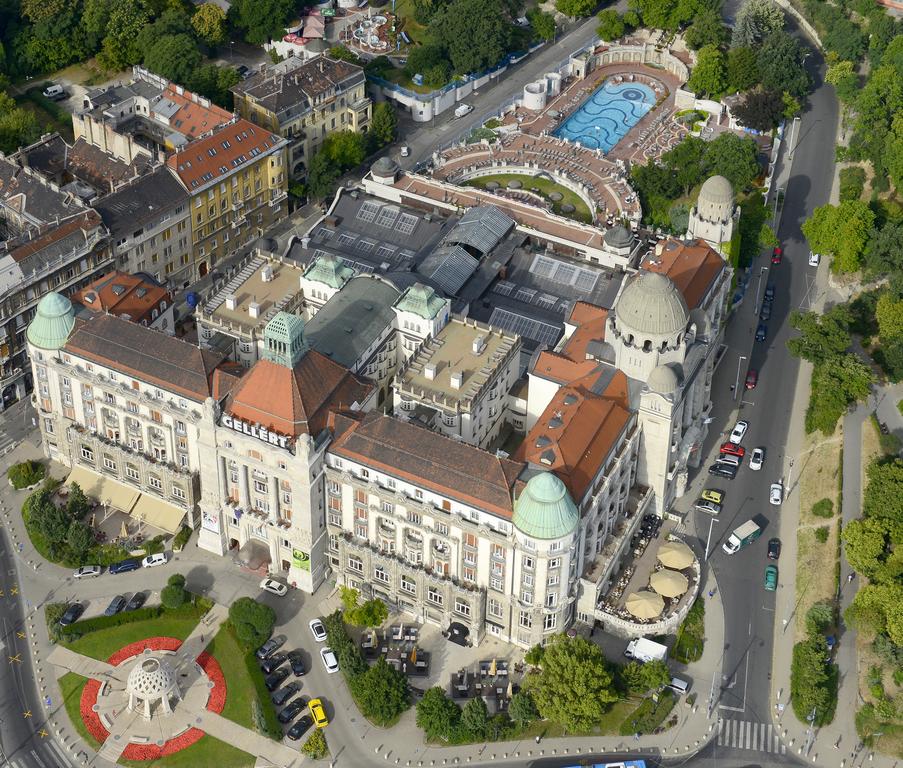 The Gellert has some great rooms – and some really poor ones. The budget rooms are a risk. We had a standard double, facing Gellert Hill, and were very, very happy. For photos, reviews, and booking, please see here.
Madrid
Only You Boutique Hotel Madrid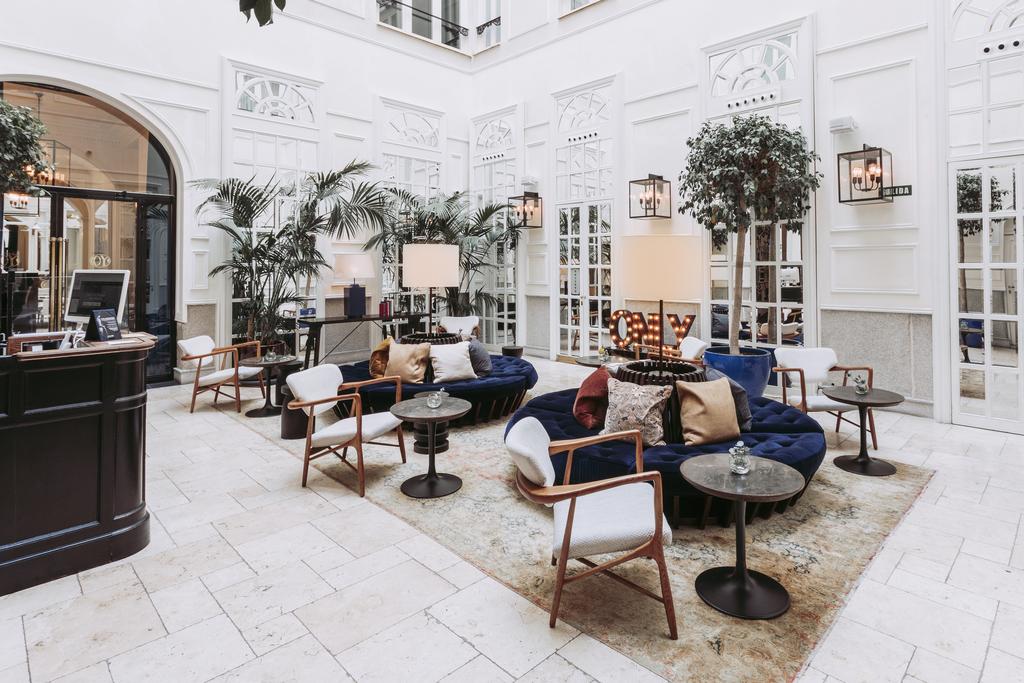 This stylish contemporary boutique hotel in a historic 19th-century palace is elegant and charming. On a quiet street near the Gran Via, it's central and convenient, yet serene. Perfect for a mother – daughter splurge. Check here for more photos, reviews, and booking.
Catalonia Plaza Mayor
Large rooms with a elegant modern decor, a beautiful historic building, and a very easy walk to the Prado and the Thyssen-Bornemisza make this a nice choice. The Plaza Mayor is lovely – we enjoyed stopping off for a final tapa and glass of vermouth before turning in each night. Please check here for photos, reviews, and availability.
Catalonia Las Cortes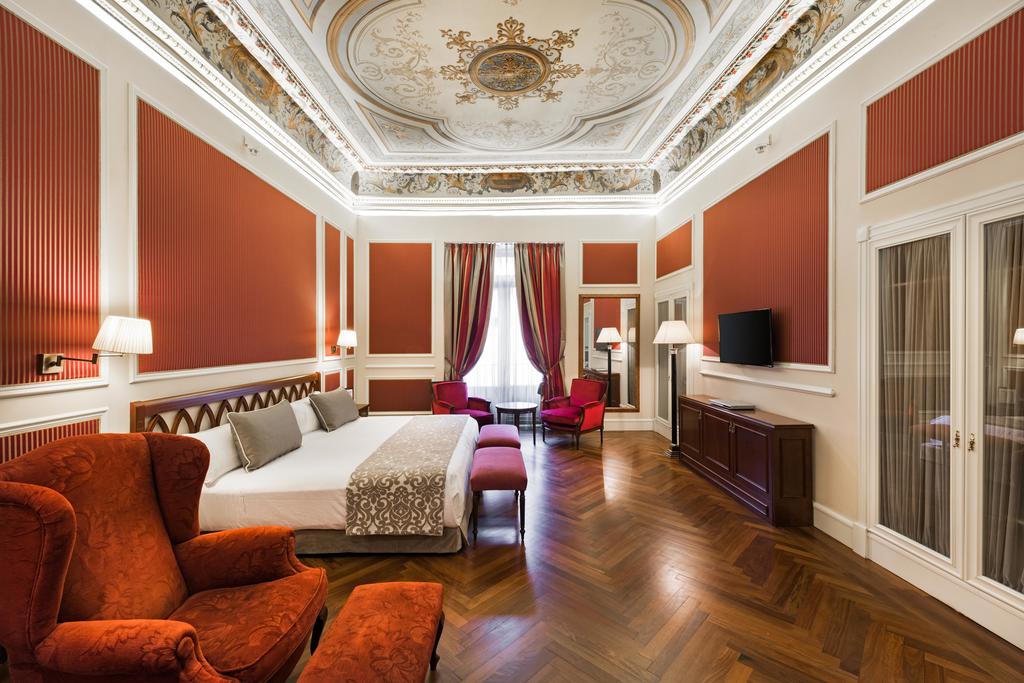 A classic choice in an 18th-century building, the superior rooms and suites at the Catalonia Las Cortes have authentic ceiling frescoes and antique furniture. The standard rooms are also a tasteful combination of classic and modern. Very close to the museums. For more details and photos, and easy booking, check here.
Seville
La Parada del Marqués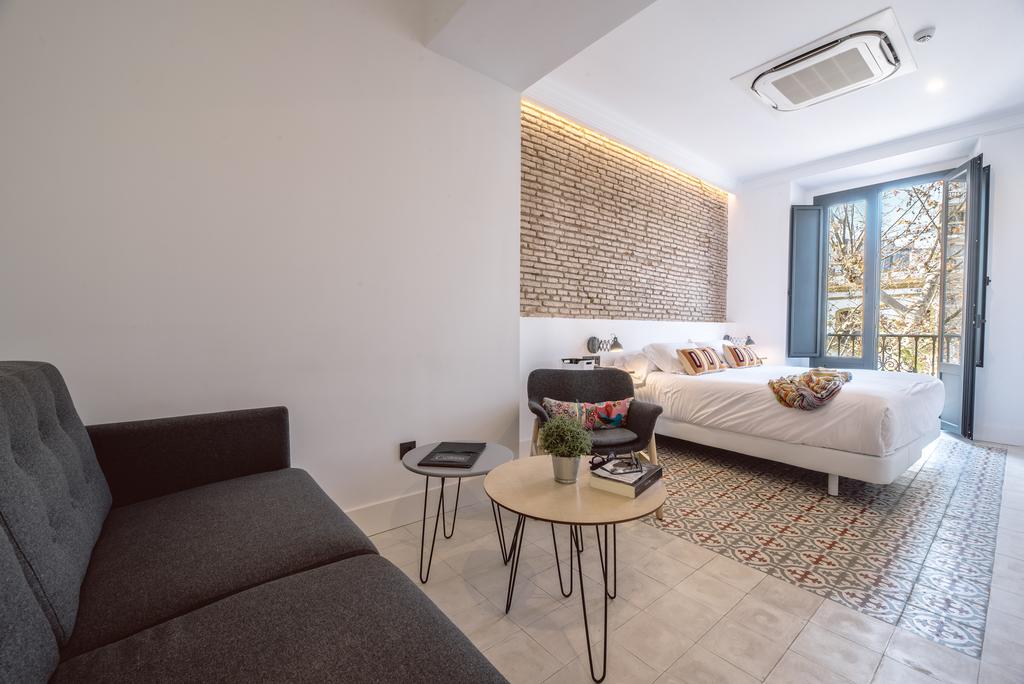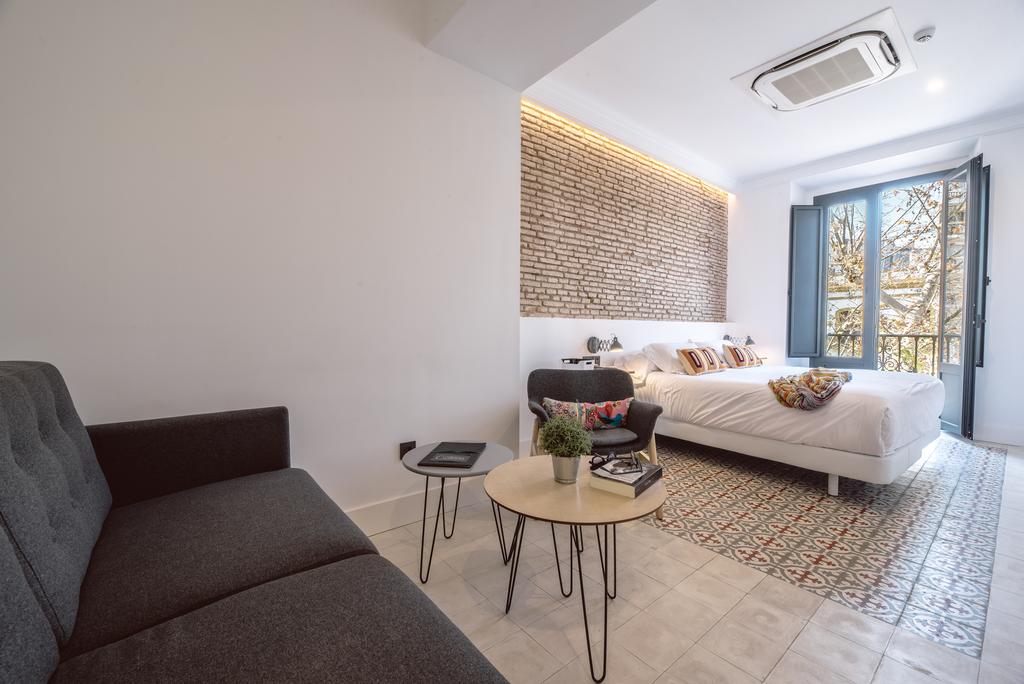 La Parada del Marqués is steps from the Triana bridge on a quiet and shady street. We loved the natural light and beautifully proportioned spaces, and the decor was airy and modern with atmospheric details, like the gorgeous floor tiles. Delicious breakfast in a cheerful space, and lovely service. Please see here for more photos, reviews, and booking.
Hotel Casa 1800 Sevilla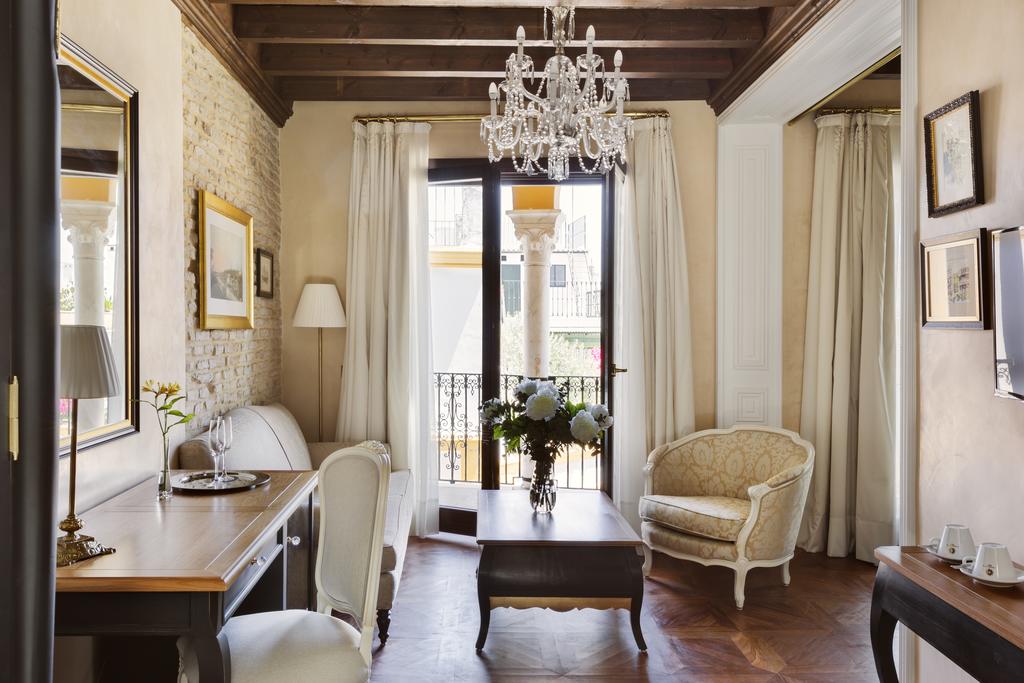 In the historic old town, this restored 19th-century mansion has gorgeous, well-appointed rooms with hand carved furnishings and beautiful chandeliers. To see more photos and reviews of the Hotel Casa 1800 Sevilla and book, please see here.
Barcelona
Hotel The Serras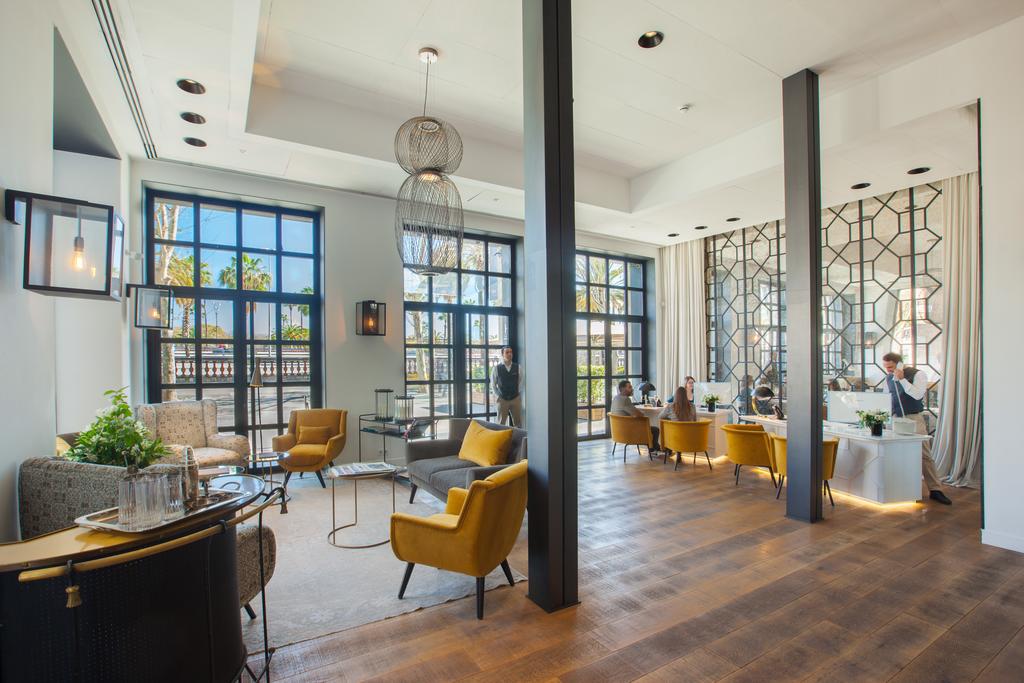 Are you and your mother epicures? The glamorous -star Hotel The Serras has a Michelin-starred restaurant. Set in a historic building where Picasso started his career, this contemporary hotel gets great marks for service, location – harbor views in the Gothic quarter – and style. See photos, reviews, and book your room here.
Eco Boutique Hostal Grau
For a sustainability-conscious stay in beautiful surroundings, the Hostal Grau is an beautiful and intriguing choice. You'll be surrounded by all natural organic materials, and the walls are painted in PVC-free paint. There is even a room with reduced eletromagnetic radiation – perfect for serenity and to just connect with your mother with a chat. Please see here for prices and photos and to book.
Vincci Gala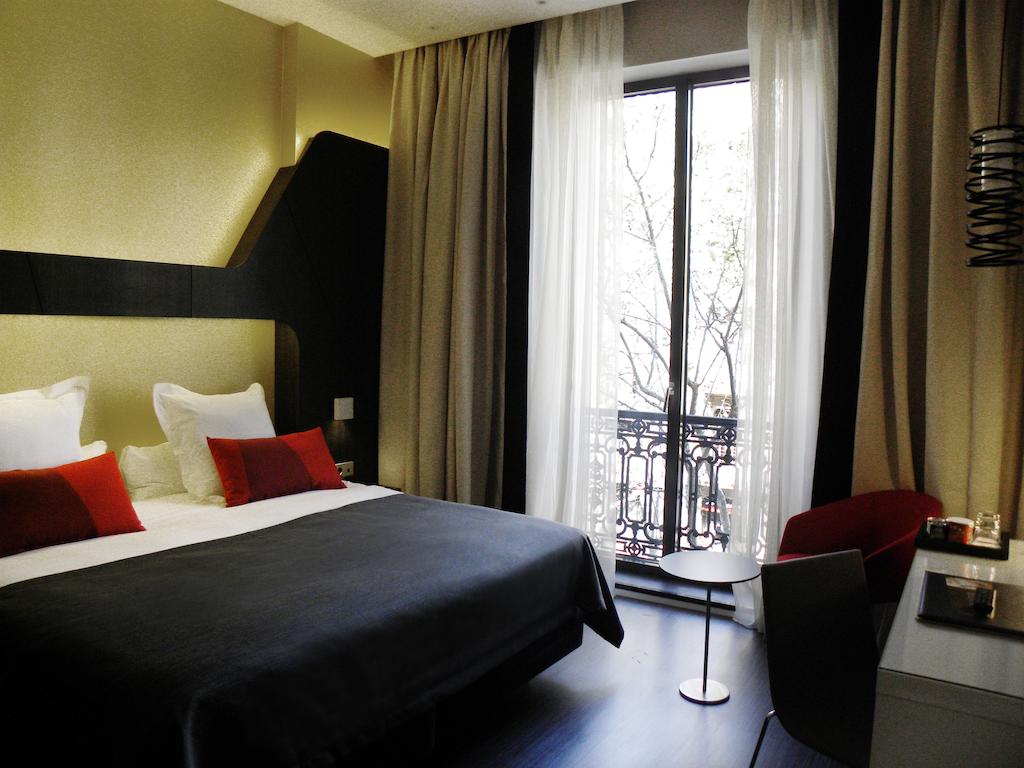 This design-forward beauty is centrally located in Eixample. The rooms in this protected 19th-century palace have chic, modern decor, laptop safes, and mini bars. For more details, photos, and booking, please see here.
Going Off-Script on Your Mother – Daughter Holiday
In between highlights like a Bartok concert, the Prado and the Sagrada Familia, we scheduled plenty of time for – doing nothing in particular. This meant plenty of time for a second vermouth at Casa Alberto, a taste of contemporary Barcelona at one of the city's serious coffee places, or catching a Rafael Nadal match on tv at a tapas bar.
All About Classic Experiences
We hear a lot about going "off the beaten track" and "hidden gems." We're not going for obscure. There is a reason classic experiences are classic- they are expressive of a place. A photo of the Gellert Baths is a classic Budapest image, and it doesn't do them justice. We'll soak in the great spas and have Esterhazy torte at Cafe Central in Budapest. We also want to enjoy the classic experiences that make a great itinerary of Spain complete, like seeing flamenco in Seville and having churros and hot chocolate in the Plaza Mayor in Madrid. Lovers of art and architecture, we'll compare cathedrals, from the Matthias Church of Hungary to the Cathedral of Seville. Then we will finally visit to Gaudí's Sagrada Familia in Barcelona, a place she has always wanted to see.
Just because these things are popular does not make them inauthentic. We want to experience things that are uniquely expressive of a place.
A Mother – Daughter Holiday in Europe
This was the itinerary that suited us perfectly – spas, art, and tapas. No one knows your mother better than you do. Figuring out what she loves – fashion, hiking, opera – whatever her passion, it's easy to build a trip around it, and create some wonderful memories.