Around this time last year, I was invited on the most unique blogging trip I had ever had. This dynamic woman from Lesvos, with an ice cream parlor and charming rooms in picturesque Skala Kallonis, saw that Lesvos' hospitality industry was having a hard time, after a half a million refugees had passed through the island, sometimes literally washing up on the the shores.
The refugee crisis had touched everyone we met, on a deeply personal level. So Maria invited us, Travel Bloggers Greece, to experience what Lesvos is- beauty, inside and out. Today is her birthday- and honestly we think about her all the time- that trip made us all think about Greece, and about blogging, with a deeper sense of purpose than before. Greece offers a lot, possibly everything, as a destination- culture, history, natural beauty. But at its best it also offers inspiration, values, an opportunity to connect with your humanity.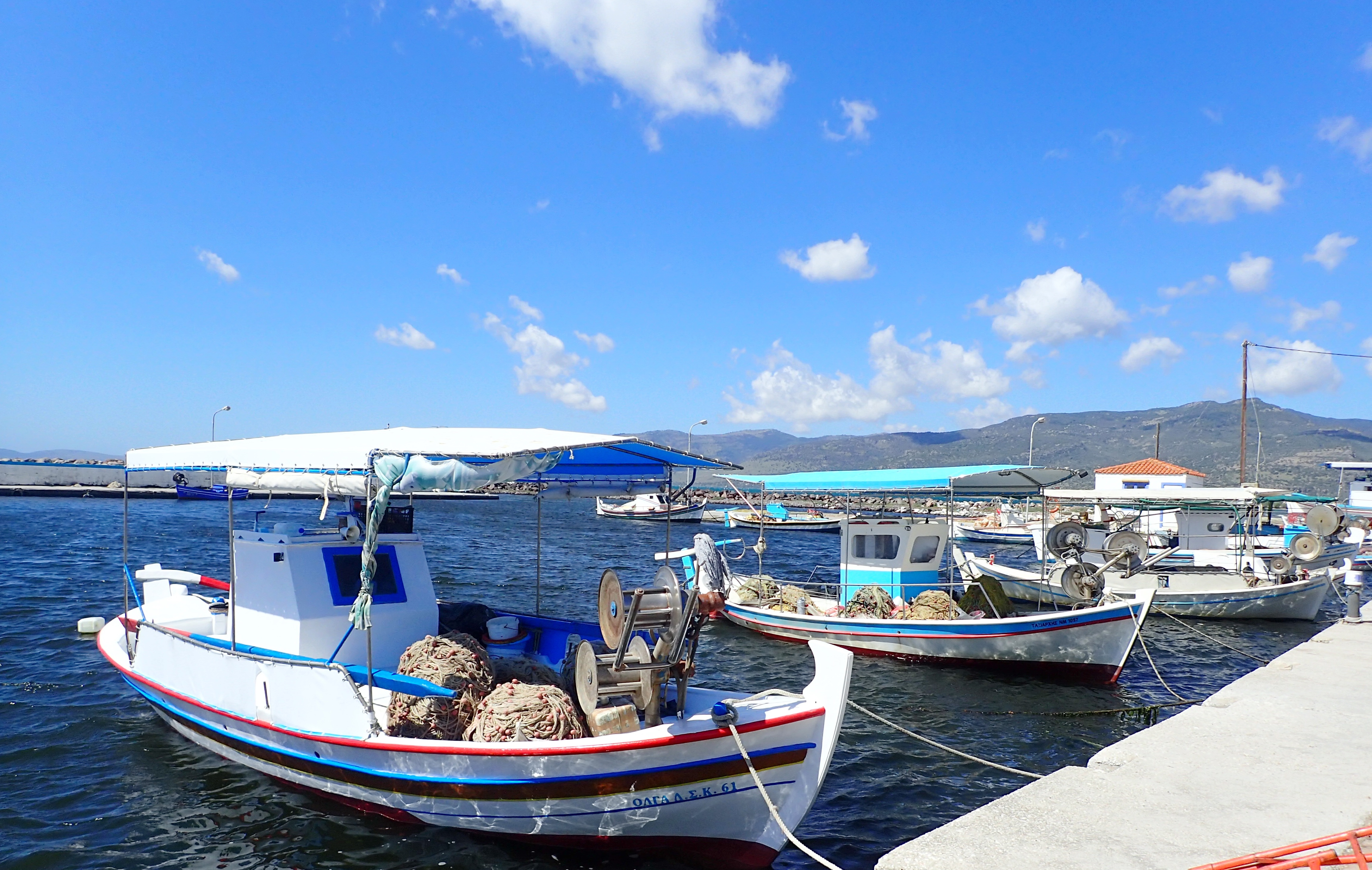 Hospitality
This was not your typical FAM trip (familiarization trip- like bloggers and journalists are invited on to get to know an area and write about it). The regional authority got us plane tickets, but all the other hospitality was personal. We stayed with Maria and Giorgos at their 
Natura Studios
, right on the main square. From our balconies we looked out at the harbor, and we had fabulous breakfast in the sunny courtyard every morning. Great, cozy rooms, and perfect for families- like little apartments.
and we dined with their friends at cafes and restaurants. We went to a party at a distillery, made a little film there, and heard the Amanes- Lesvos' beautiful genre with a longing, haunting voice.
Fate is the best tour guide
Most FAM trips have an agenda- a tight schedule. We had some scheduled cultural visits- the Archaeological museum, the Gatalousi Castle, and the Petrified forest- all  of which you will want to see- but the rest of the schedule was determined by… the Island. But what do I mean by that? We're right across from Turkey; my phone thinks I'm in Istanbul.
Like the Amanes, life here has an Eastern taste; this gives them a more familiar relationship with the metaphysical. We are happy to put ourselves in the hands of the Island itself- no plan. Giorgos has the ideal approach- he is ready to take us wherever fate commands. He- and fate- get it right, every time.
Giorgos has a 4 wheel drive- useful for the island's most wild roads- with a flatbed in the back for taking in a 360 degree view and tasting the Lesvos air.
We are out on the road seeing the whole island, but on our last day, we get to know Skala Kalonis, the perfect village where we have been staying every night.
Skala Kallonis is perfect for exploring Lesvos
This map is several centuries old. But Lesvos looks more or less like this- intricate shape, lots to discover. See the bay on the left? Skala Kalonis is nestled in the bay- the most central spot on the island.
Fish, and the life of the sea
This is the quintessential fishing village- trata (small fishing boats) bobbing in a peaceful harbor, winds at night that would wake the devil but are sweet as a lullaby if you have a clean conscience. We met a shipbuilder-
Mr. Psaradelis, in speaking of shipbuilding, spoke beautifully of life itself
(Did you know that every single piece of wood in a boat has its own name, like our bones?!)
Also, these are simply the best fish you will have in Greece, which is to say, the best fish anywhere.
Ornithologists from all over the World (and the birds that draw them)
Lesvos Birding
, by Steve Dudley, offers all the information you need to make the most of a birding trip. He is also a great supporter of Lesvos now during the refugee crisis. The worldwide birding community continues to visit Lesvos! The birders seem to like 
Dionysos
 restaurant- we certainly did- and that is where we met Steve Dudley.
Classic Dining Experiences
 We had dinner at a different restaurant every night- the food in Skala Kallonis is excellent.  You can rate a homestyle restaurant by how they do a classic dish- moussaka can be so-so or sublime- the aptly named Ambrosia has the best we'd ever tasted. Dionysos– mentioned here above, is a favorite of birders and I think anyone else- great seafood and fish, very friendly. For classic tastes with a more playful approach, Caprice Kitchen Bar gets it totally right. I noticed the trip advisor reviews mention the chicken fillet and prawns in creamy ouzo sauce- this was delicious. Great beachfront spot, and probably a good place to have ouzo meze, all afternoon.
"It's 
five o'clock in the afternoon

 eleven-thirty in the morning somewhere"

 

You know how they say "it's five o'clock somewhere" to justify a drink early in the day? They don't say that in Lesvos. Pleasure needs no justification, and on Lesvos, neither does ouzo. Our schedule required that we have lunch at 11. And what is fried fish without an ouzo, especially on Lesvos, the island that has perfected the culture of what is possibly the world's most civilized drink. The fish was fresh caught mullet- fried, I think, in a little cornmeal. The restaurant was Mimi's. Perfectly fried seafood, stellar meze.

Skala Kalonis is the perfect destination, and the perfect home base for exploring this extraordinary island (more on Lesvos

here

). George and Maria at Natura Studios will help you make the very most of your stay, and you will leave them as friends.

No place in Greece has left a more profound impression on me, in every way.

When you see the news and say "oh that's so terrible look at all those people fleeing their homeland…" you can do something really easy, and really fun, to help. The refugee situation will not affect your holiday at all. But in going to Lesvos, you will spend your holiday money supporting the people who have supported all these people in need.