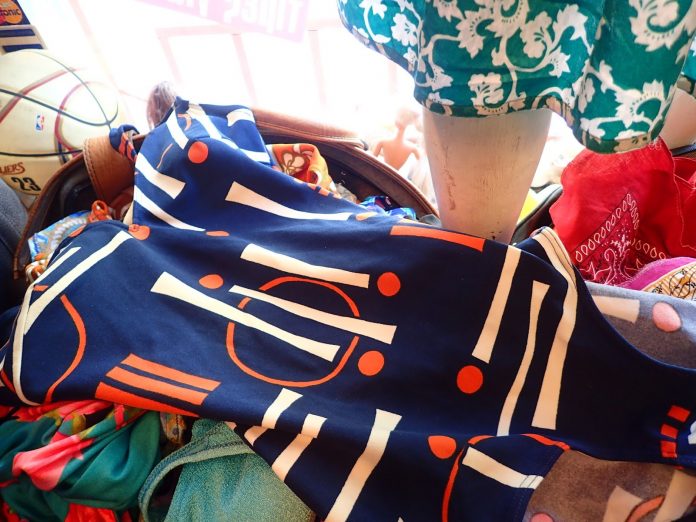 Exarchia- haven of ruthlessly independent creative activity- makes me homesick, for a time as much as a place. There is no Starbucks, no Accessorize, no multi-national faux culture or ersatz style. In short, welcome to 1980's Manhattan.
Although I adore watching Sex and the City, it has ruined my beloved city's reputation. I love the fun and the fantasy and Patricia Field's marvelous vision, but there's a vibe of trying way too hard that is very not Manhattan, and particularly not downtown (the word "downtown" automatically embodying the ethos from Taxi Driver to Paul's Boutique).
Of course we put effort into our dress, but it was organic, indigenous, creative, and above all, pretty cheap. The very few new things in our wardrobes came from the designers themselves (Betsey Johnson still had stalls at street fairs, and I could afford to shop there with money I earned babysitting), or from Capezio (leotards and butter soft ballet slippers- meant for hardwood. After a week on grimy sidewalks we were essentially barefoot), but most of our clothes were from flea markets and vintage shops- bed jackets (worn over a leotard, with old jeans and ballet slippers), fedoras, ball gowns (also to school), pegged black jeans from Trash and Vaudville and t-shirts we cut the necks out of (my favorite was from The Specials)- these were our school clothes. From Patricia Field's shop on 8th street, we bought boxes of face powder from Japan. It smelled like cherry blossoms.
So, back to Exarchia-
Charlene my older girl and I were on a trip to Athens a few years ago, and she was at this perfect age where she was starting to understand what she wanted to project, but she had trouble finding the raw materials. She got a Hell Bunny dress covered in playing cards in London on the way to San Francisco, some frilly knickers thing at Dark Garden (custom corset shop) in Hayes Valley (SF), and a Series of Unfortunate Events – mood dress in Edinburgh when she went for the Fringe with her dad, but the rest was pretty much McBershka. You don't really want to find a piece of yourself in a multi-national mega shop.
So anyway there we are on Benaki- in this sweet neighborhood that, like '80's Manhattan, doesn't need to try too hard- and she sees this poster in the window of the furniture repair shop- a Betty-Pagesque girl with a '50's dress and '40's shoes was standing in a distinctly Exarchia doorway. She does a little squeal- real girl, real clothes, real style. There was a name- Yesterday's Bread- and an address- Kalidromiou, close to where we were staying, a block or two from the square.
That's where we met Strato and Daphne.Although we have seen them less than a dozen times,they are very much a part of our world. Each of my girls found a piece of themselves in this shop, finally realizing a vision that had only been abstract up to then. The store is made for this- just enough organization to find what you need- rows of men's jackets, rows of dresses, etc., and just enough chaos to make it feel like a you broke into the wardrobe room of a theater- steamer trunks of scarves, of corsets.   We stayed a couple of hours our first visit- she tried on lots of things, refining and self – defining as she did. After a while, Daphne could see where she was going and helped her get there. Charlene got lots of stuff, a vintage one-piece, shirts, dresses.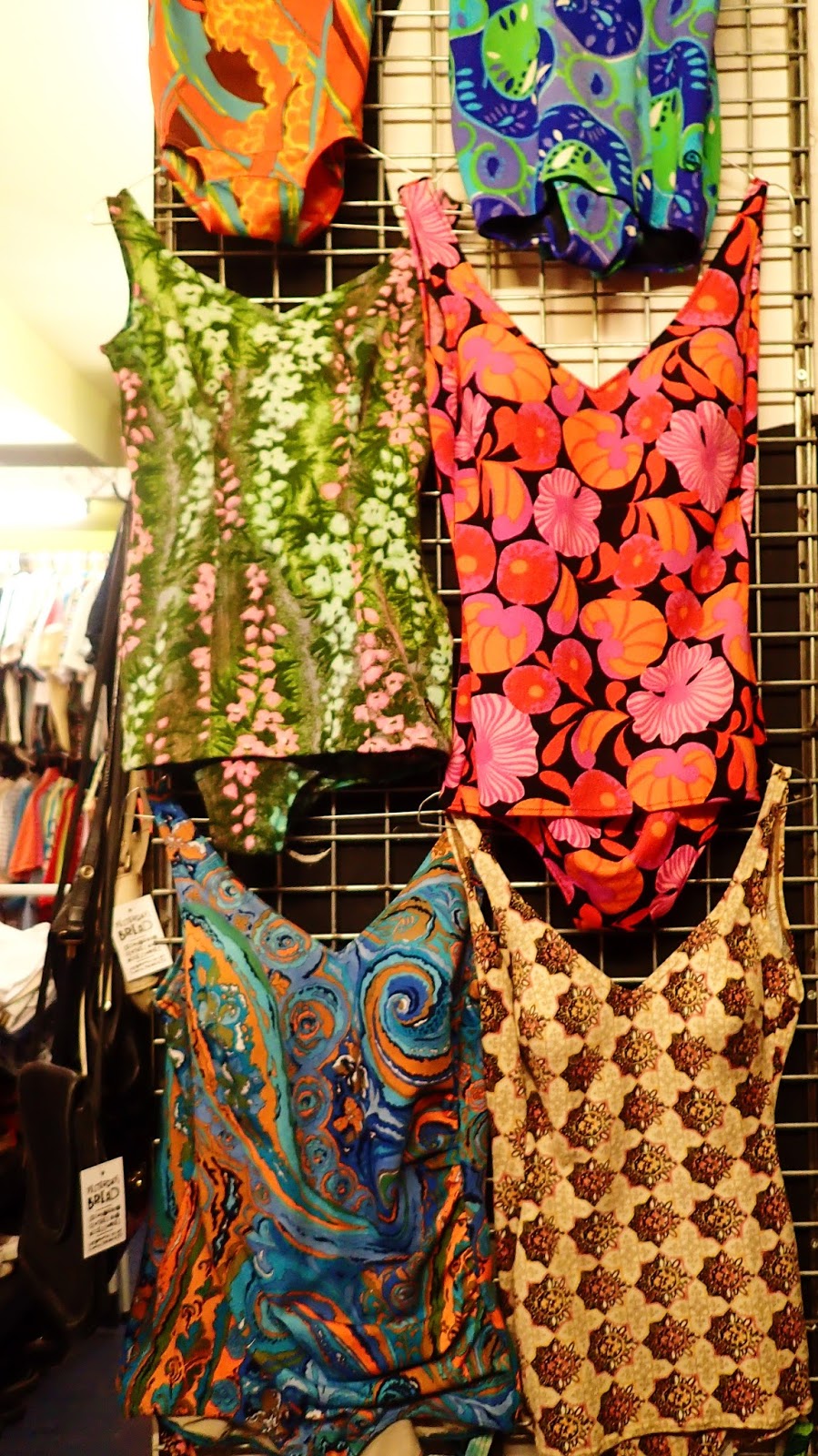 I got a dress too- full skirted, shawl collared, self-belt, that I wear all summer, and a leopard cape I wear all winter.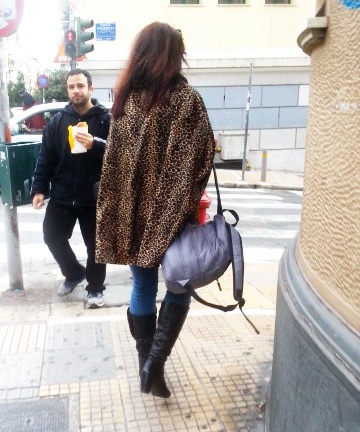 Another time Charlene came back with a burlesque/circus dress, ruffles, trailing at the back, short in the front, very Panic at the Disco. It's not conventionally practical, but on the other hand, when you need it, you really need it- nothing else is going to satisfy that mood. We like a sense of occasion in our household.
Mei Mei went a few years later, at that same time in her life when she was deciding how she wants to look. She chose a kelly green polka-dot skirt, some vintage pin-stripe converses, and a beaded satin evening bag, shaped like an owl. She wore them all to tea at the Grande Bretagne: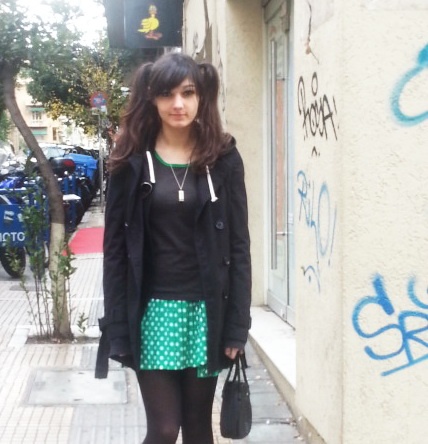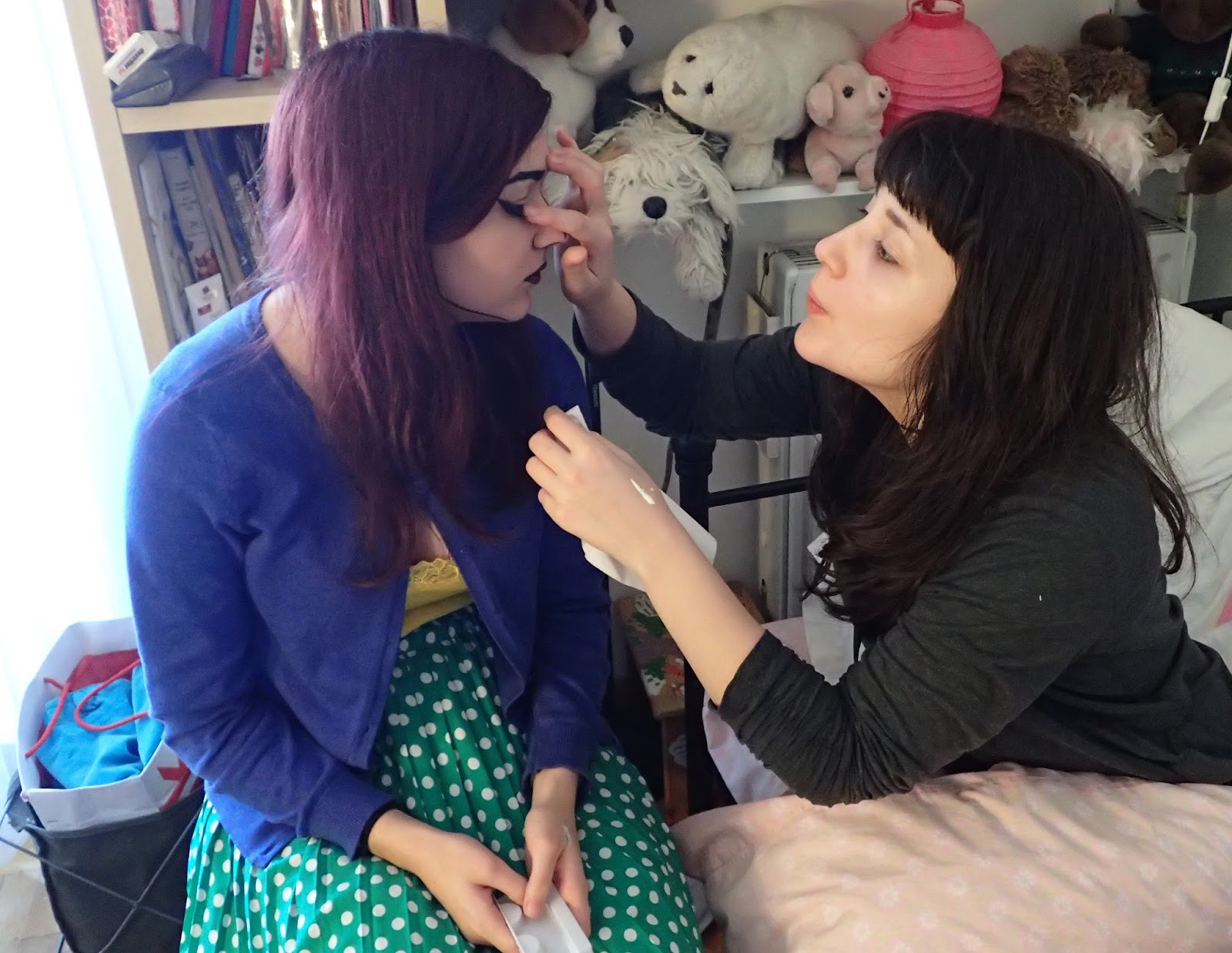 On our next trip, my mother bought her a floor length strapless black lace ballgown, and a mauve velvet hat. She wore the dress to her beach party for her 18th birthday, and many times before and since. My mother also bought a bold babushka scarf for herself, like the kind from the Ukranian stores on the Lower East Side.
So why all the stories? Because clothes matter. You can have an all night beach party for your 18th birthday in a dress from the H & M, but something will be missing- clothes are a part of your history, as essential for defining who you really are as a costume is for a character on stage. How does vintage help in the the quest for figuring out who you are? For one thing, wearing clothes that already have a history of their own can give you a head start. Fashions recall eras, and all the things that belong to them- philosophy, design, politics, and, not least, music. Also, things are a lot more special when there is just the one, not hundreds, in the city.
Check Yesterday's Bread's facebook for their store hours. From the square of Exarchia, take the mostly pedestrian street Tsamadou to Kalidromiou (3-5 minutes)- make a sharp right and it's just a few steps up. (If you're visiting the Archaeological museum, it's right near by).
I didn't mention the prices-  they are very, very good, but that's not why you would come.
You could think of them as rescuers of fashion. They're also rescuers of dogs- met Beer, the wobbly legged baby pointer Daphne found: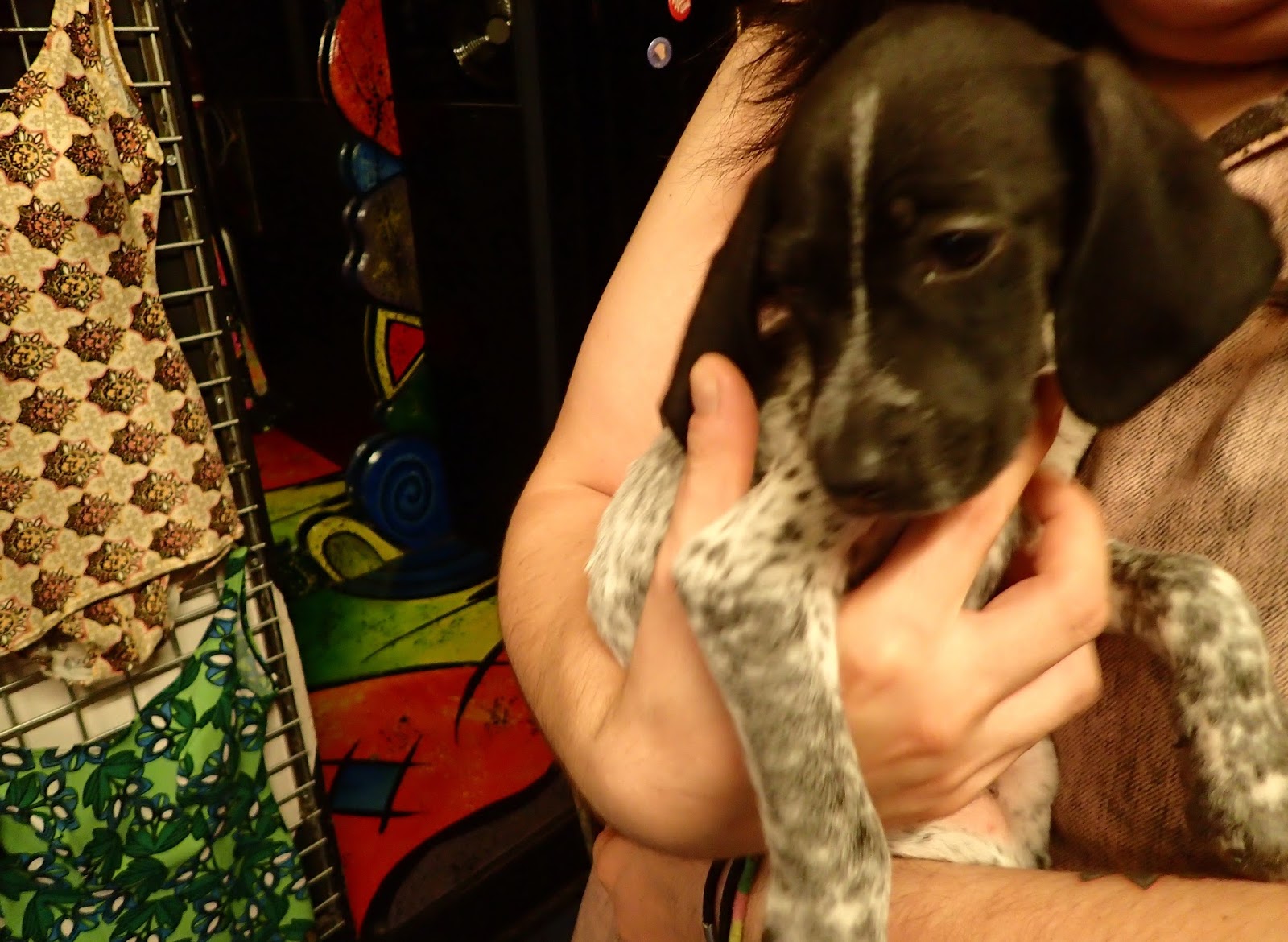 Beer sent Fiona a bandanna: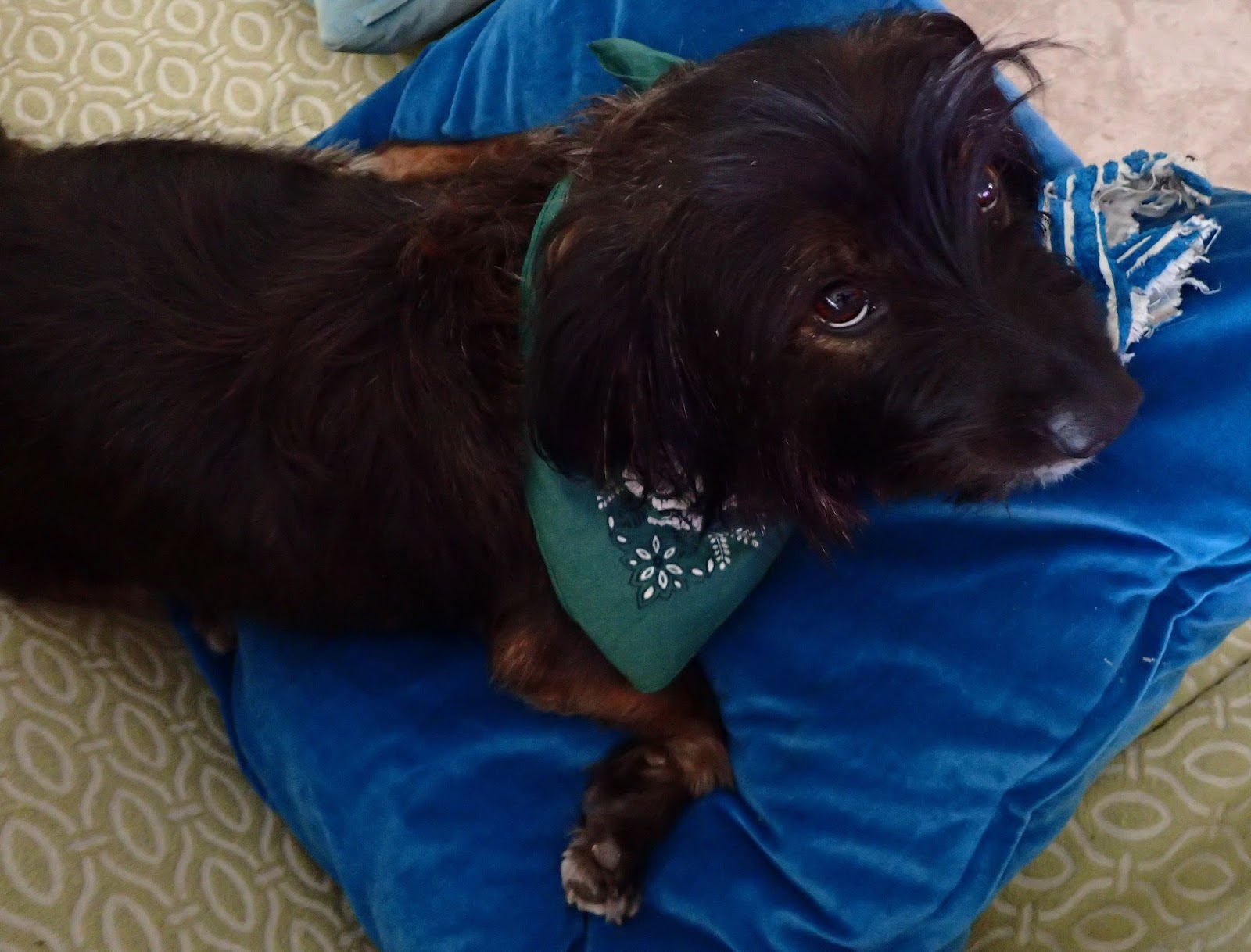 Yesterday's Bread
Kalidromiou 87-89
210 881 1233