Athens can be delightfully overwhelming, awhirl with crowds. Of course, a visit to Plaka is a must. Vyronas ("Byron") street with its souvenirs, both tasteful, and delightfully not. The bars, the tavernas, and all at the foot of the Acropolis. But you might want a break from all the activity. The nice thing about Athens is that it can also be peaceful, just where you would least expect it.
Koukaki, Athens' secret neighborhood
Just on the other side of the Acropolis Museum is one of Athenians' favorite neighborhoods. There's really not much to do here, and that is much of the charm. There is a lot to see though. Elegant 19th C facades share the streets with respectable apartment buildings from the 1960's. The streets are shaded by trees, and you hear birdsong. At the base of the Acropolis and next to Dionysos Aeropagitou, Athens' favorite promenade, this is the historic center. Yet it's as peaceful as a village.
My favorite hotel in Athens
If I stayed in a hotel in Athens, I would want it to be in Koukaki. Amazingly, there is actually a hotel here- the Herodion. Large, cosmopolitan, and elegant, it somehow has everything you would love about a tiny bed and breakfast. That chic lobby instead of giving way to impersonal coolness instead opens onto a library, complete with cozy couches and a fireplace. The welcome is personal and warm.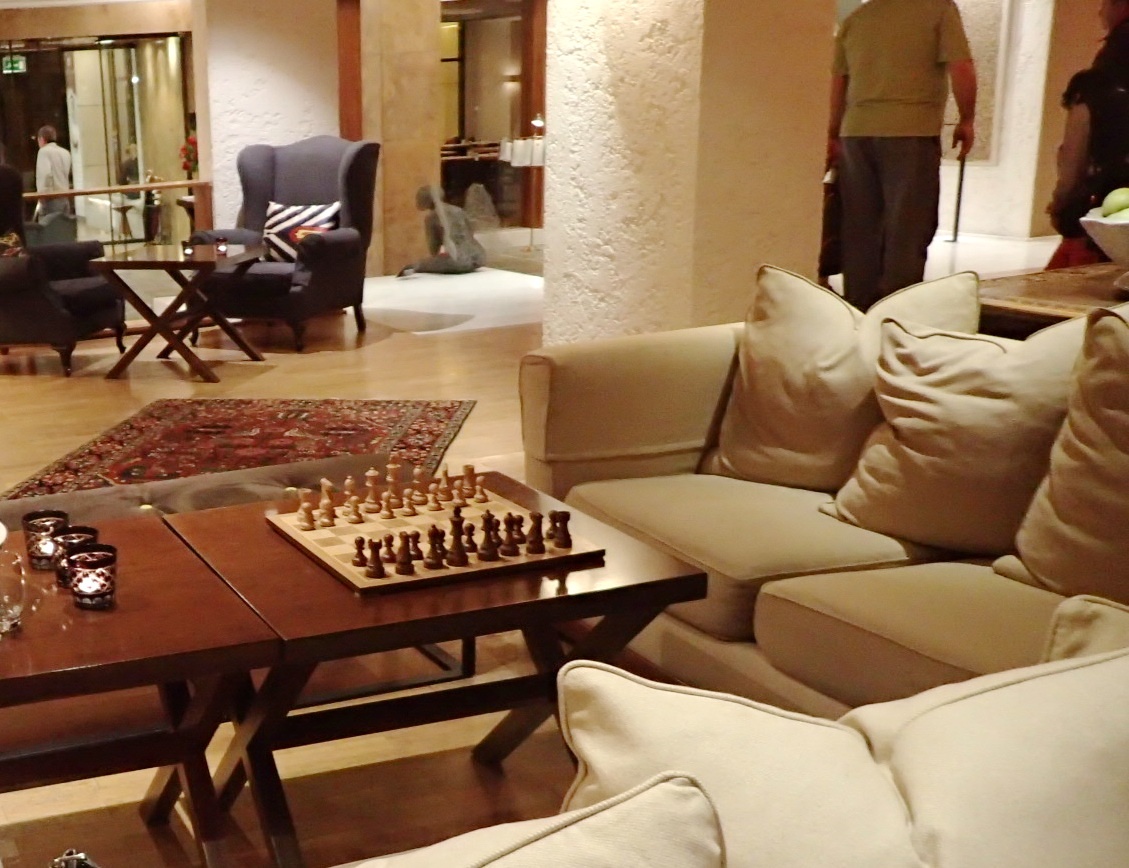 Behind the library is an atrium, complete with ancient trees poking through the glass ceiling. There are chandeliers and rough wood. Greenery trails along the walls outside. This must be the most romantic room in all of Athens in the rain. By night, fairy lights go on in the garden outside and candles fill the room. Everyone looks fabulous. There is no music- just the gentle flow of conversation. Come in for a drink or a meal- their menu is a delight.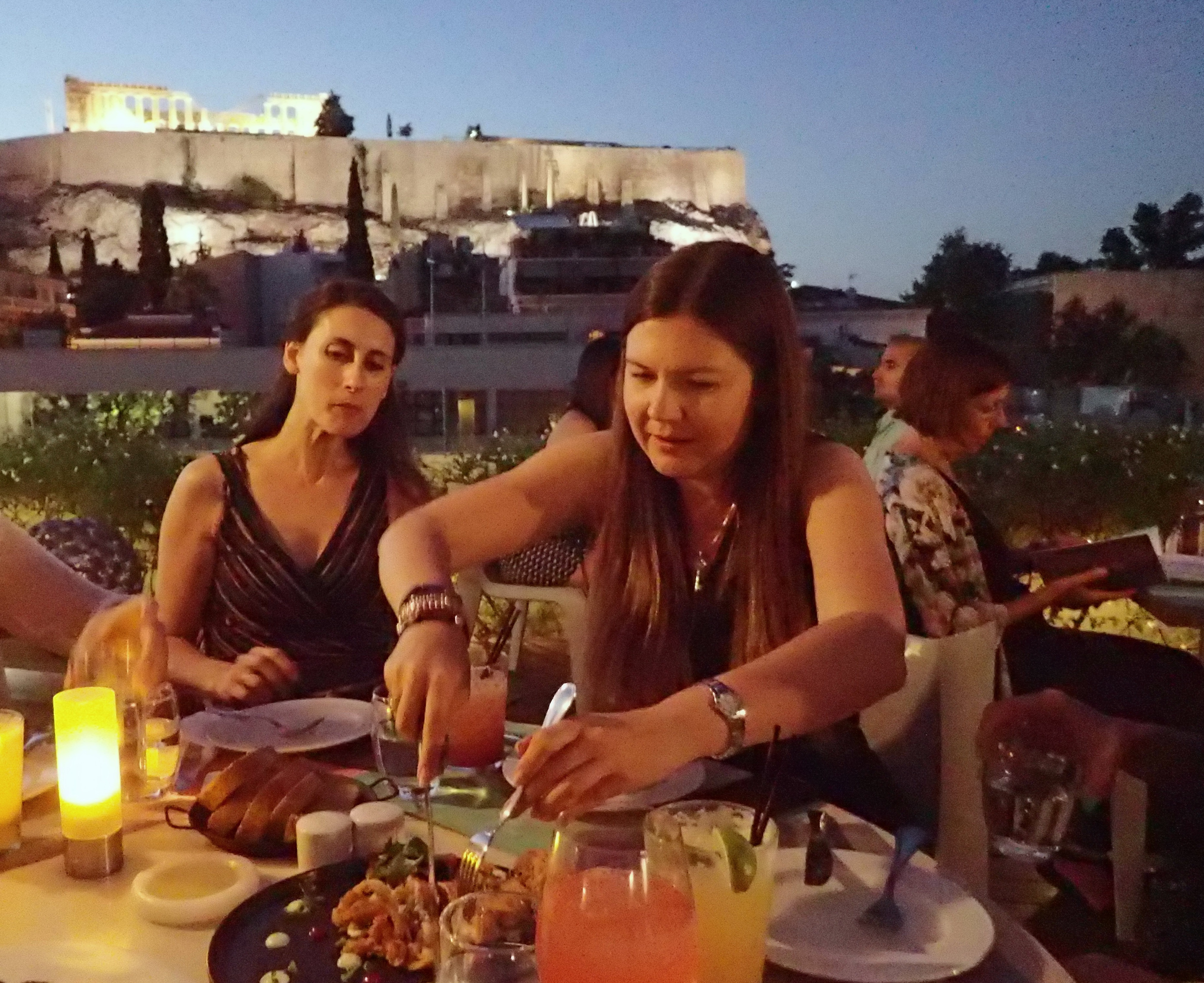 Point a, their rooftop restaurant, has a view like no other. It is hard to believe it is legal to be this close to the Parthenon, to say nothing of the upper story of the Acropolis museum. The food is creative and whimsical, yet honest- entirely Greek in inspiration.
Even for people who already have a place to stay in Athens, the Herodion is a wonderful resource to get the most out of the city.
One of my favorite things to do in Athens is to see a performance at the Odeon of Herodes. It's 300 meters away. A dinner or drink before or after the performance to marvel at the Parthenon a while longer really makes the evening.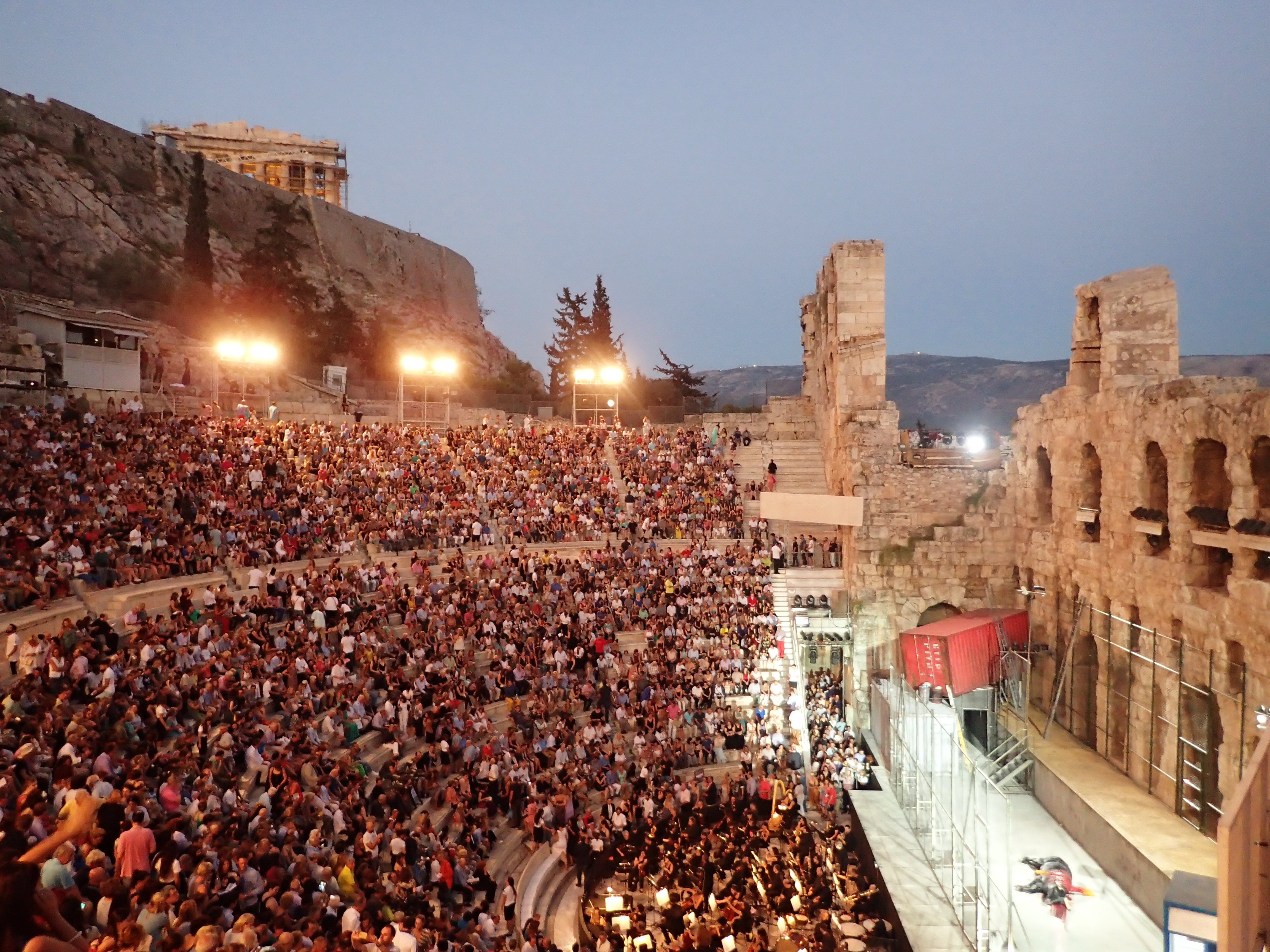 I've been a dinner guest here, but never stayed at the hotel. This is not a sponsored post. I was impressed with the hotel, and love knowing there is an ideal place for visitors to stay and get the most out of an Athenian visit.
This is the Herodion's site for more information
Herodion, Rovertou Galli 4, Athens