We do pay a little for the countless charms of urban Mediterranean life. It can be grimy- a dirt that seeps deeply into the skin. Also, there is the noise, the abrasion of occasional rudeness, the tension of constantly having to maintain your position, literally and metaphorically (ours is a largely queue-less society). A single cure for all these ills is an afternoon at the hammam- gentle steam to loosen the urban grime and a thorough scrubbing with a rough cloth to polish the skin. Warm smooth marble, a dome to daydream beneath, and the sound of water flowing from hot and cold taps erase any memory of tension.
The Hammam experience is part of the culture of Thessaloniki, and a great way to relax if you are on a city break.
Related post: Best Things to Do in Thessaloniki – Sights, Activities, and Cultural Experiences
A Little History (and, a little superstition….)
Istanbul has great hammams. And Thessaloniki, after spending nearly half a millenium as one of the Ottoman empire's very favorite cities, has some gorgeous ones from the 15th and 16th C, but they are all out of use now, just taunting us with hints of the exotic indulgences of the past. But then, on Tuesday the 13th, Jelena my friend from Serbian Girl in Greece invited me to enjoy a classic hammam experience in Thessaloniki.
(But why do I make a point of naming the very day? Western friends are familiar with the superstition that Friday the 13th is a day of ill luck. In our part of the world, it's Tuesday. Constantinople fell to the Ottomans on May 29th, 1453, a Tuesday. We get to 13 by adding the digits of the year of the fall. It is a strangely perfect but maybe totally inappropriate day to visit something so resolutely Turkish. We go anyway- Thessaloniki loves its Eastern side. Inside, though something very Thessaloniki illuminates the Turkish decor- the glass on the lights of the dome are actually the bottoms of Malamatina Retsina bottles.)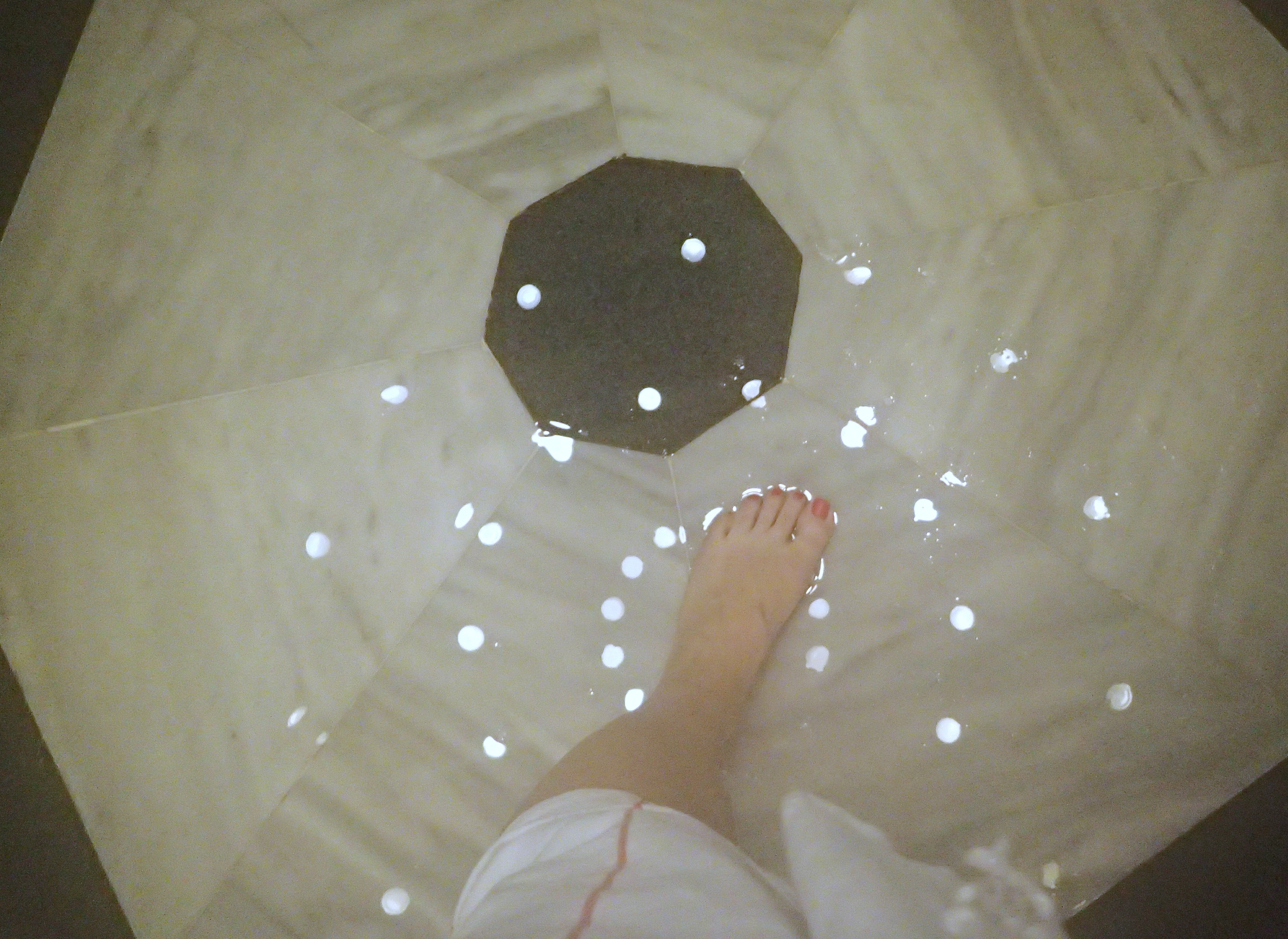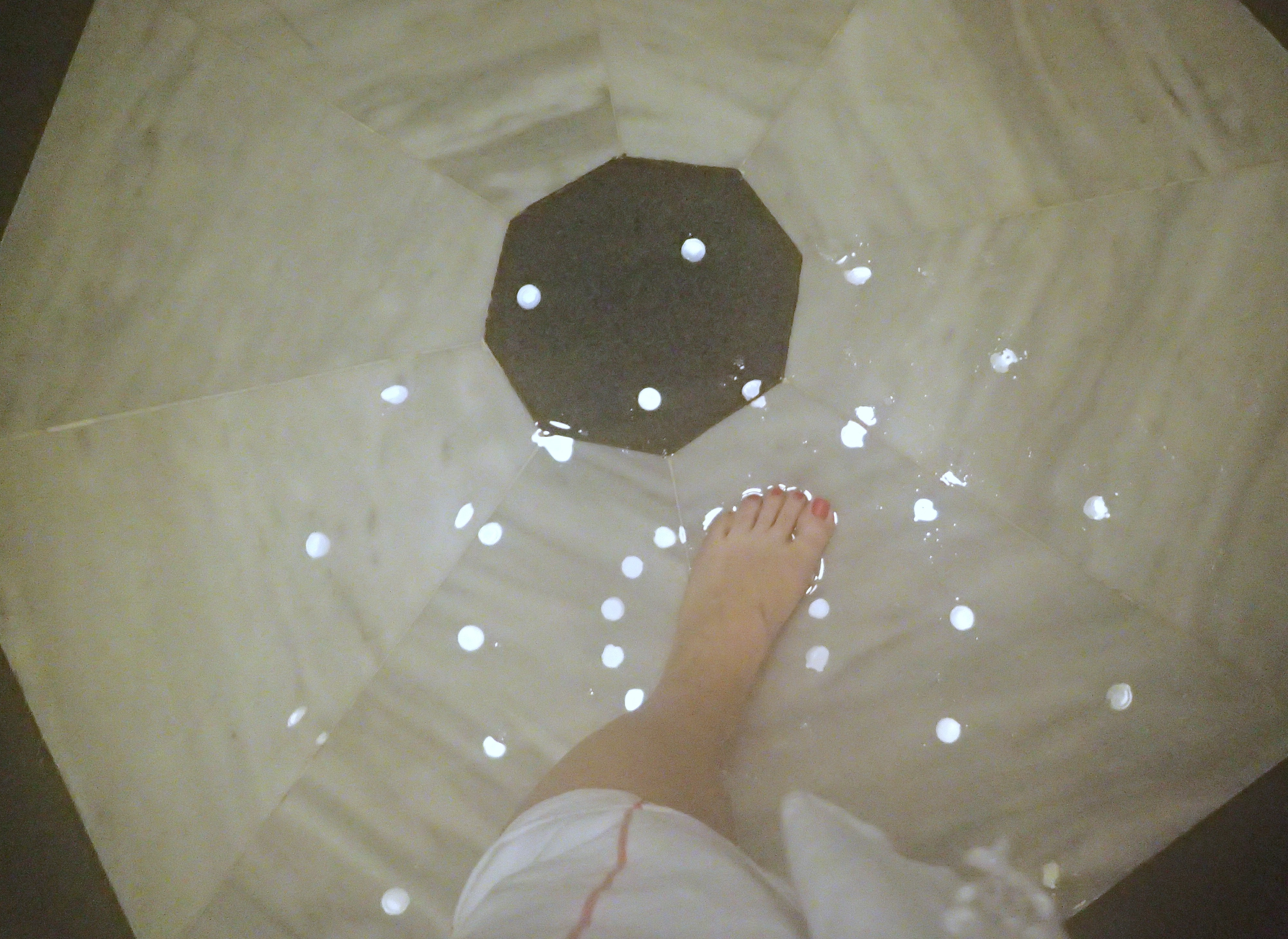 The Ritual:
The Polis Hammam has created an authentic Hammam in contemporary Thessaloniki, one of Thessaloniki's Best Spa Experiences. A Hammam is not just a place- it is a ritual and a procedure. Here is what to expect: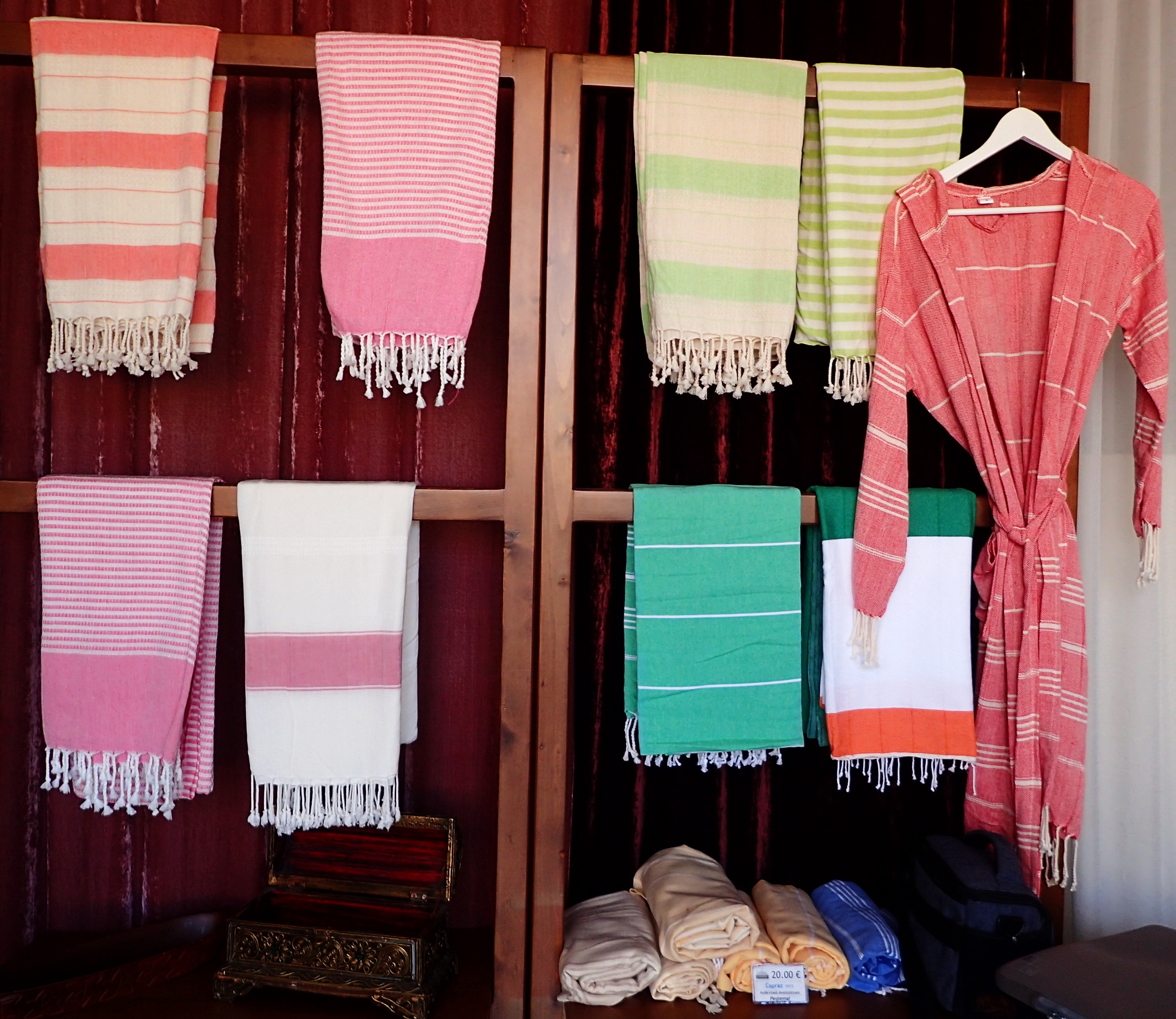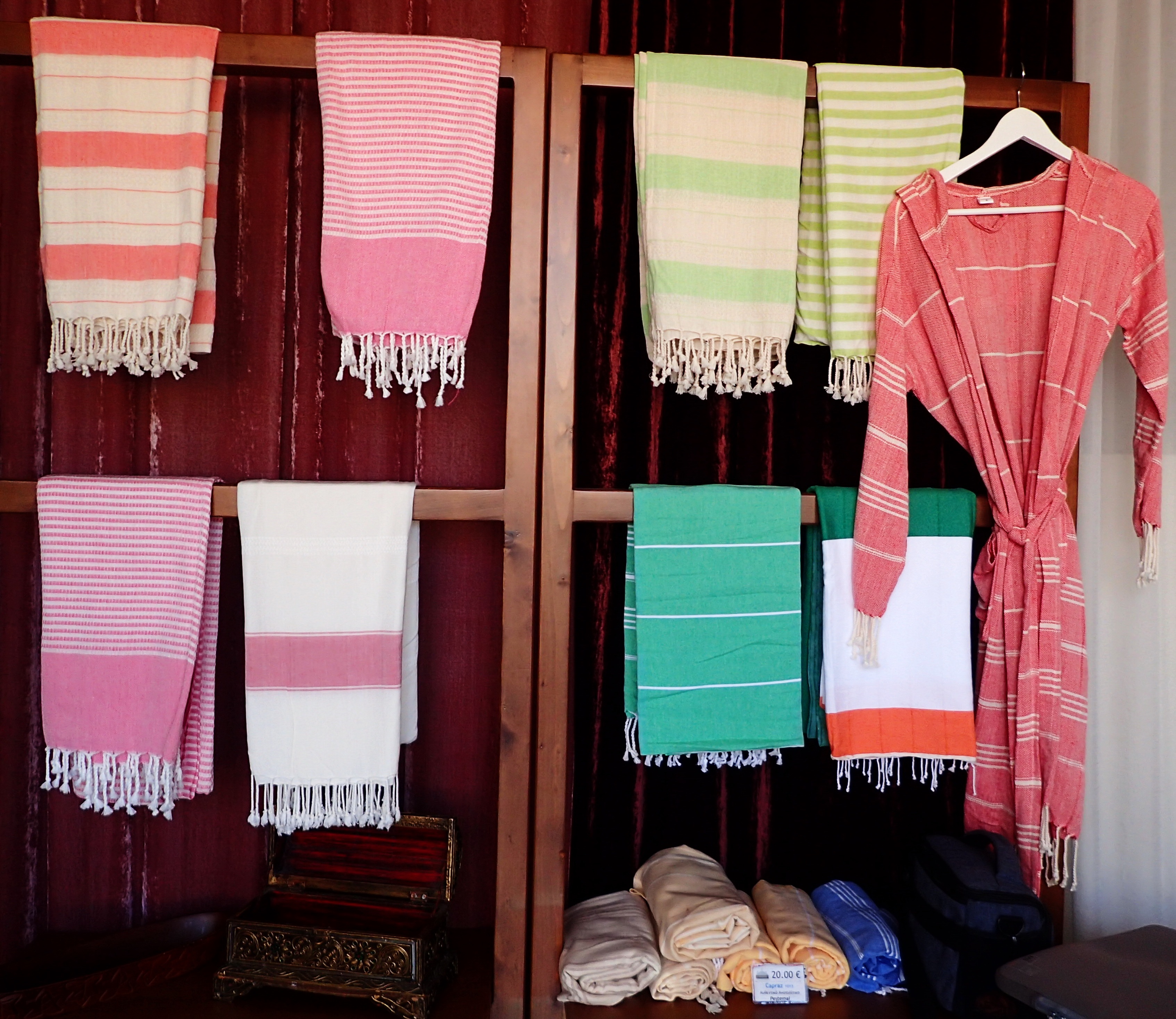 Undress and put on a peshtemal- the woven cotton wrap just like you get in Istanbul. In Istanbul, you undress completely except for a small pair of cotton panties they give you when you check in. Here, you wear a bathing suit, as the Hammam is unisex. Lay the peshtemal out on the marble slab to recline. If it is just your own party, indulge in good-natured gossip. This is the perfect atmosphere for exchanging confidences.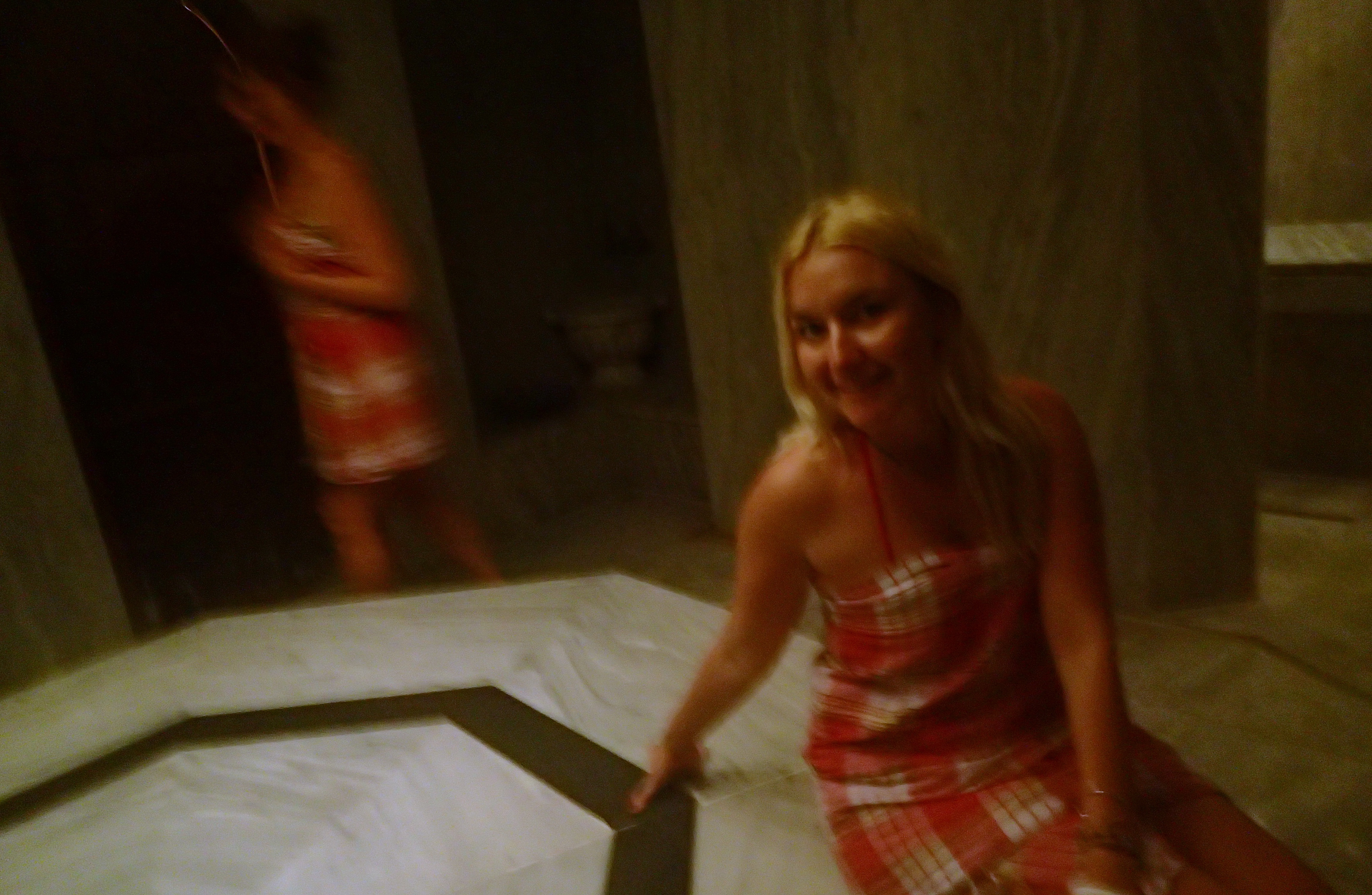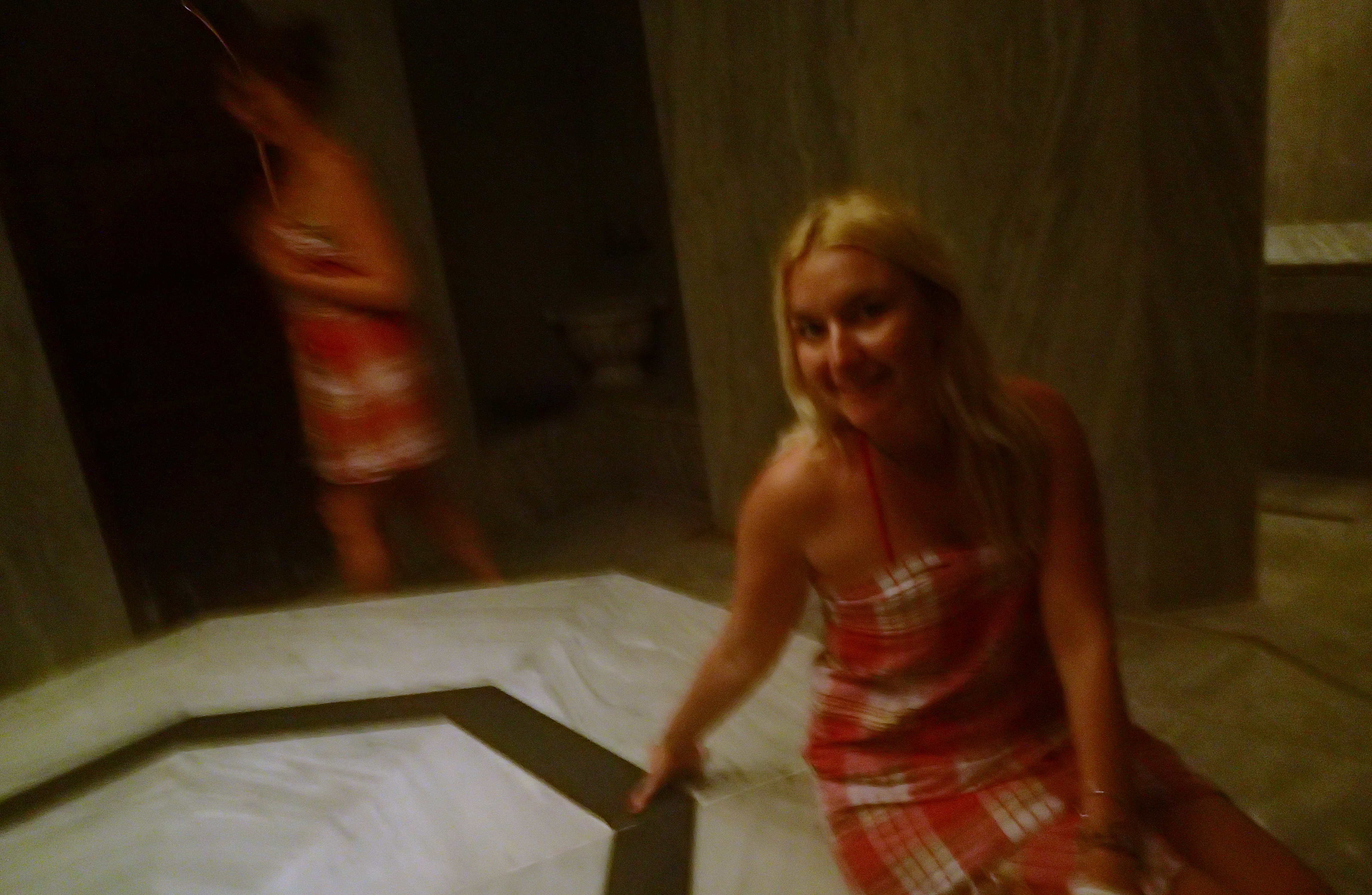 After you are soft from the damp heat and in a perfect frame of mind, an attendant will come and give you the treatment you have come for. We all had the Pasha Hammam- the classic treatment of an Istanbul Hammam. We were scrubbed with a rough cotton mitt from our toes and our fingertips inward, toward the heart, until every bit of skin was aglow. Then the attendant douses you with warm water to rinse the soap. But right after that there is more soap, and it is the strangest thing-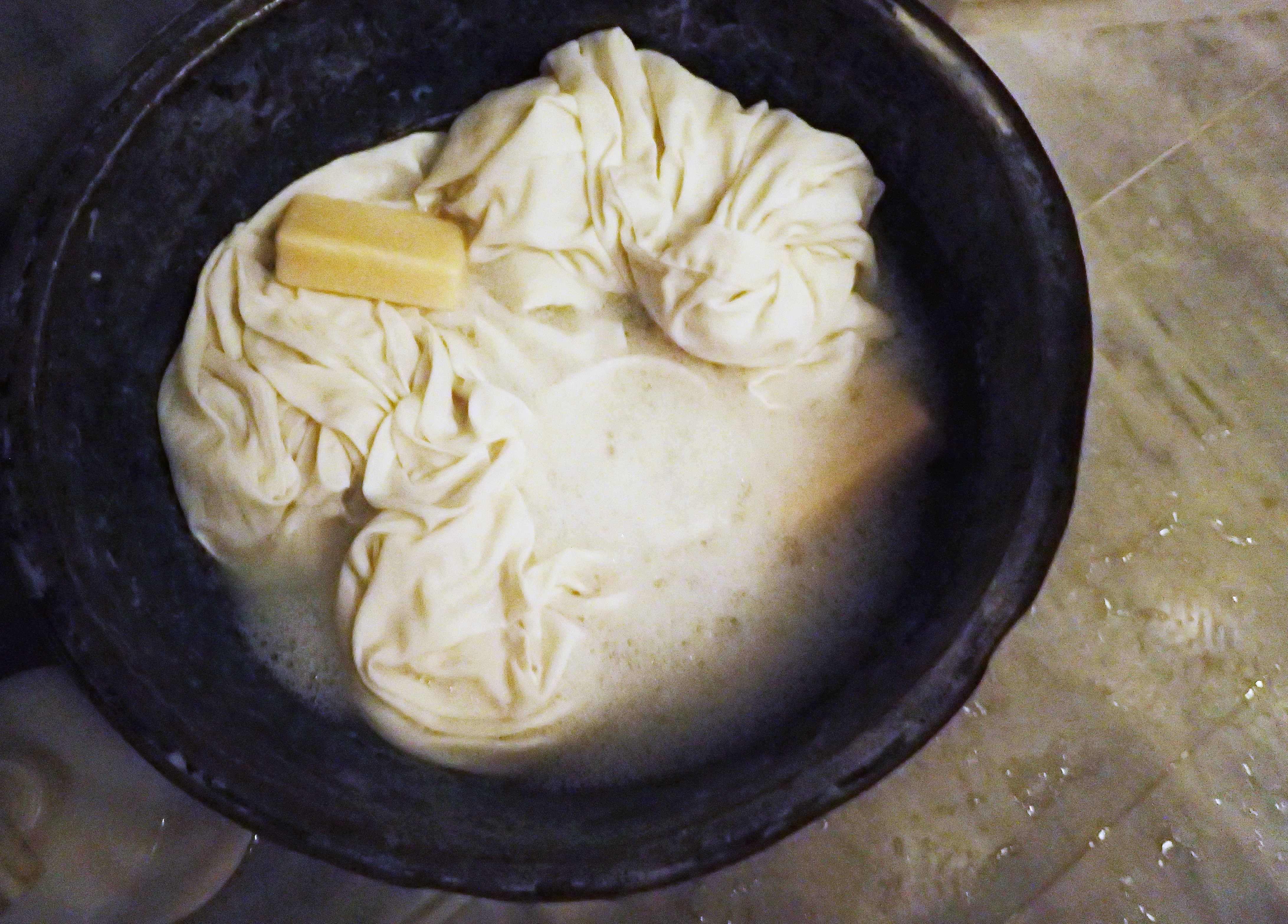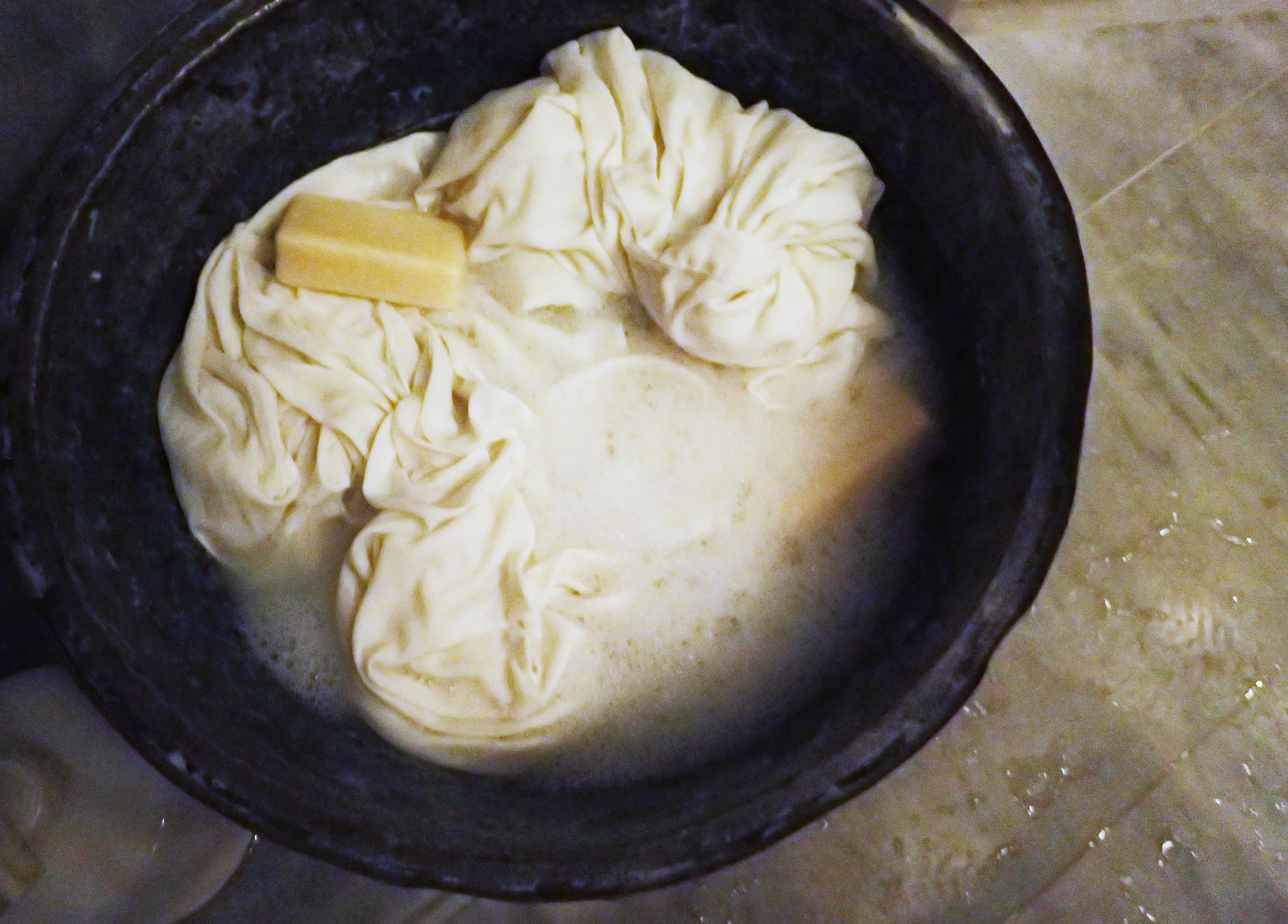 in a big tub of hammered metal, little bars of soap and a rag are frothed about with water. The rag is actually more like a pillowcase, closed on three sides. The attendant spins the wet, flat pillowcase and it suddenly puffs and fills with foam. You'll just see this out of the corner of your eye, because you're limp and lying face down. The attendant holds the case over you and collapses it with her hands, releasing the foam in a cloud of warmth over you. She does this several times, encasing you entirely in warm white foam. Then you turn over and the whole front of you is covered too. The air smells like white soap- not perfumed soap but the pure scent of soap like you would use to bathe a baby.
(You can finish by having your hair washed, but maybe don't, because the attendant will tell you after soaping it up that it is better to rinse your own hair, but the taps are too low over the sink to fit your head under them- there is only hot water and cold water to mix in a bowl and pour over your head you cannot manage to rinse it thoroughly on your own.)
Time for Tea:
We have fresh peshtemal towels- large ones to wrap ourselves in and smaller ones for the hair.  Then we go upstairs to a salon with curtains and divans and pillows on the floor- it feels vaguely decadent in a perfect way. There is hot tea in a shapely glass, and a loukoumi- a Turkish delight. As truly it was.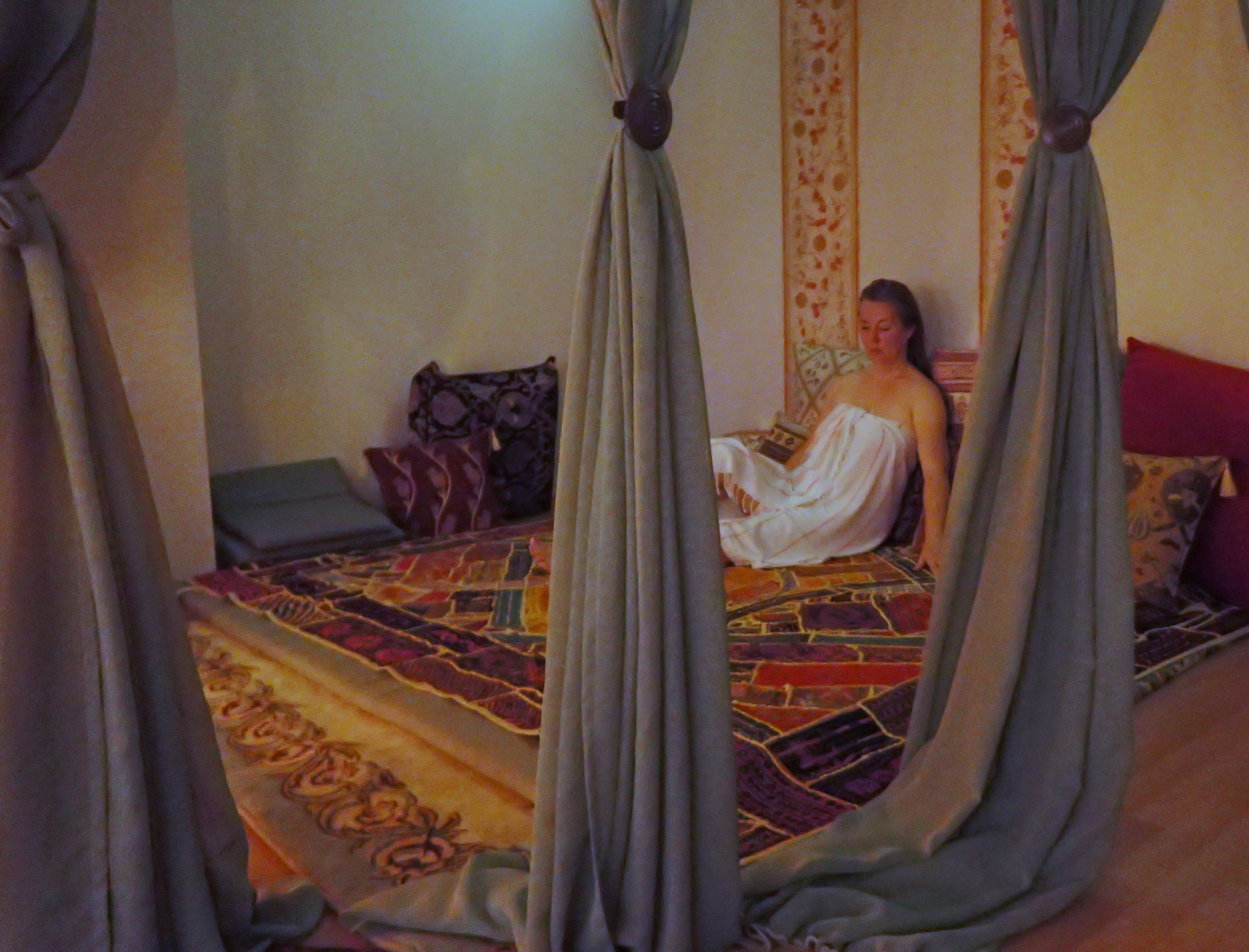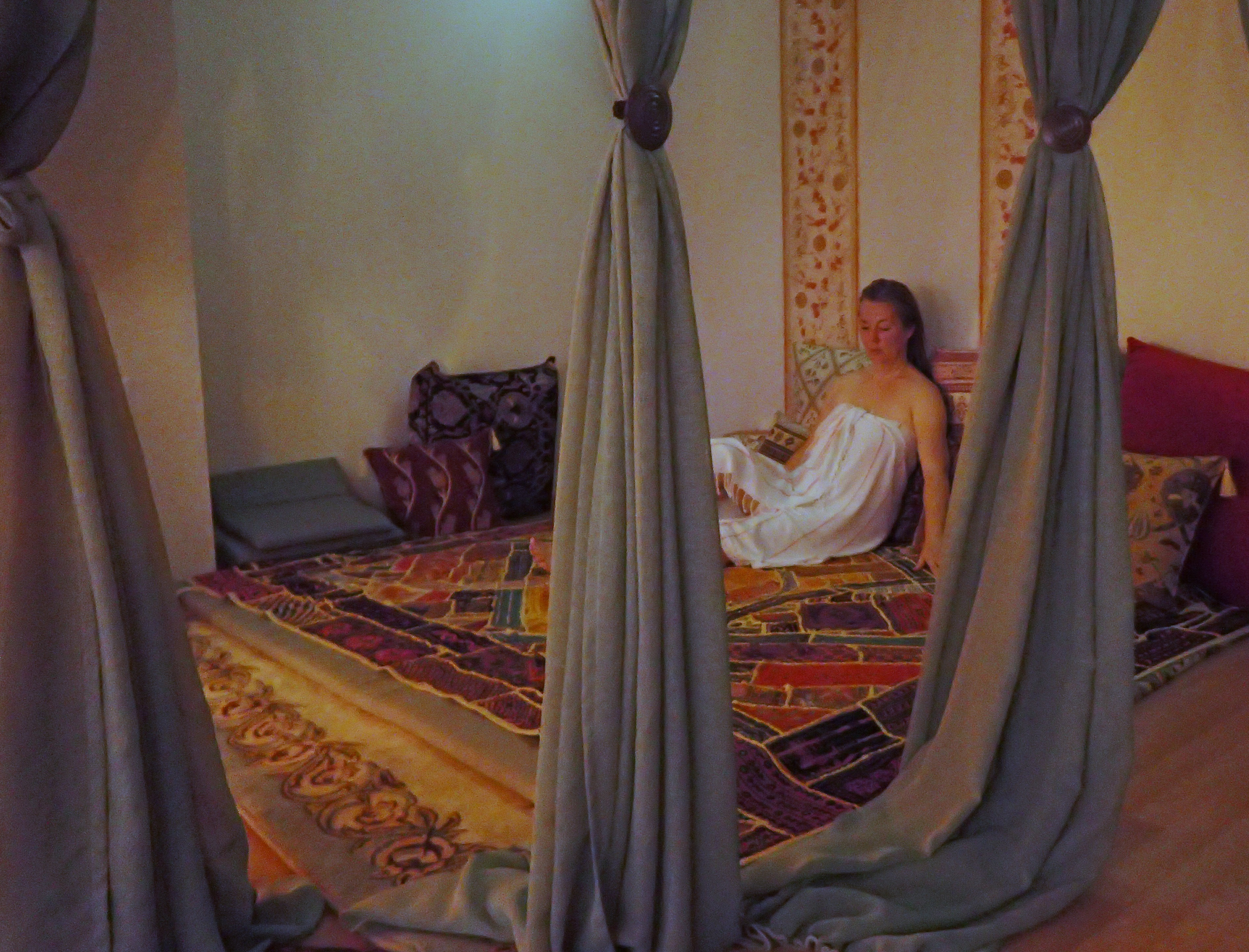 Polis Hammam Thessaloniki:
Konstantinou Karamanli 40A, Kalamaria (+30) 2310 488 216
Monday – Friday: 13:00 – 23:00
Saturday & Sunday: 11:00 – 23:00
There is also a Polis Hammam in Athens:
Avliton 6-8, Psyrri. (+30) 210 321 2020, same hours except they open at 12 during the week.
https://www.polis-hammam.gr/en/