Everyone has a favorite. Mine is Bantis. Of course, a hand-stretched dough is going to be best. Only a couple of people still know how to do this, and he's one of them. Happily though, the truth is, it's hard to find a bad bougatsa in Thessaloniki. It's perfect by nature. The only real requirement is that it be fresh, and hot.
What is Bougatsa?
Among the Greek pies- and there are many- bougatsa is king. It is crisp and tender, and so delicate that it is served chopped into perfect bites, and eaten with a fork. It comes with a variety of fillings (more on that later). It's always eaten fresh and hot. But the best thing about bougatsa is that it is an integral part of the culture of Thessaloniki. It's the first thing in your mouth when you have a day of hard work ahead of you, and the perfect snack after one of Thessaloniki's famously late nights out. It thrives at the day's edges- from 6 am to 11 am, then again from 2 am to 6 am.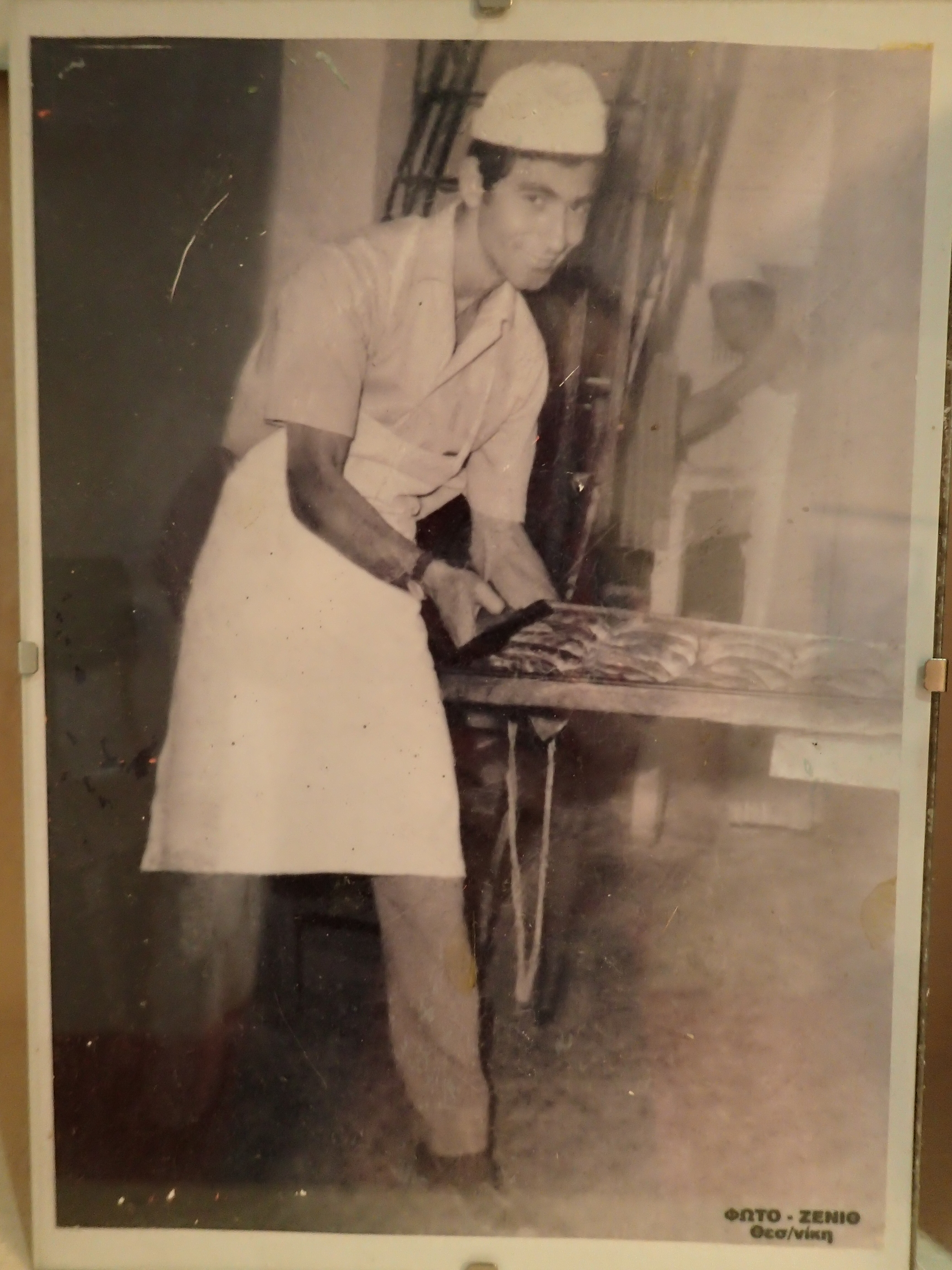 Why does Thessaloniki have such good Bougatsa?
It's the same reason we have a lot of good stuff. During the population exchange between Greece and Turkey in the 1920's, hundreds of thousands of refugees settled in and around Thessaloniki.They brought with them a strong work ethic, exotic music, and recipes- including their skills with flaky dough.
Philipos Bantis is from such a family. He learned to make the specialty from his father, and he learned the history, too:
"In Asia Minor, bougatsa was a working man's snack" he began. "It was just the dough then- plain, with nothing. But it was tender and rich with butter, so it would keep you going all day."
At his family store Bantis, Philipos still makes bougatsa "sketa"- with nothing- because his bough is that good. But most bougatsa today has fillings. How did that happen? "Somehow, it became a fashionable tea time snack for the finer ladies of Smyrne. That's when it got fancy, with fillings like minced meat or cheese."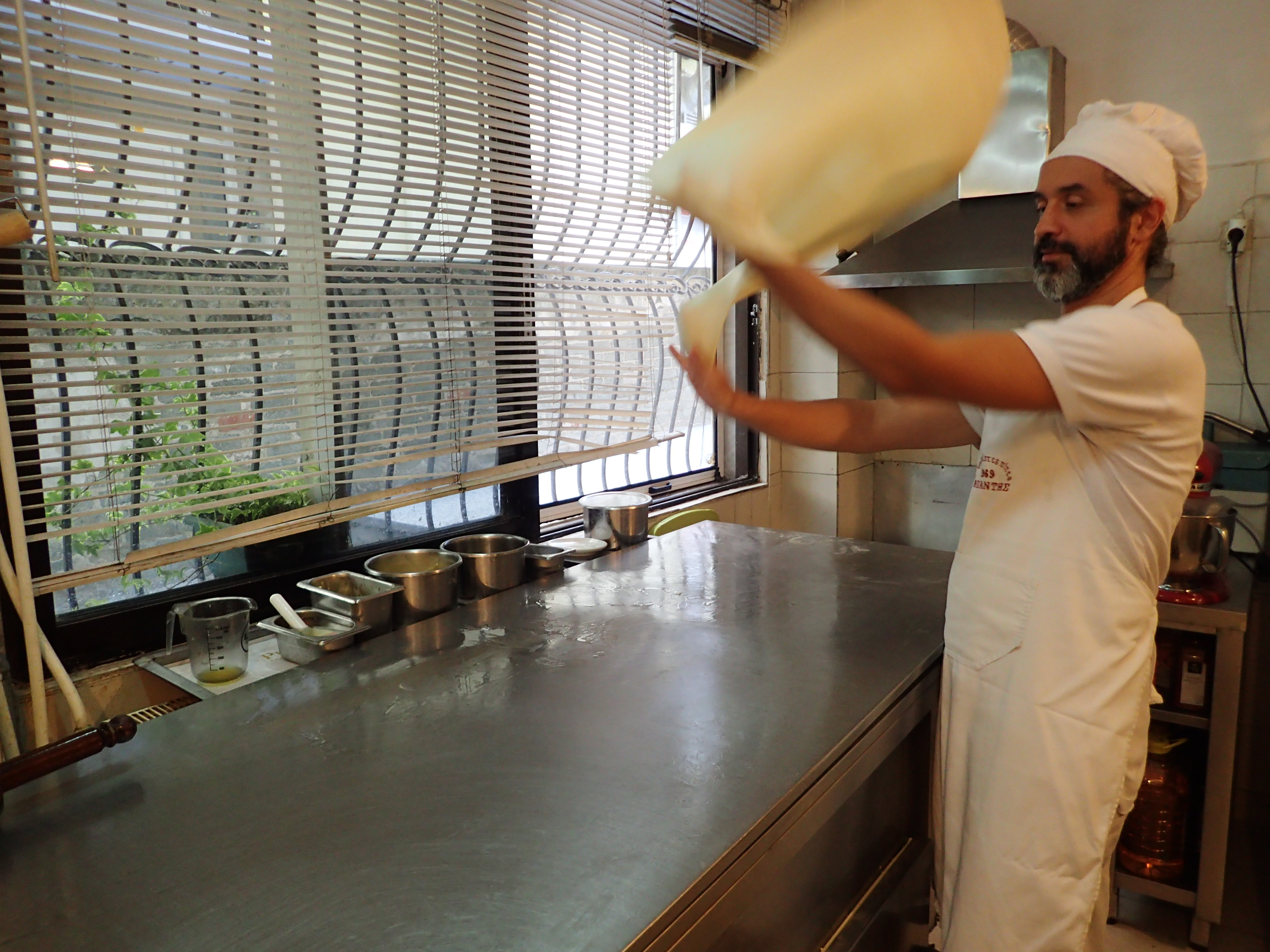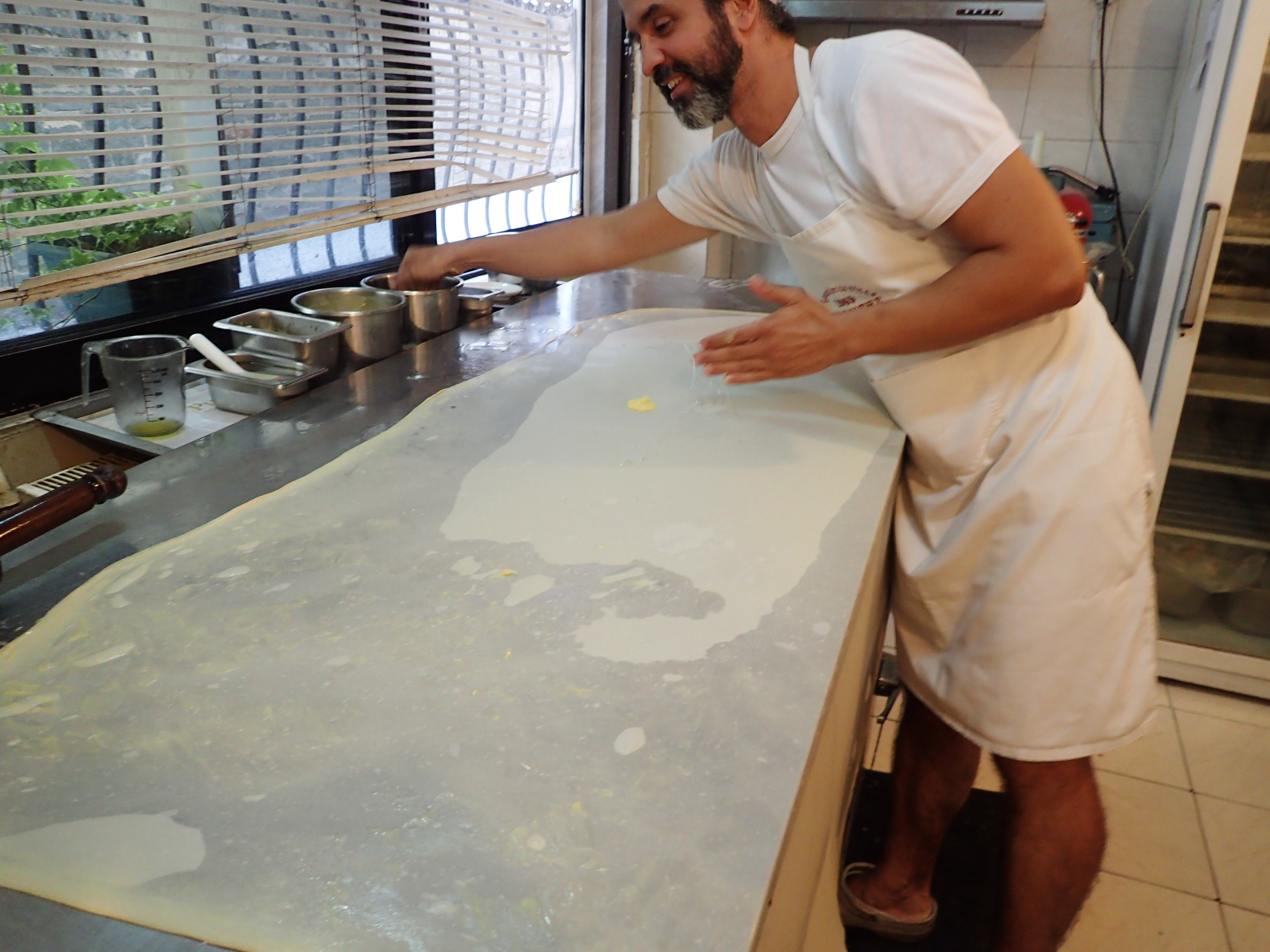 How do you make it?
Like anything so simple and yet so perfect, bougatsa takes tremendous skill. Philipos learned it from his father, a technique passed down from his own father who had learned it working in a Han (Khan- like an old inn). I go down to the kitchen to watch Philios make the next day's batch. He takes a disc of dough and flattens it to the size of an LP. Then he spins it and tosses it and unfurls it until soon it is as big as a tablecloth and whisper thin. It looks fun, and so easy. "It's not so easy," he says with a laugh. "It fell on my head a lot while I was learning."
What are the classic versions?
Bougatsa typically comes in at least two varieties: cream, served with sugar and cinnamon, and cheese. If you get to a place early enough in the day, they'll still have spinach probably, and maybe also minced meat.
Special Variations
It would be hard to improve on a classic. But an after-hours bougatsa place that is a favorite stop before going to sleep after a late night out has two popular twists. Cream bougatsa is covered with a huge heap of Merenda (that's like Greek Nutella). Minced meat bougatsa comes with a heap of strained yogurt and a lashing of tabasco sauce.
Philipos makes a few special varieties sometimes at Bantis- fig and graviera cheese is delicious.
But plain- sketa- remains for purists the very best.
Where to get the best
Of course go to Philipos if you can. Also, "To Neon"- downtown and right across from the Music Conservatory near the ladadika neighborhood- makes their own dough. "To Xryso" – a chain- has bougatsa made in advance, but it's hot and fresh. Freshness is key, and you can tell by looking at it. Most neighborhood shops serve a fine bougatsa, especially early in the day. By 11 or so, it will have been sitting out too long. Sate your after hours cravings at "Giannis" at the beginning of Mitropoleos street, near the white tower. They open in the evening and close the following afternoon.
Bantis, Panagias Fanouromenis 33. 6:30 – 15:00 daily